The fashion calendar can be elusive at best – with four official seasons (Spring / Summer, Autumn / Winter, Resort & Pre Fall) and two major event blocks in the year; the 'big four' of New York, London, Milan and Paris recently saw the whirlwind month of SS23 begin and end. Interlude is firmly focused on South Africa's burgeoning fashion landscape – however, we thought it'd be fun to travel to Europe for this edition, with CEC's picks for London, Milan and Paris as a springboard for what lies ahead in fashion. With the hybridisation of fashion weeks – easily accessed through social media & from the comfort of our screens – it has never been easier for the rest of us to participate in big moments. Fashion production beckons us, all. Running through the holy grail of Vogue Runway – the leading resource on schedules, runway images, updates & direct commentary from esteemed fashion critics – it can be a lot to digest, but oh so great a tool to bookmark for the seasons ahead. 
So why is Spring / Summer presented now, when the northern hemisphere heads towards winter? Well, a number of reasons; production, firstly, is mapped out to ensure the garments shown on the runway, if not immediately bought by private purveyors, head to the innumerable floors of department, flagship & e-commerce stores. With this, comes the trans-seasonal approach of the lives of luxury fashion consumers; if you can afford Louis & Bottega, you're probably not strictly, seasonally bound to any region of the world – least not the precarity of weather. Then, comes the fact that by now – mid-autumn – whatever was shown earlier this year, best be in the archives and wardrobes of its customers already. Lastly, and most interestingly, some of the pieces shown might not even end up in store; fashion shows, more than anything, are a marketing tool & testing ground these days; an incredible platform to communicate the label / house or designers' point of view as it stands right now, keeping their offering firmly within the consciousness of their intended audience. Make of it what you will, that fashion weeks are ceaseless in their scale – I am going to keep my cynicism at bay in this piece, and maintain a wholly hopeful attitude to the expression of sartorial creativity. With an average of 45 to 60 looks per brand showing, the excess is viscerally rife; but sometimes we have to dull into ignorance to honour ingenuity, it seems. 
For the purpose of easy reading, we have selected four label's shaping fashion's current tale; running across an expanse of design codes, fabrication and stylistic interpretation that leaves even the most existentially-bound fashion cynic (me…) giggling with delight at the sheer drama and joy that clothing evokes. I encourage you to research more, if you wish – as I mentioned, head to Vogue Runway, and my other favourite resource – Nick Knight's insightful team and associates at fashion film mecca, SHOWstudio, who are producing some of the most thoughtful panel content & commentary that I've heard in a long time.  
London Fashion Week /// Spring Summer 2023 /// 16 September to 20 September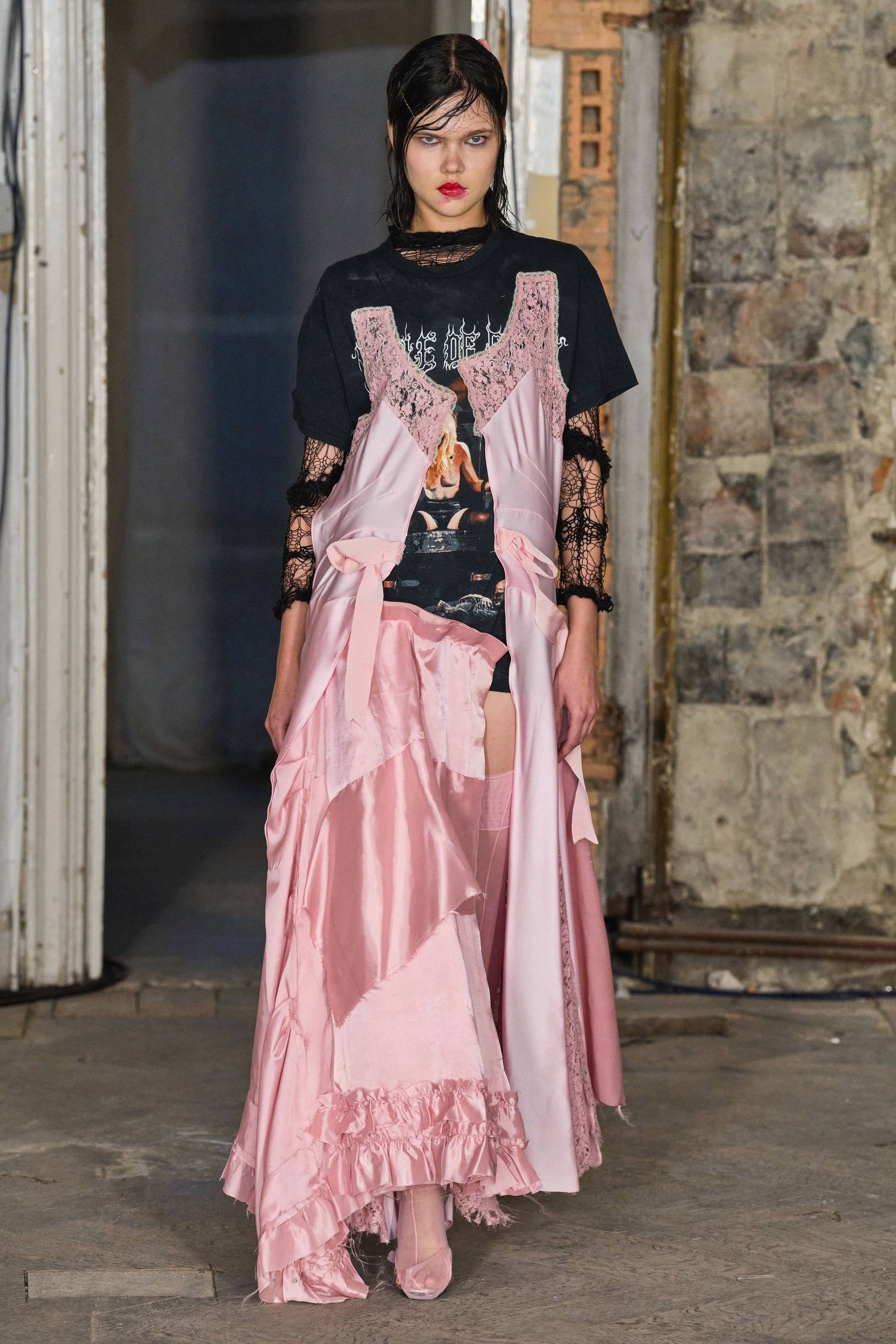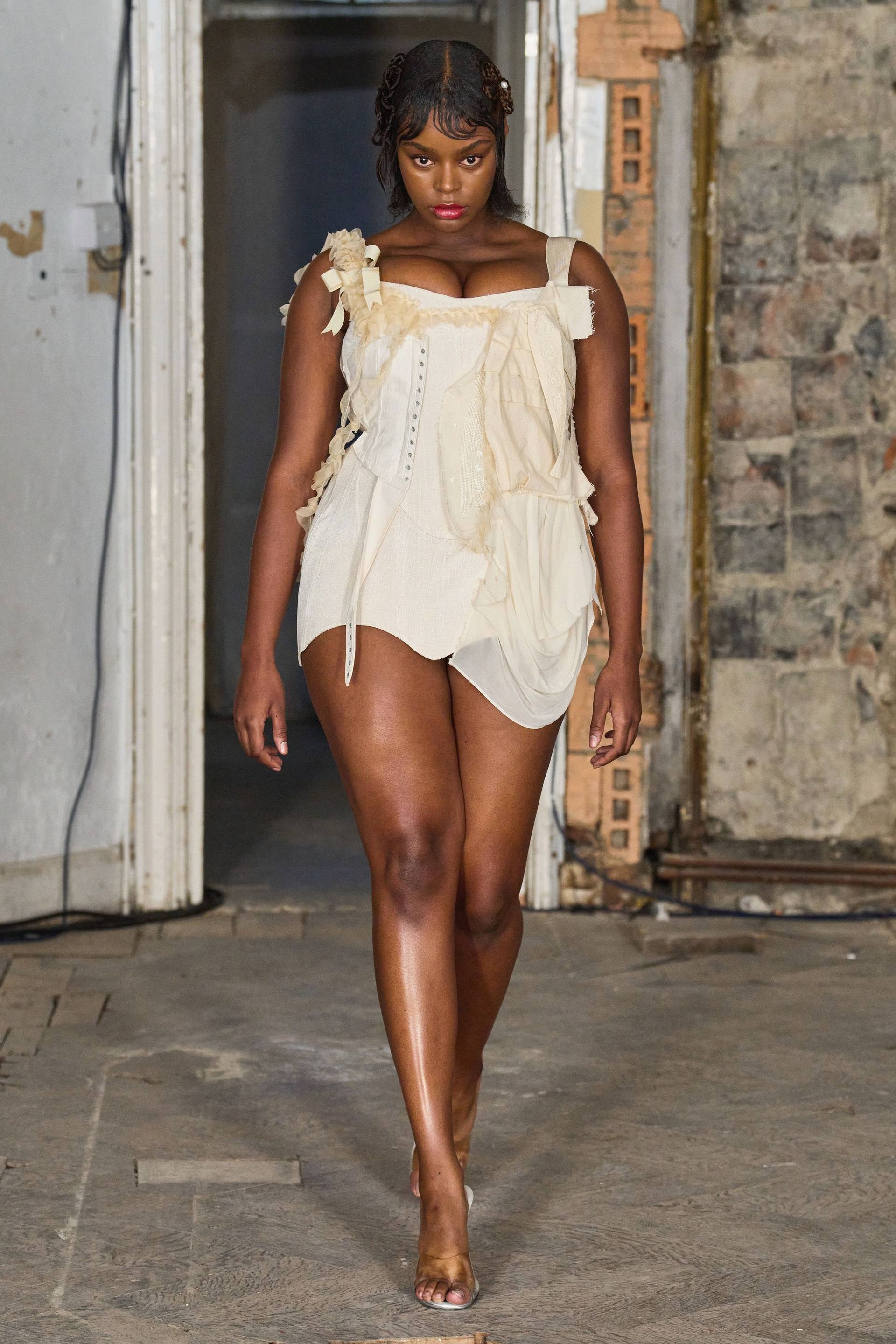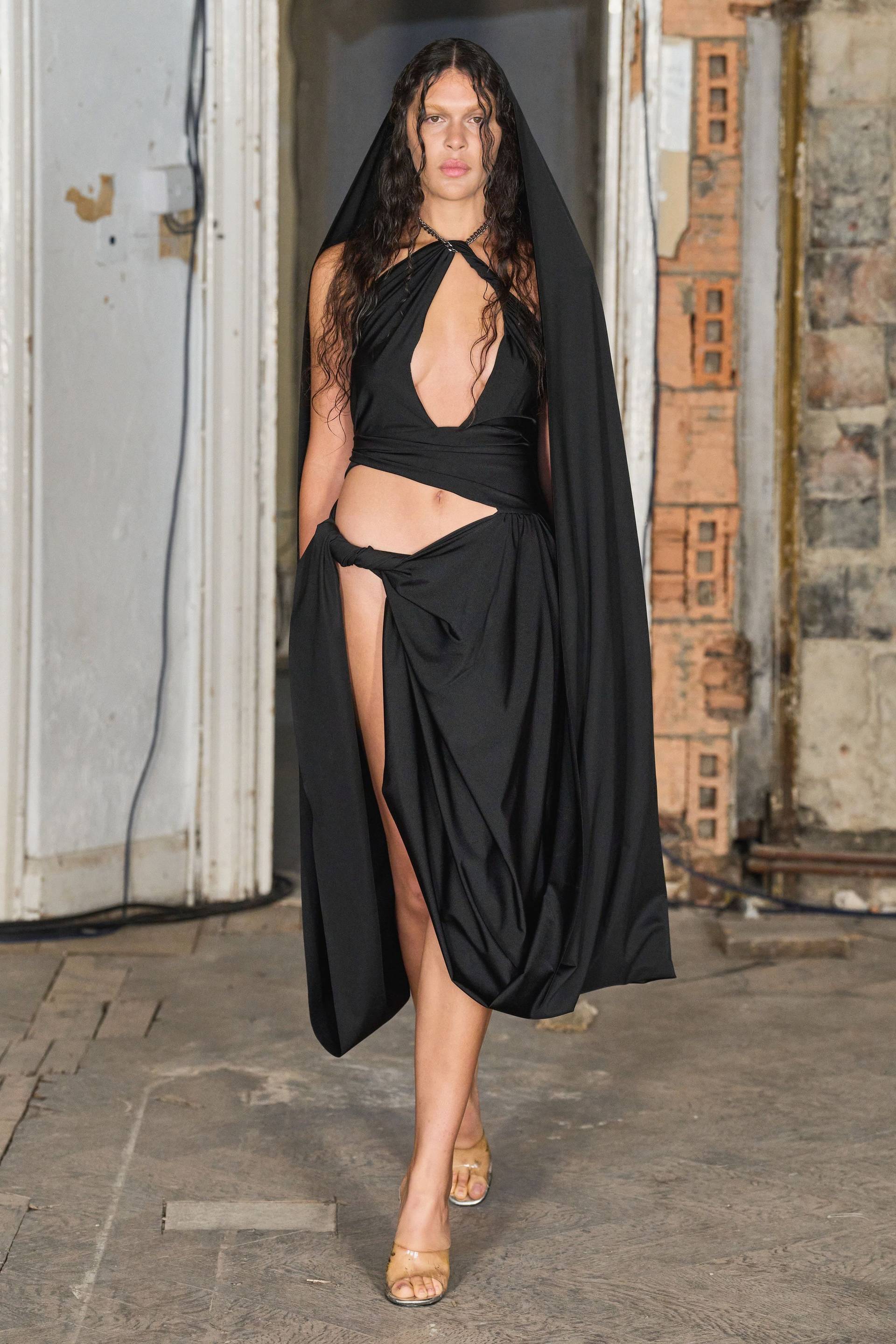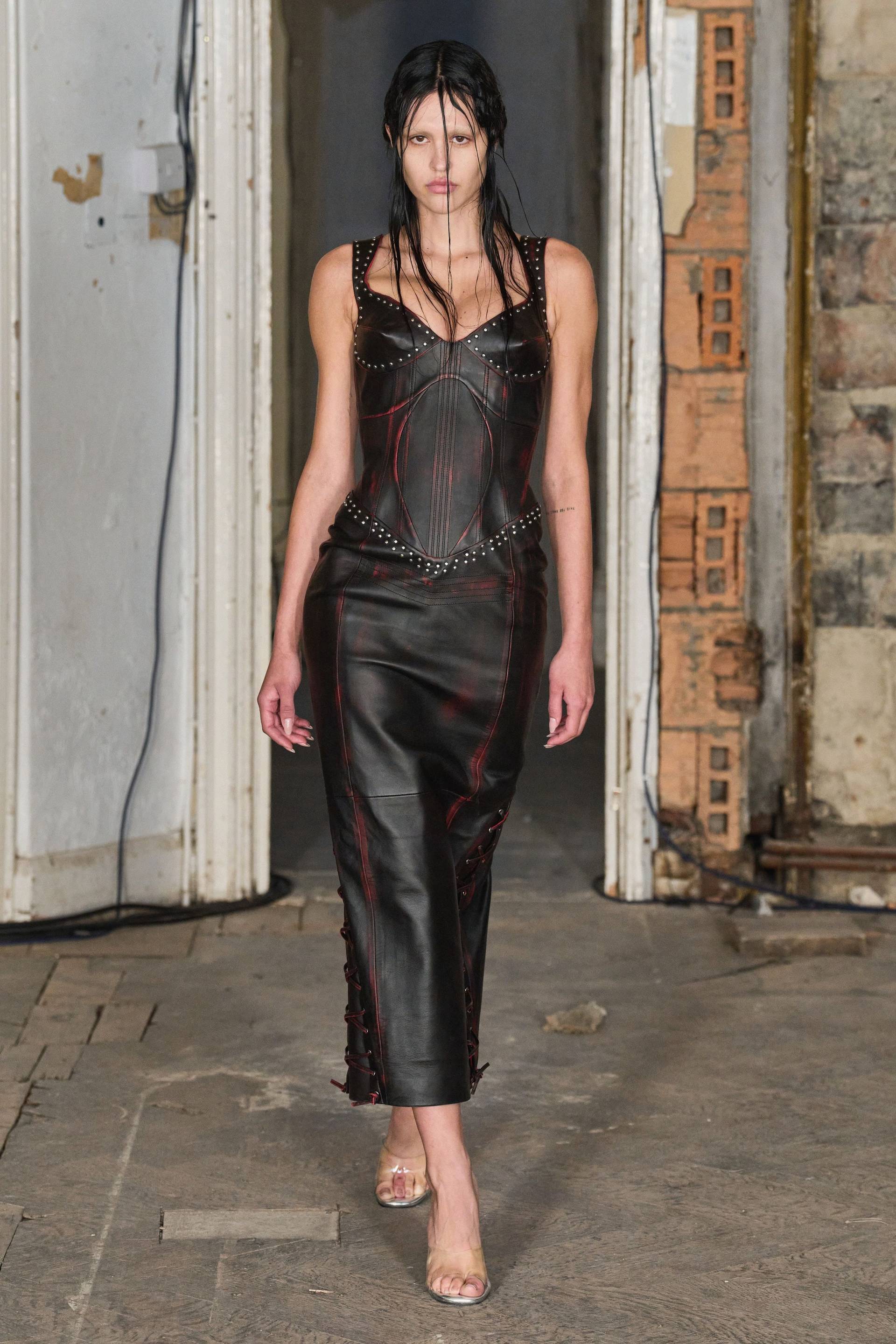 Dilara Fındıkoğlu is fast becoming a cult-classic – the designer, after which the label is named, is a Turkish-British alumni of Central Saint Martins. With an incisive grasp on goth / DIY chic that is running rampant online; Dilara's design world is informed by sex, sexiness, and the feminine form – and provides a commentary on what this really means from the feminine perspective – forget the glamour of sex; she has been quoted as saying that she wants to "destroy modesty" and in doing so, presented a subversive delight of this. Set in a soon-to-be demolished 19th century hotel, there was no soundtrack; simply, the sound of the model's stilettos as the tension hung in the air from the audience. With up-cycled Victorian nighties, sheer tulle and smear lipstick all reach back into Dilaria's own expression of Istanbul's tense relationship between liberation and traditional expectations.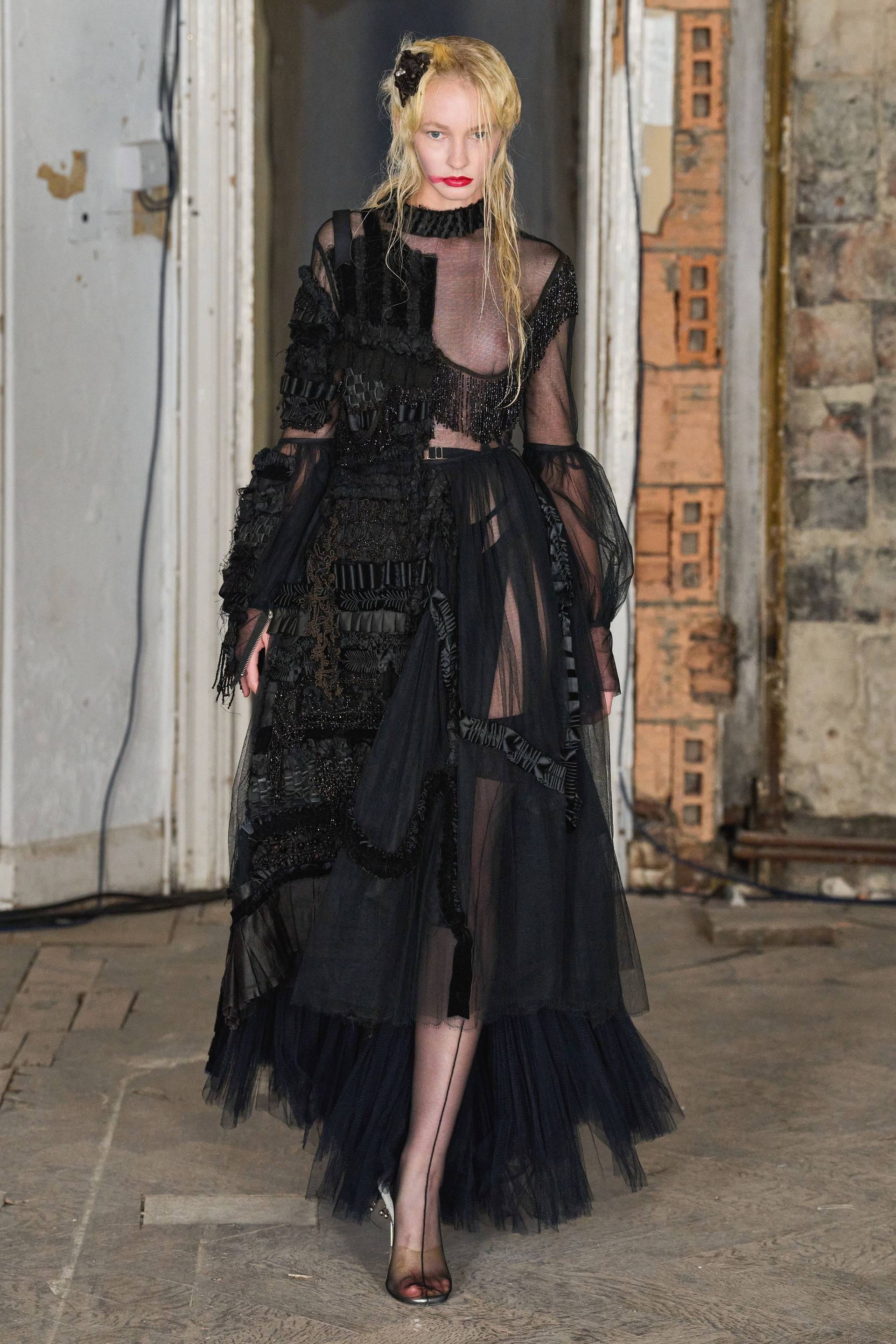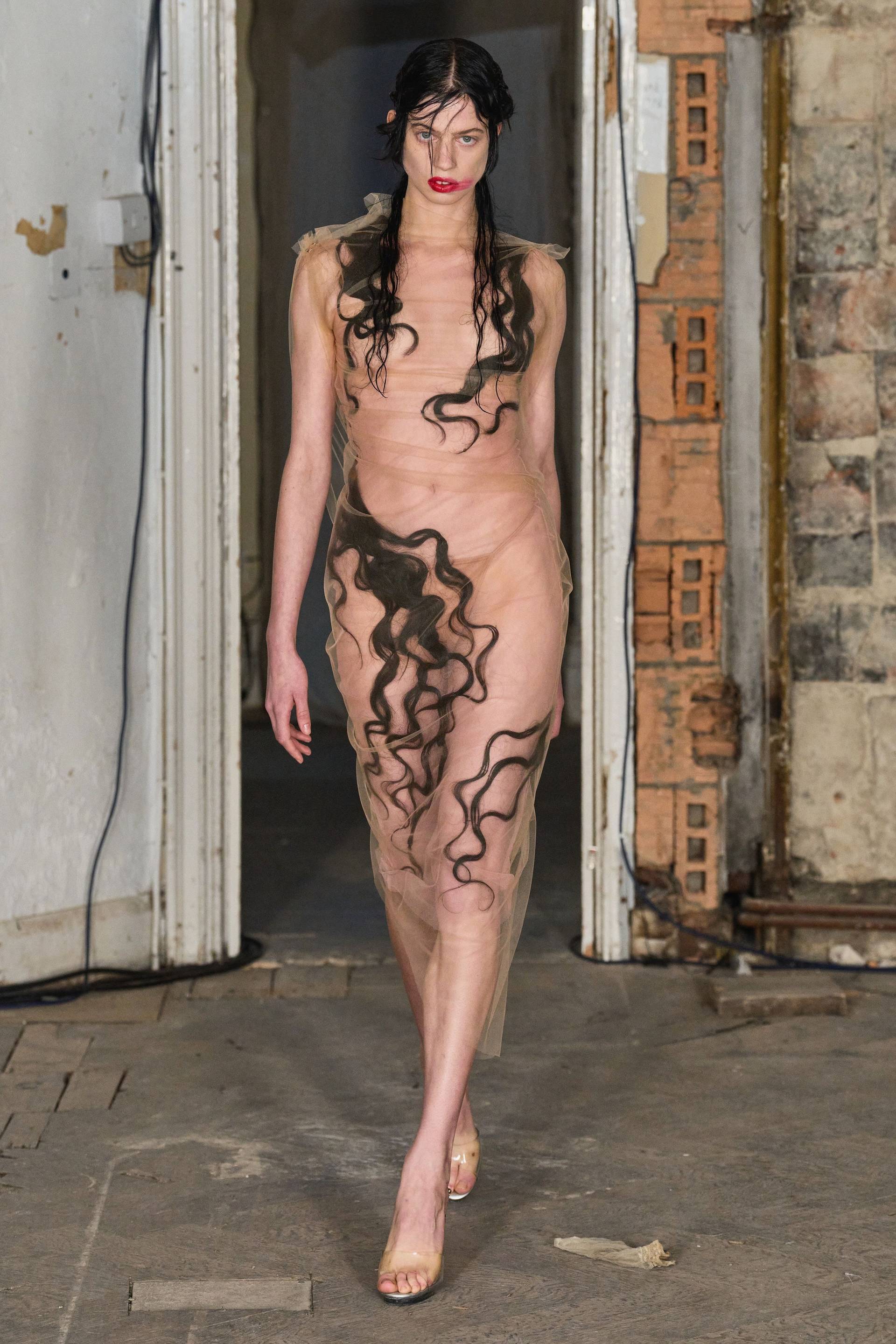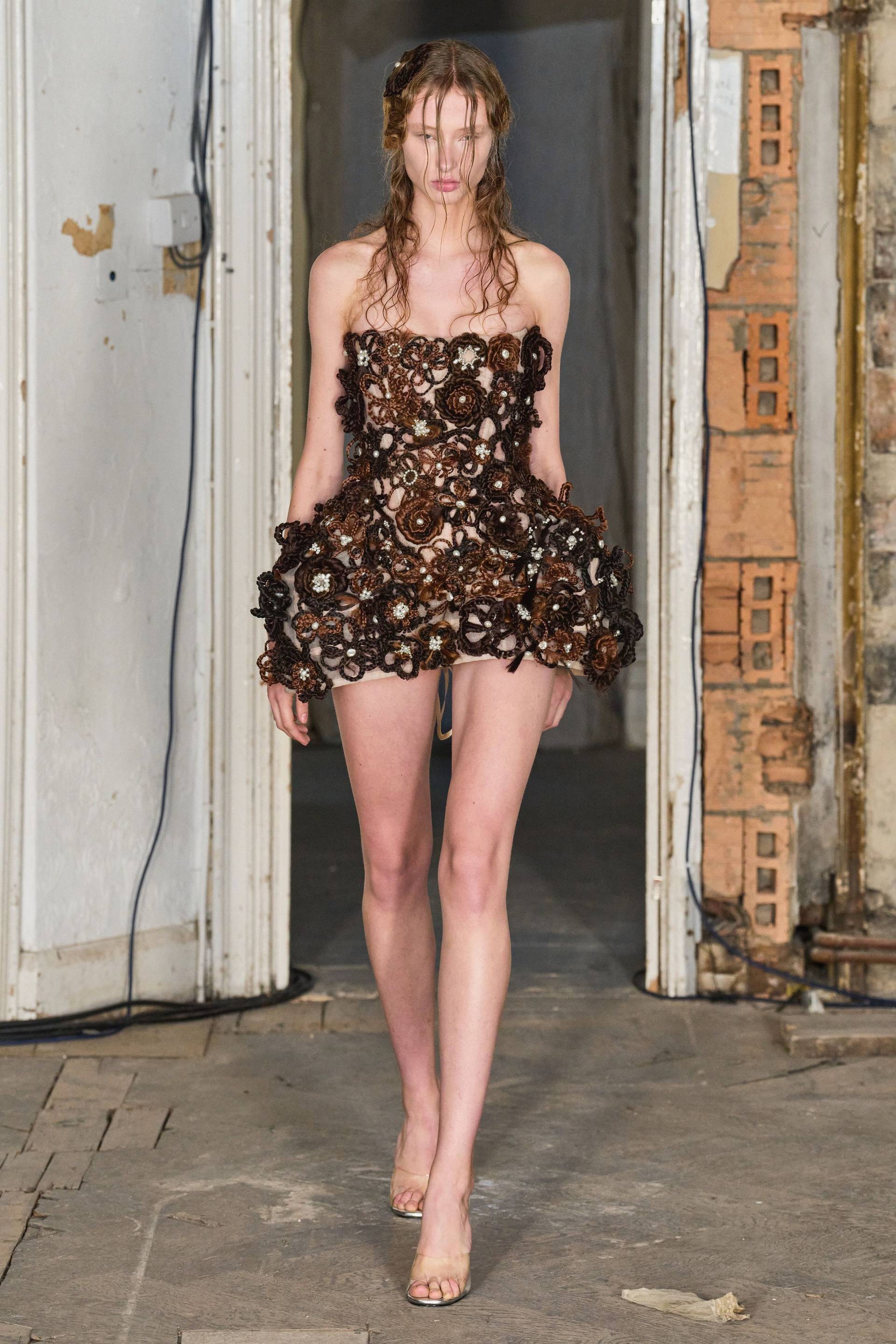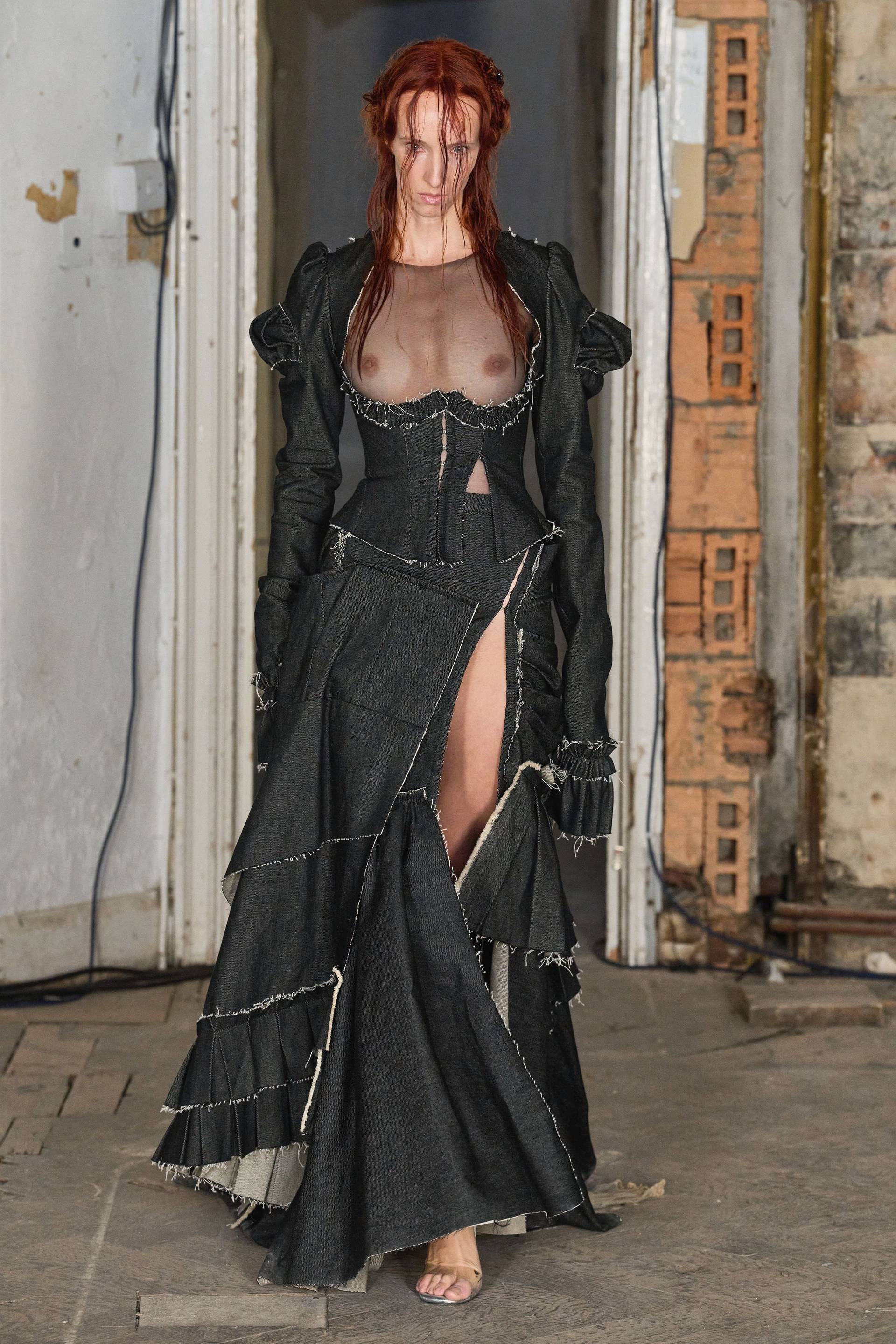 Photo: Filippo Fior / Gorunway.com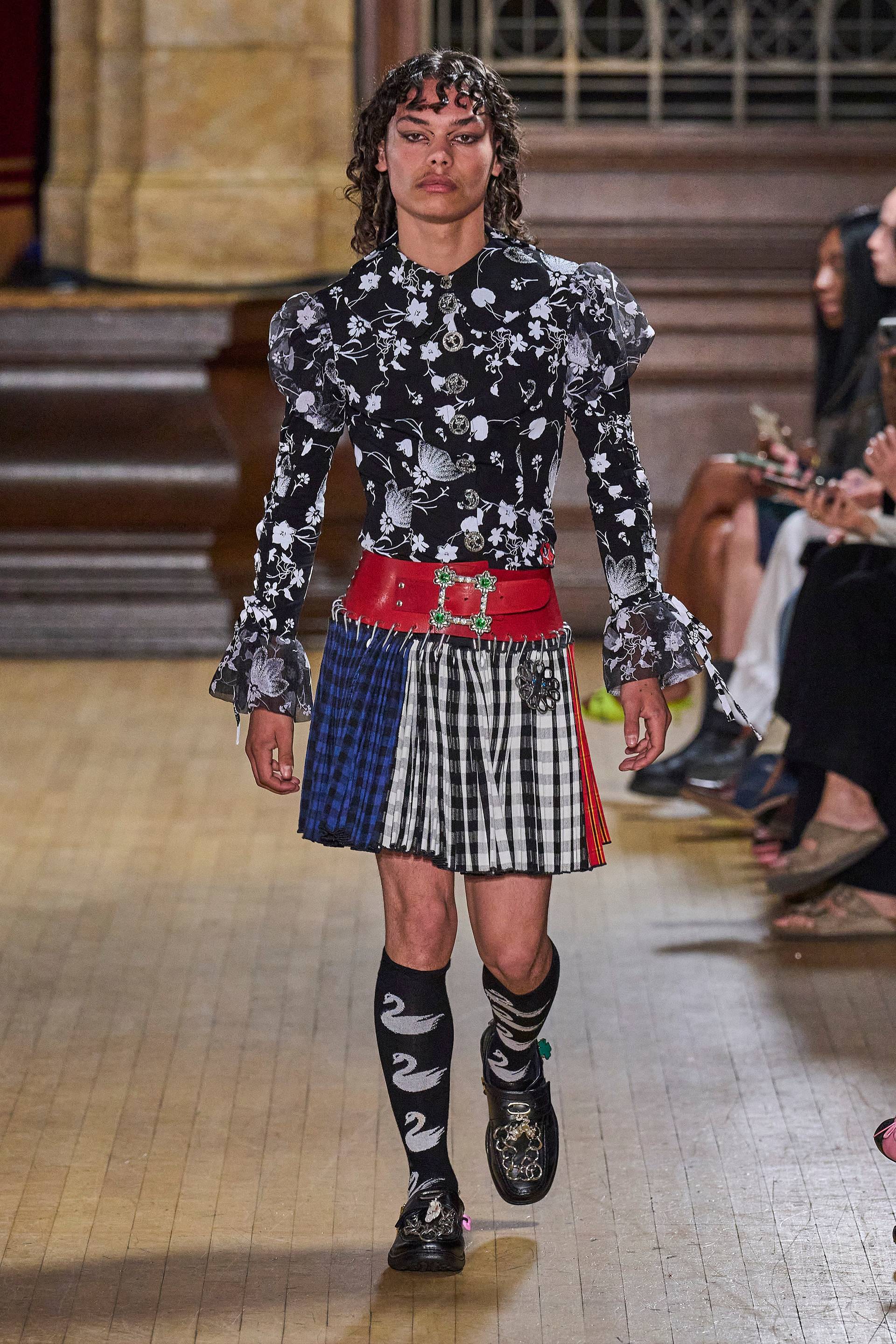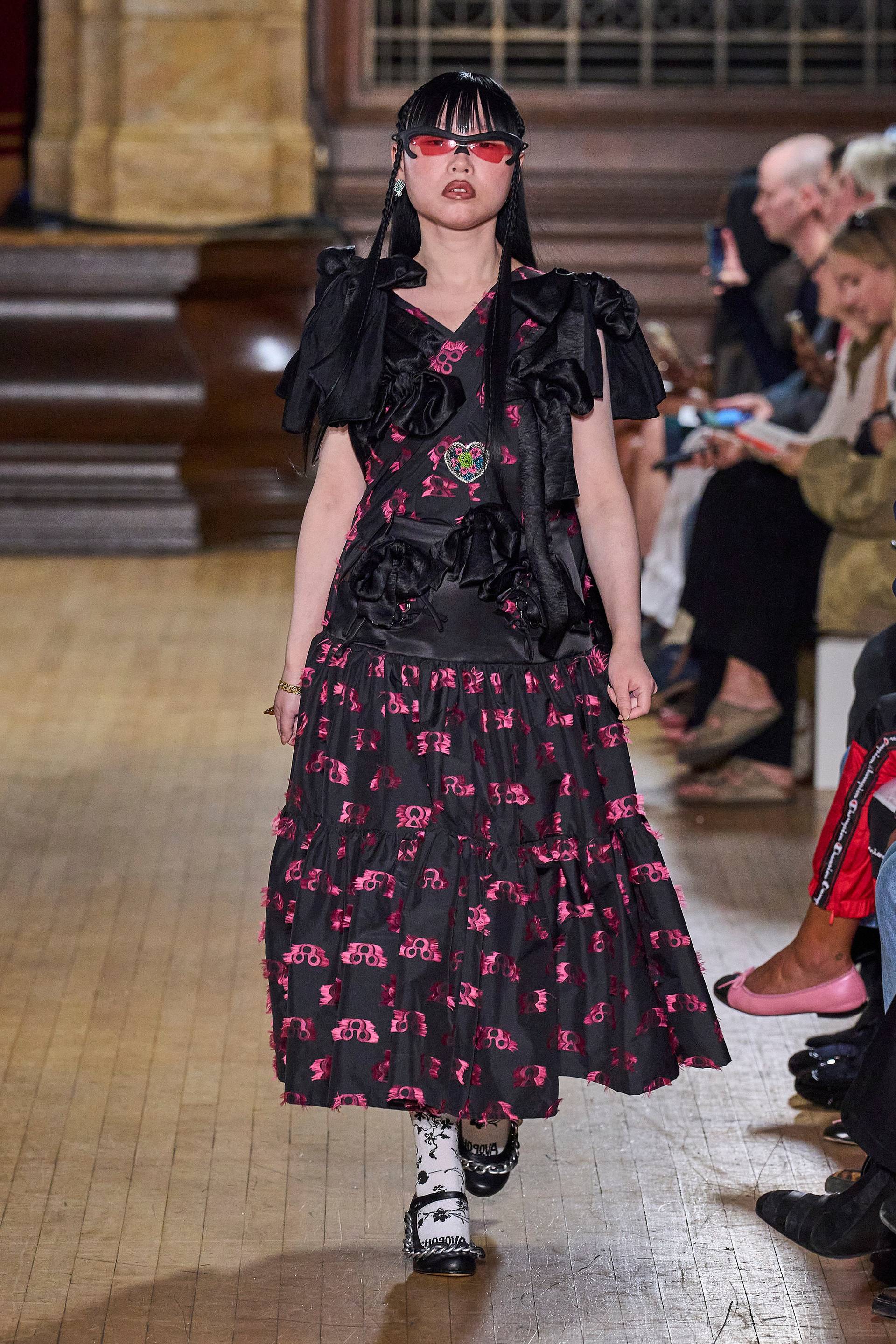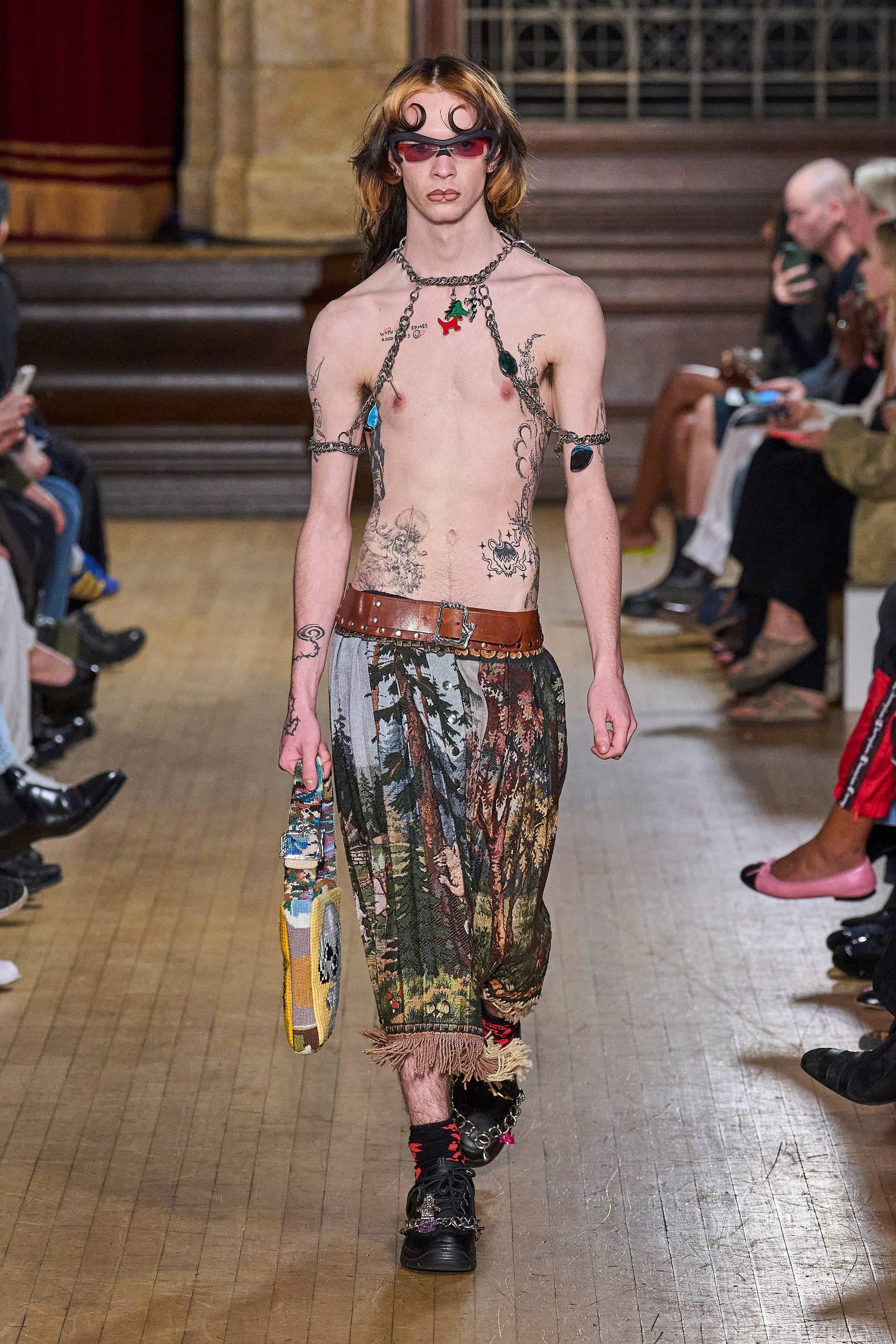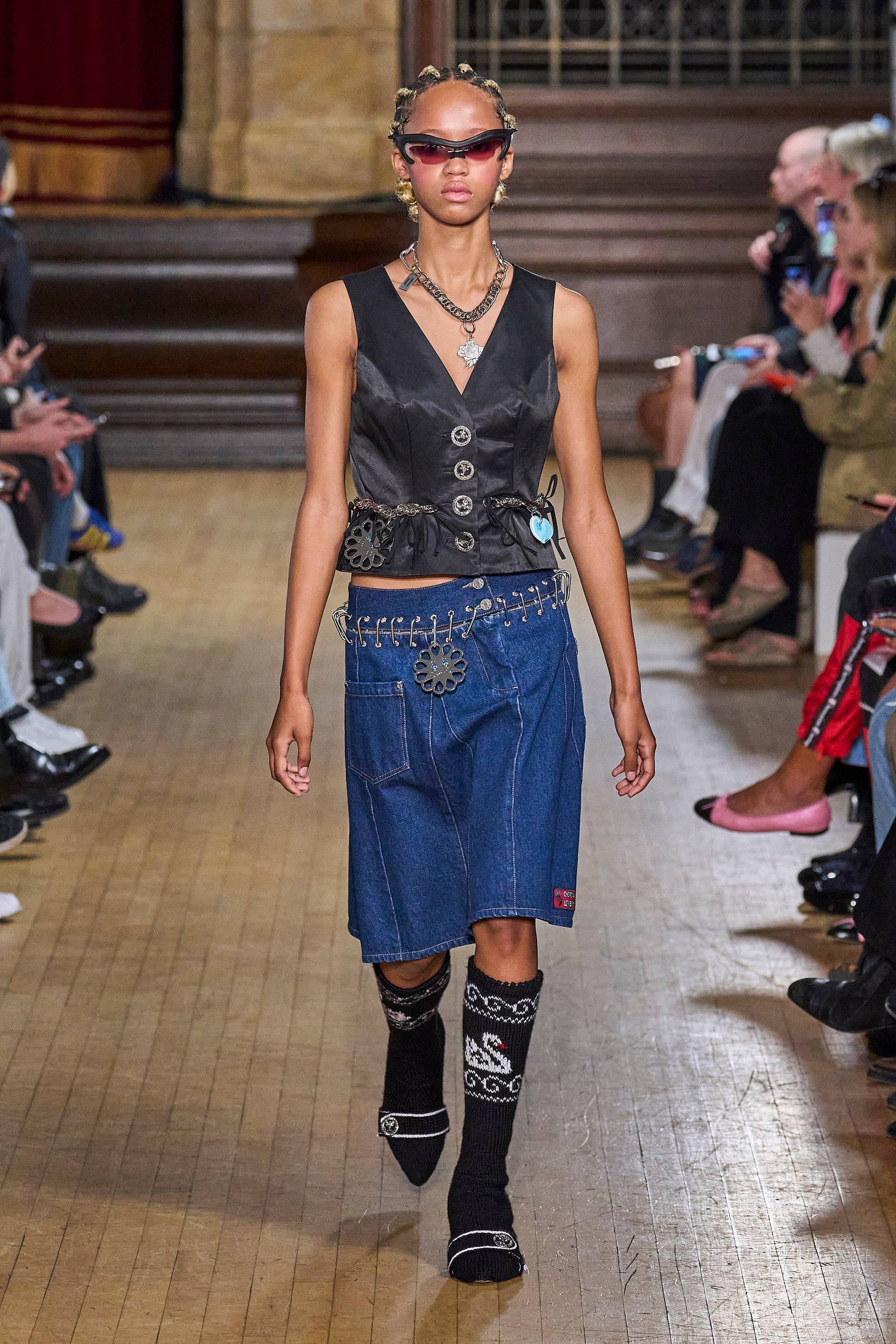 Chopova Lowena are the punk code darlings of the moment – with the label's obsessed-over pleated, kilt classic appearing as always – and Emma Chopova's Bulgarian heritage remain front and centre as the contemporary folk-wear juxtaposed with sportswear, continues to manifest through her, and co-designer Lauren Lowena, as they flex their design muscles. With an emphasis on gender fluidity, and 'thrifting' aesthetics – the distinguishing inspirations were best explained by Sarah Mower, "the collection paid homage to the Rose Festival, a pageant which takes place in Kazanlak, the village in central Bulgaria where Chopova's ancestry is rooted. There were riffs on rose-forms in prints and cuts; a backpack became a whorl of petals." As always, the label's fabrication is centred on the sourcing and use of deadstock textiles, and recycled materials – and the hands behind production are skilled female artisans in Bulgaria. What arises from this, are incredibly intricate silhouettes in swathes of unusual and contrasting prints; styled perfectly with heart-shaped lips, and grunge/cyber models of your dreams.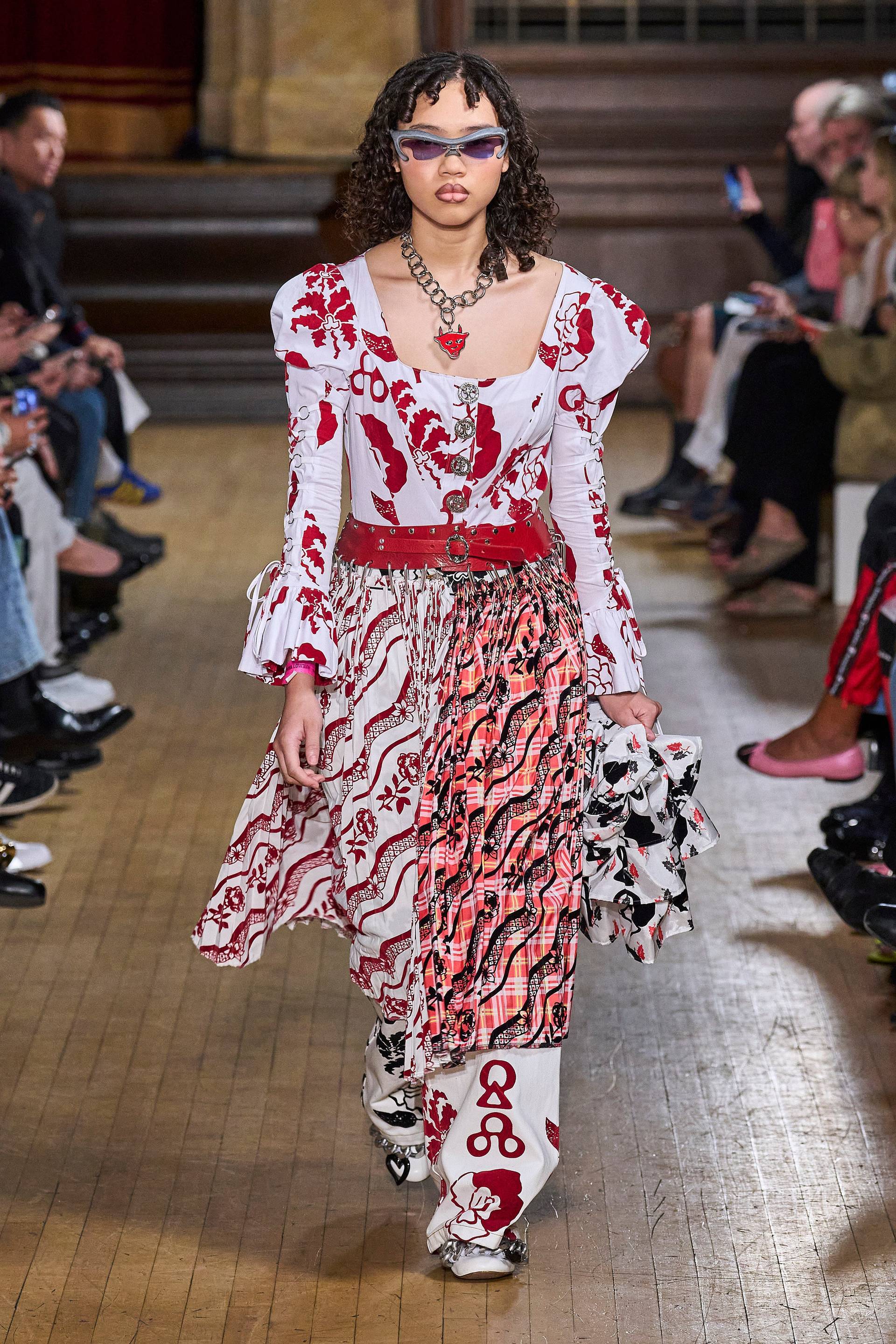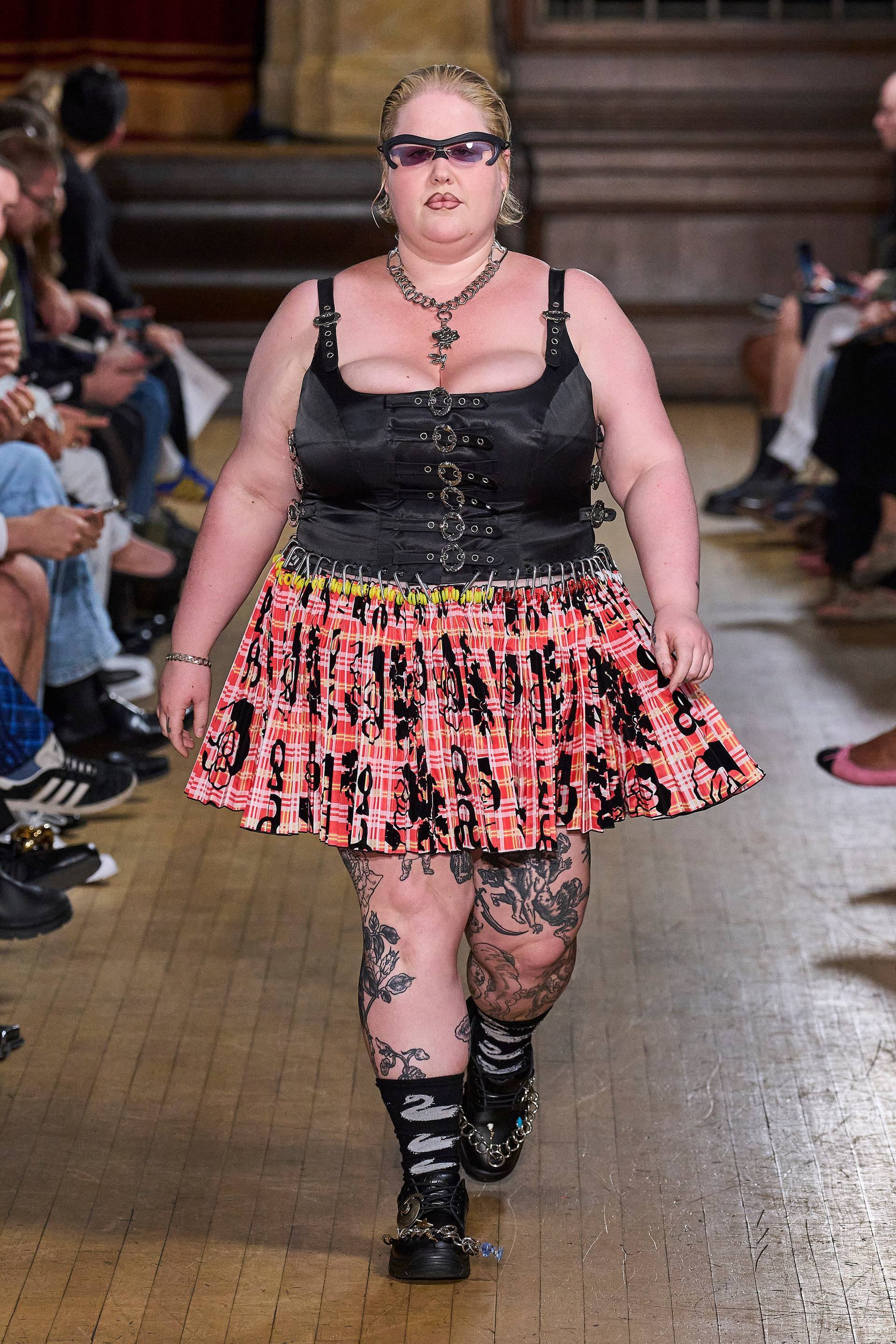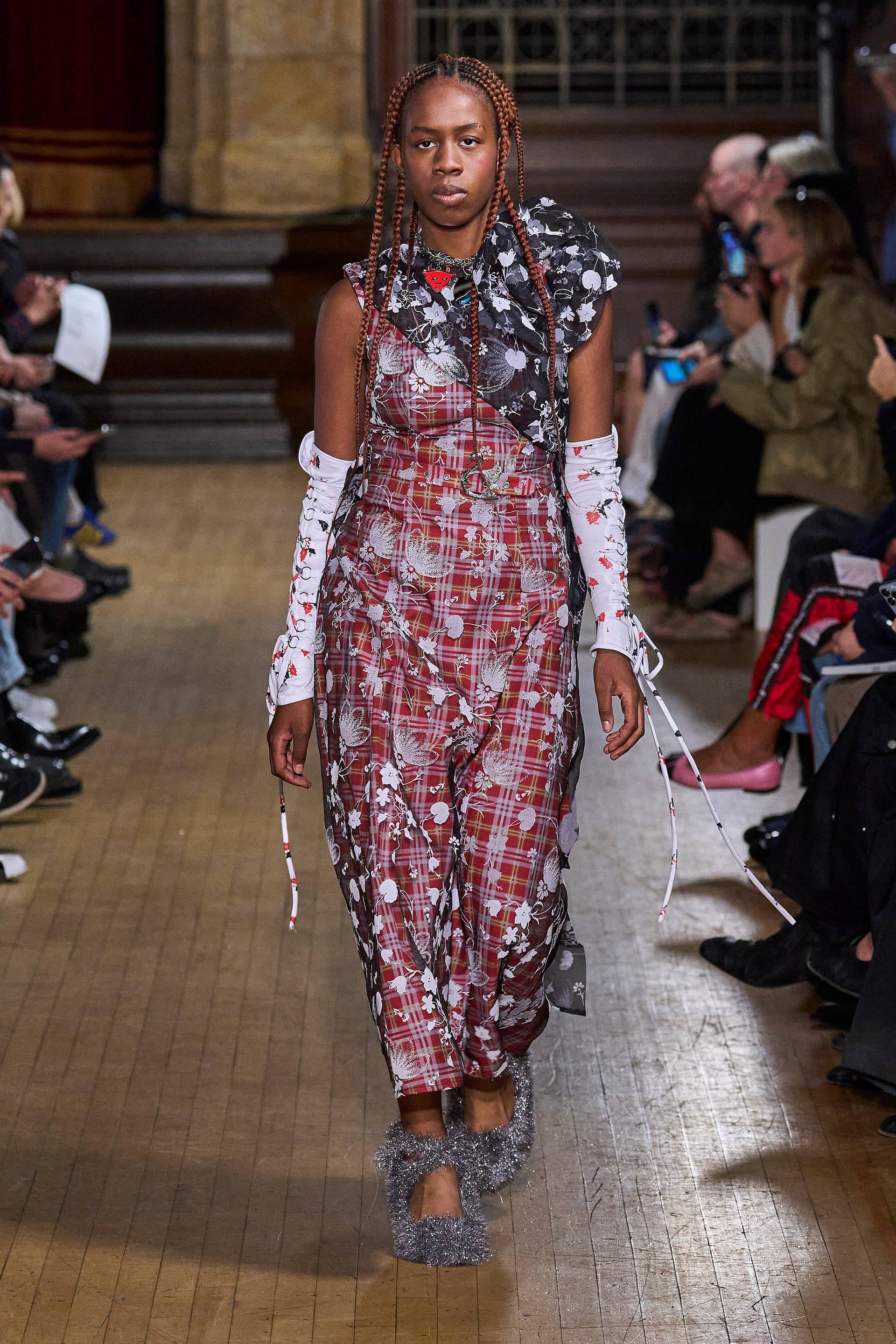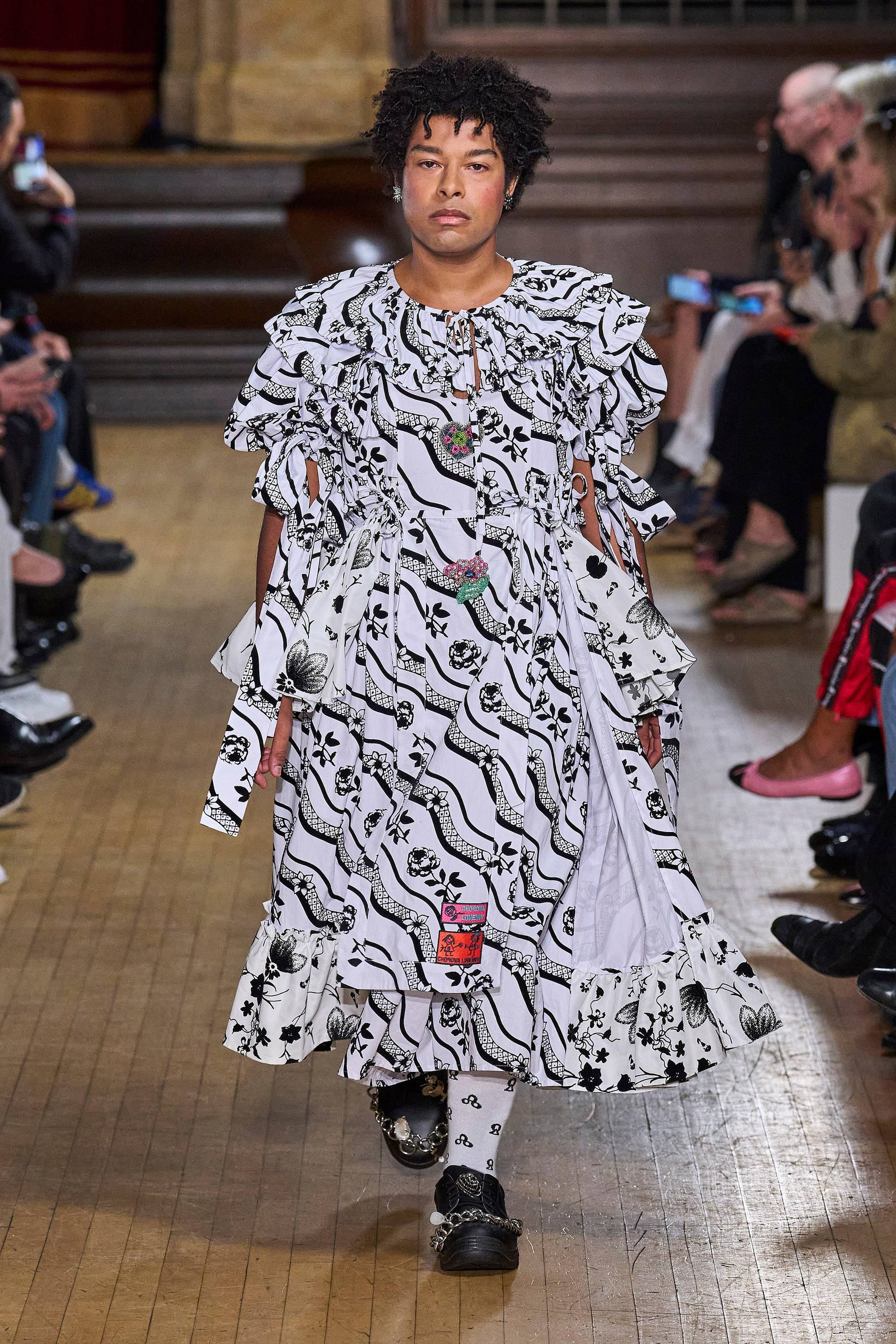 Photo: Filippo Fior / Gorunway.com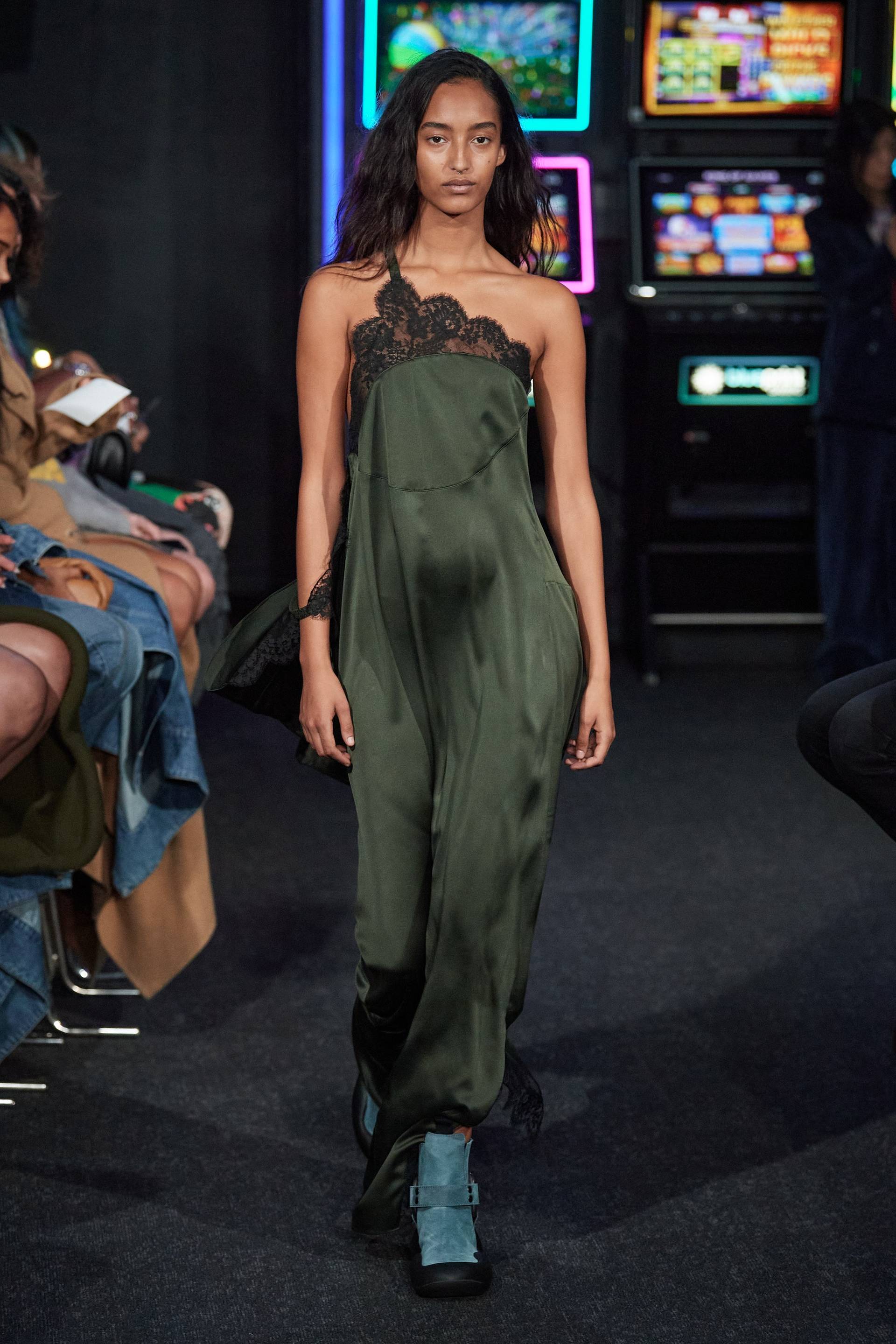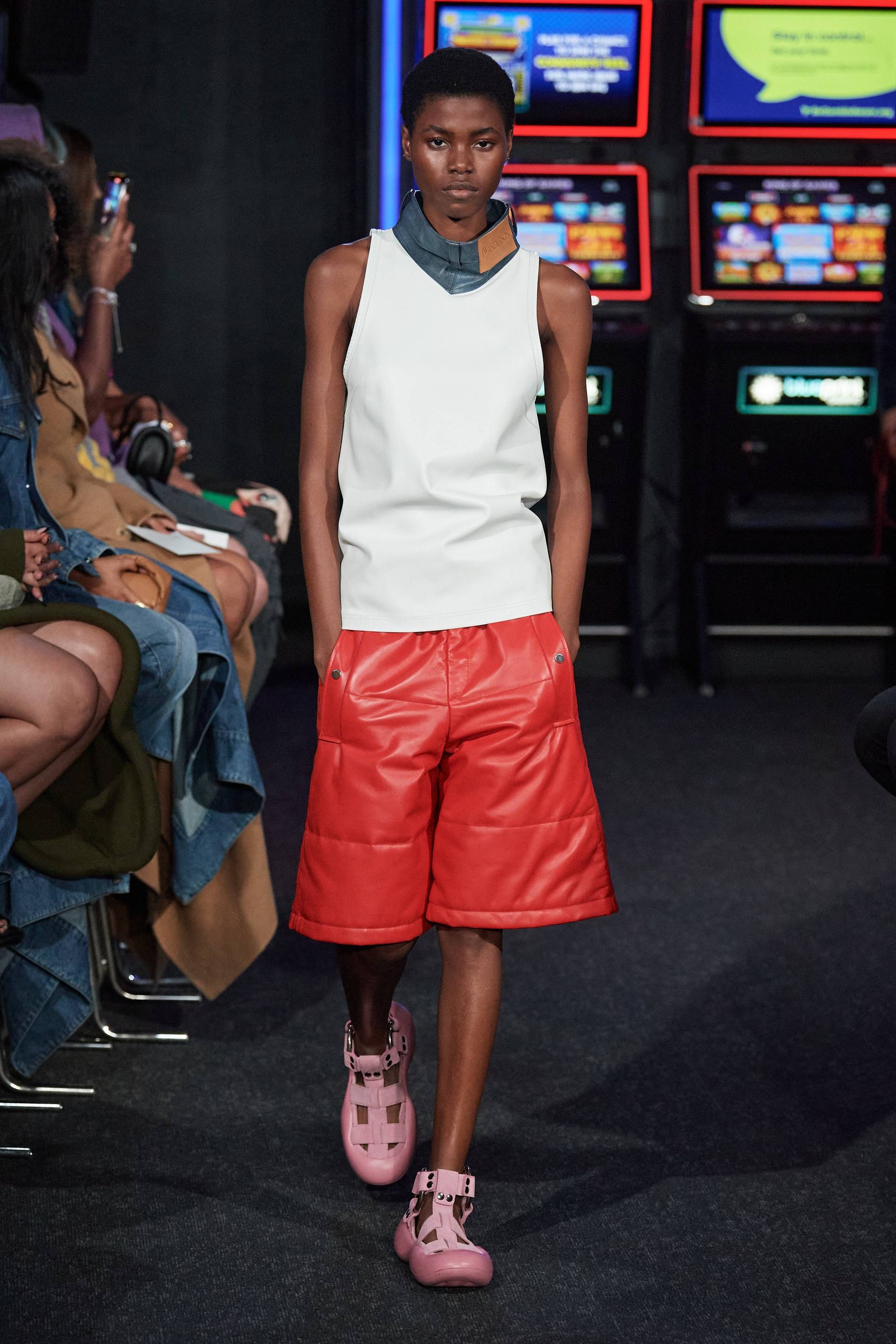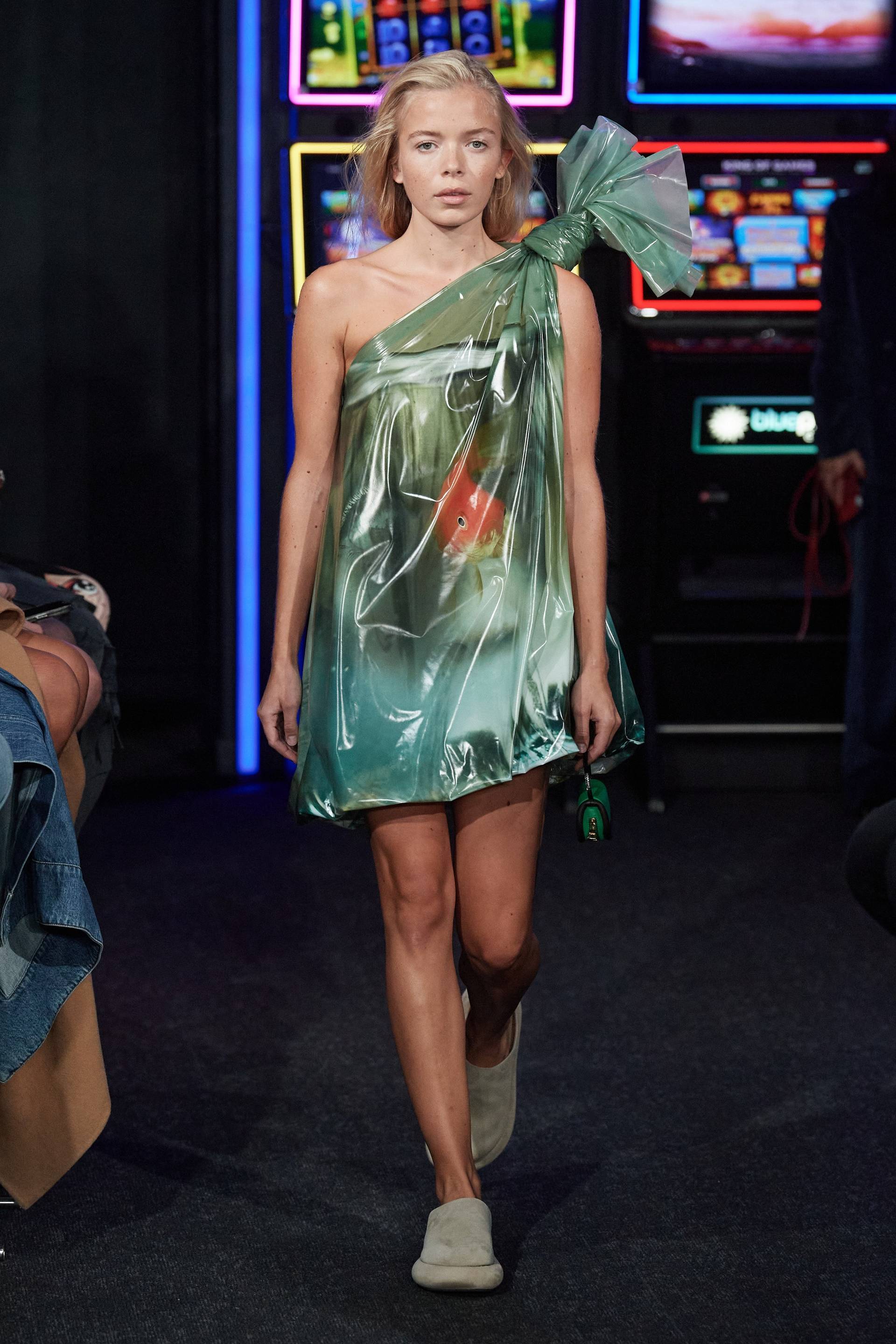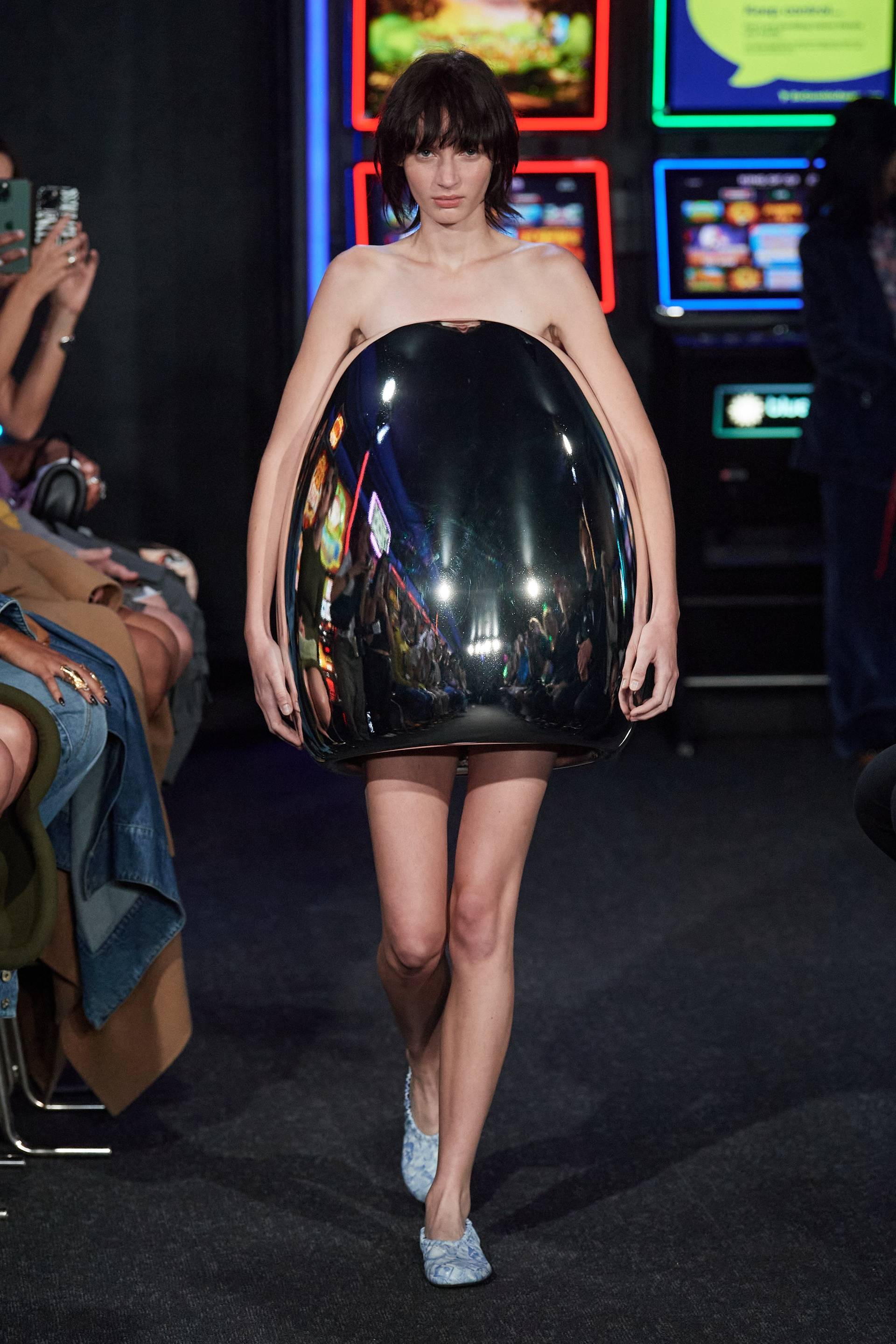 JW Anderson stood somewhere between humour and clarity for SS23 – as ever, tongue-in-cheek pieces were showcased alongside 'serious' tailoring and negligees. With a commentary on earth-activism and our obsession with digitising our world; stock-image screensaver prints of sunsets and beaches were featured, a crazy high-neck top made out of qwerty keyboard panelling, inverted knitwear and that deranged & perfect plastic fish dress; a cocktail dress that looks precisely like a goldfish inhabits it, as if one is wearing it on the way home from the pet shop. JW is an older and more established brand from the late 2000s, and thus his guardianship for smaller, emerging designers came through in his bid to continue LFW upon the Queen's death; ensuring those who couldn't afford to reschedule, could still show.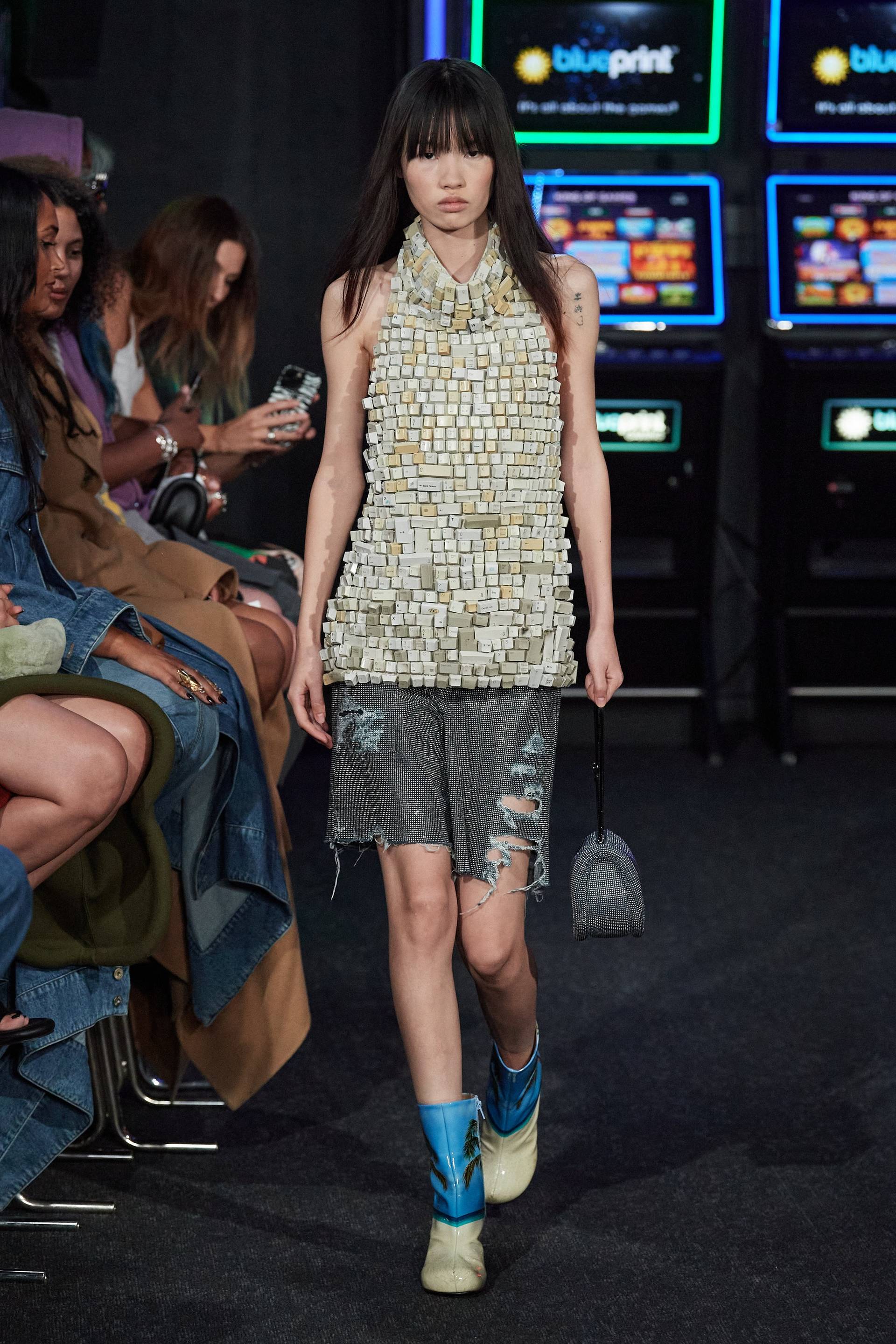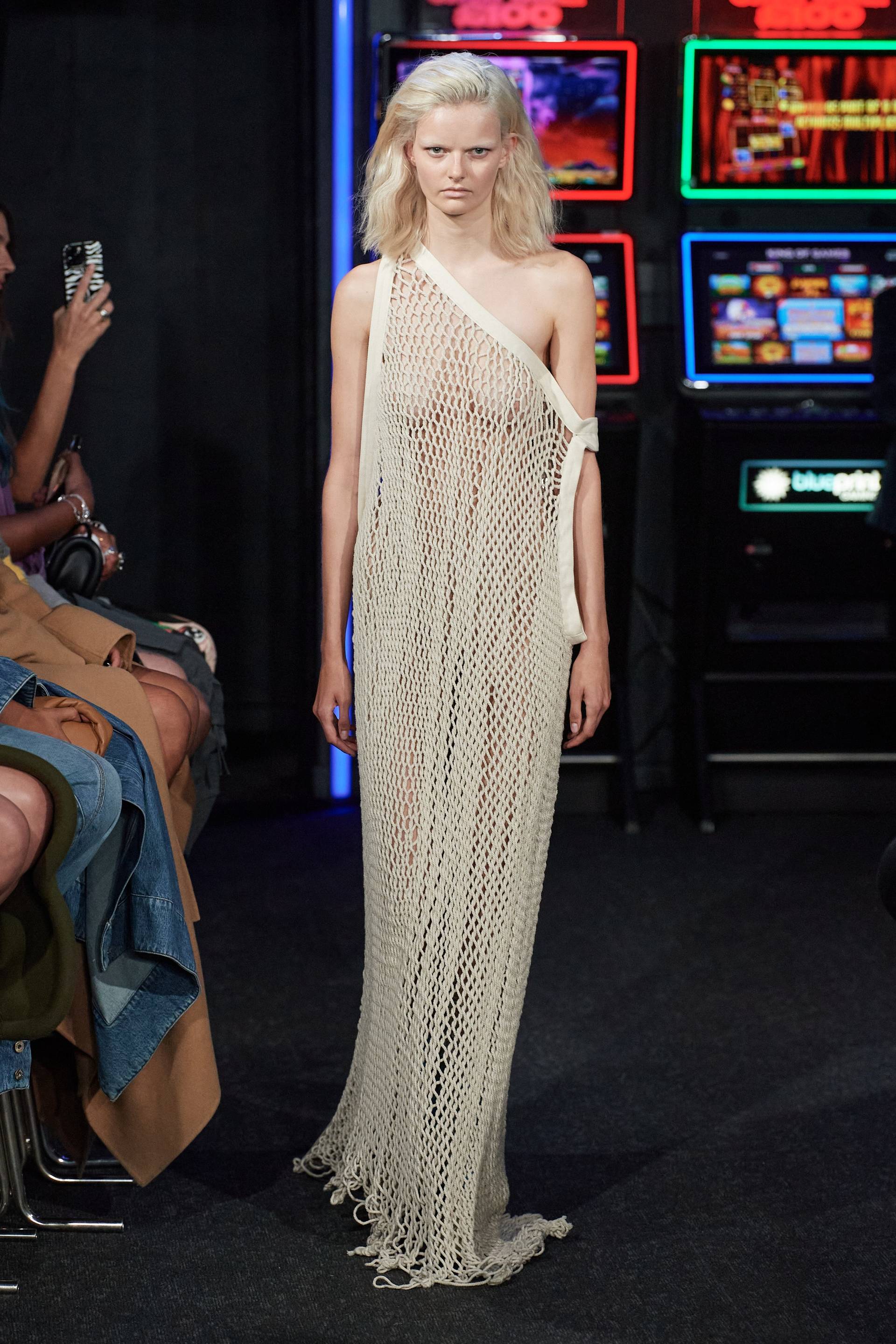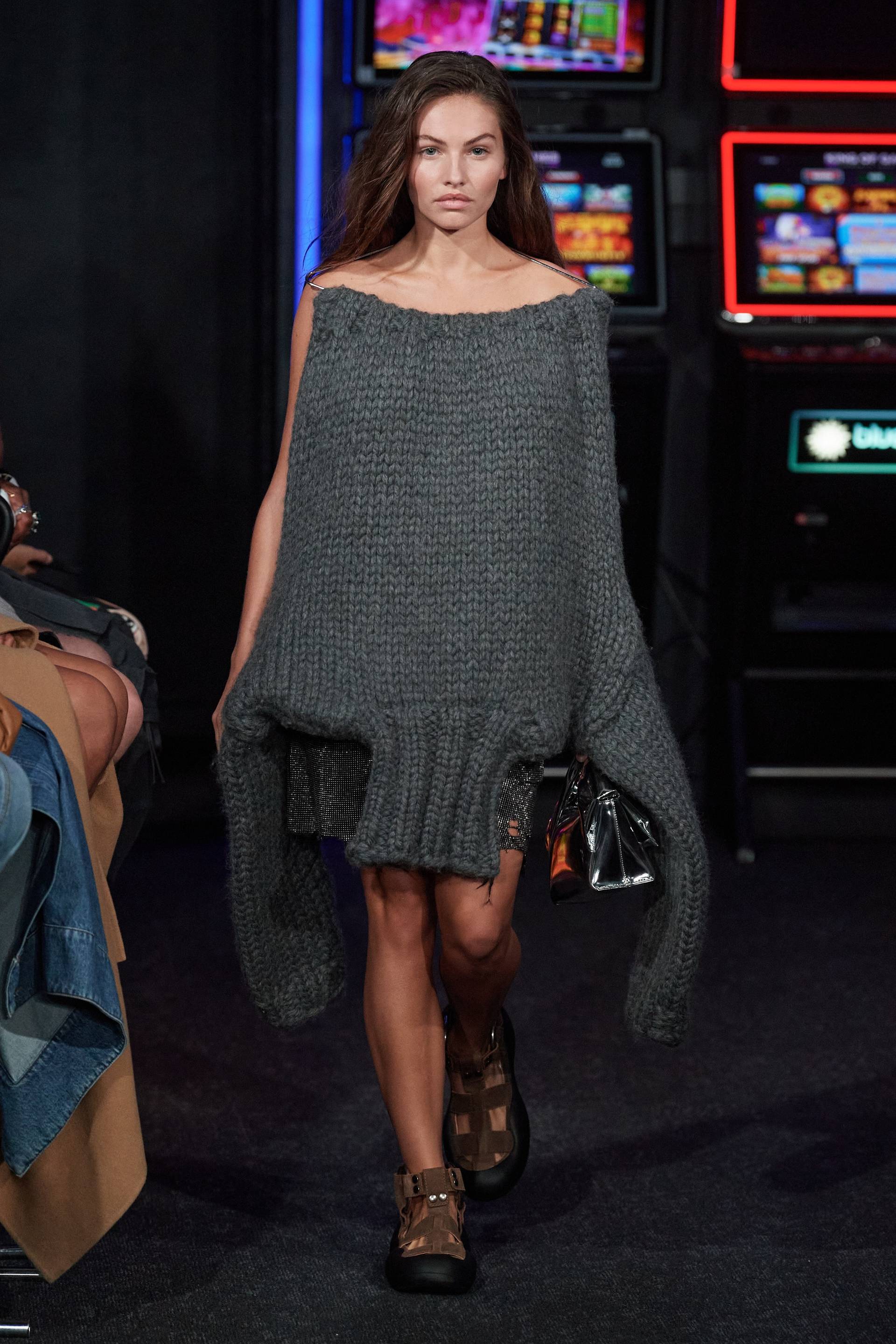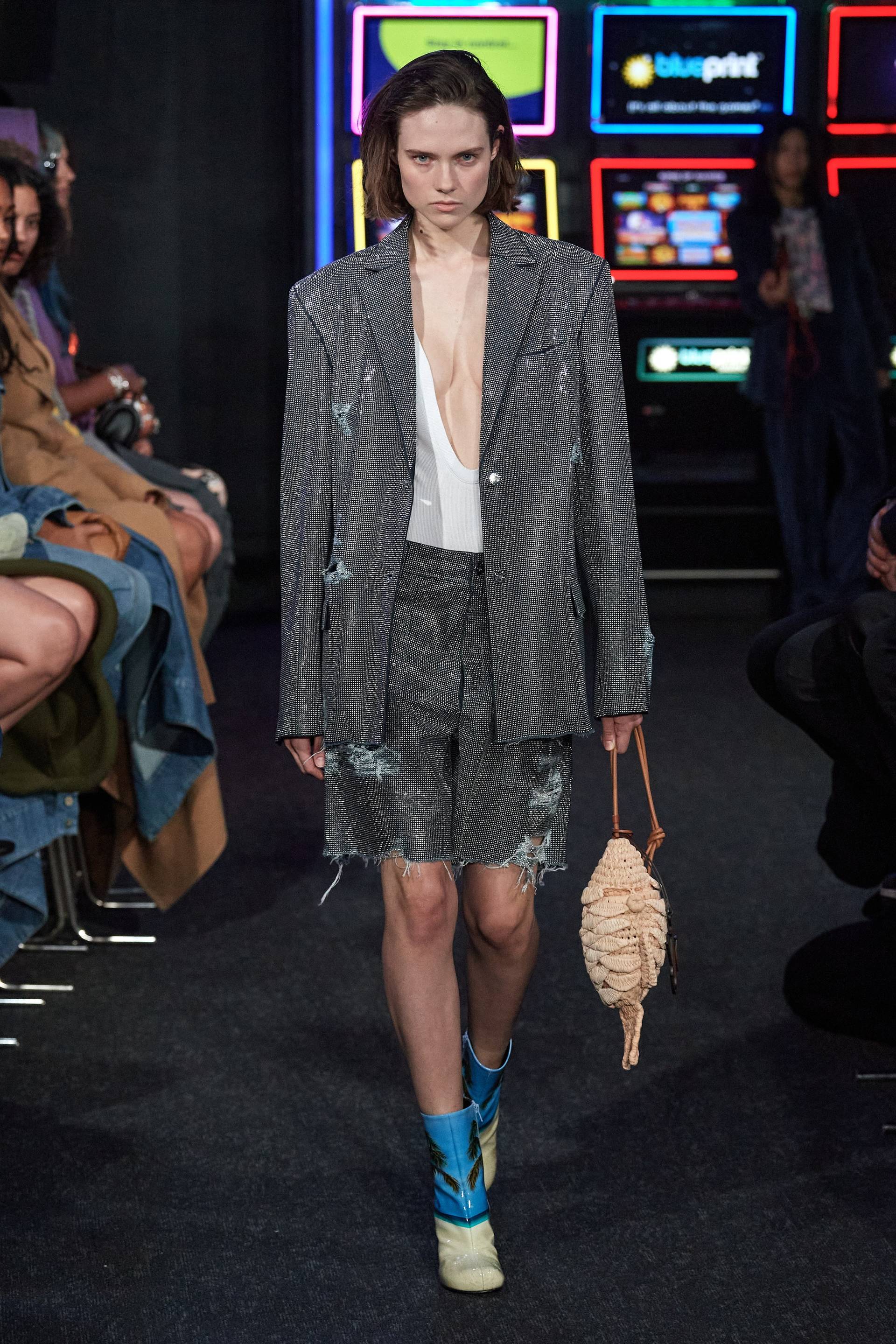 Photo: Isidore Montag / Gorunway.com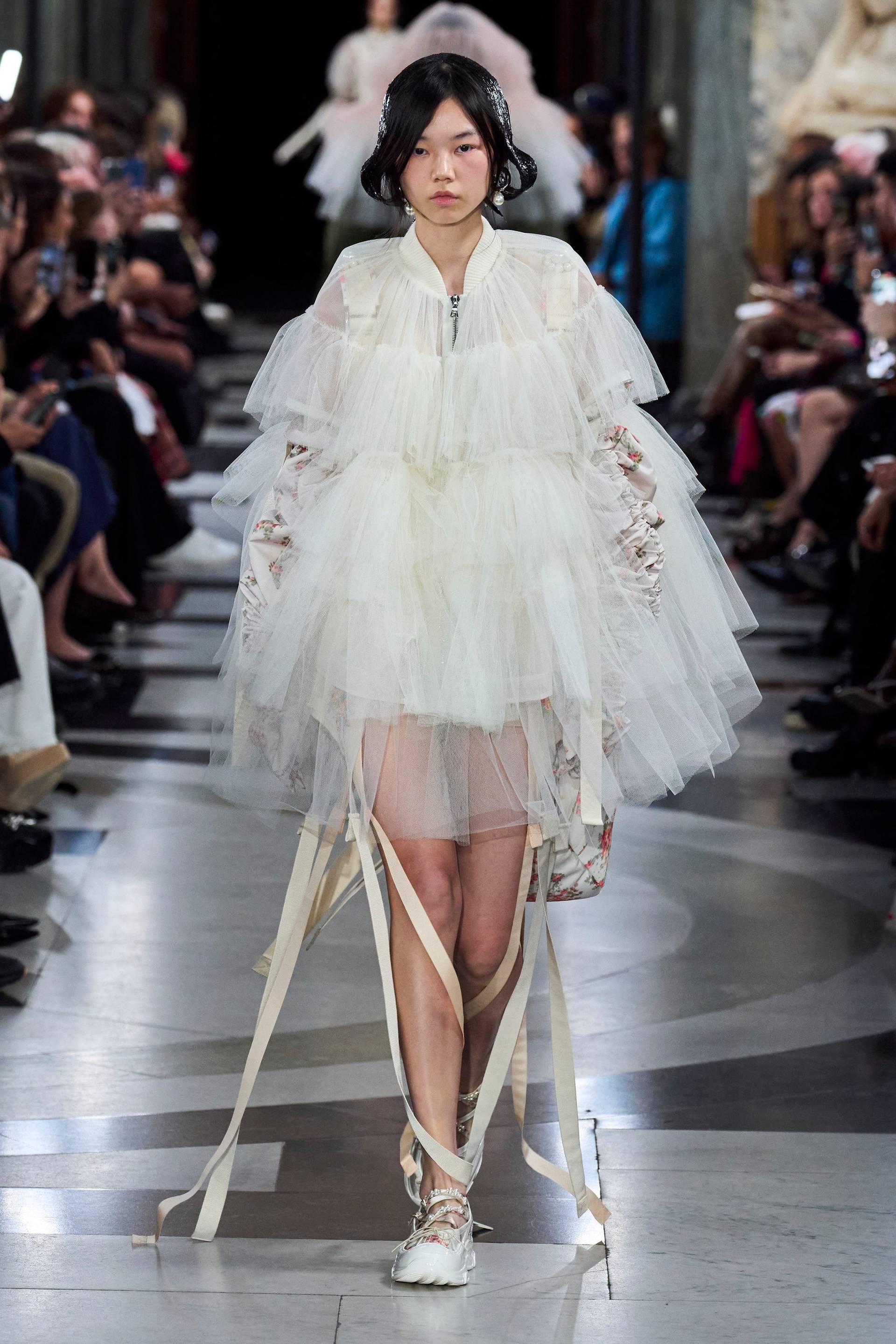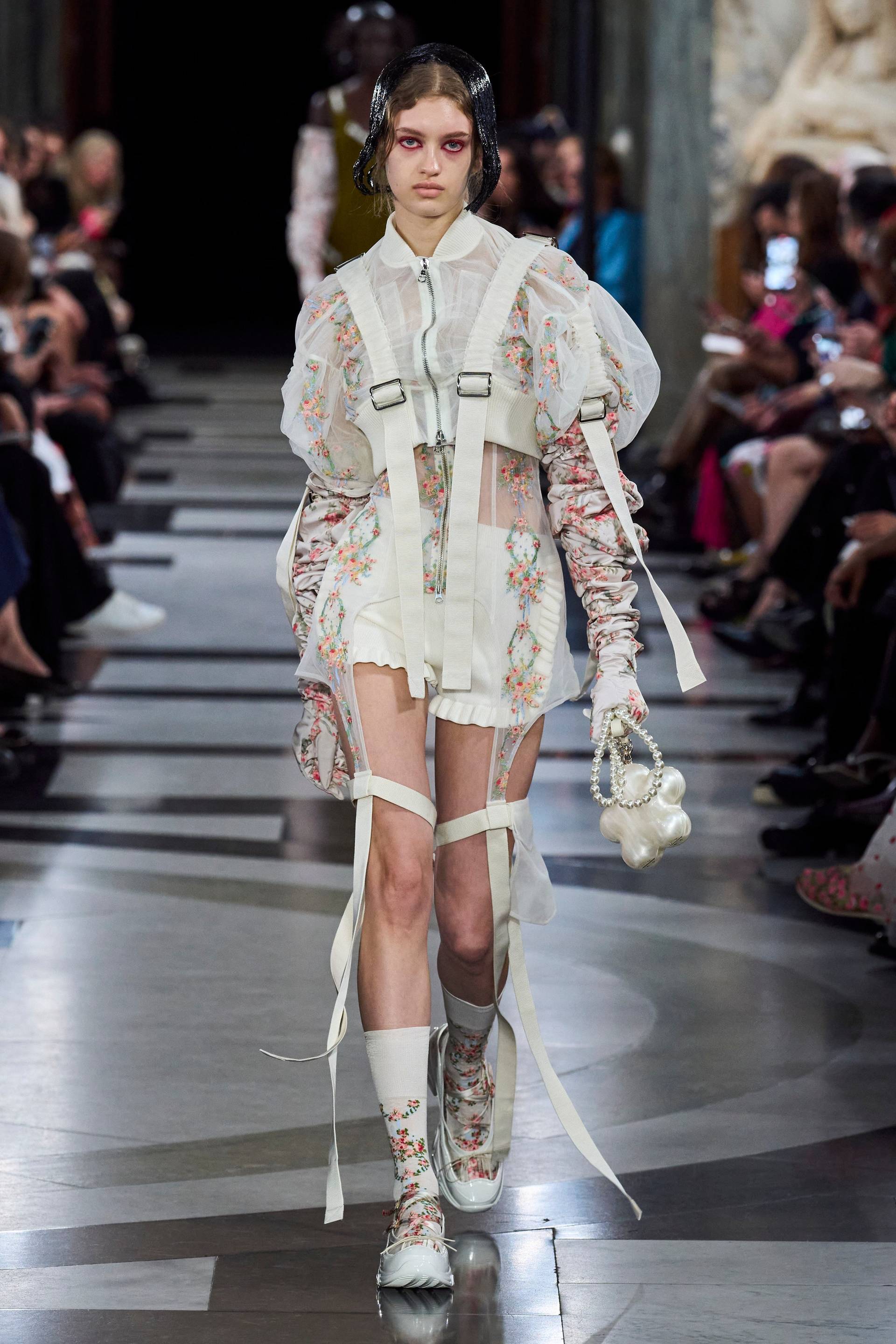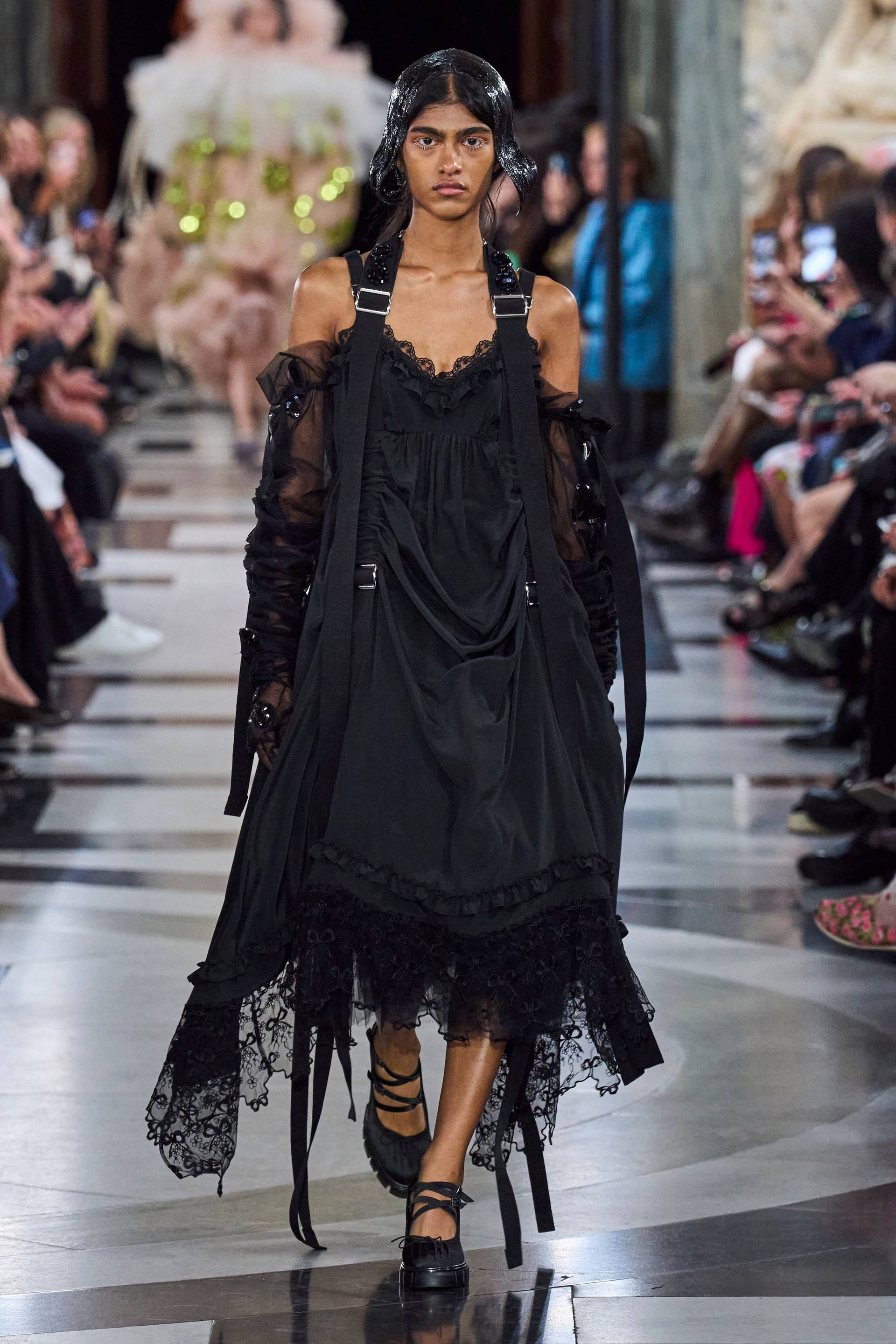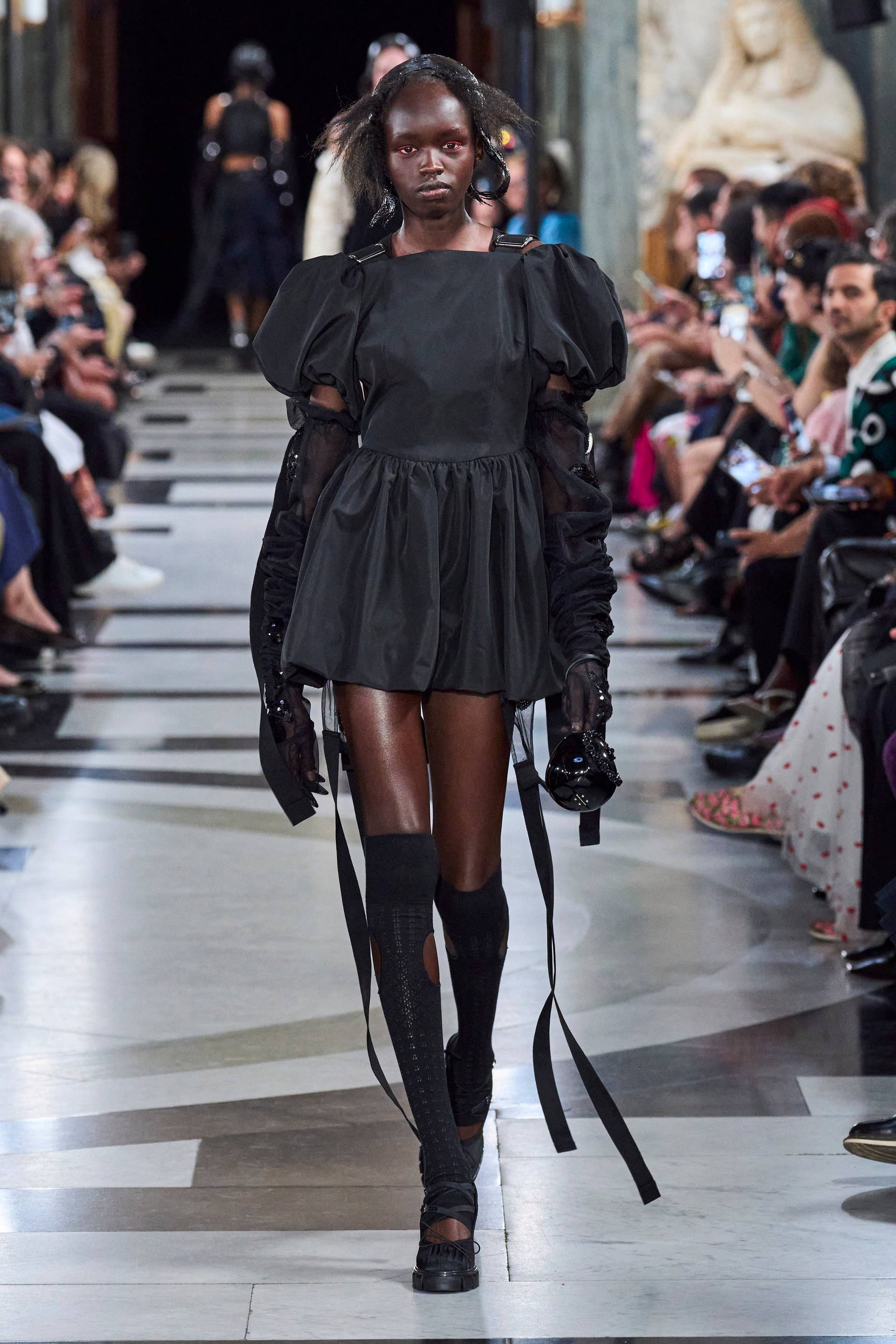 Simone Rocha is fast a master of her own design codes; with the Rocha-spun romanticism in full swing for SS23. The collection featured tons of ruching, immense volume – sheer fabrication in layers – buckles, and all in a slightly more subversive, darker expression of her love for ballet. With pops of tangerine and silver – the show received a standing ovation, after taking the audience on a journey through themes of vulnerability, Catholic Ireland (Simone is Irish) and traditional garment construction definitively portrayed through a contemporary lens.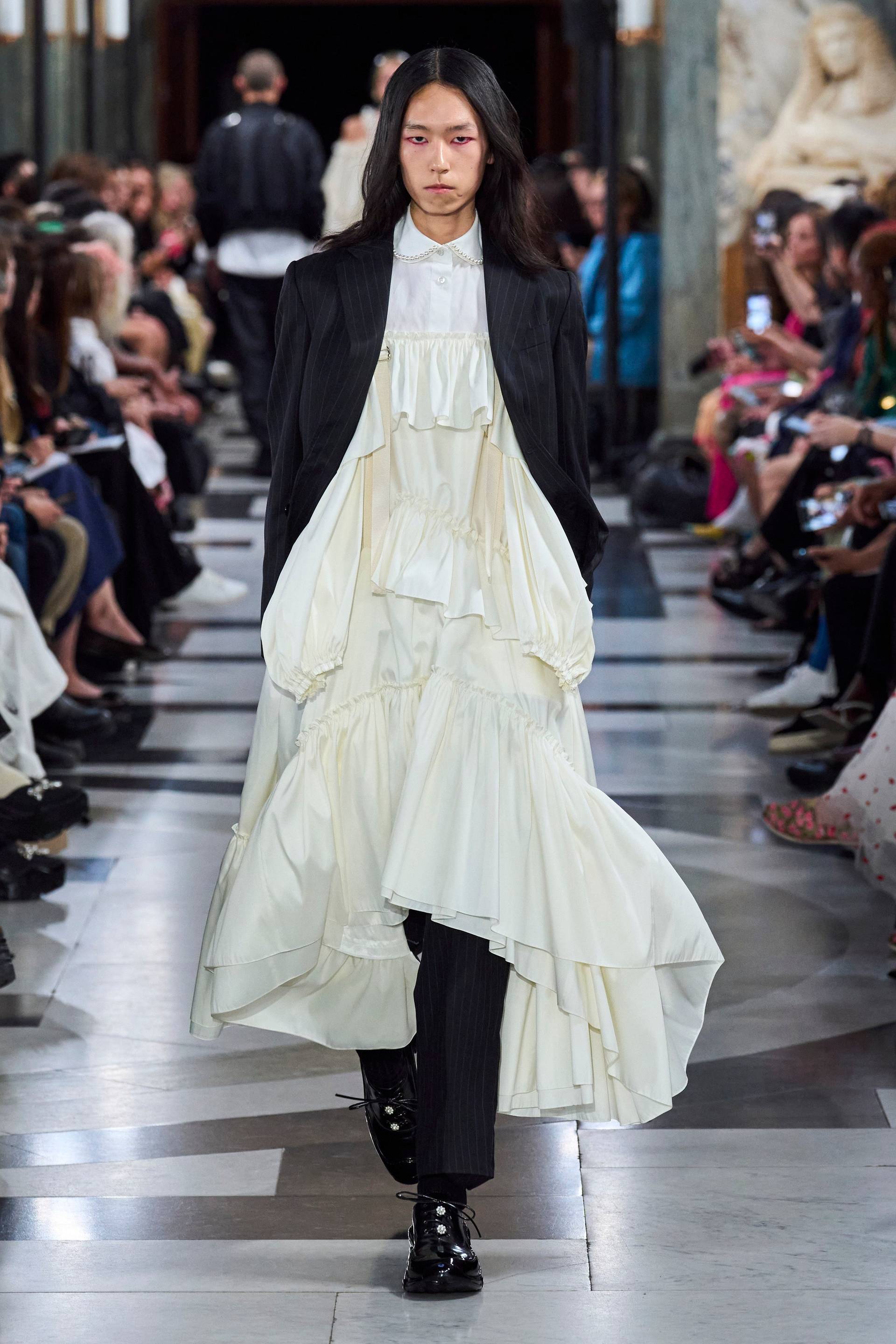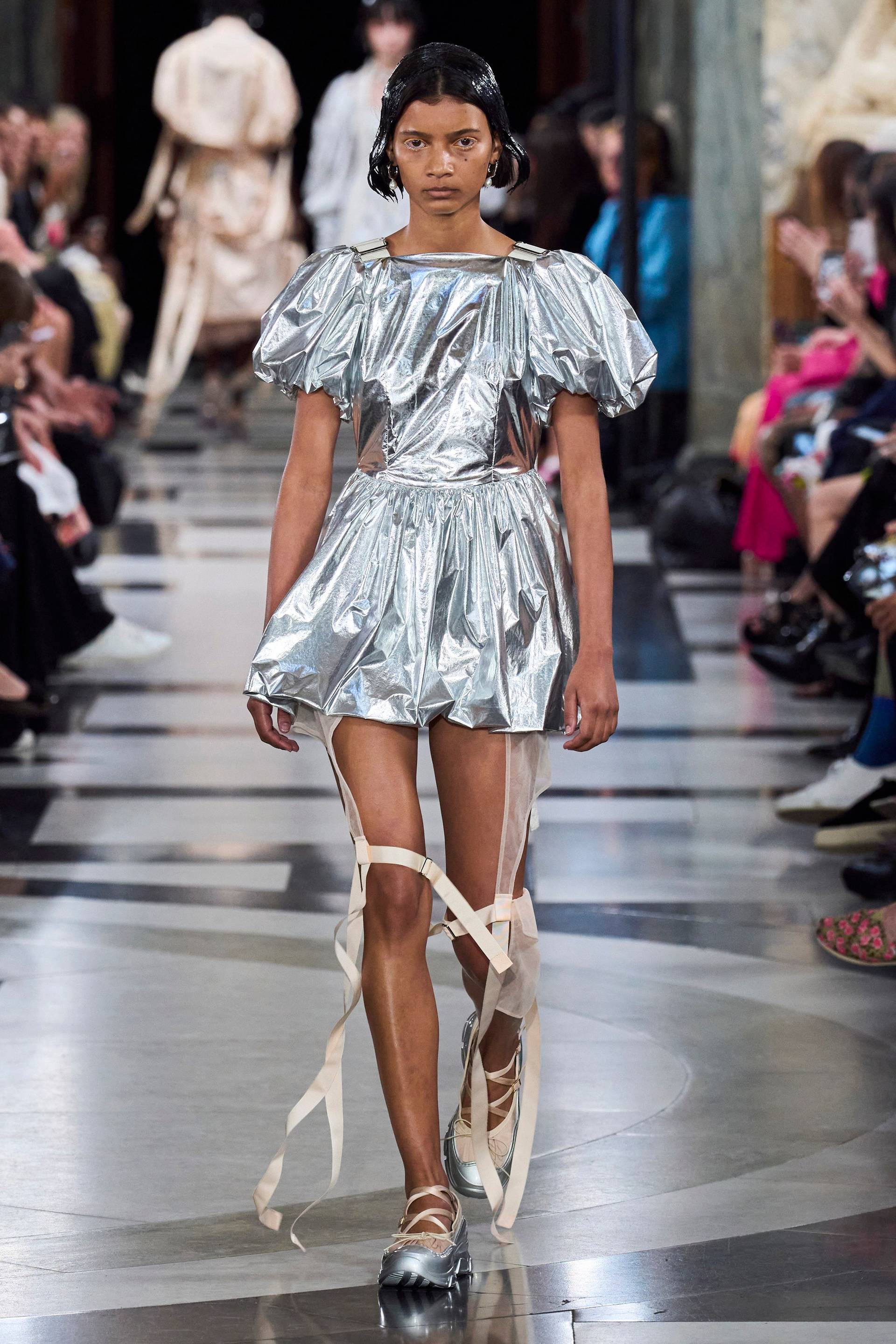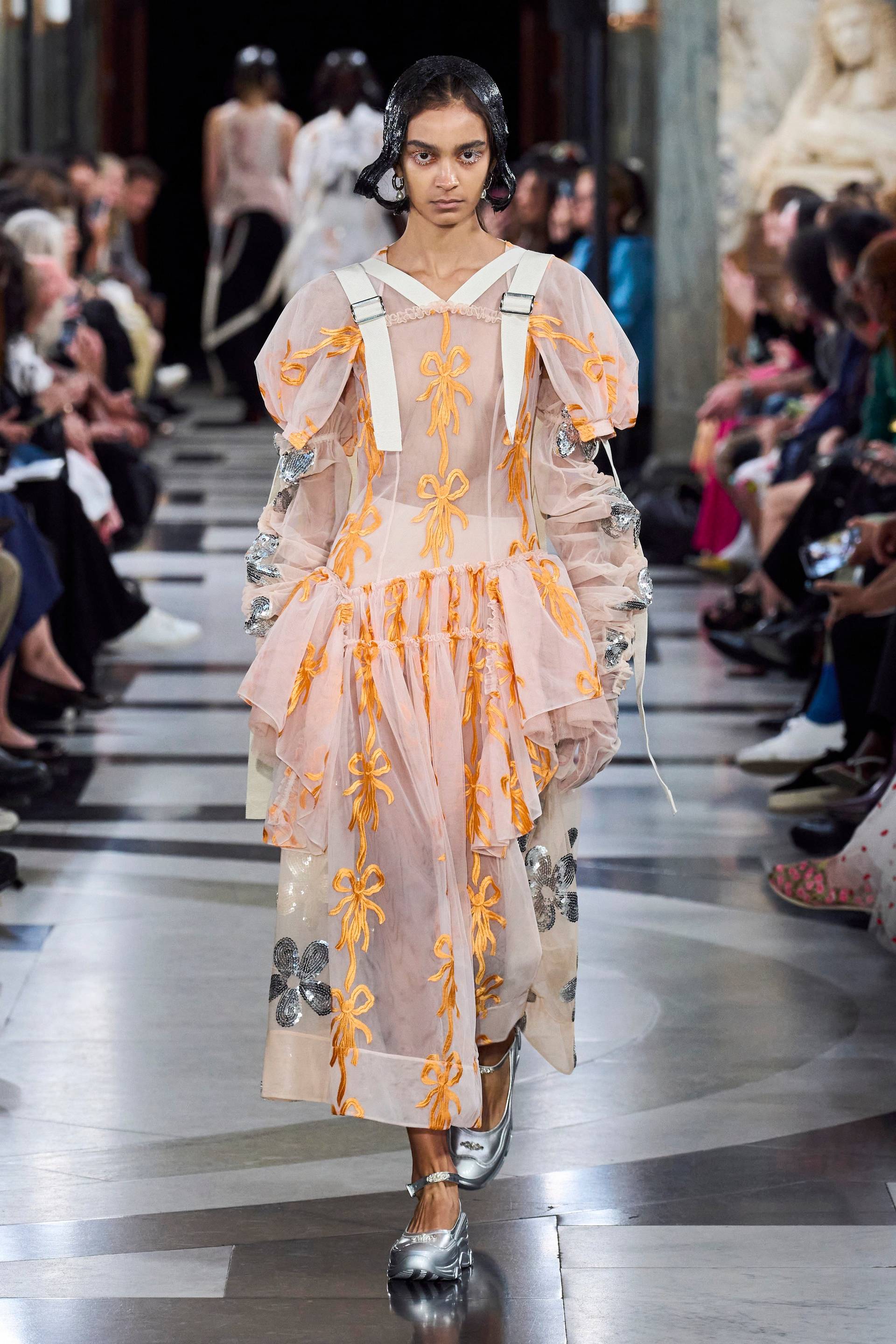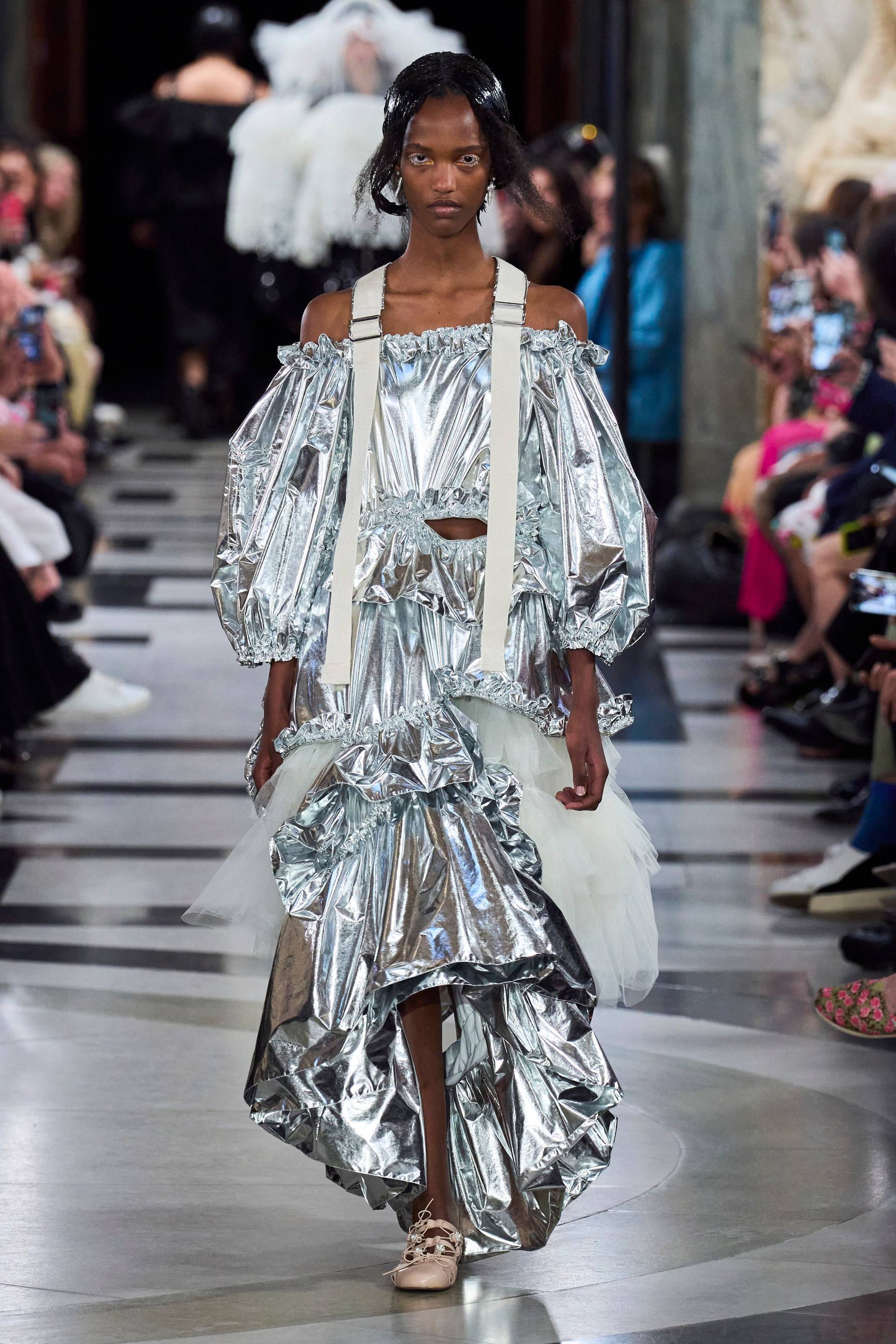 Photo: Filippo Fior / Gorunway.com
Milan Fashion Week /// Spring Summer 2023 /// 20 September to 26 September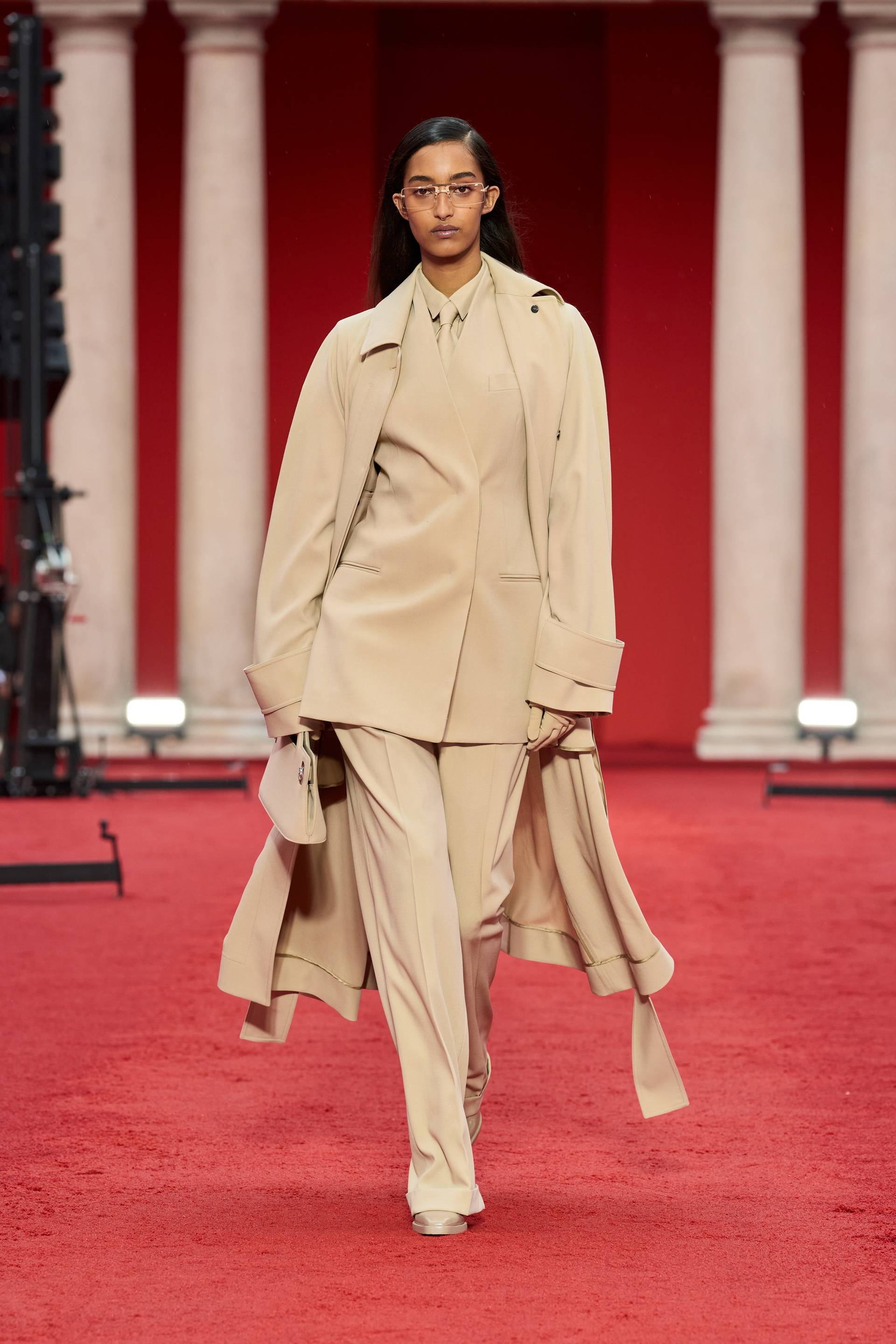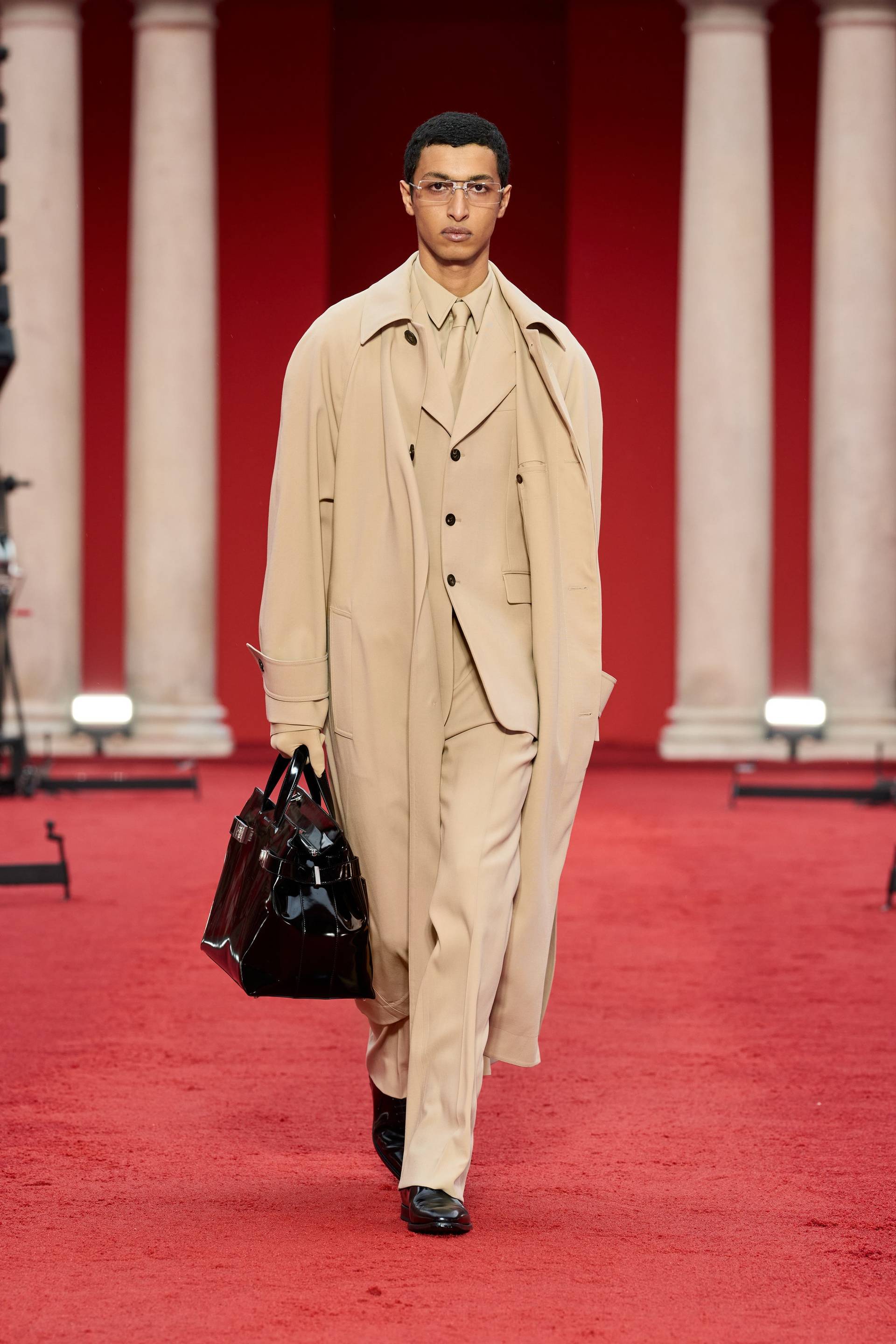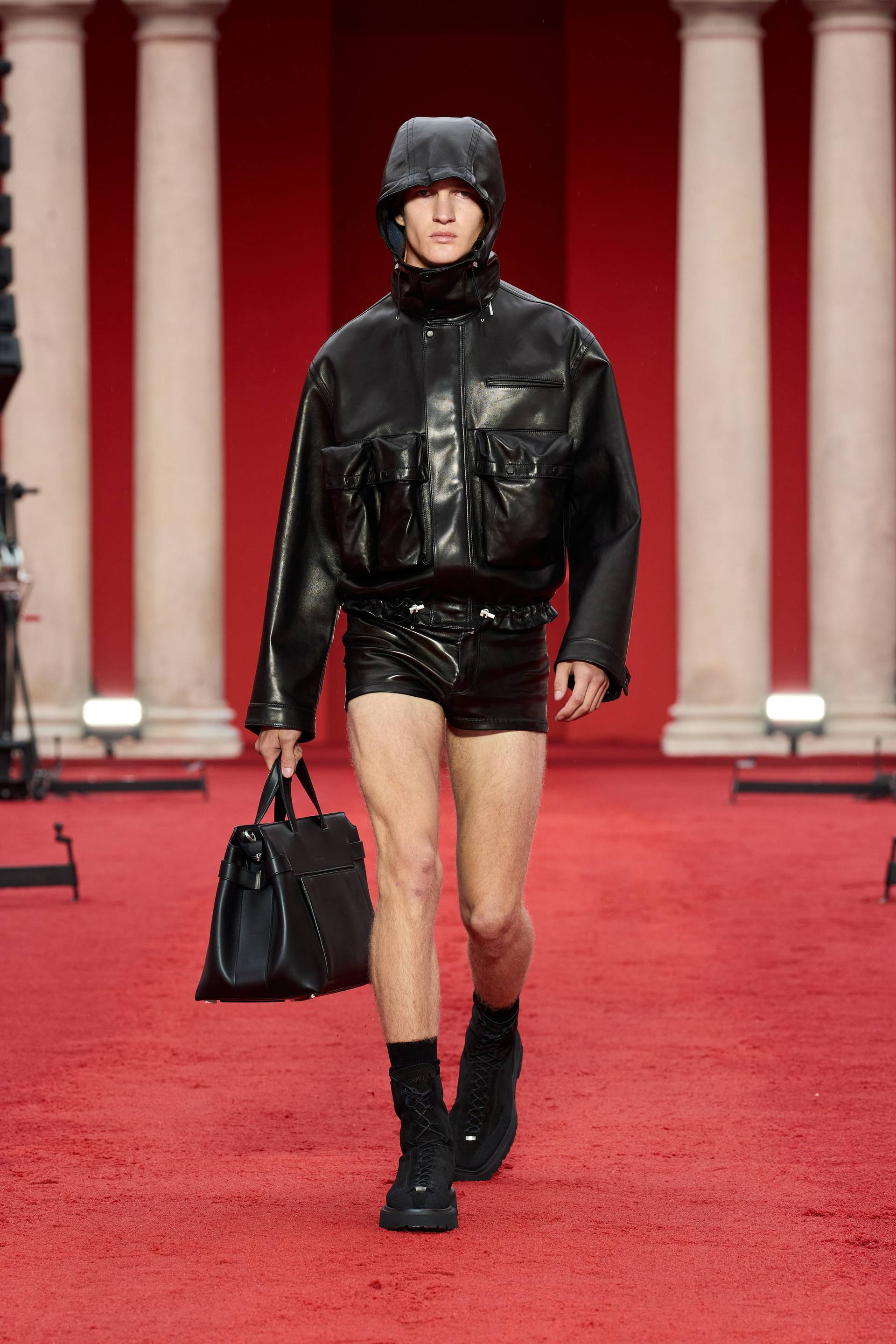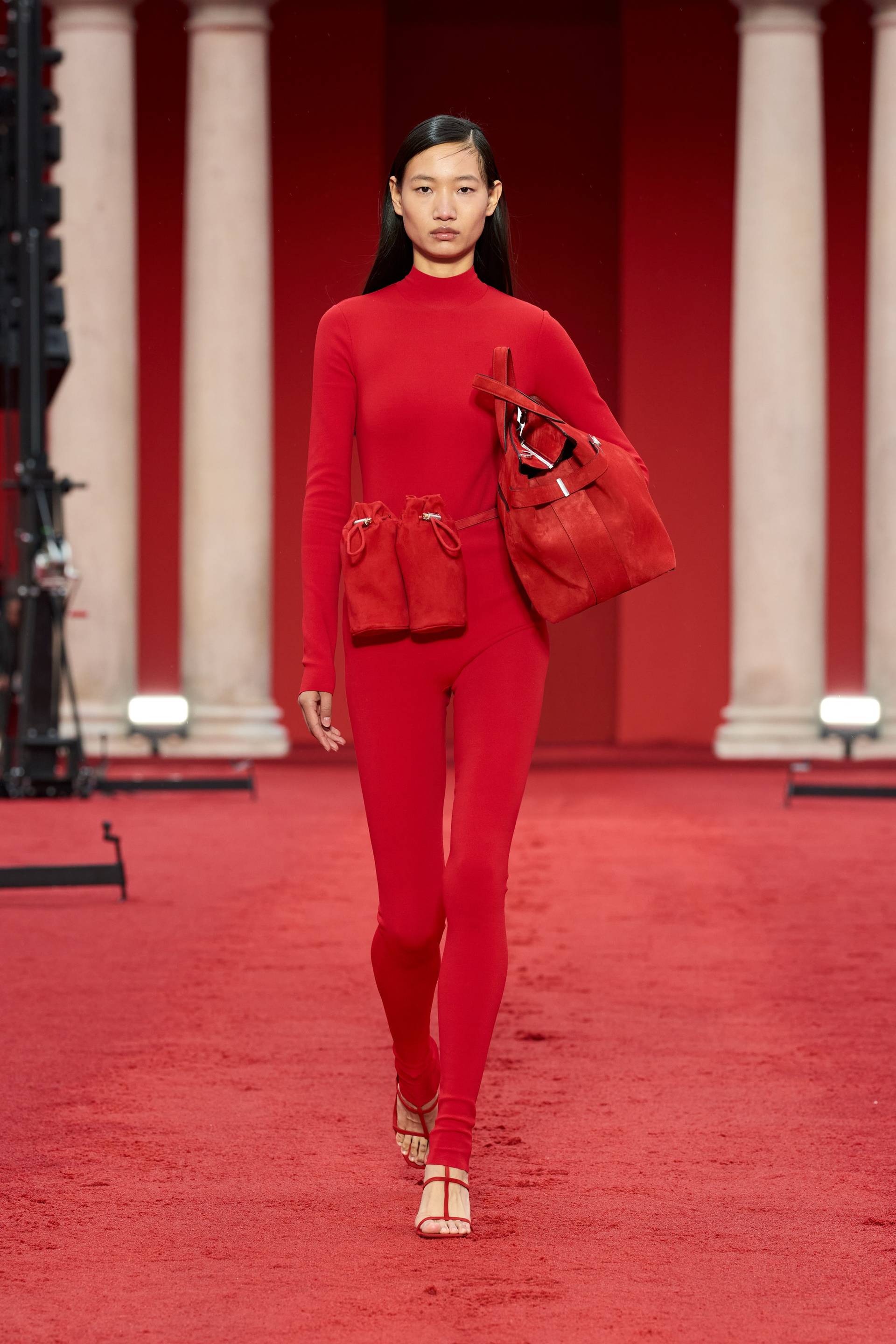 Ferragamo showcased its launch collection under a new creative director – namely, fashion prodigy Maximilian Davis, who at 27 years old, is leading one of the oldest, heritage brands in Italy into a new era. With an emphasis on the house's legacy – Davis danced an exceptional balance between elegance and youthfulness, energising the collections with the crimson red, camel tones punctuating the cleanliness of form & construction. Ferragamo has long been primarily focused on accessories – still a main feature, with beautifully crafted bags and footwear adorning the runway show. We are very excited to see Maximilian continue his indelible rise.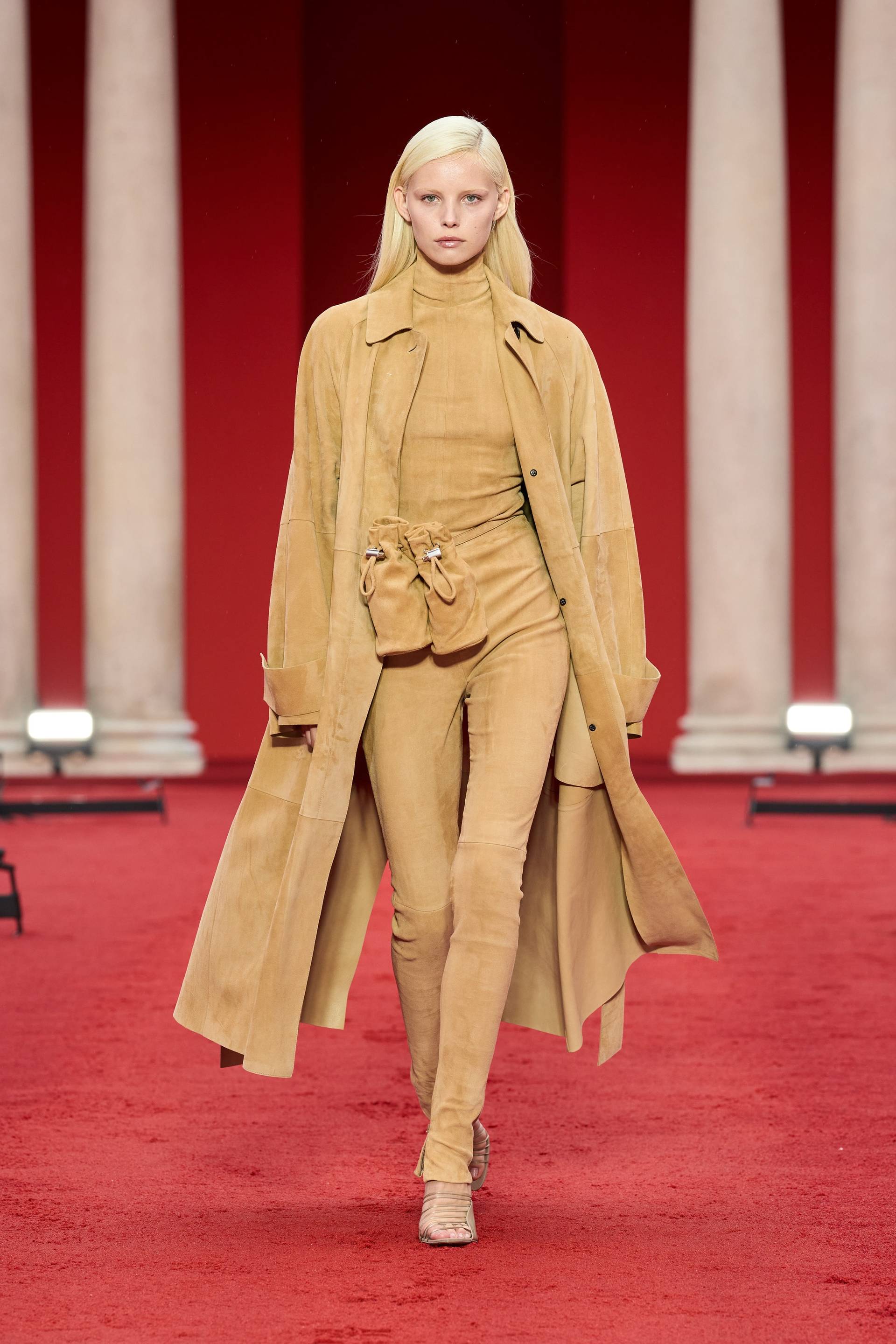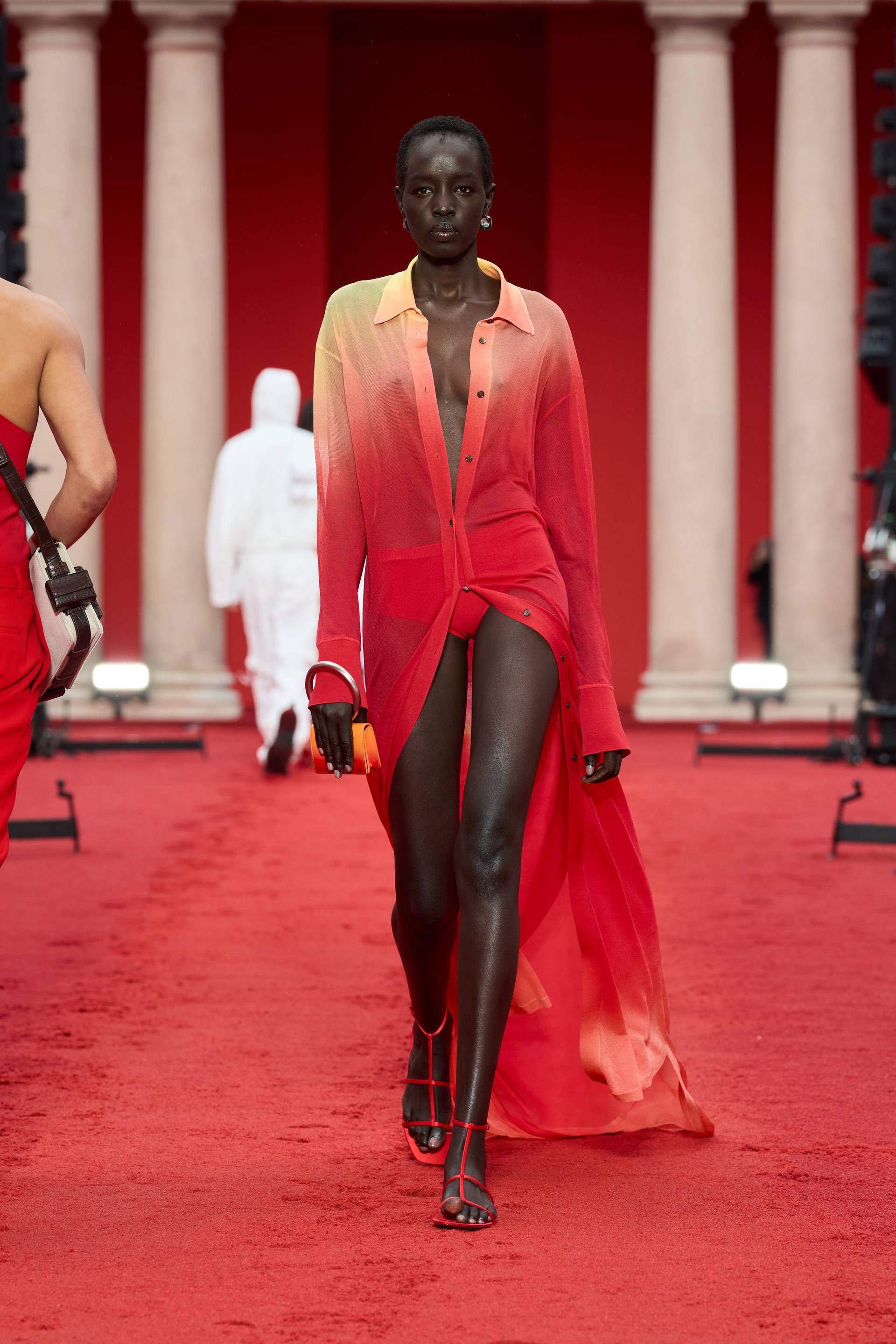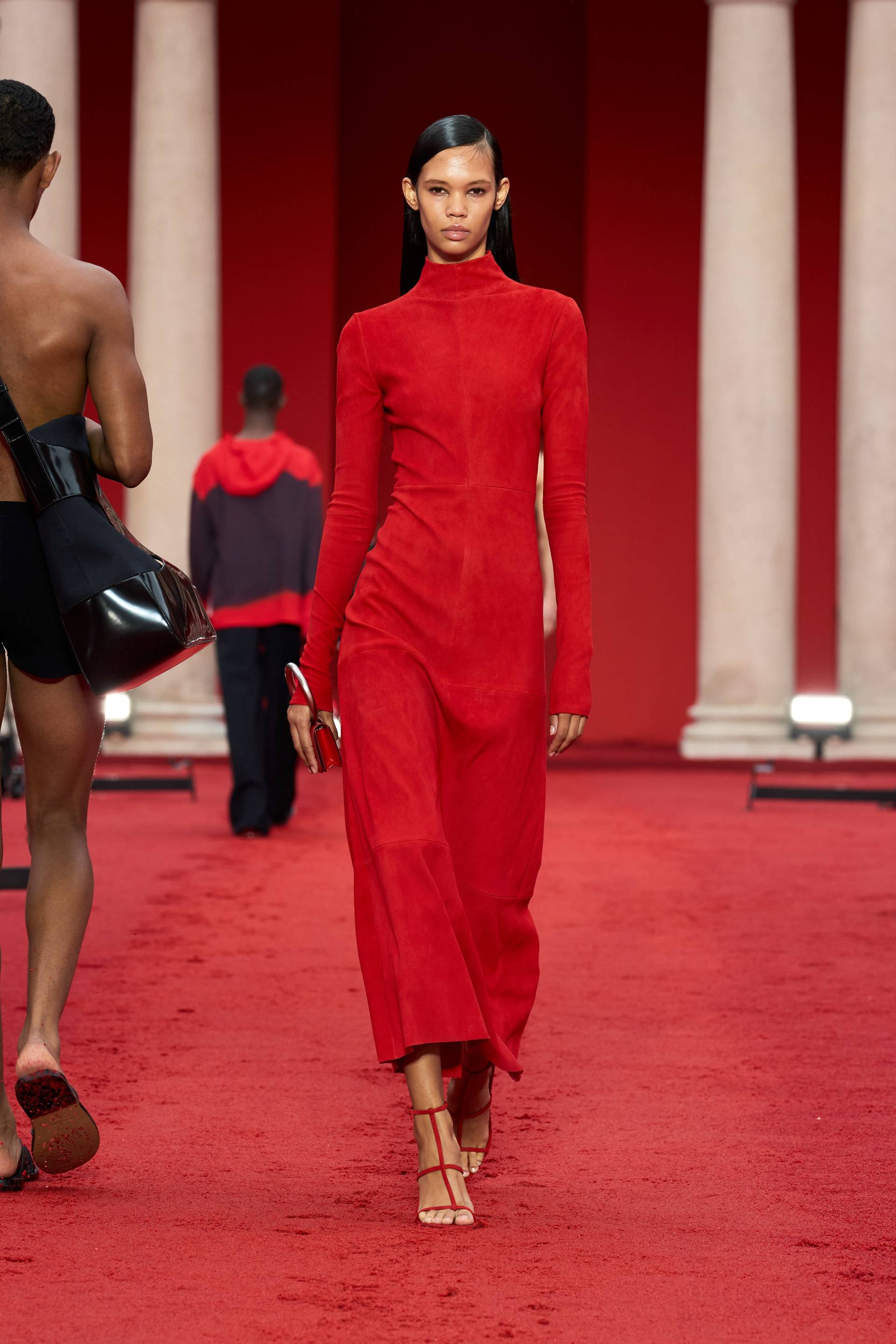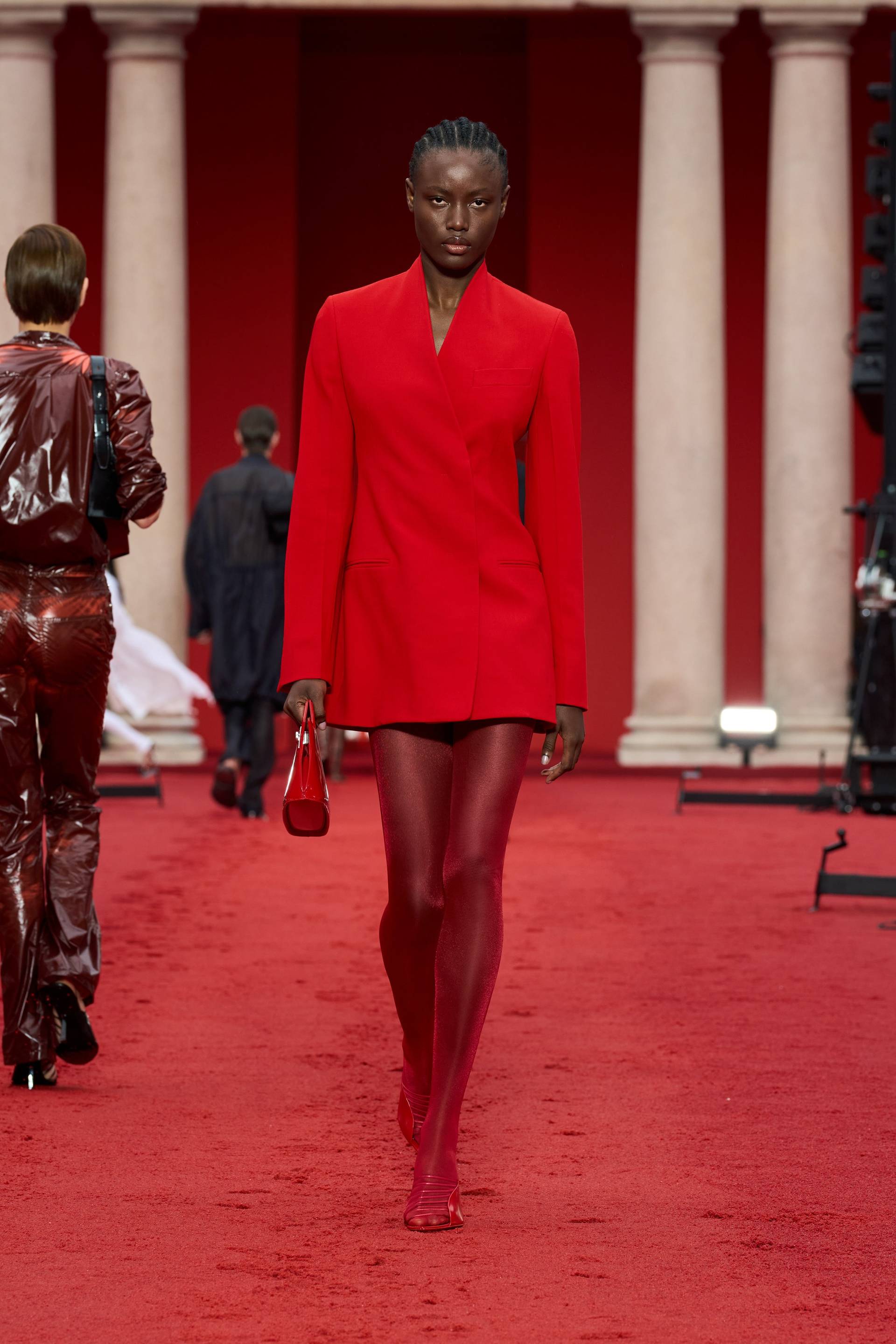 Photo: Filippo Fior / Gorunway.com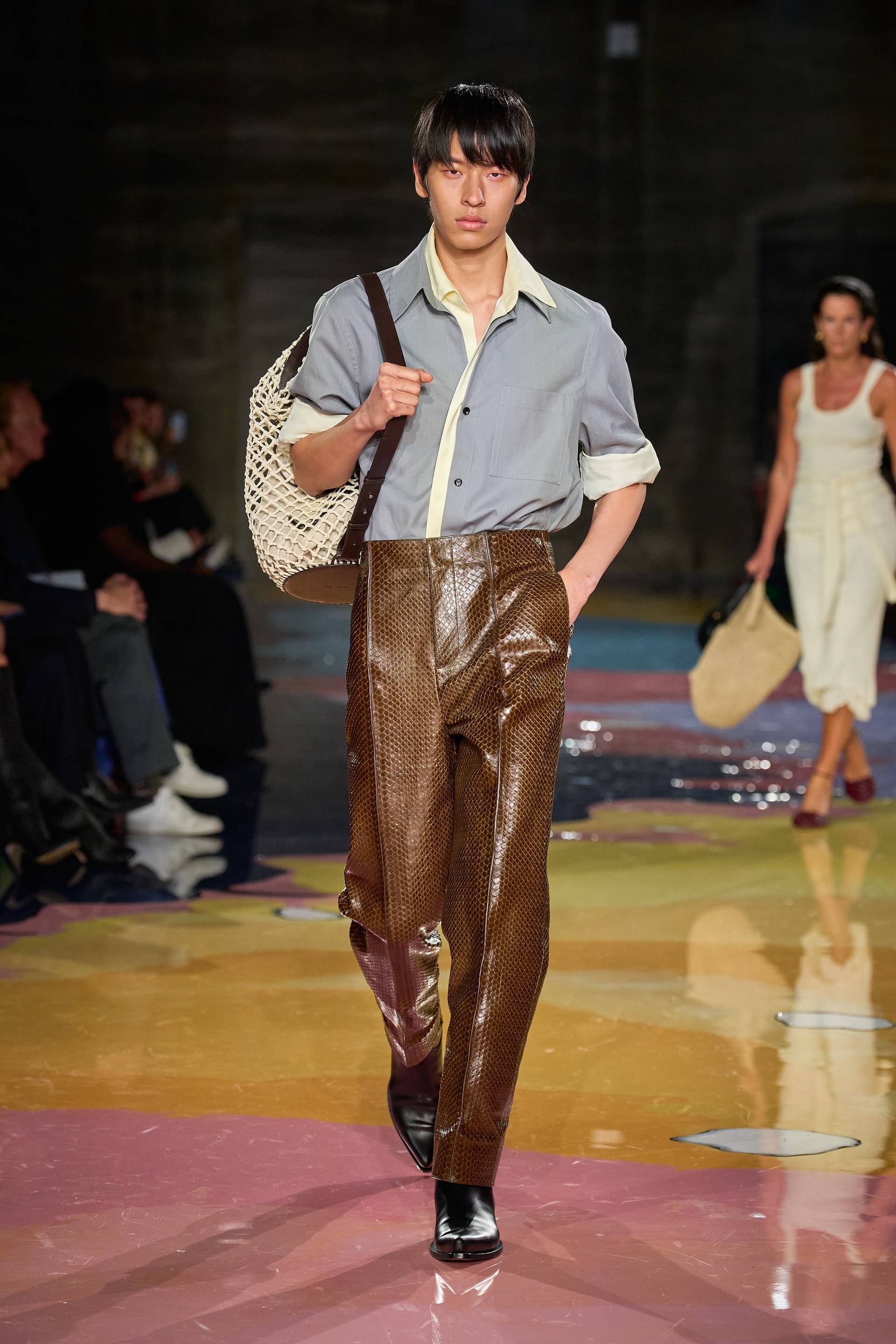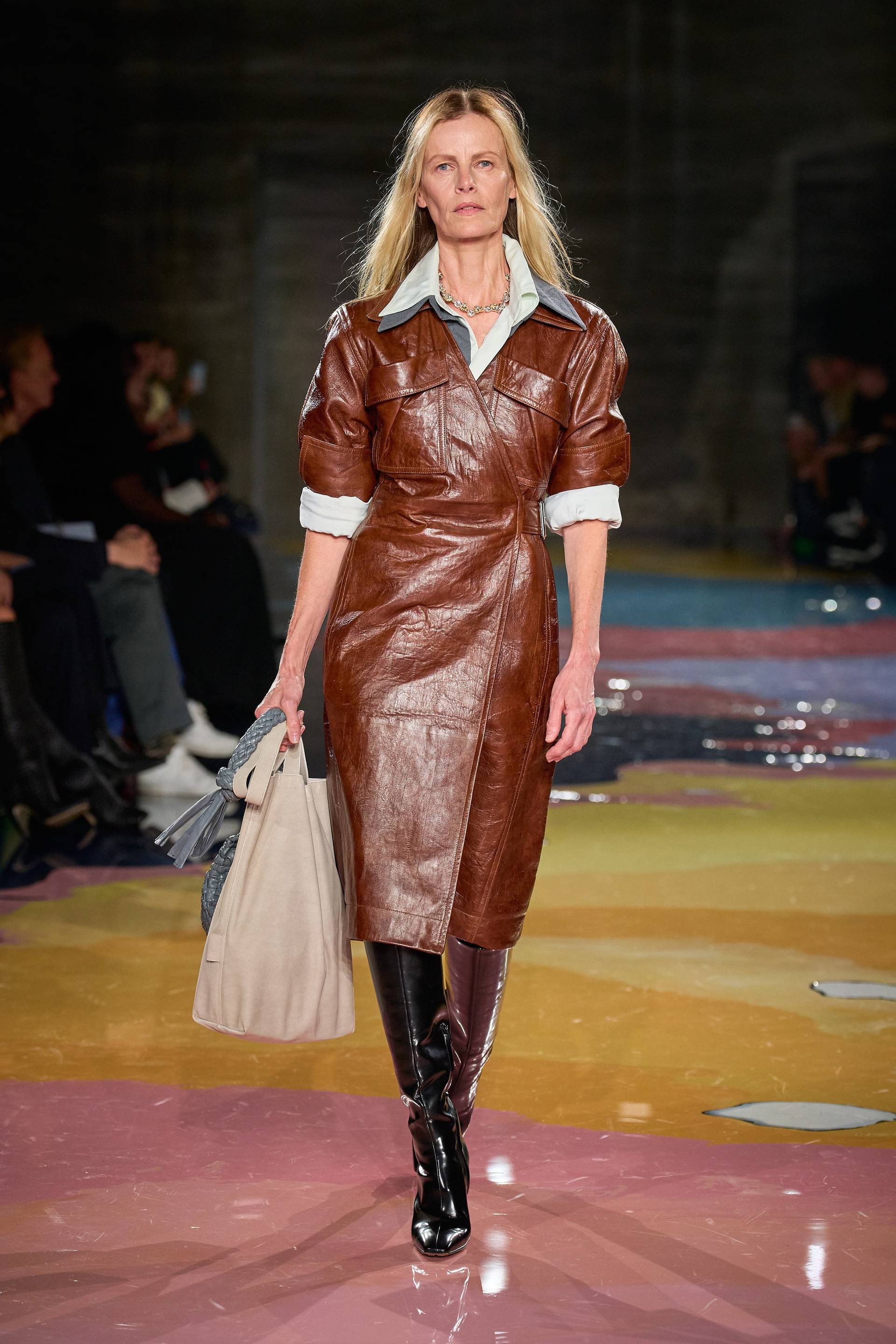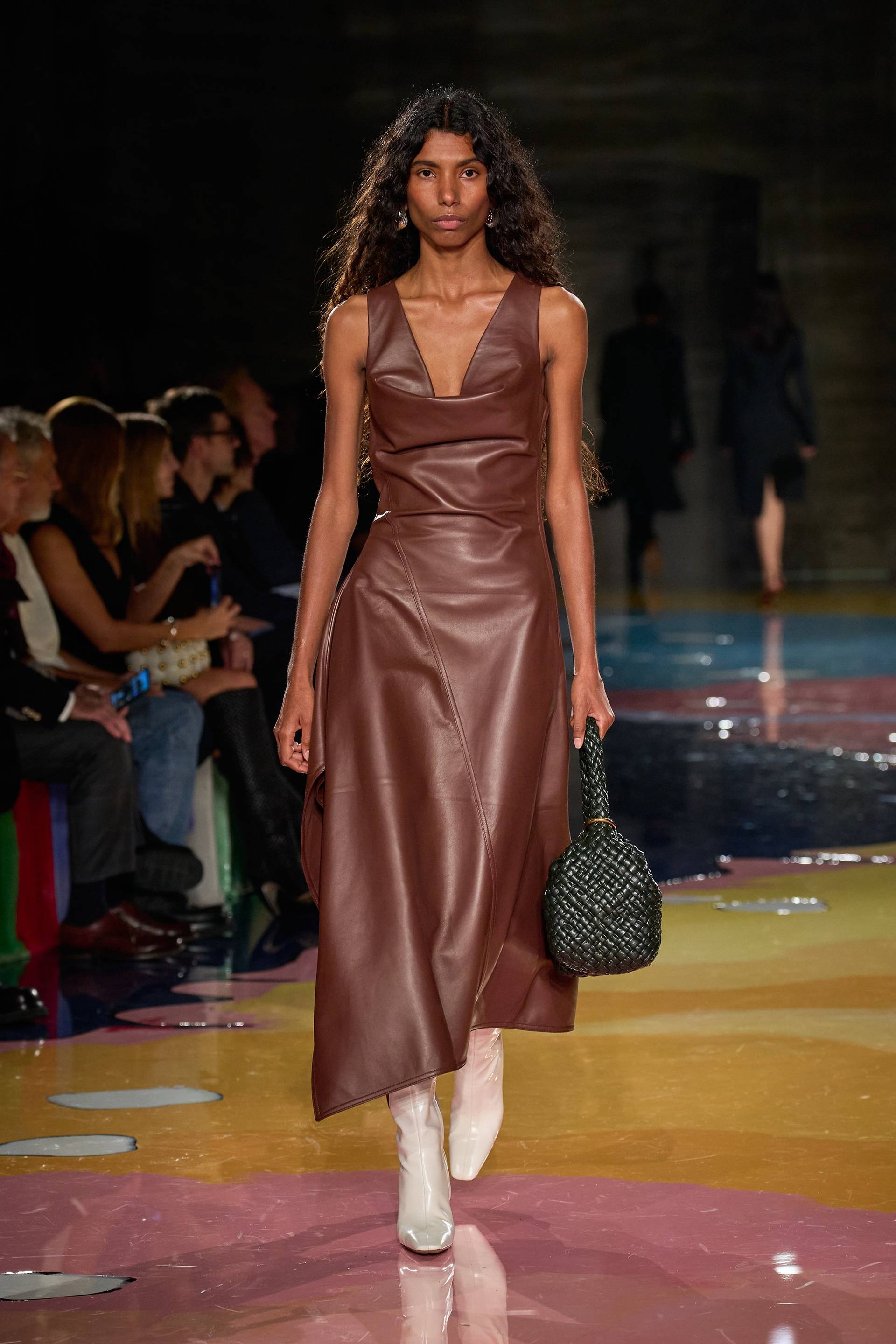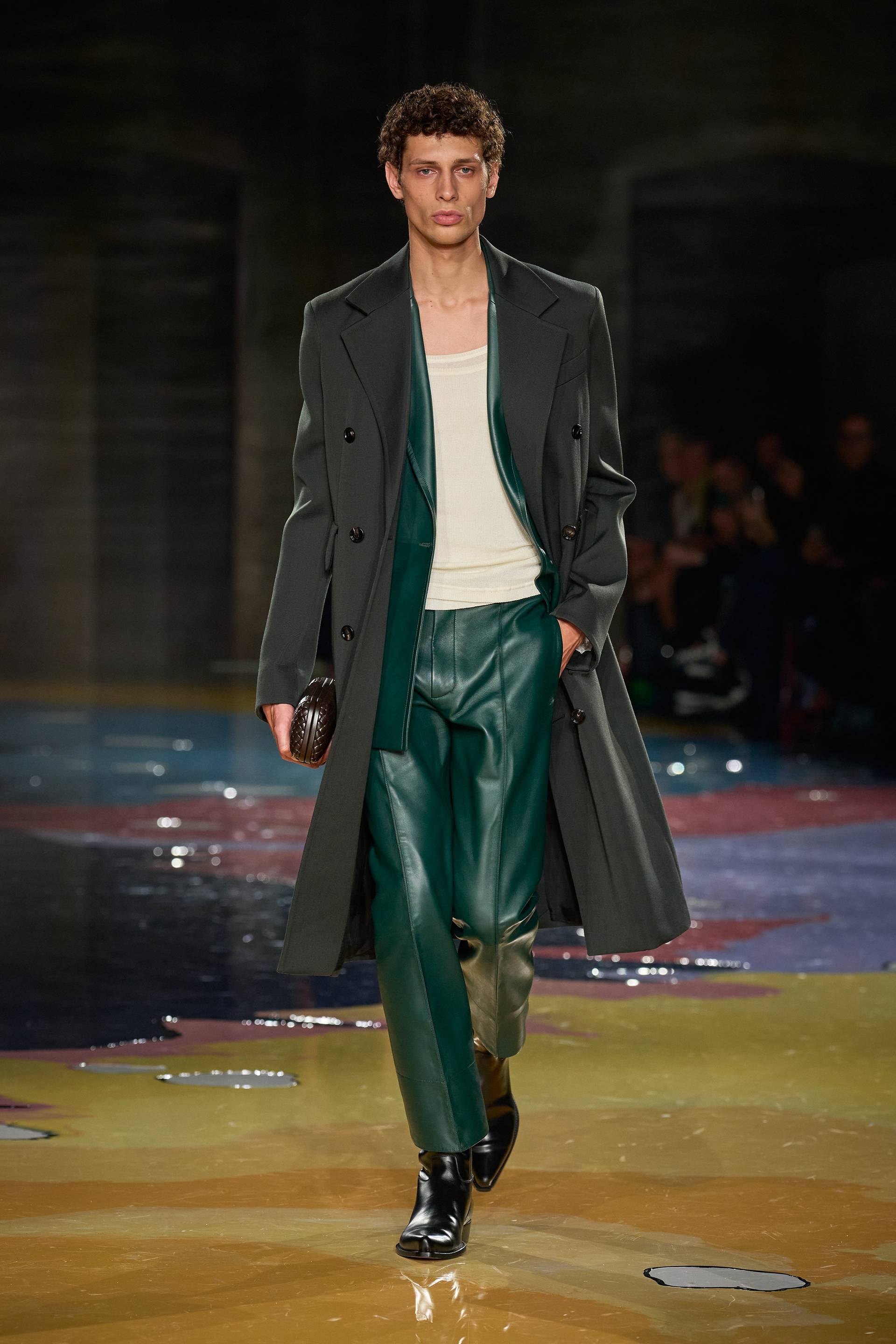 Bottega Veneta saw its second collection showcased by newly appointed Matthieu Blazy – and he did not disappoint. An exceptional feat of tailoring and the precise engineering of leather were front and centre – interspersed among truly 'ready-to-wear' casual but chic pieces presented across 74 looks for both womenswear and menswear, designed actually for everyday life. As Nicole Phelps wrote, "Blazy also revisited the "dynamic" silhouette he established last season, exaggerating the sense of clothes-in-motion by adding what could be described as fins to the back of pant legs. Similarly, the storm flaps on trench coats seemed to have caught a breeze and stayed there. The curving funnel necklines on jackets and shirts gave them a streamlined profile. These are subtle details, but if they're missable by the uninitiated, they matter a lot to fashion obsessives who watch for such changes. Blazy has those people's attention."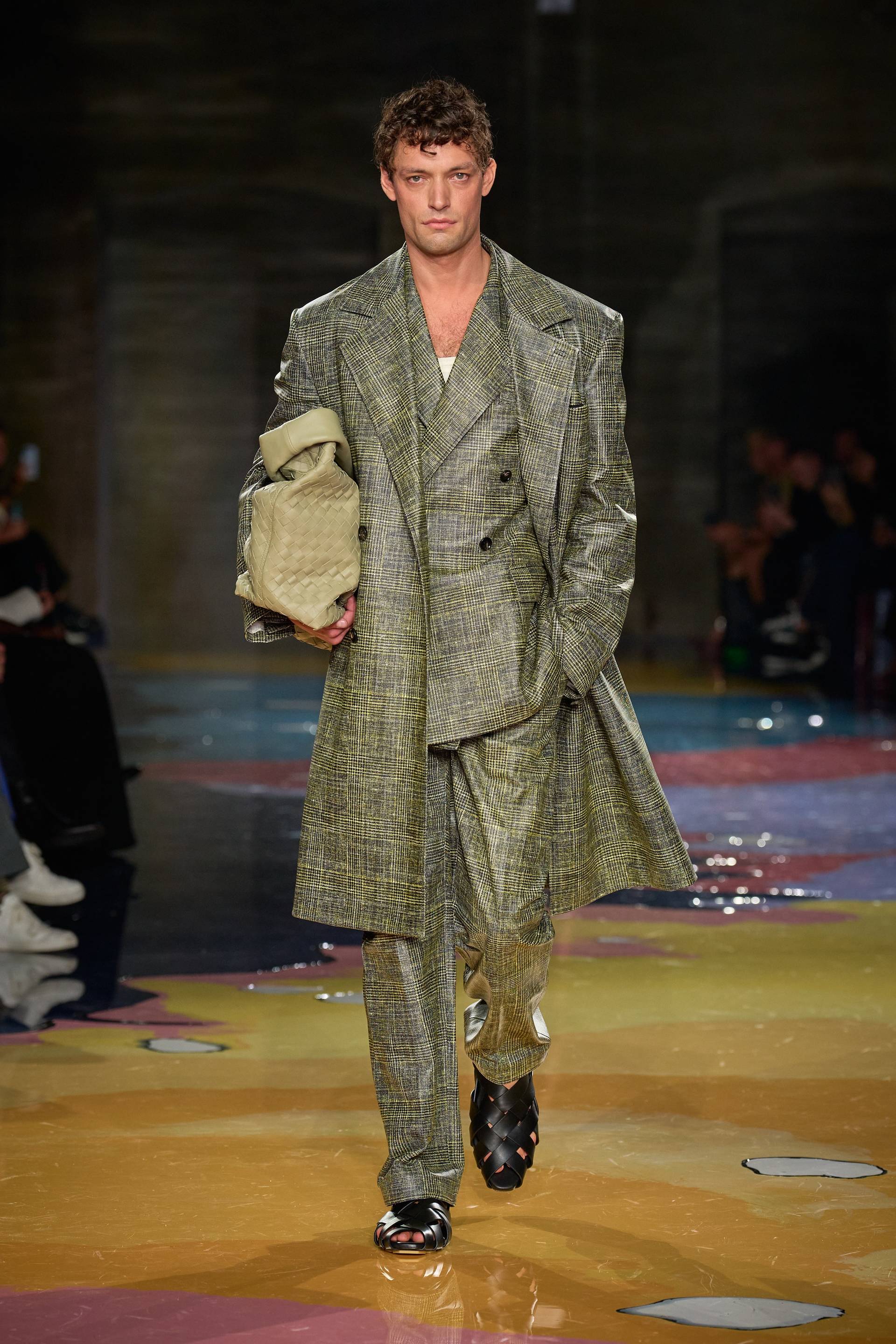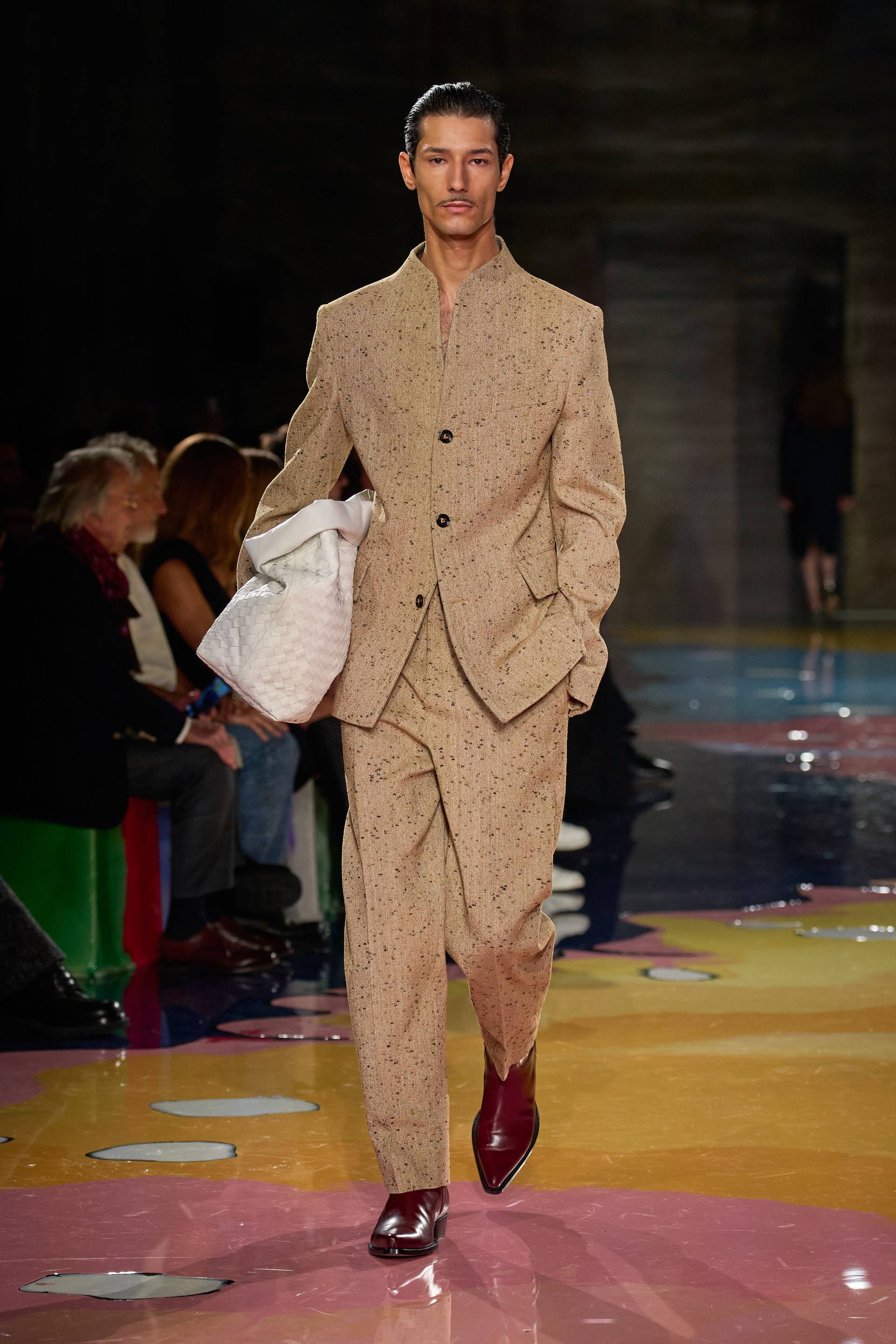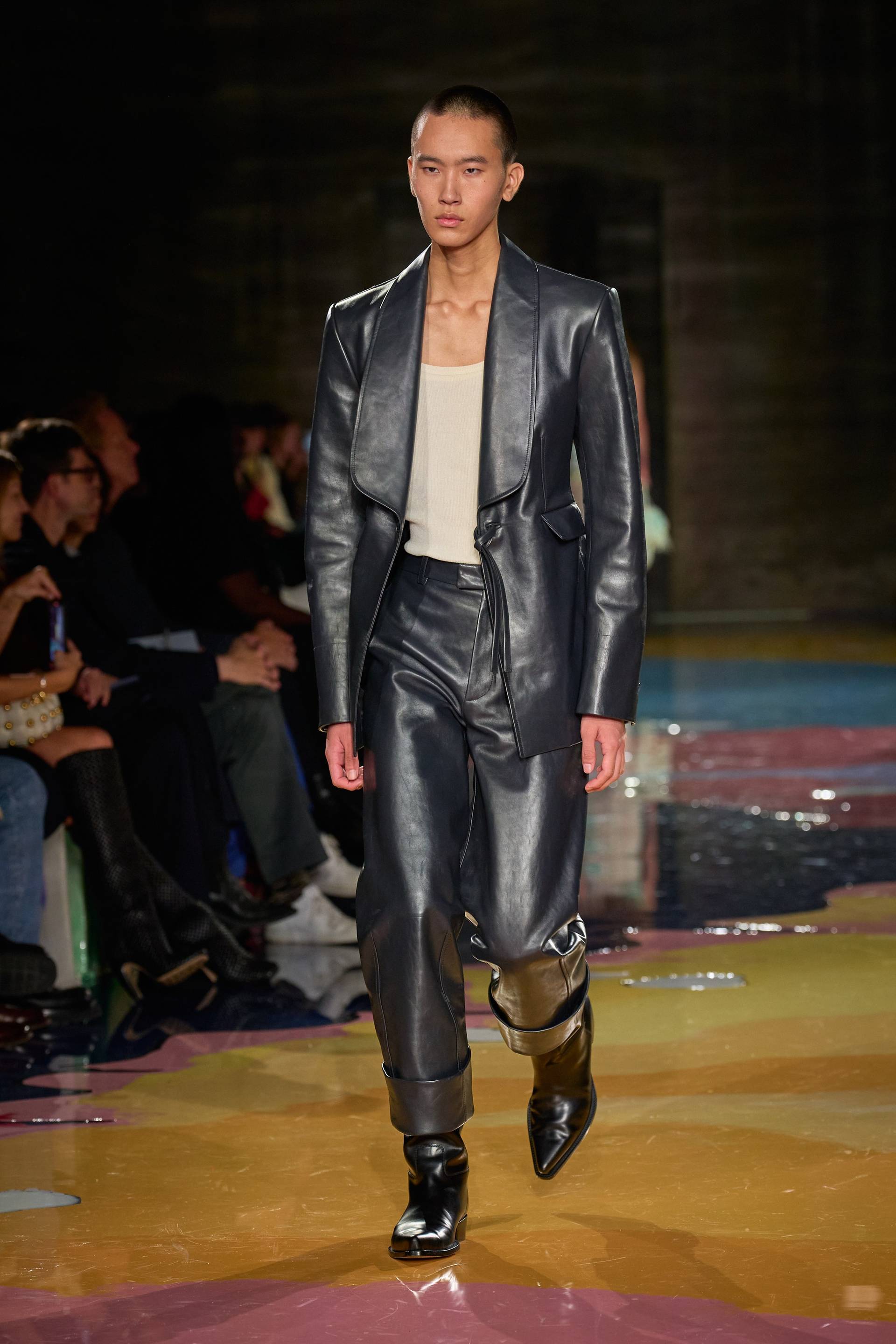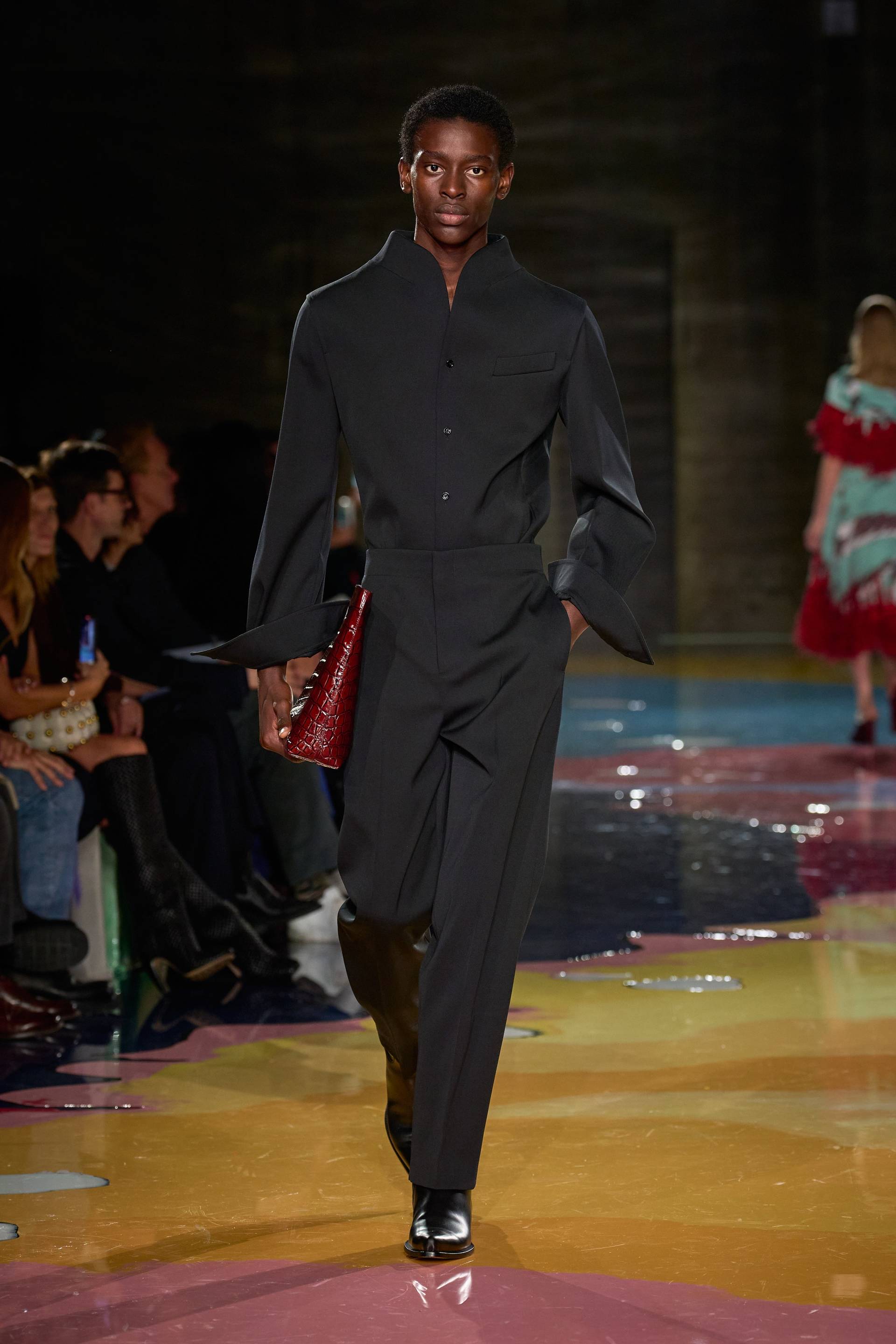 Photo: Filippo Fior / Gorunway.com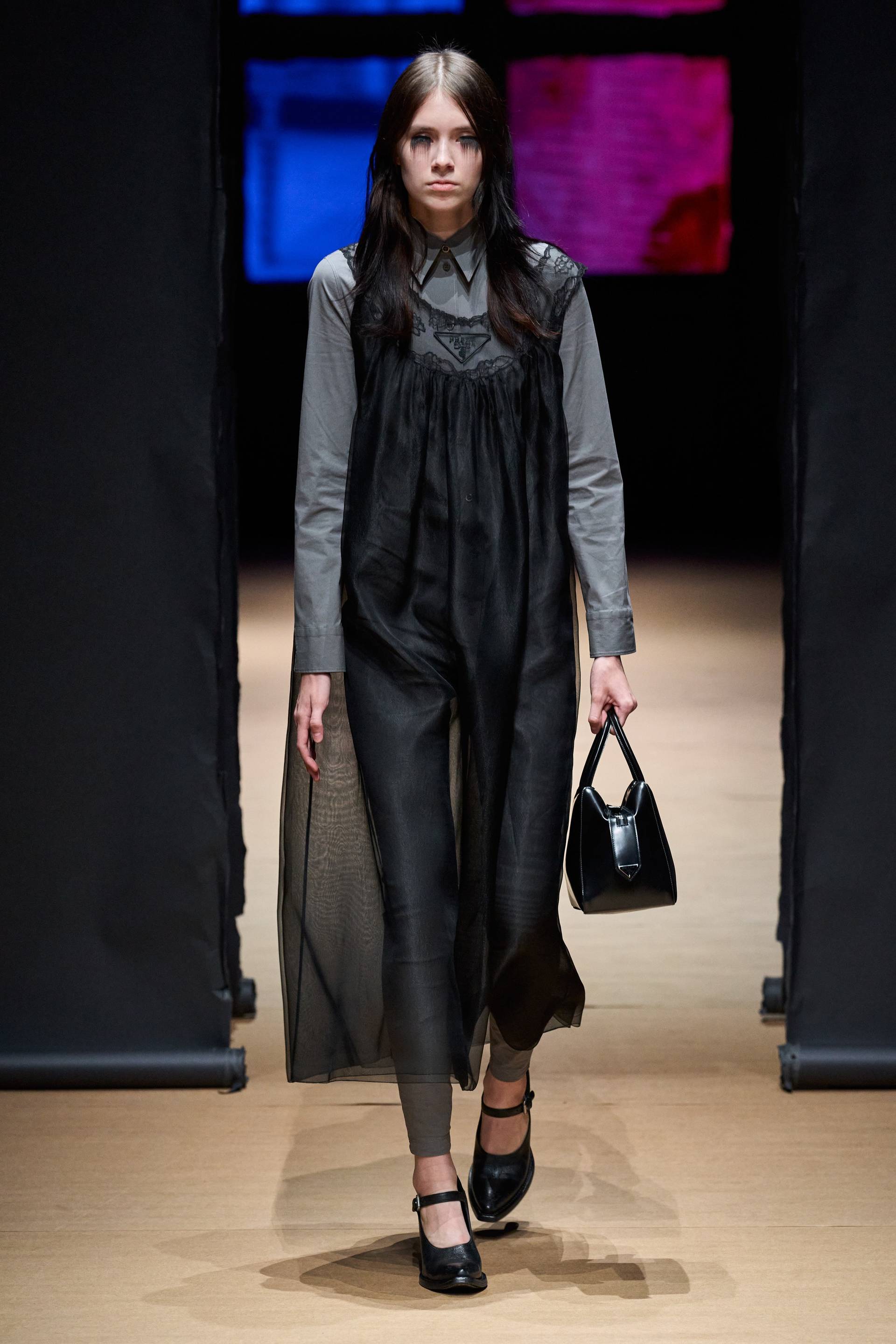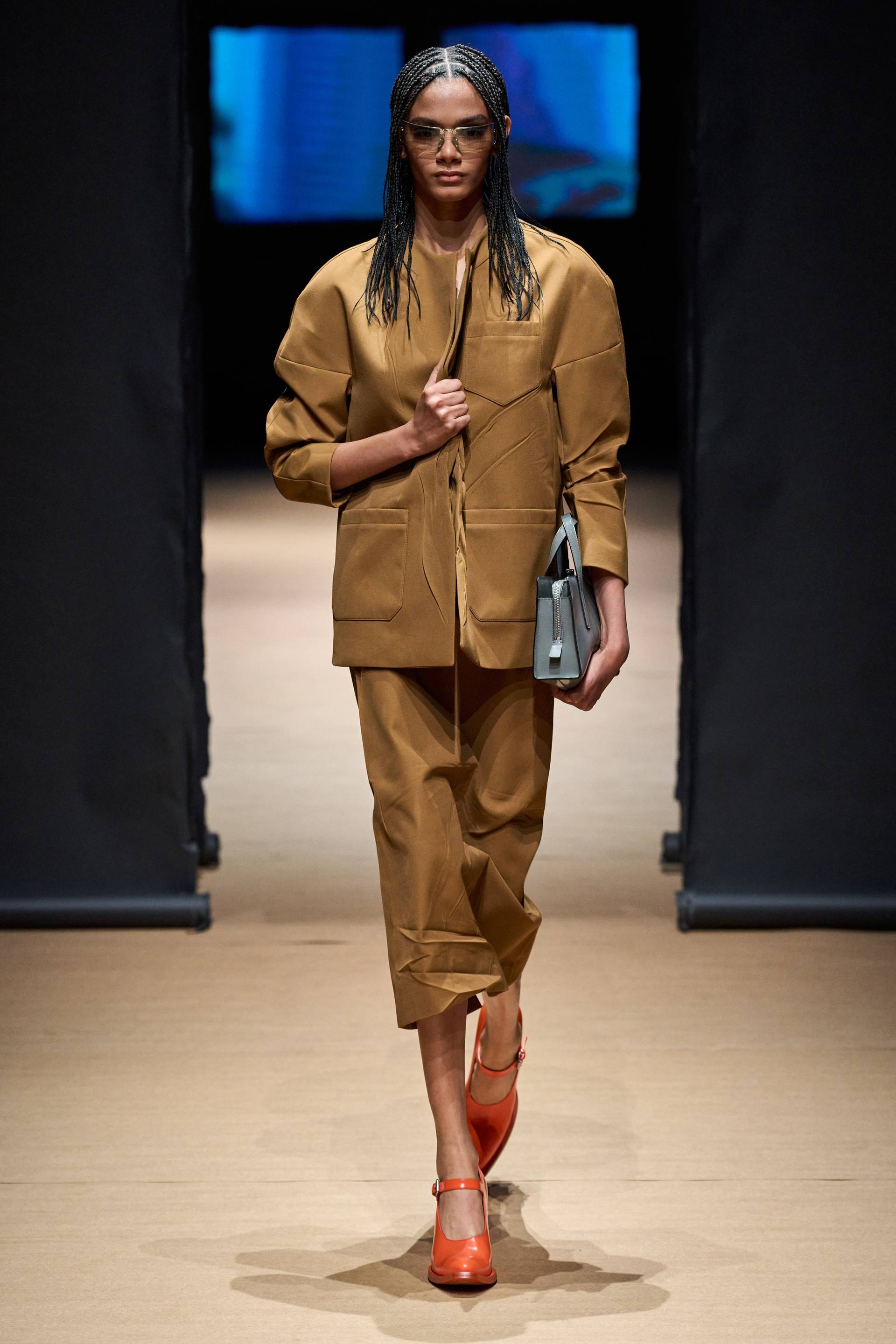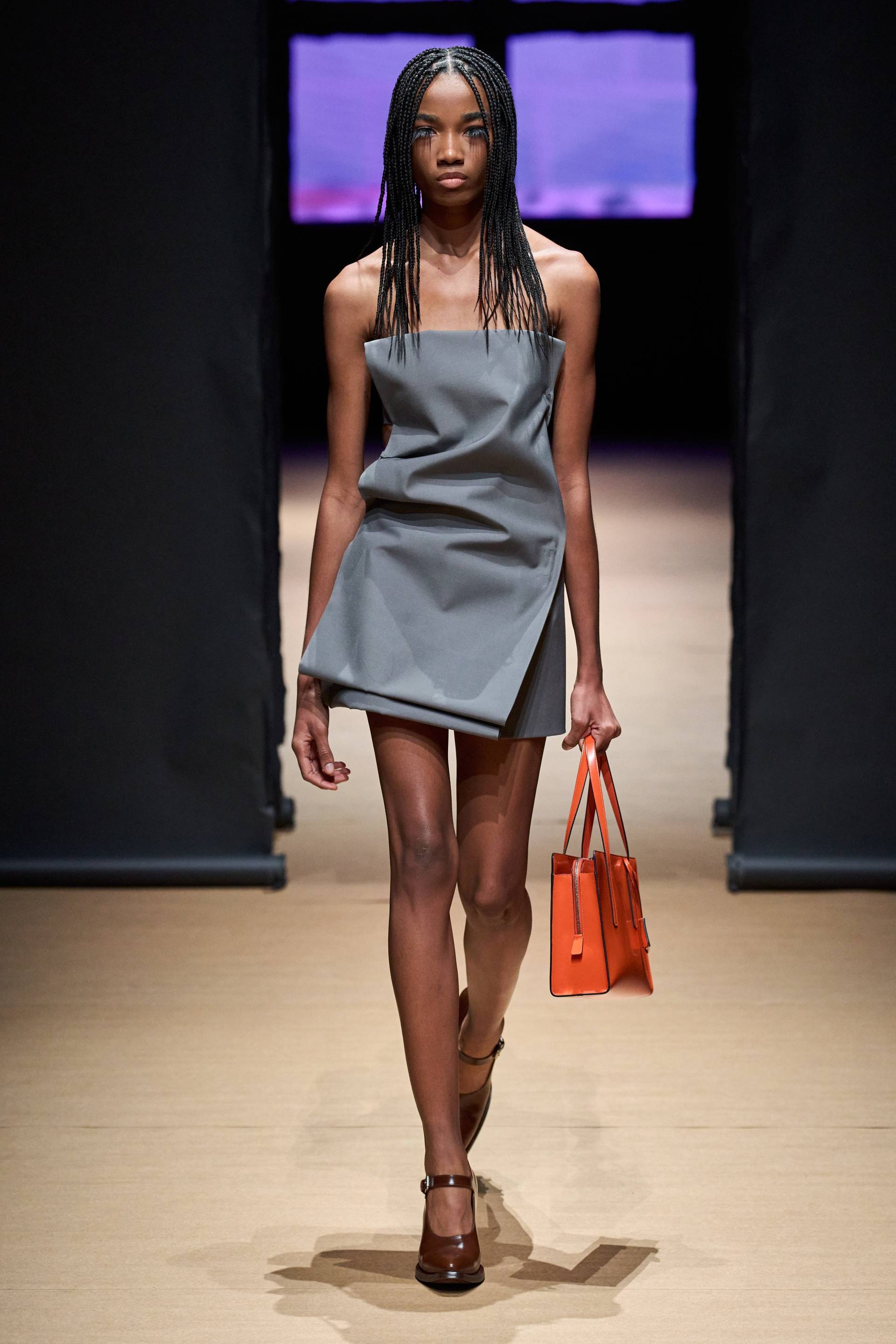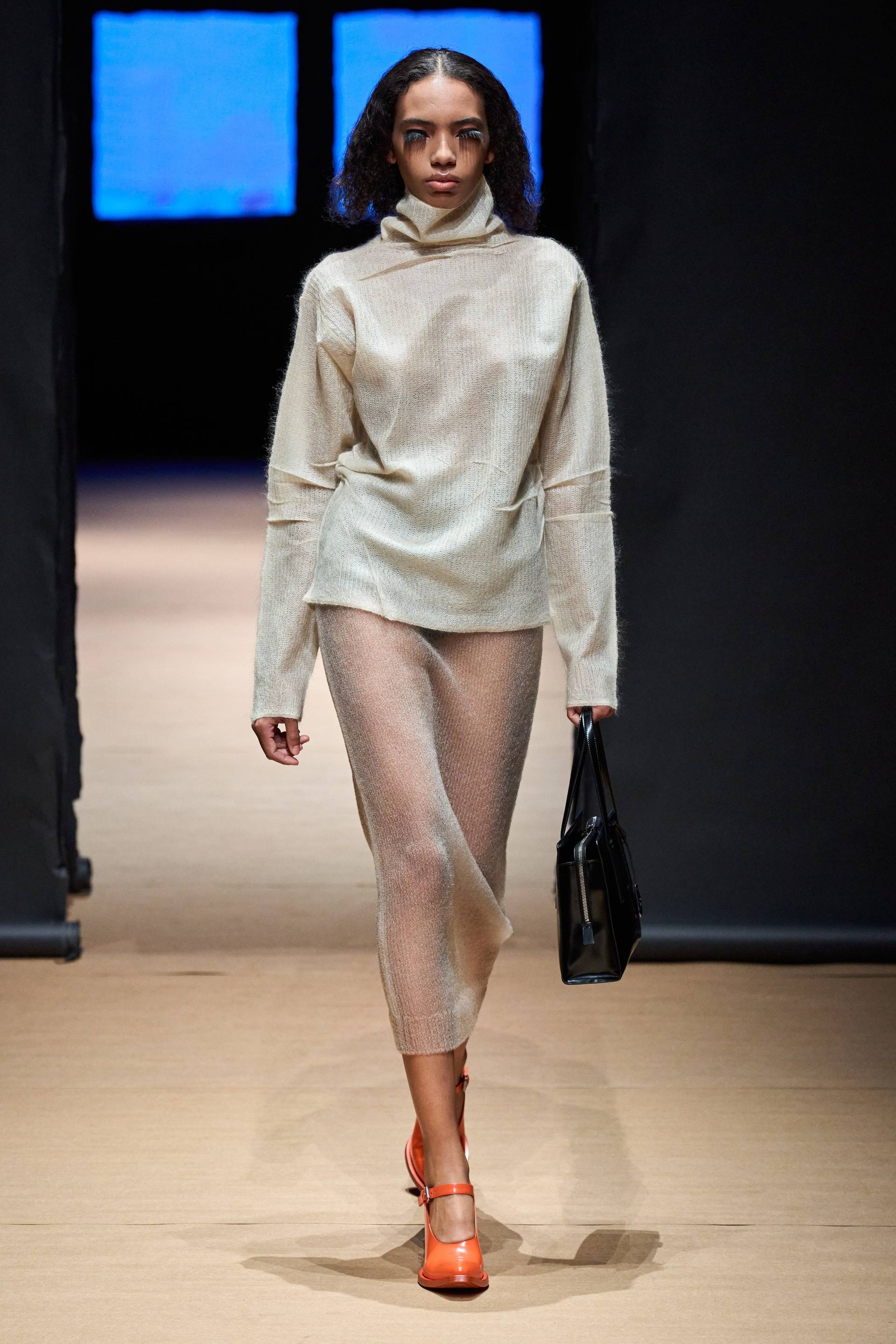 Prada has done it again, and as always. Just when I think I'm beyond the facade of an iconic monogram – Miuccia and Raf put the Prada inverted triangle monogram on an array of utterly mesmerising sheer nighties. Like the Prada loafers and hairclips of every fashion girl's heart, this strategically placed monogram has the ability to turn any piece into a cult-classic; that, I think, is mastery in heritage branding. With the oversized eyelashes on the models and the different levels of sheer fabrics; the air of romanticism running through the show was firmly held by Raf's decisive, clean take on structure – as seen on tailored pieces and mini dresses.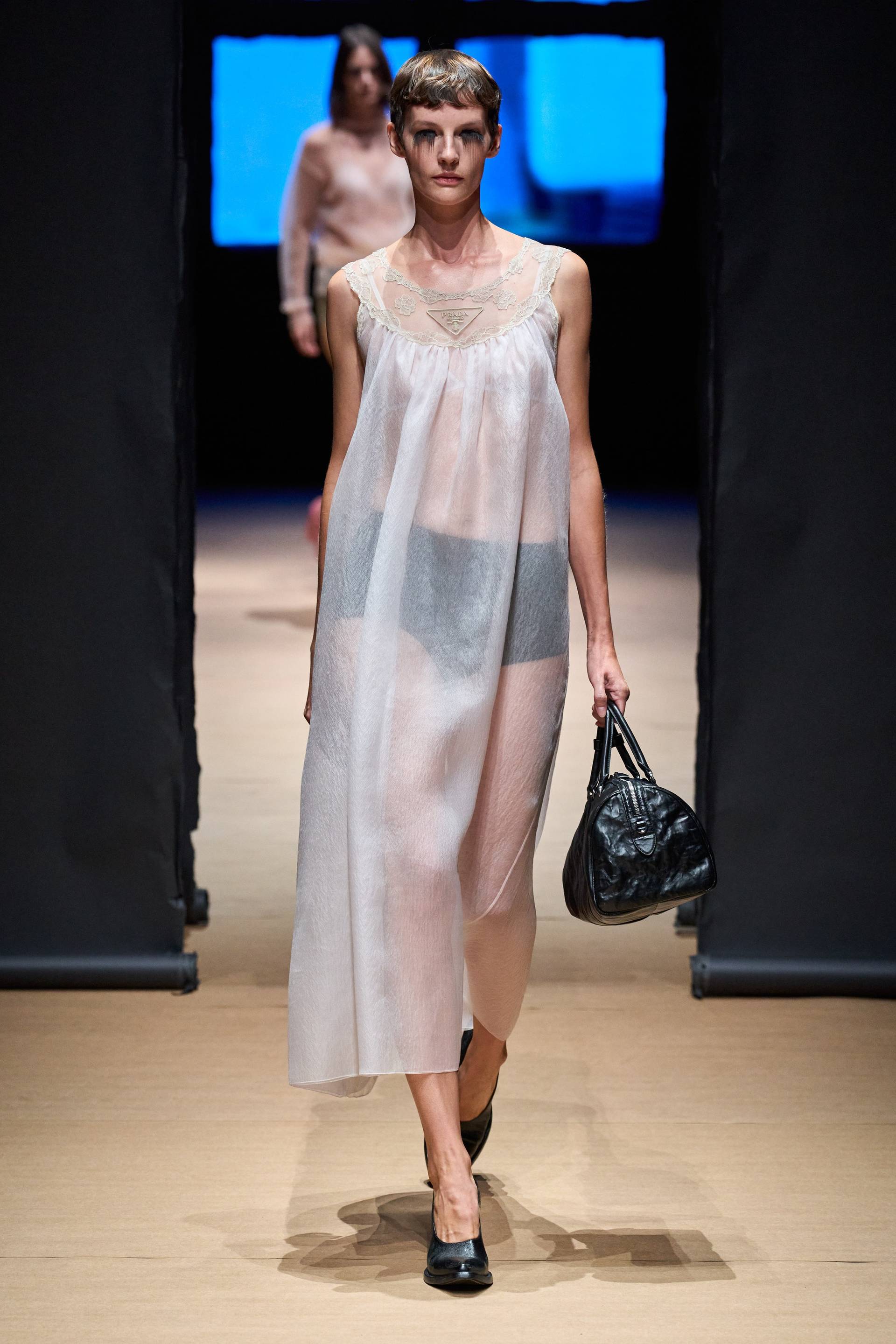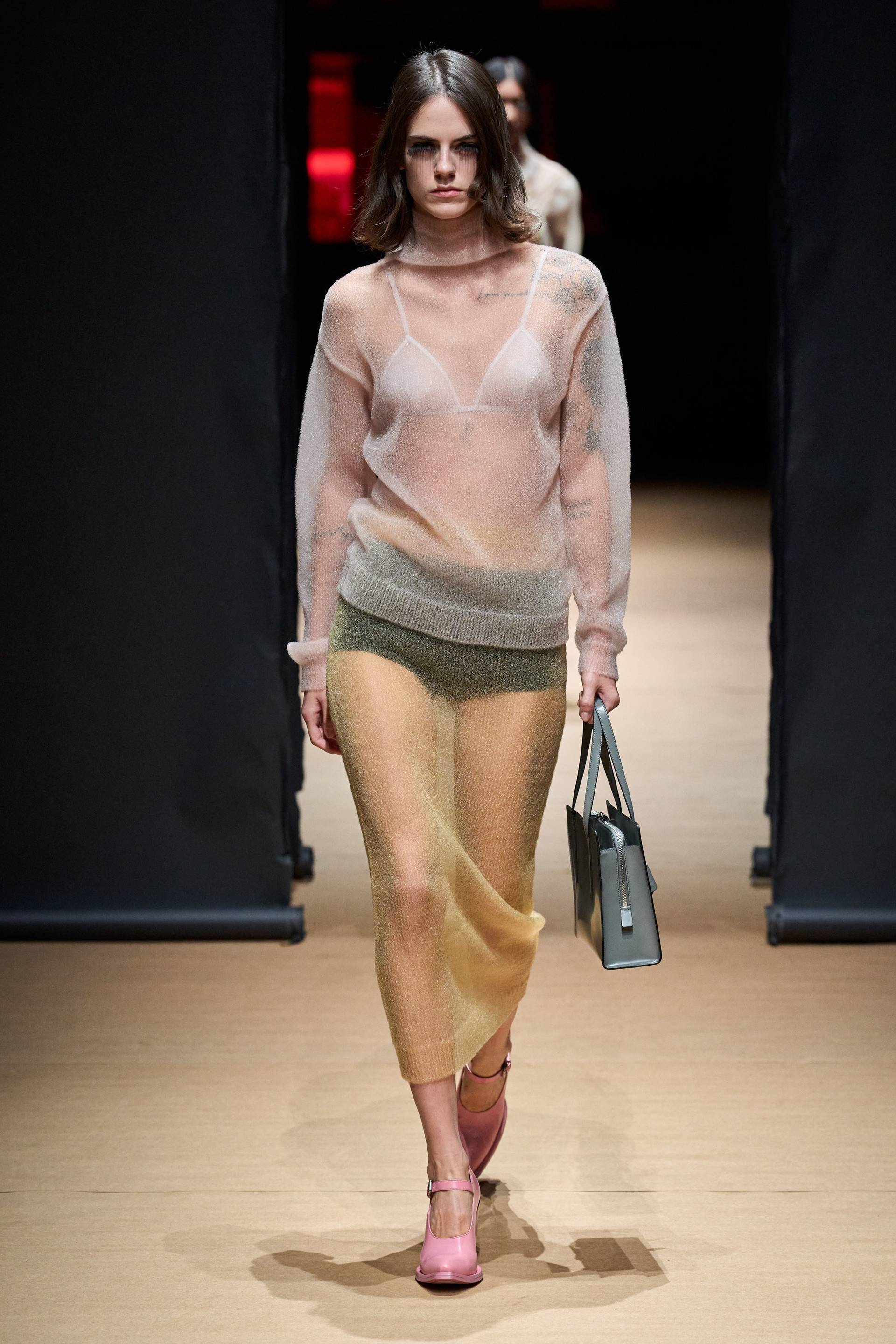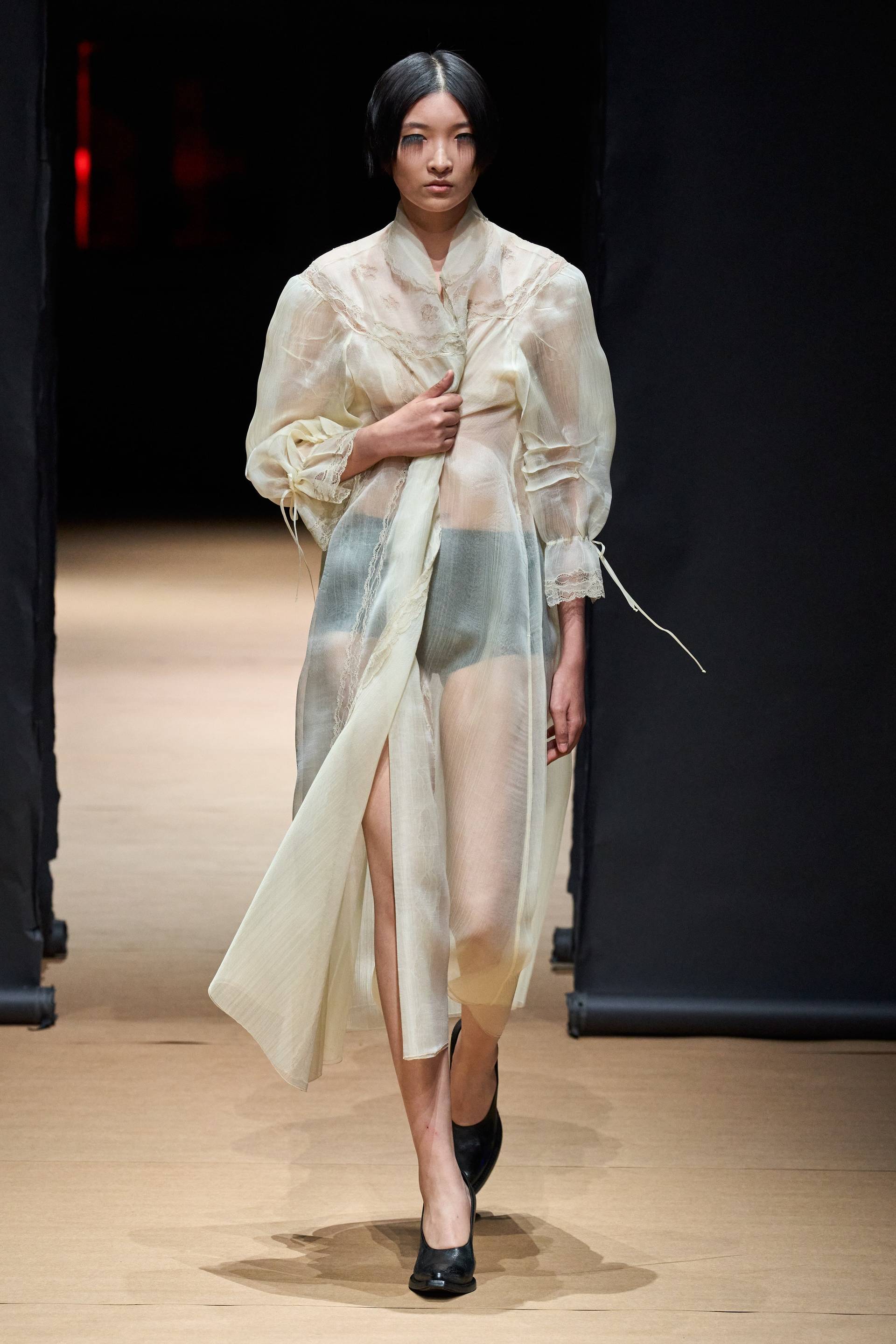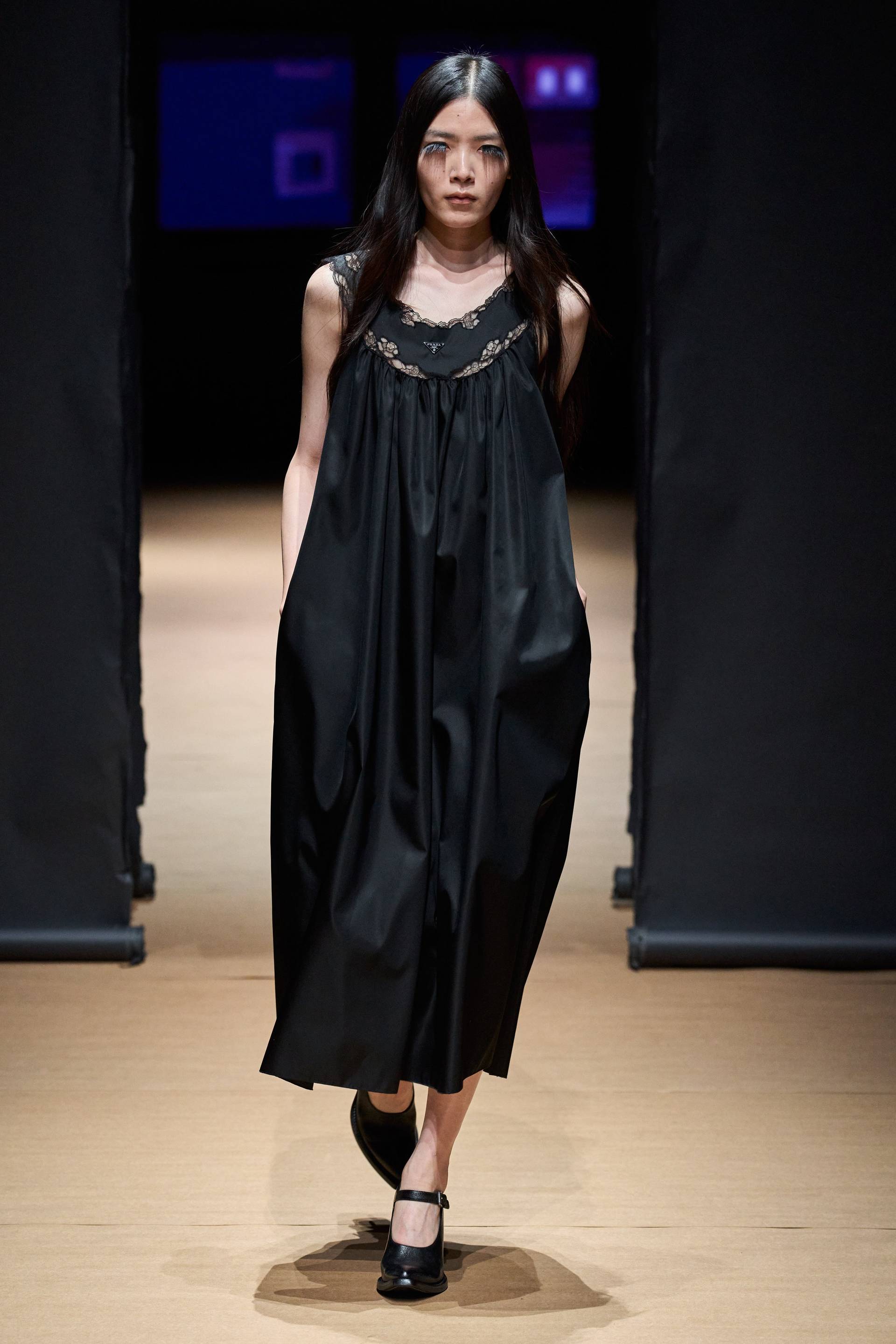 Photo: Filippo Fior / Gorunway.com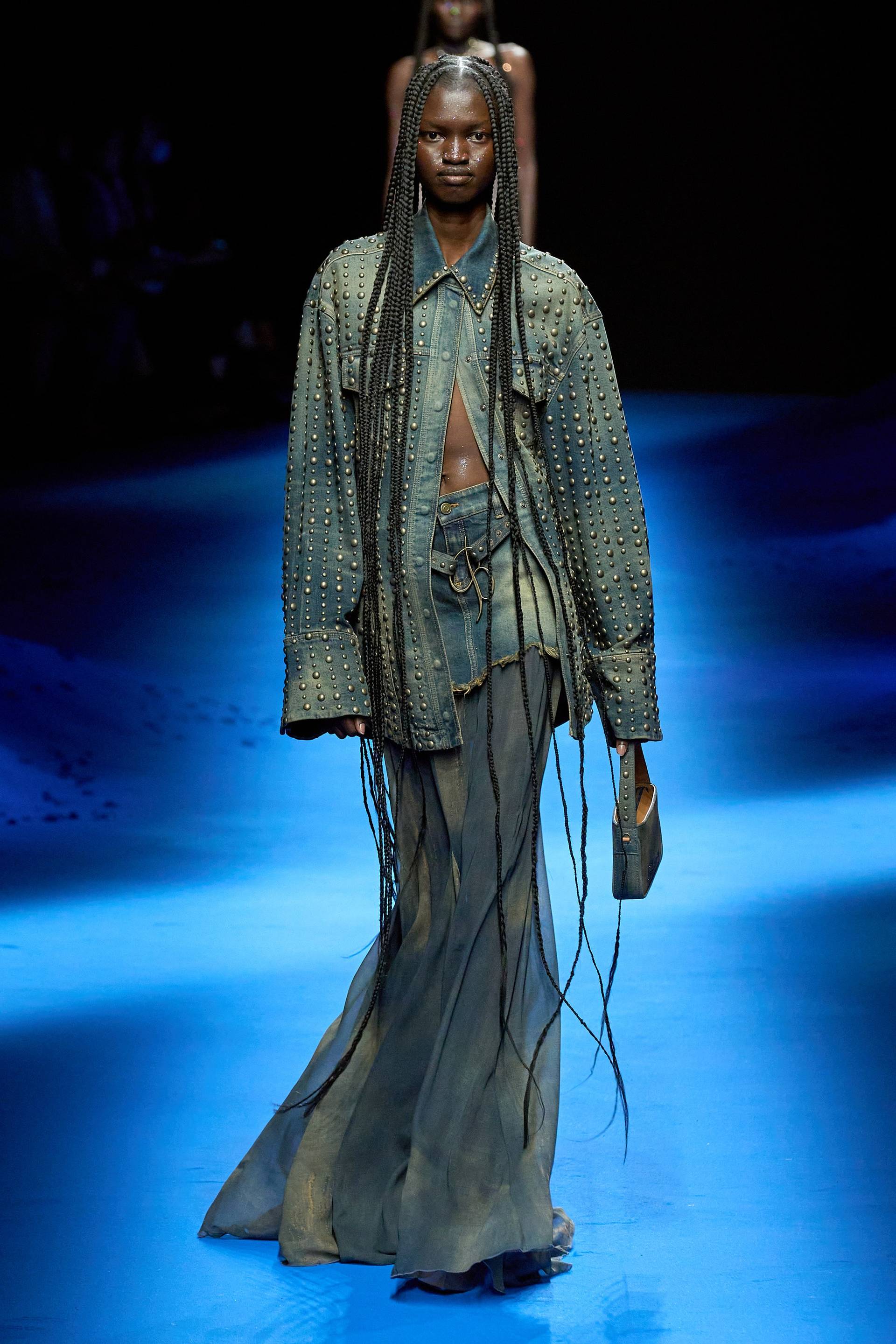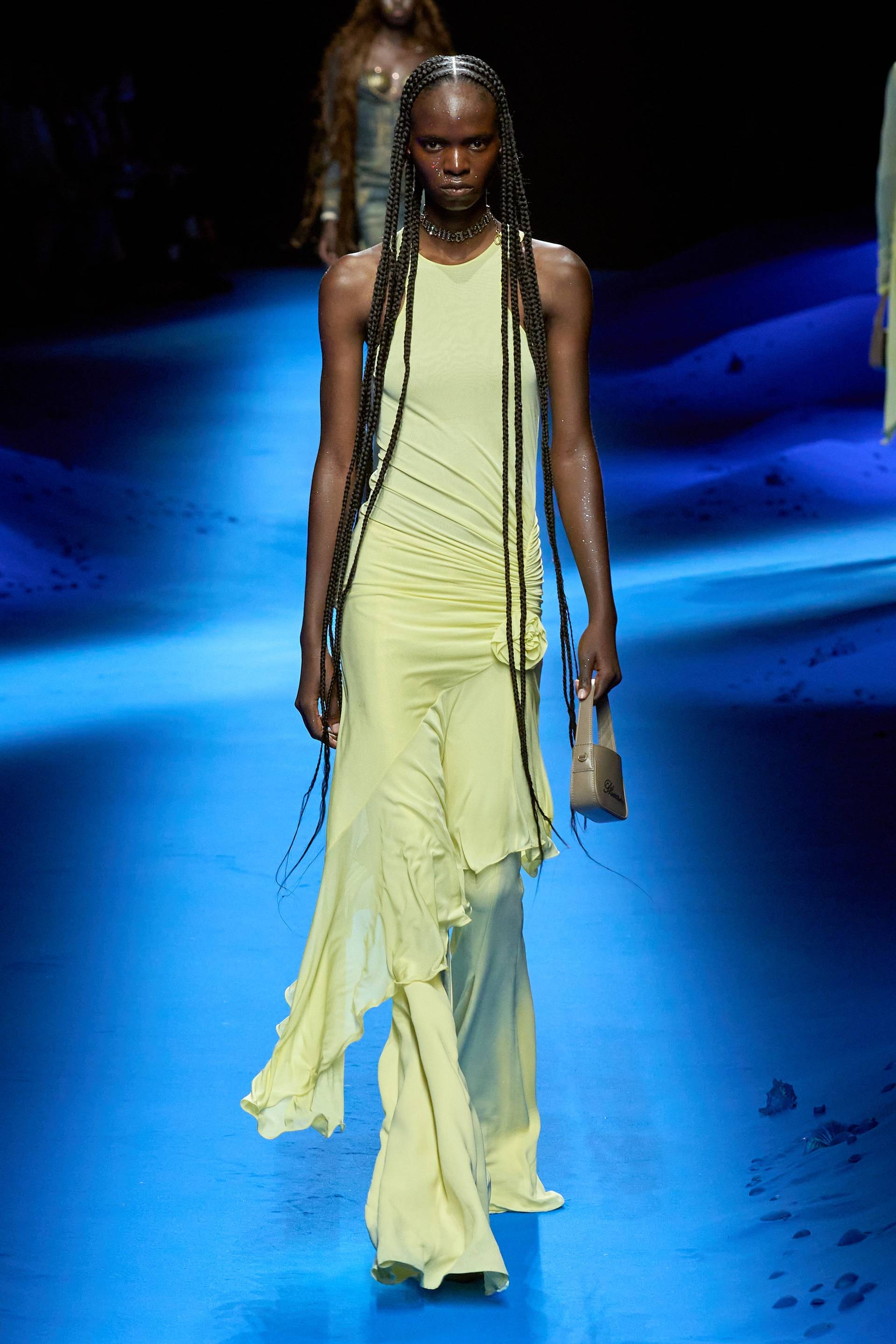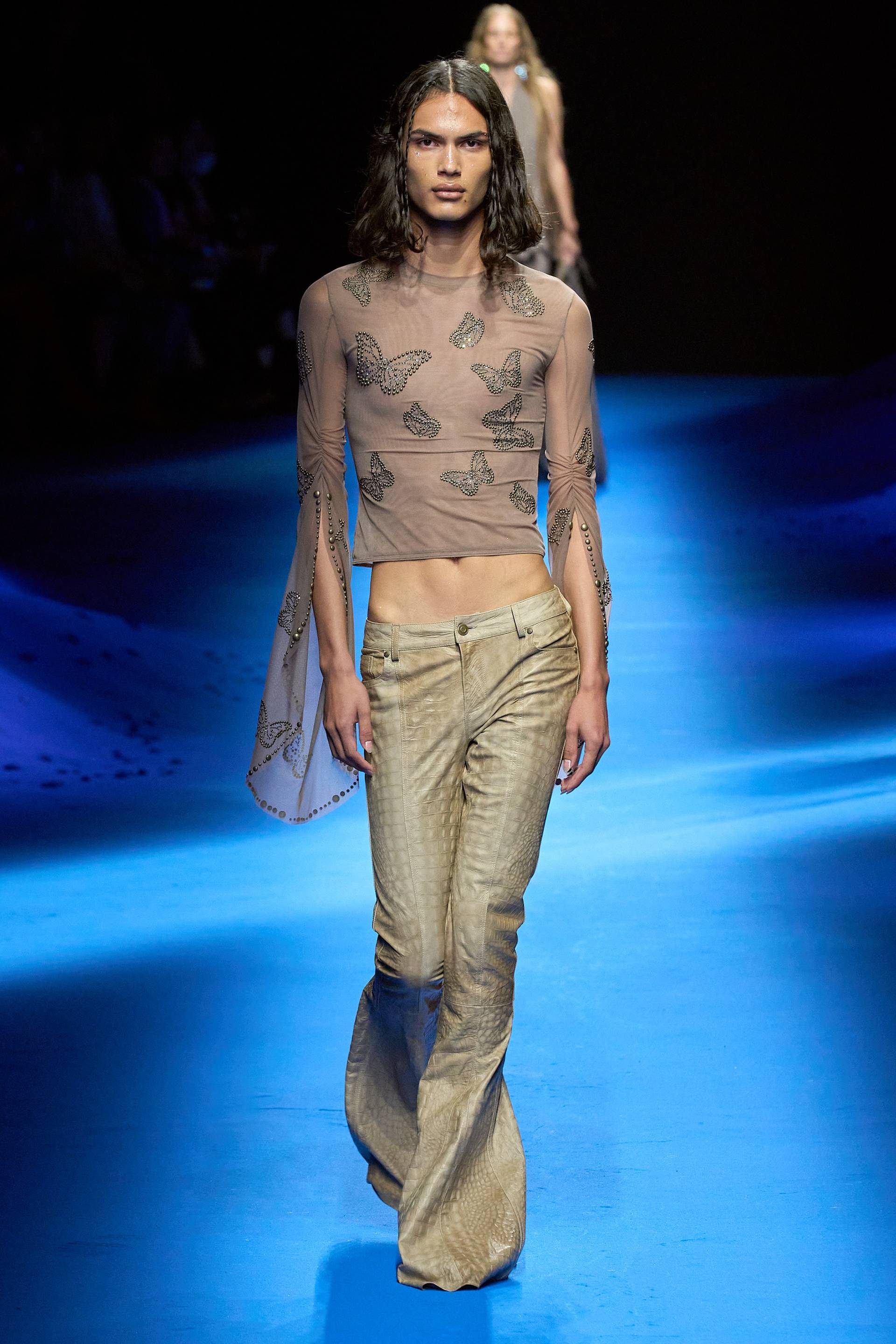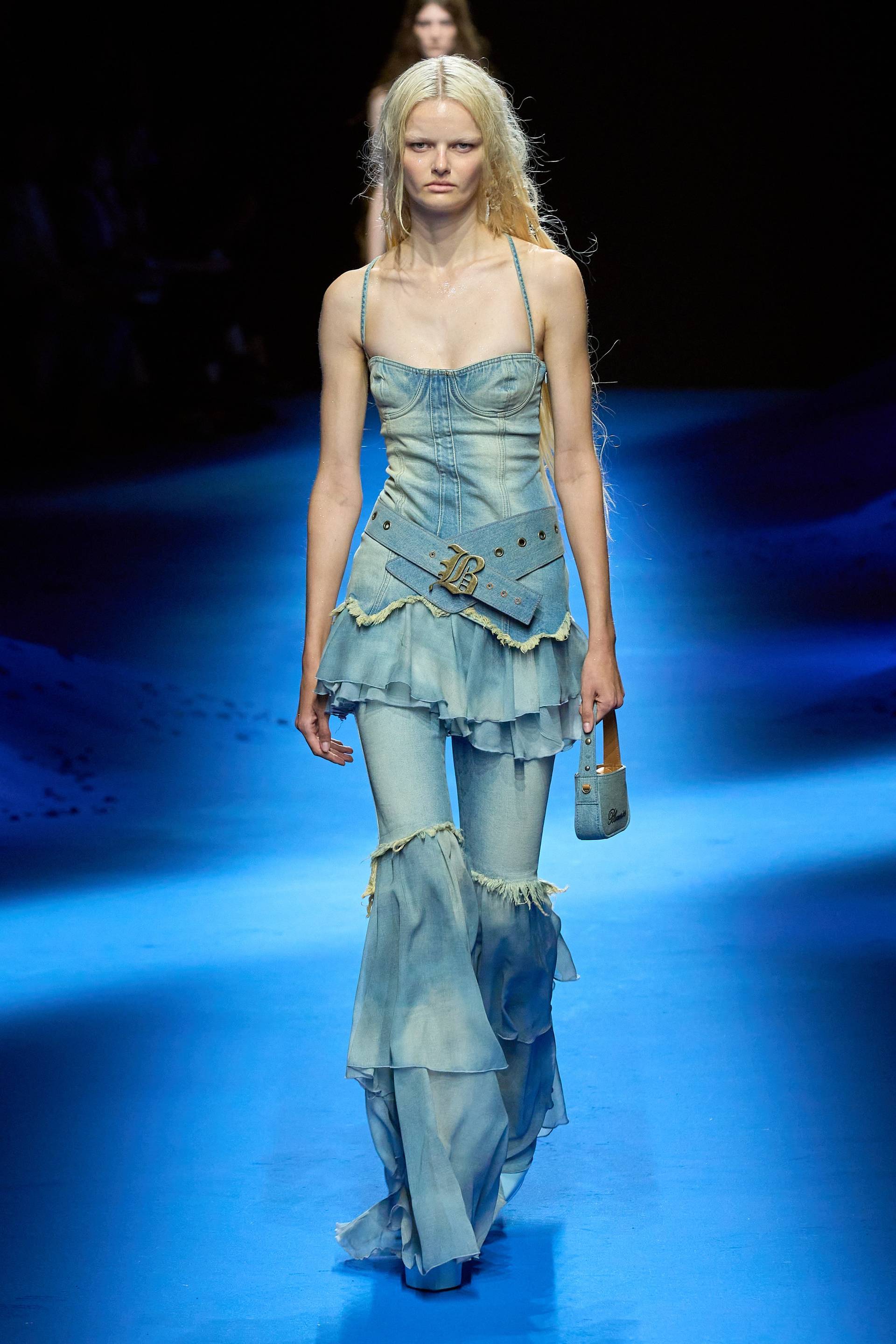 Blumarine makes it hard to imagine that the house itself dates back to the '70s – and in that, is a heritage brand. That is precisely its genius, though; consistently offering a well-versed, highly stylised version of y2k / 90s sex, drugs and rock 'n roll in a Milanese fashion world of tailoring and elegance. With denim, studs – dyed hair – and the ultimate ethereal draping – creative director Nicola Brognano is the king of trash-as-righteous, goth-as-chic; a fine order for 2022 in which the most fashionable gals online are usually the most twisted in their style. Titziana Cardini writes, 'The mermaid is the new incarnation of the Blumarine girl, according to creative director Nicola Brognano, who, in his childhood, was obsessed with The Little Mermaid cartoon. "I watched it on repeat so many times that the VHS (that ancient archaeological find) got destroyed," he said. But what is it about the Little Mermaid that so enthralled Brognano? "She was a redhead like my mother, and I loved the way she was dressed, all those eye-popping colours. I remember a minidress that was exactly a cartoon version of a Versace metal mesh number." The glamorous mermaid look evidently stuck, but for spring, Brognano turned it into a darker, gothic representation, "intriguing and sexier, less pop, much dirtier." The image of the Blumarine girl seems to be submitted to a constant process of mutation into ever-evolving versions of herself. "Less girly, more femme" was the mot d'ordre for spring.'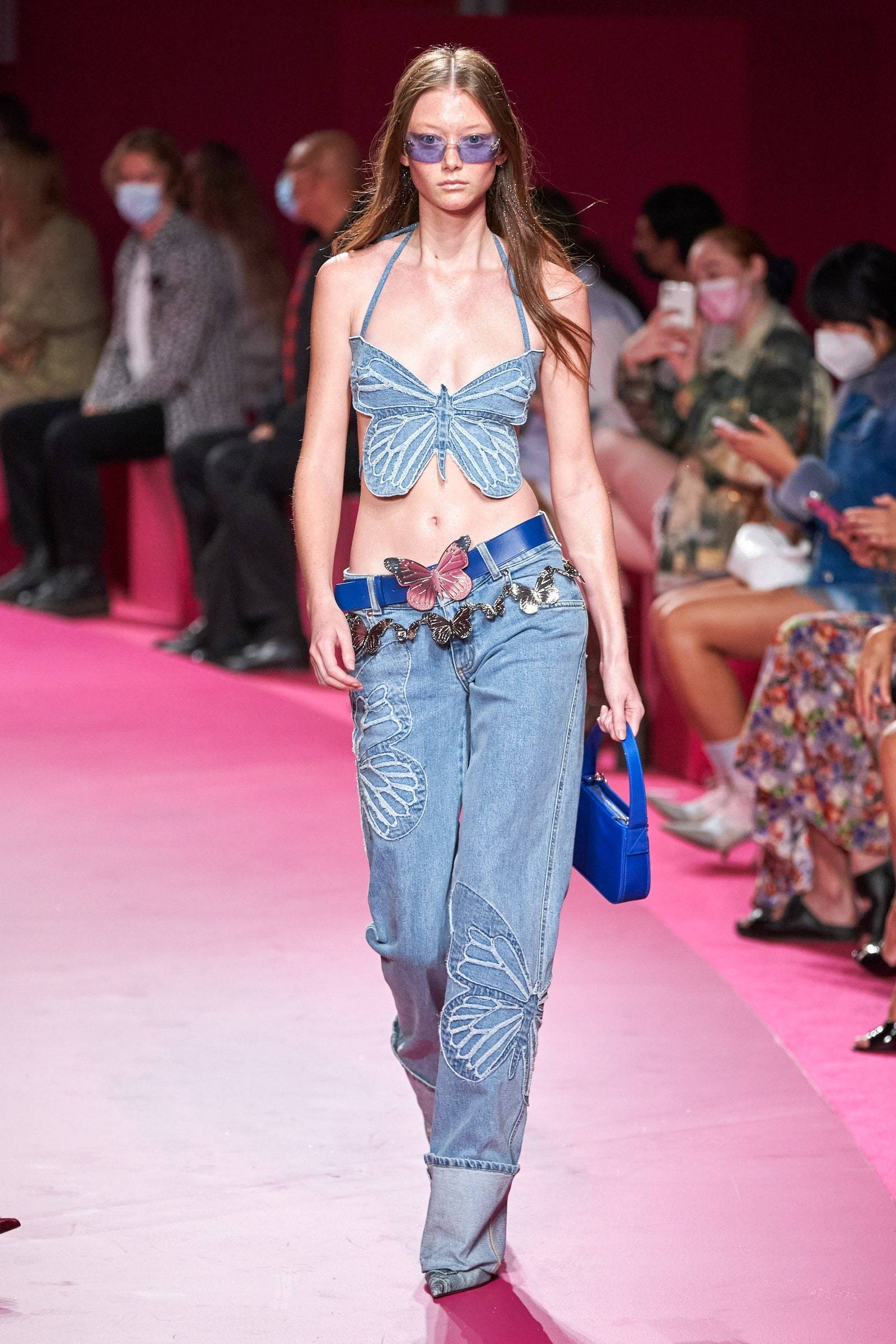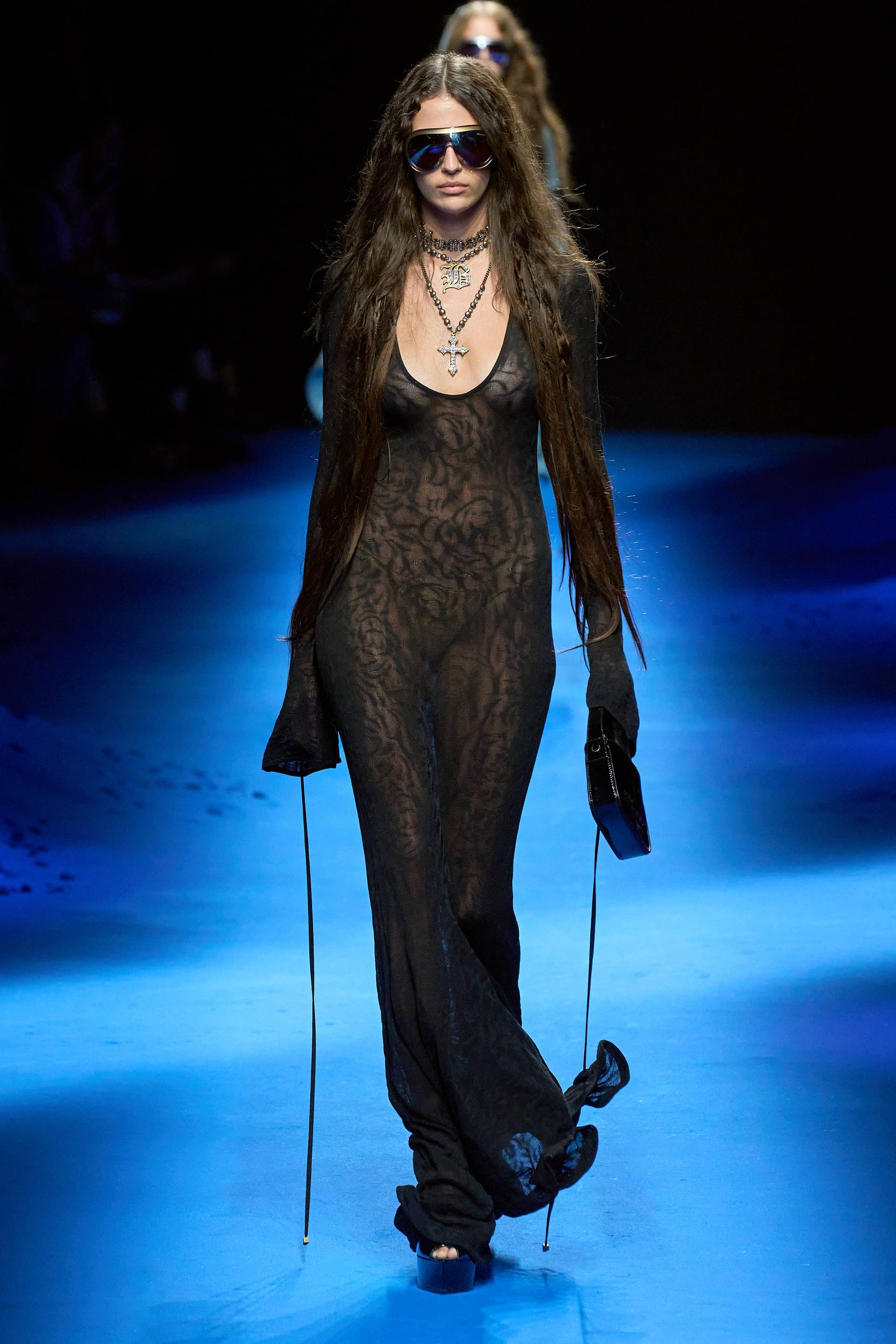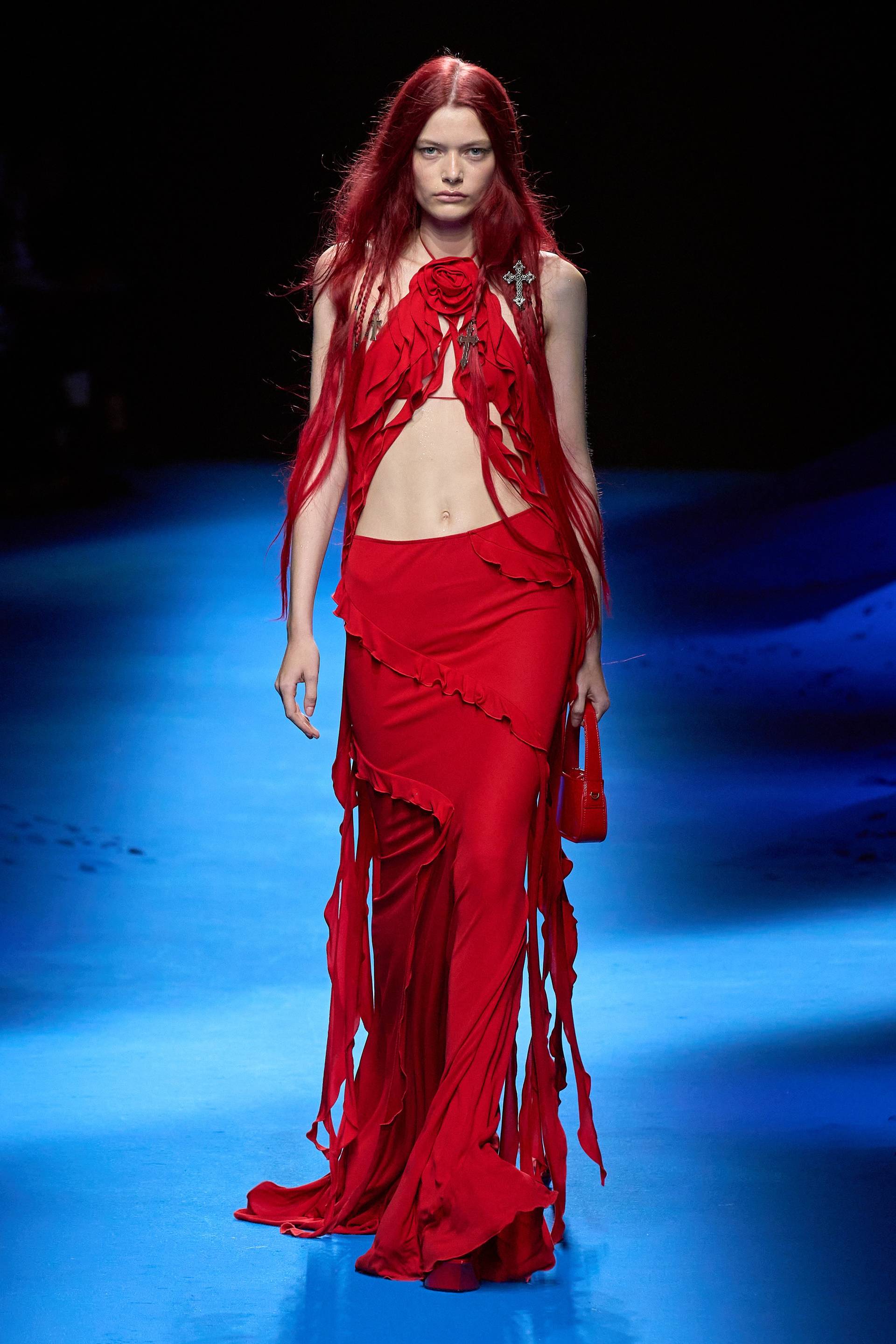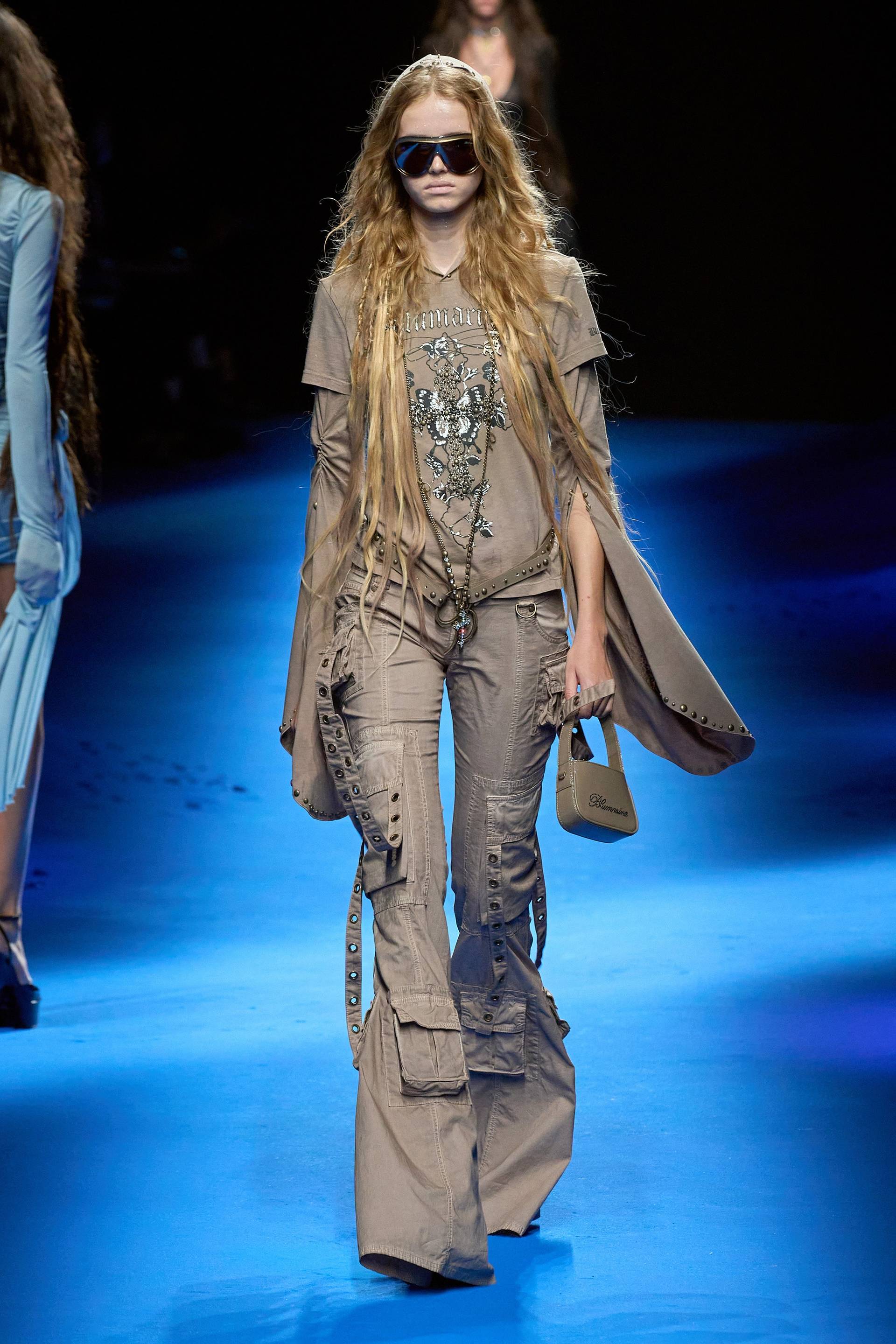 Photo: Daniele Oberrauch / Gorunway.com
Paris Fashion Week /// Spring Summer 2023 /// 26 September to 4 October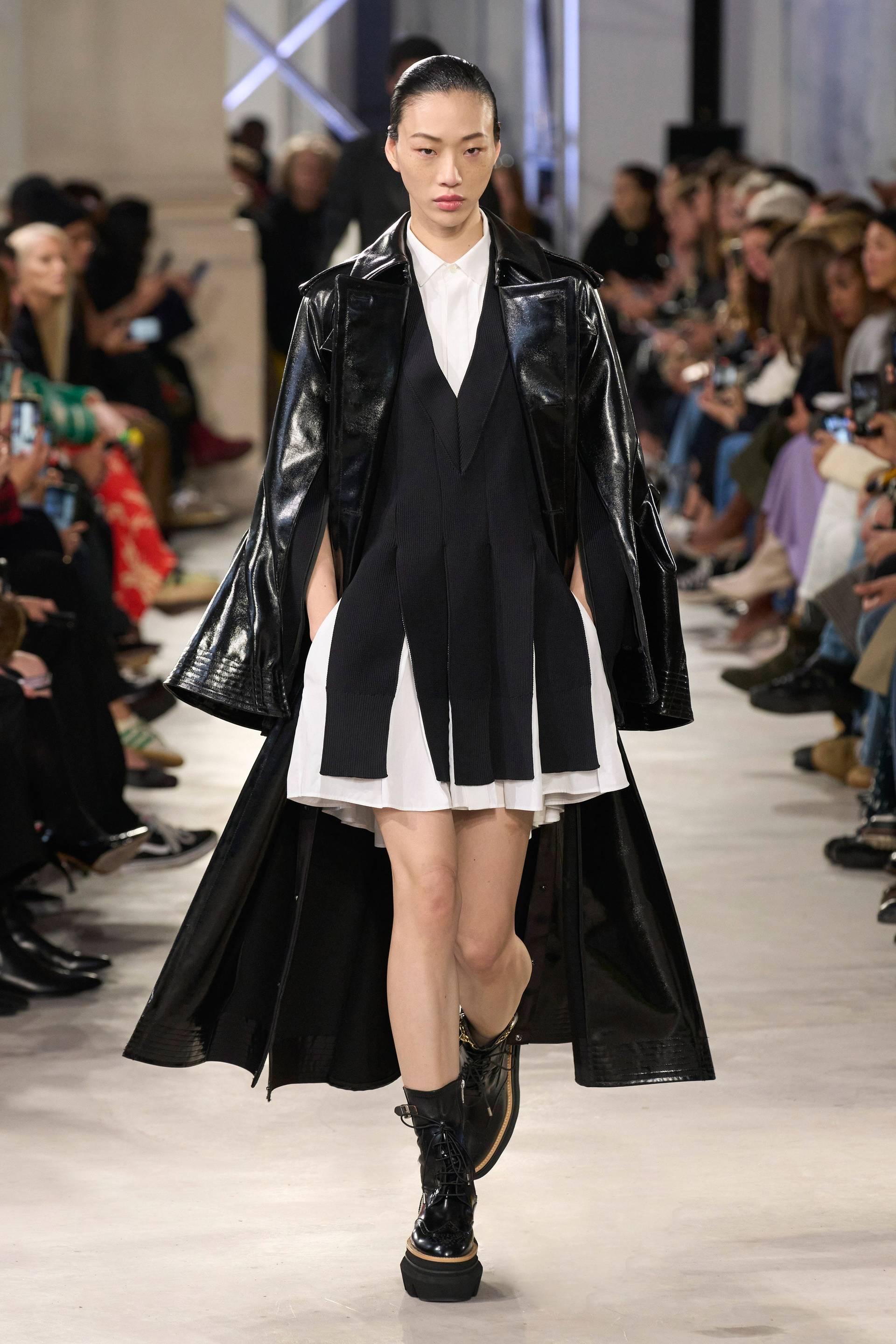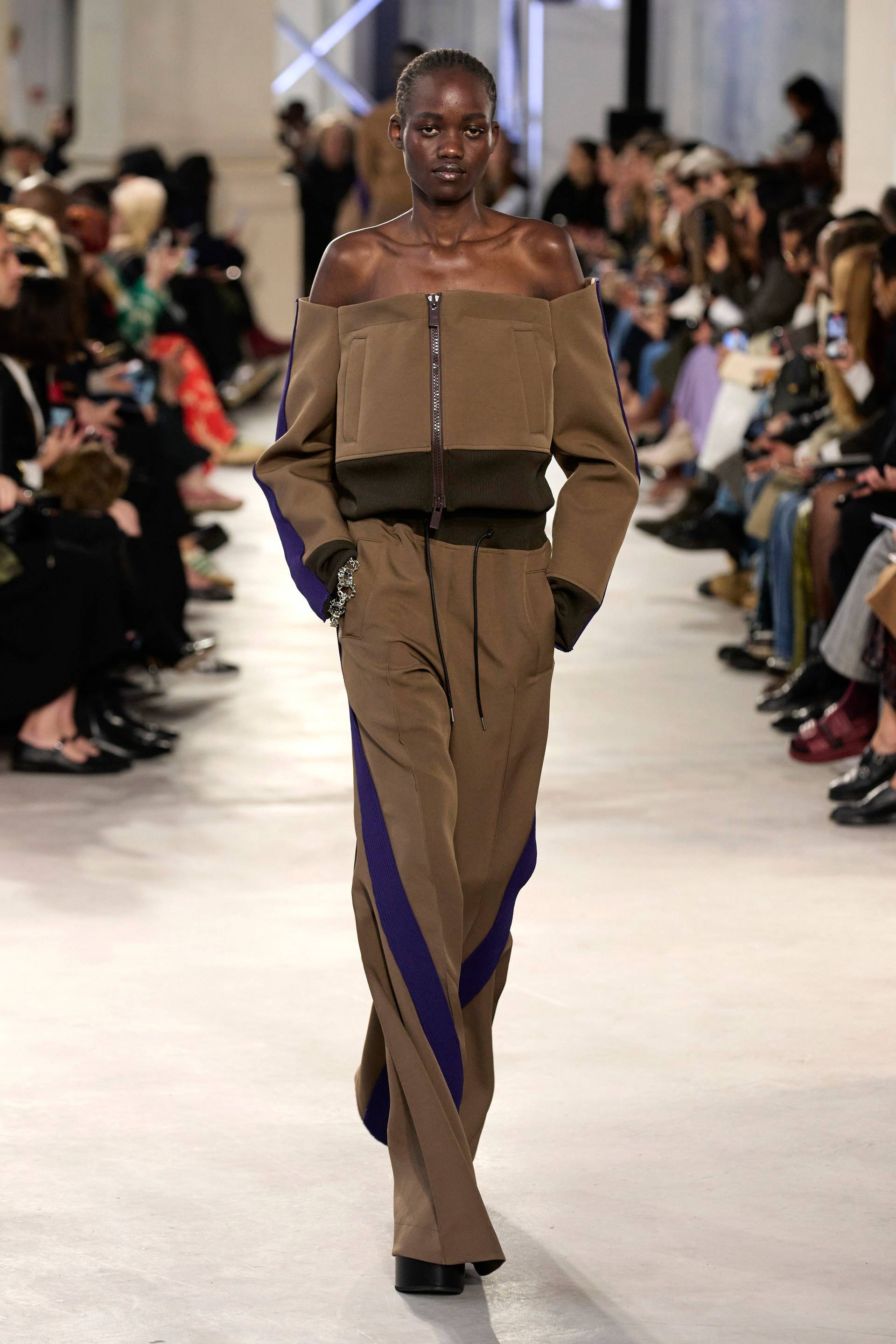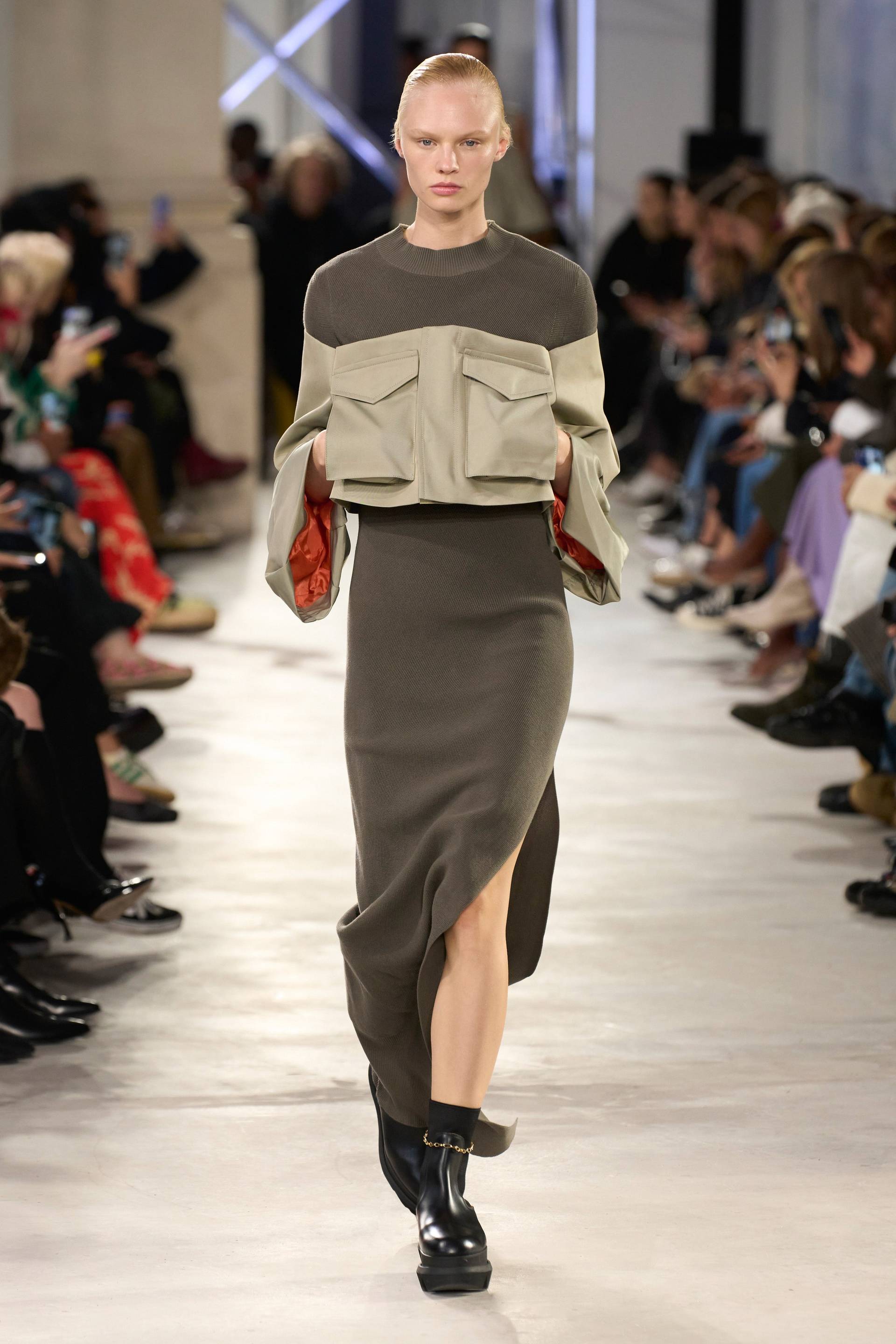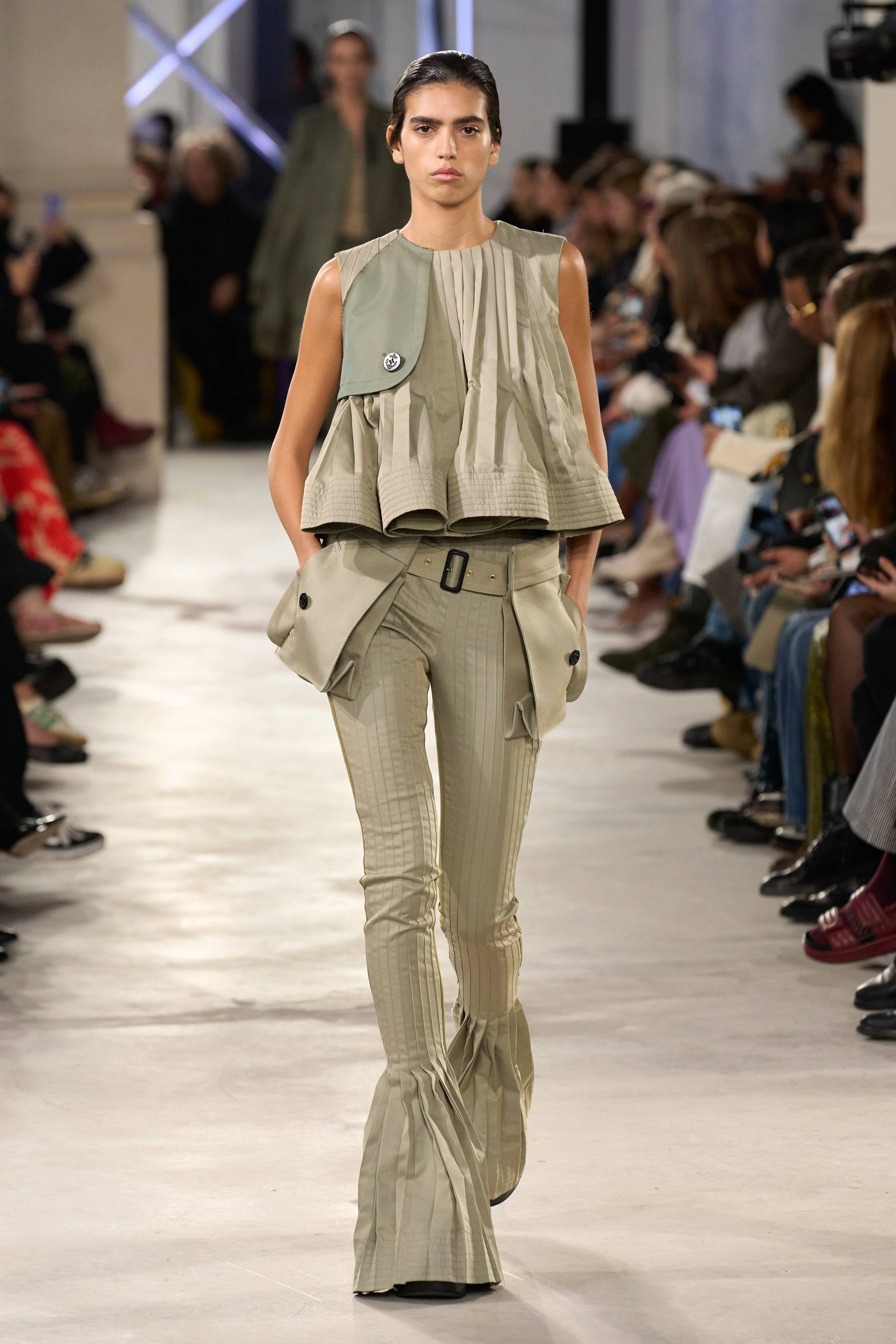 Sacai continues its revival – with Japanese designer and founder Chitose Abe continually showcasing her principle design style, from 1999, in a wholly new and contemporary vision for 2022 and beyond. With a utilitarian rotation of silhouettes, asymmetry angles, and colourways of khaki, monochrome,  deep lavender and pops of floral – the vision this season is structure, structure, structure. There is a sexiness and formidability in Abe's design – and a profound example of the inherent love affair between Japanese designers and Paris.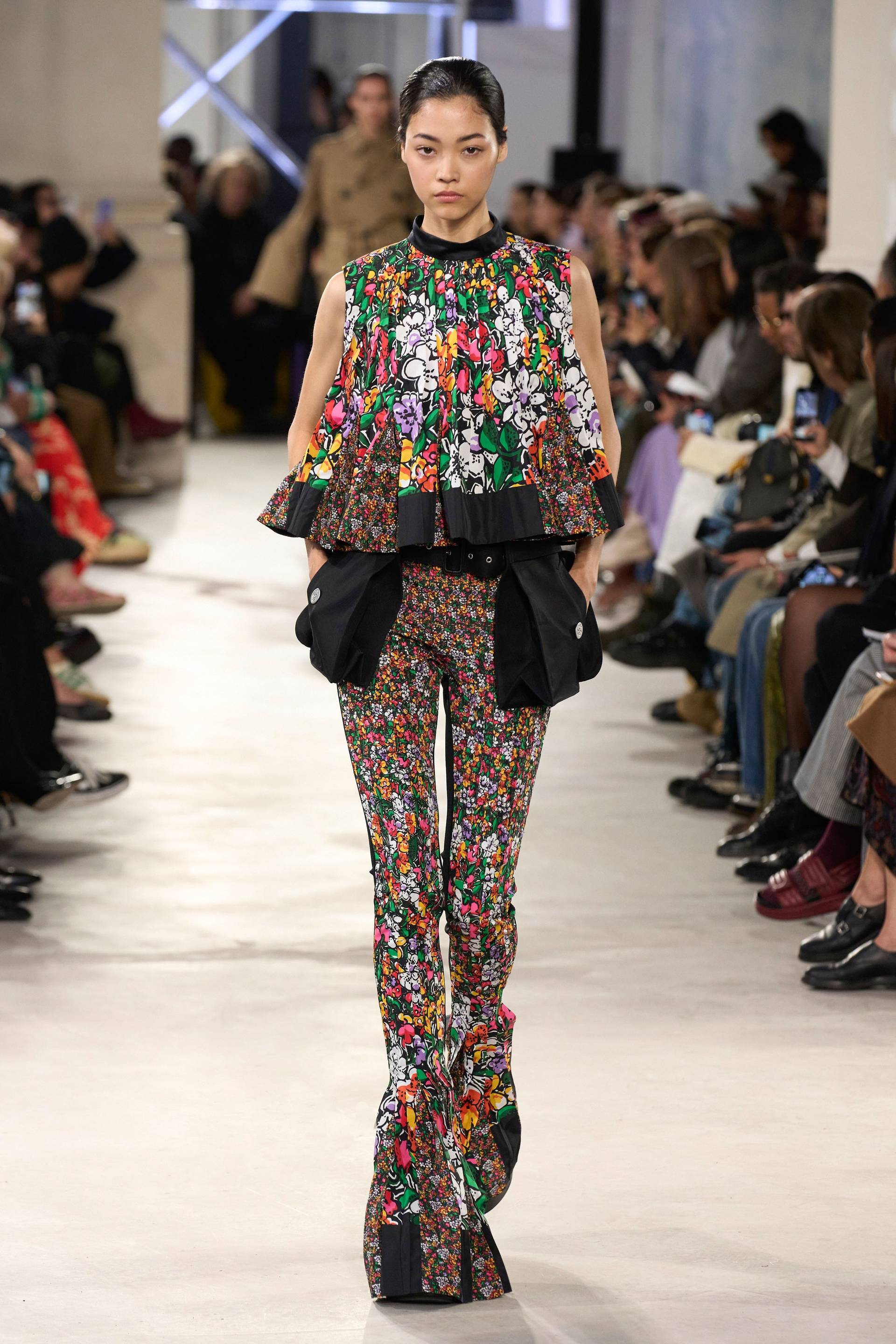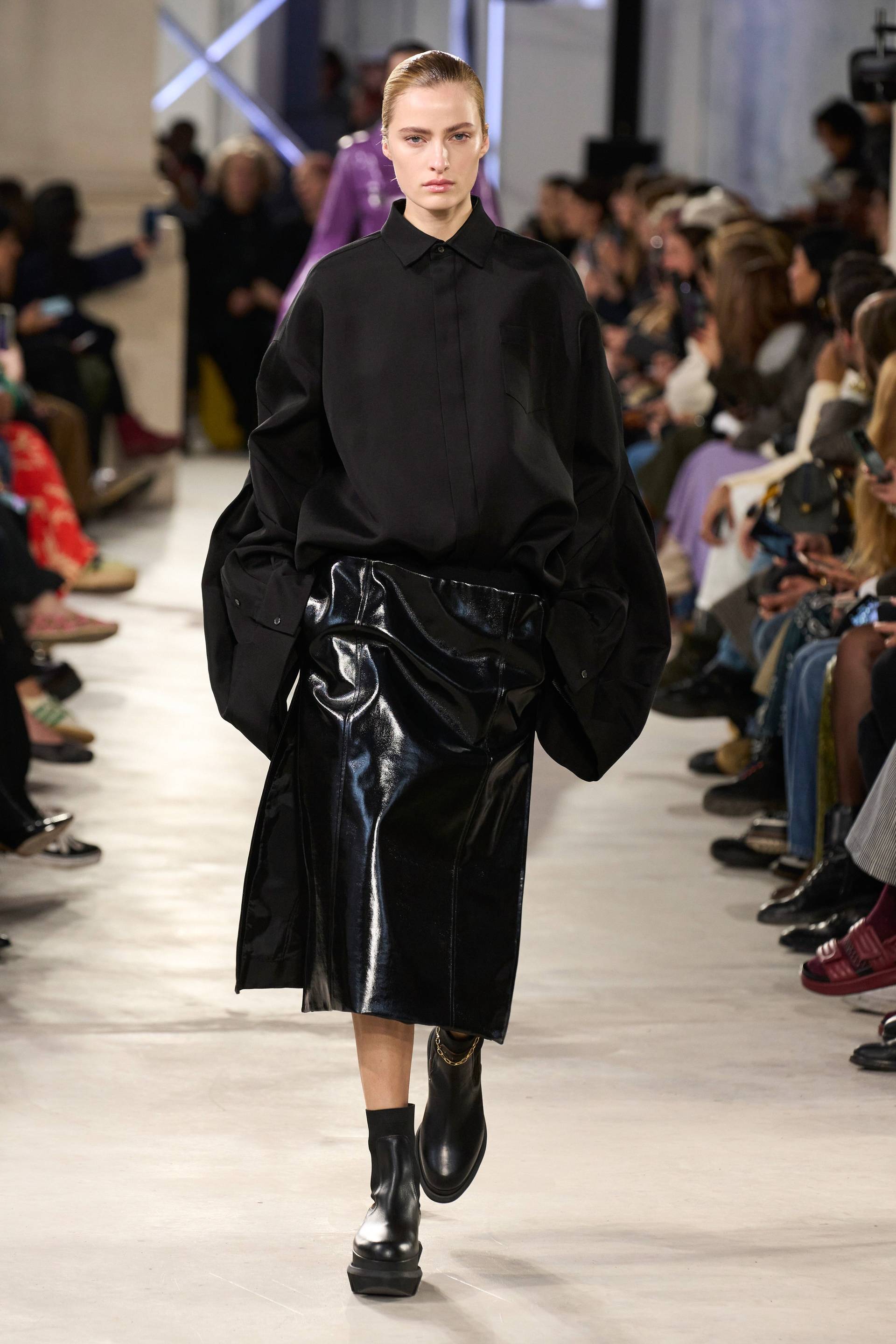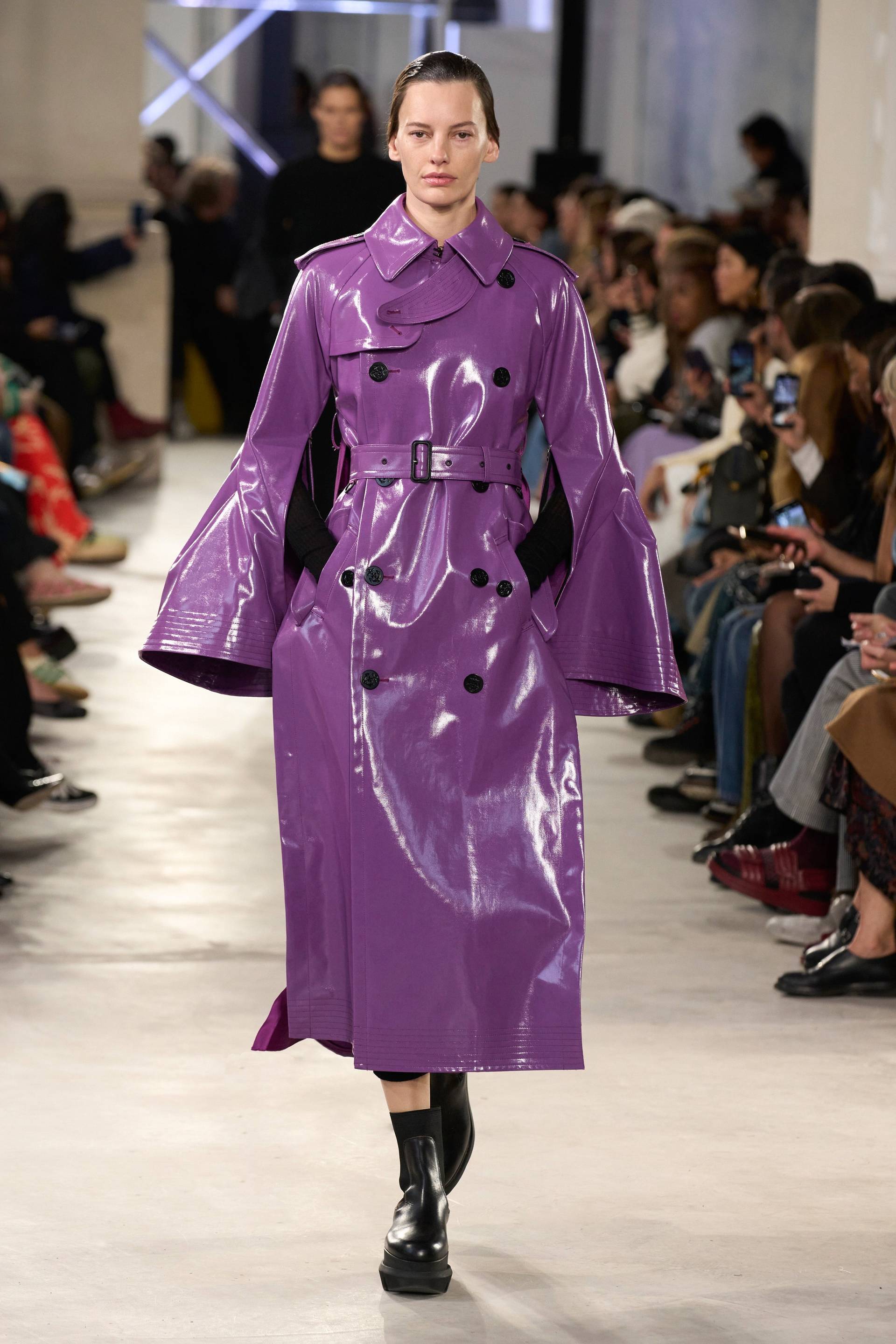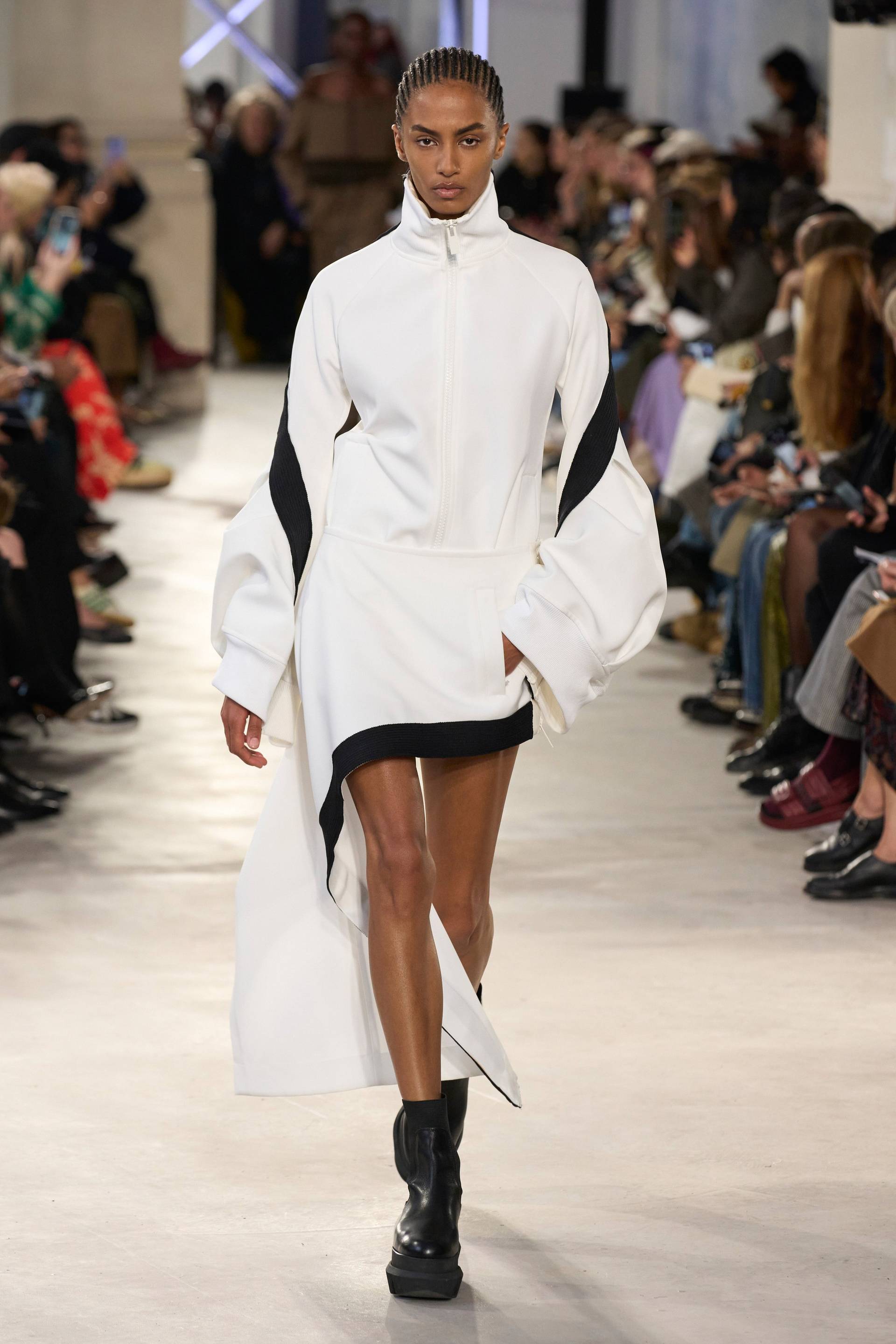 Photo: Daniele Oberrauch / Gorunway.com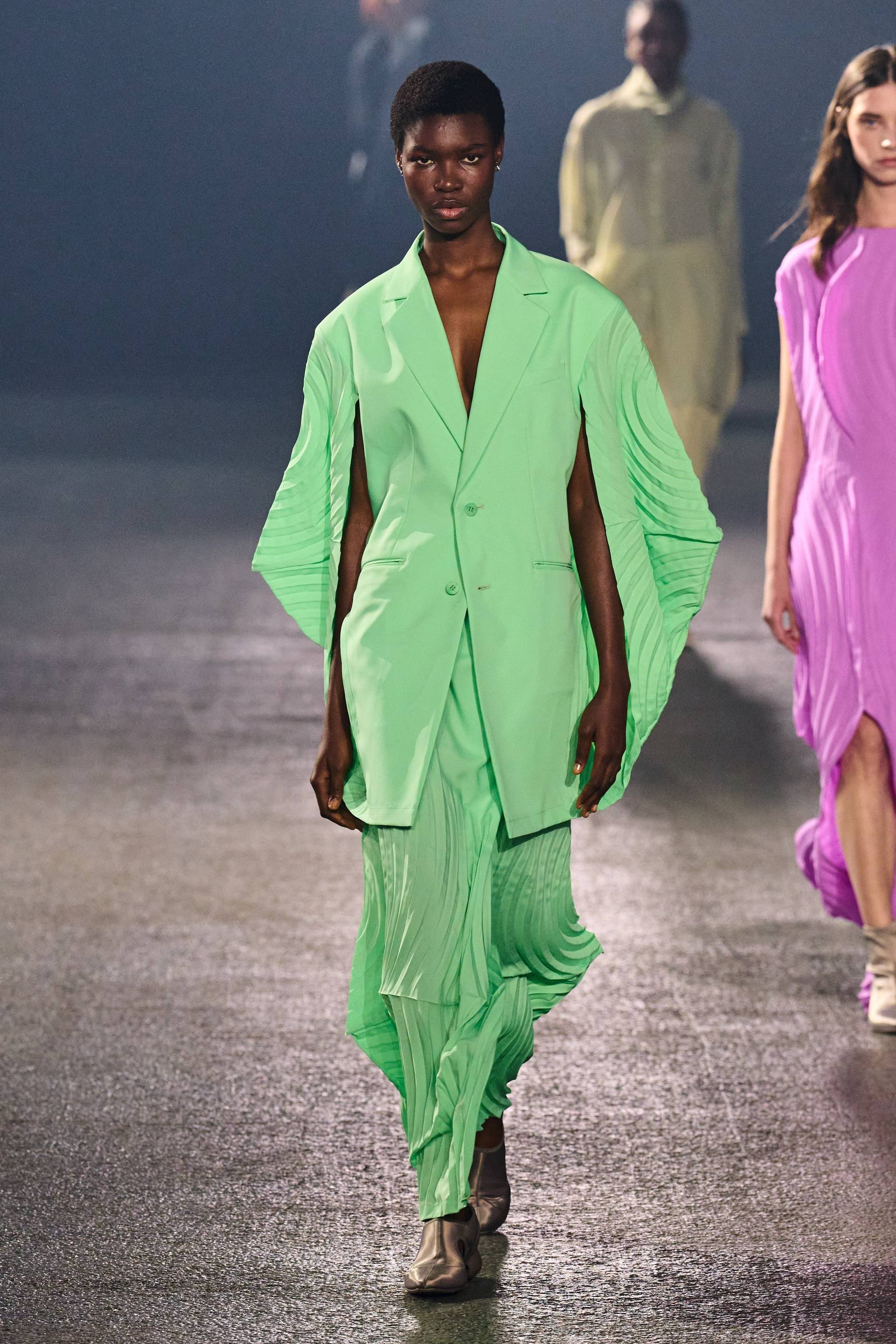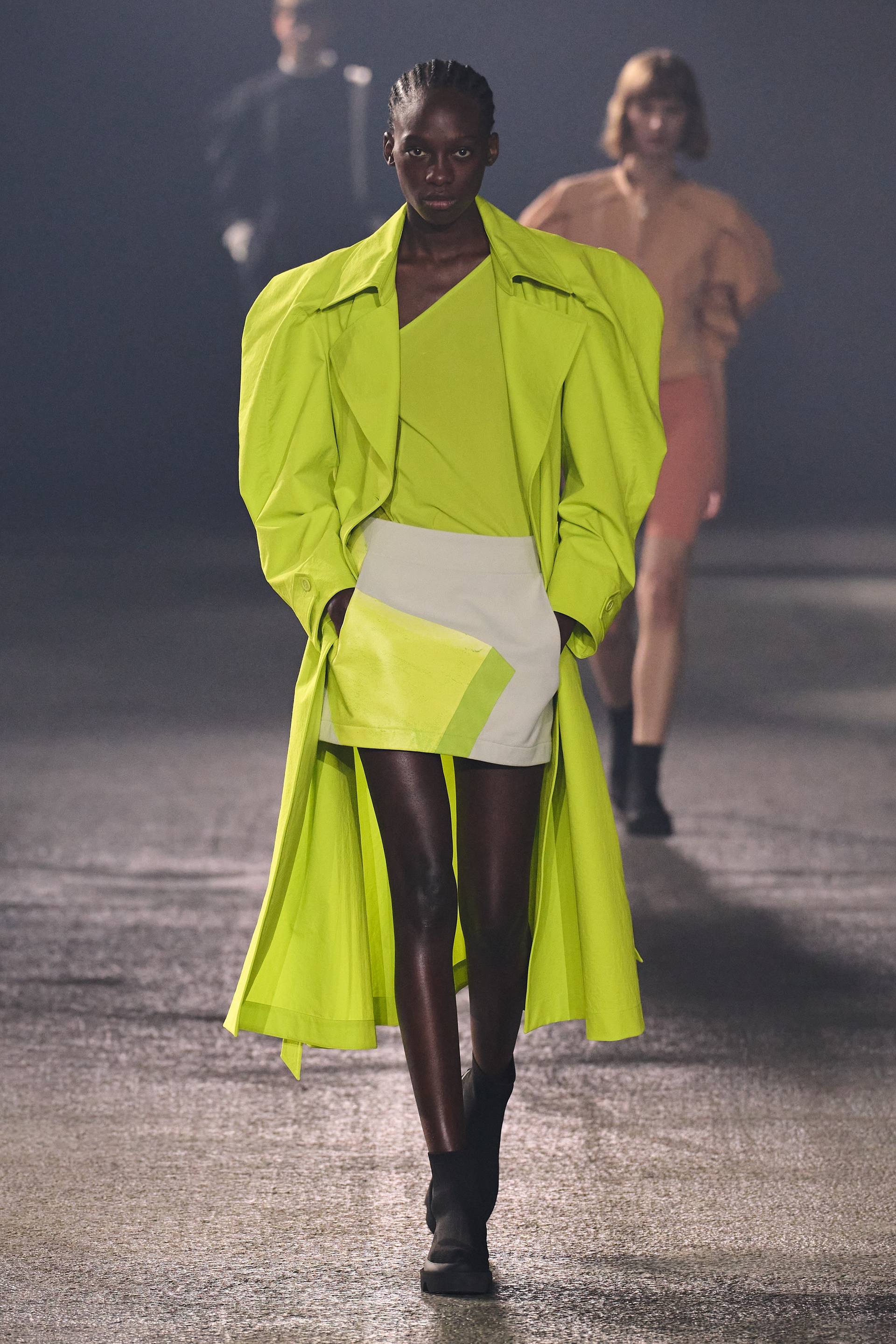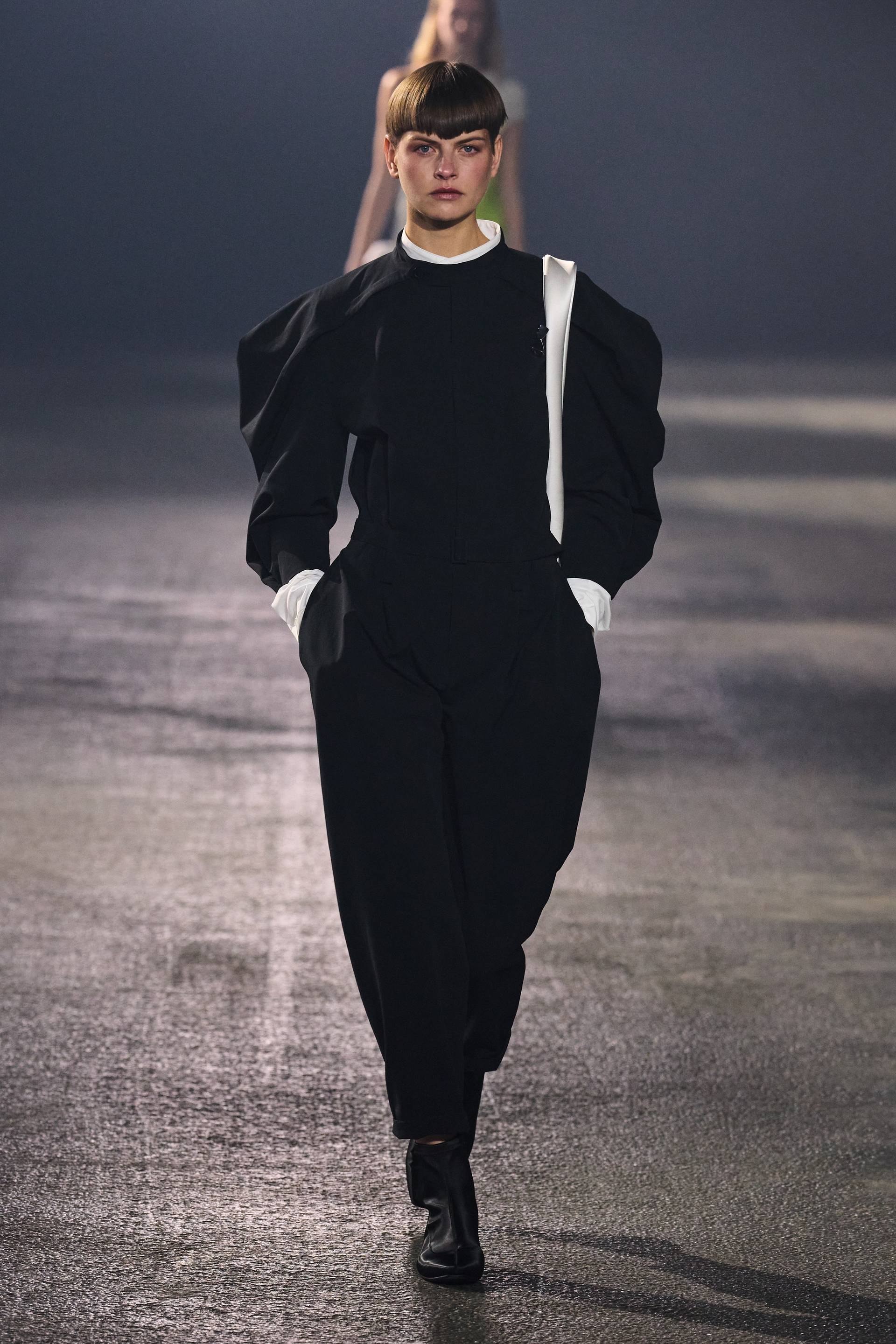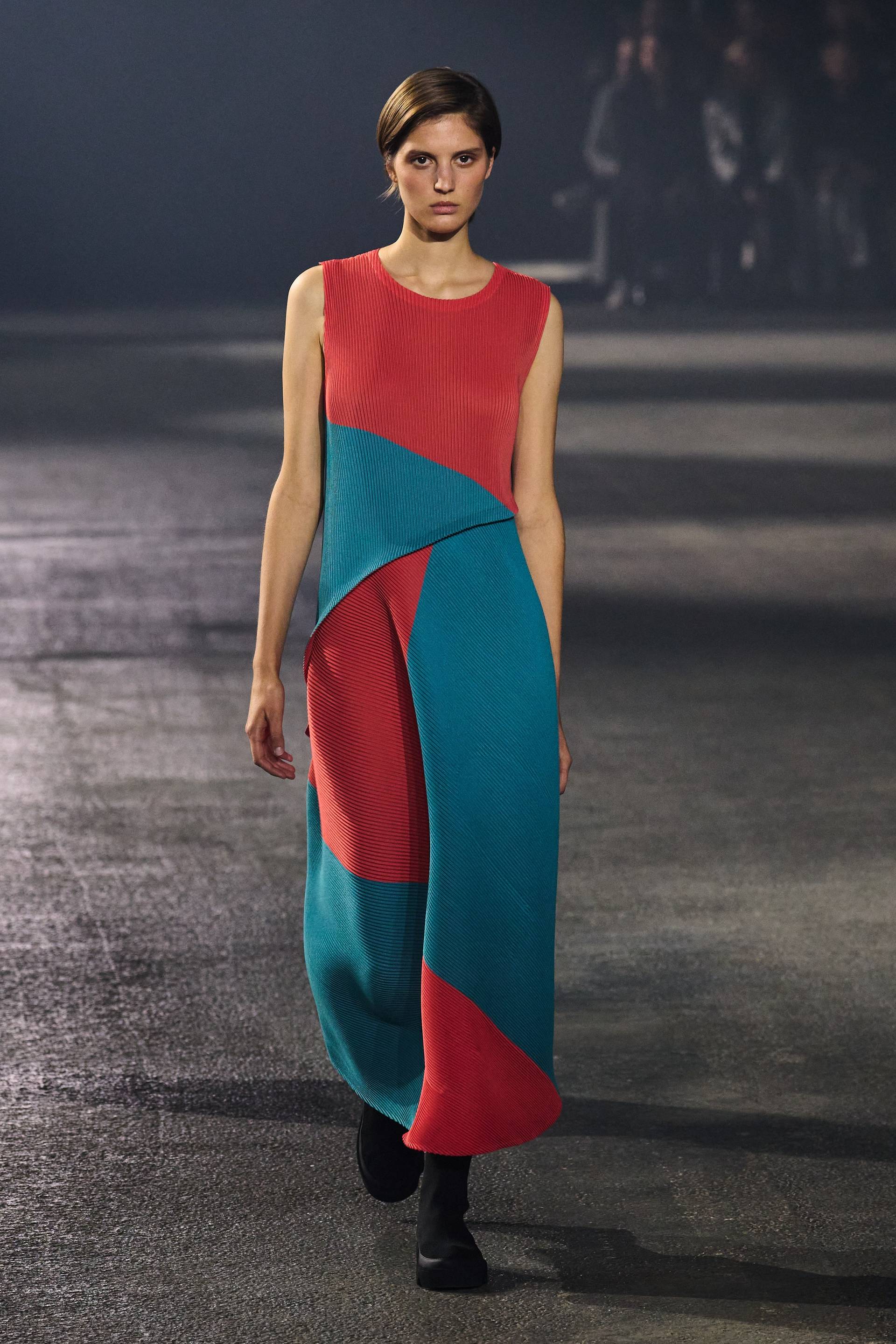 Issey Miyake showed for the first time since Miyake's passing; to an emotional room, filled with ardent supporters of Miyake's brilliance and legacy.  The posthumous tribute contained vital elements of pleats – a Miyake signature – with mathematically precise patterns, and an emphasis on structure, knitwear silhouettes. Celebrating Miyake's love for life and design, the collection featured lots of colour, and multiple references to the 80s Japanese design lexicon from Miyake emerged nearly forty years ago, to take the world by storm. Luke Leitch affectionately writes, 'Satoshi Kondo and the design team, who had worked closely with Miyake until the end, provided a quote of their own: "We see design as a process driven by curiosity, built upon a comprehensive exploration—bringing joy, wonder, and hope to life, and of course with a touch of playfulness." This collection, named A Form That Breathes, was evidence that Miyake's unparalleled application of technological innovation in the pursuit of joyfulness through design was in safe hands.'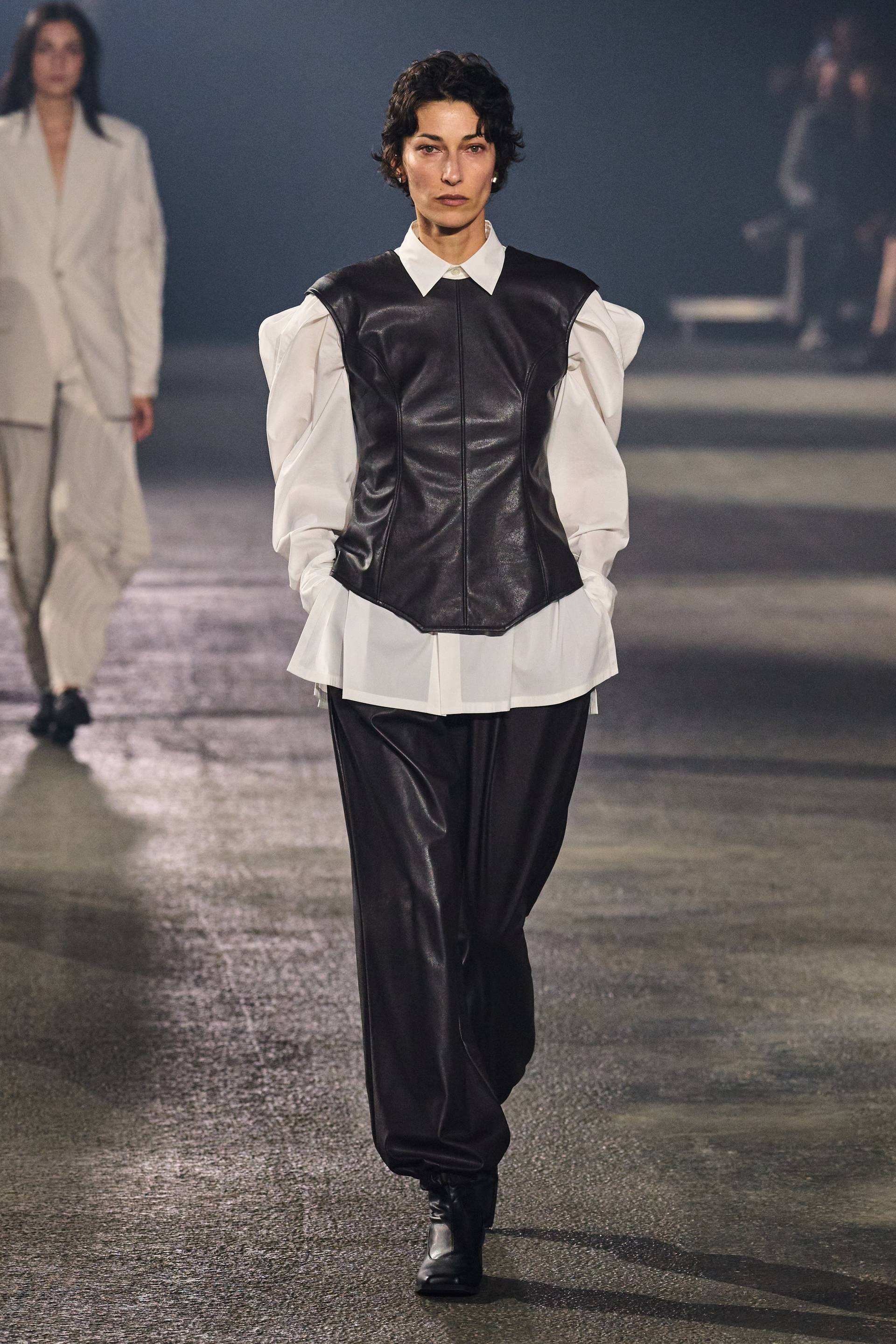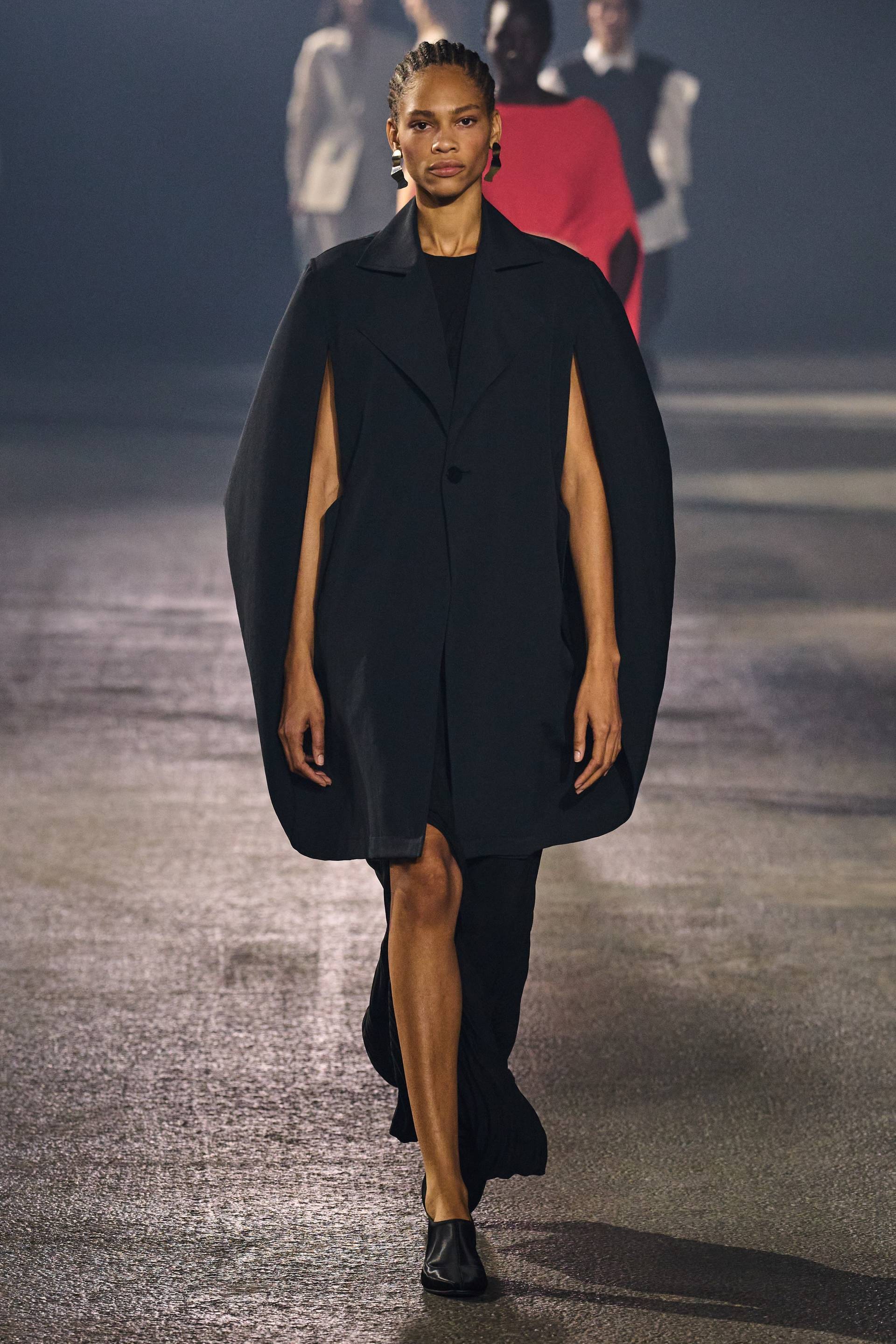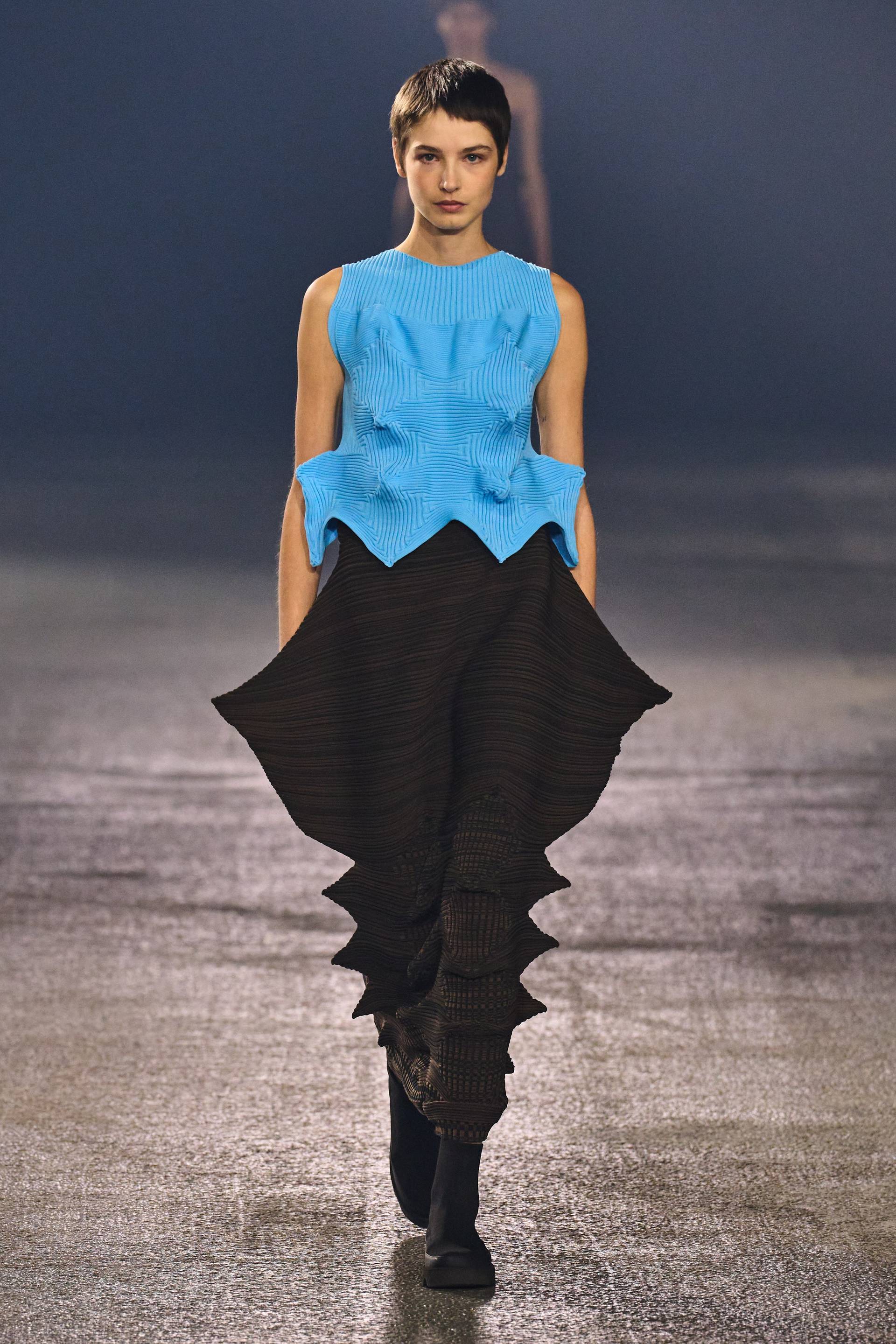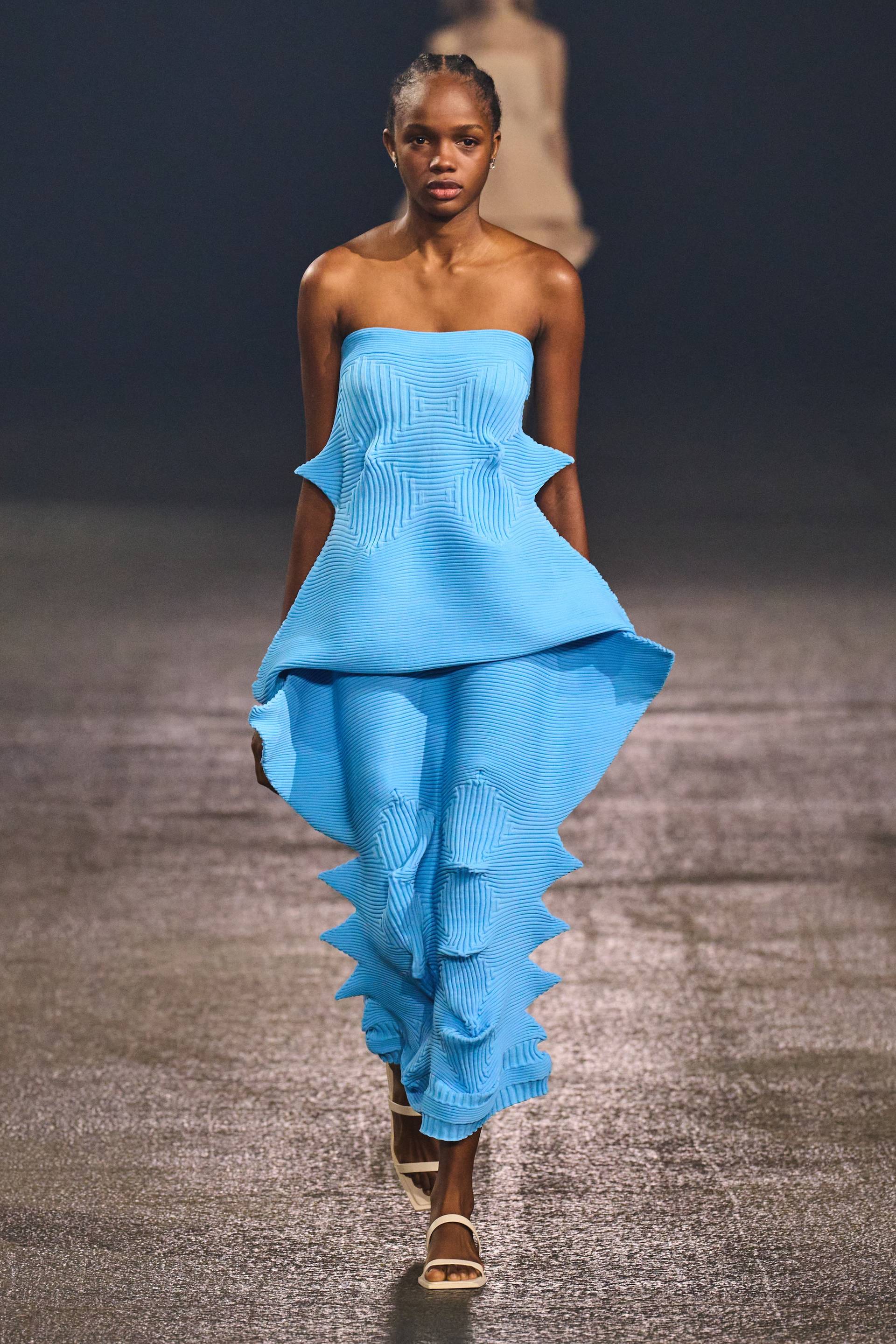 Photo: Filippo Fior / Gorunway.com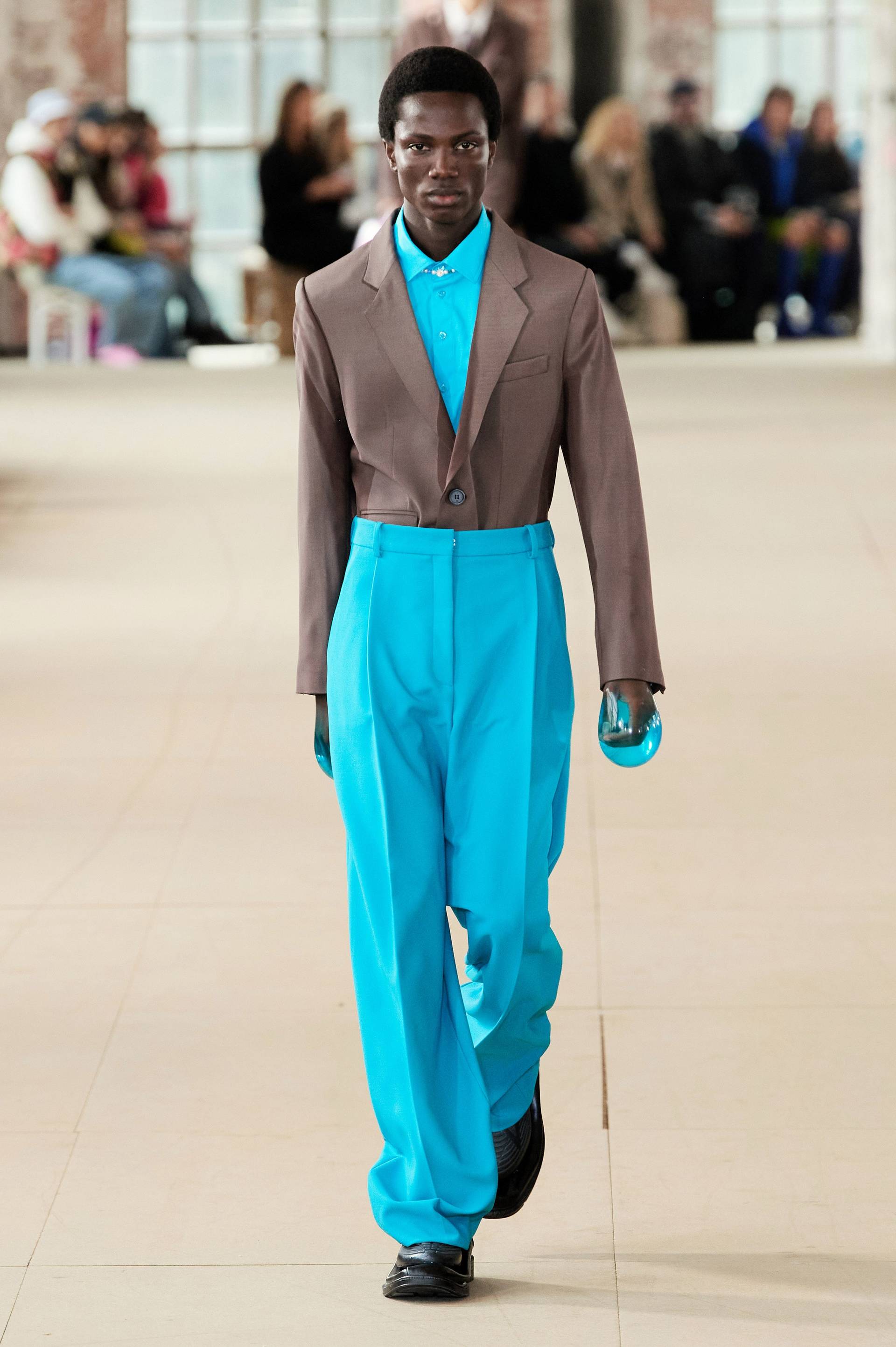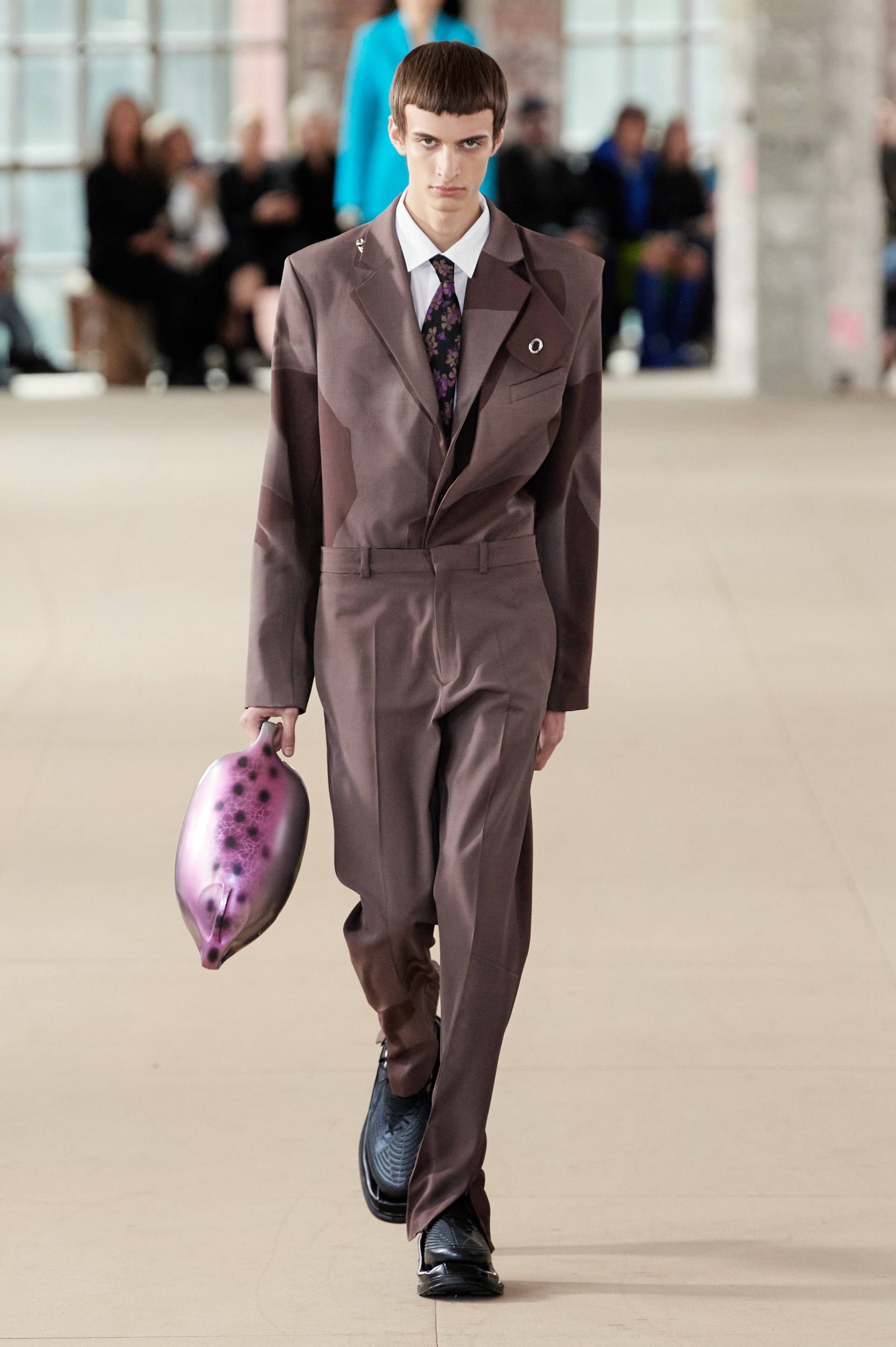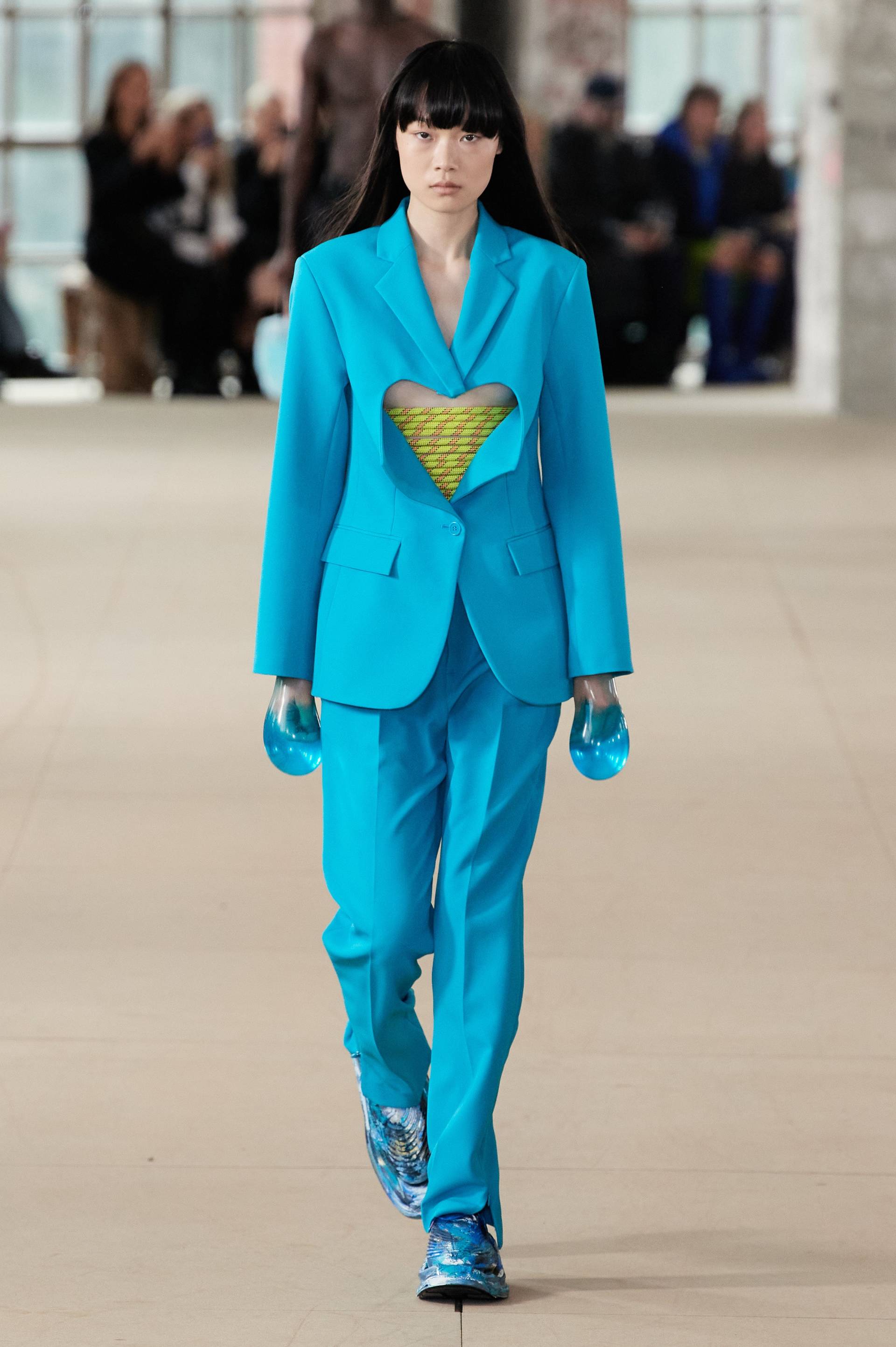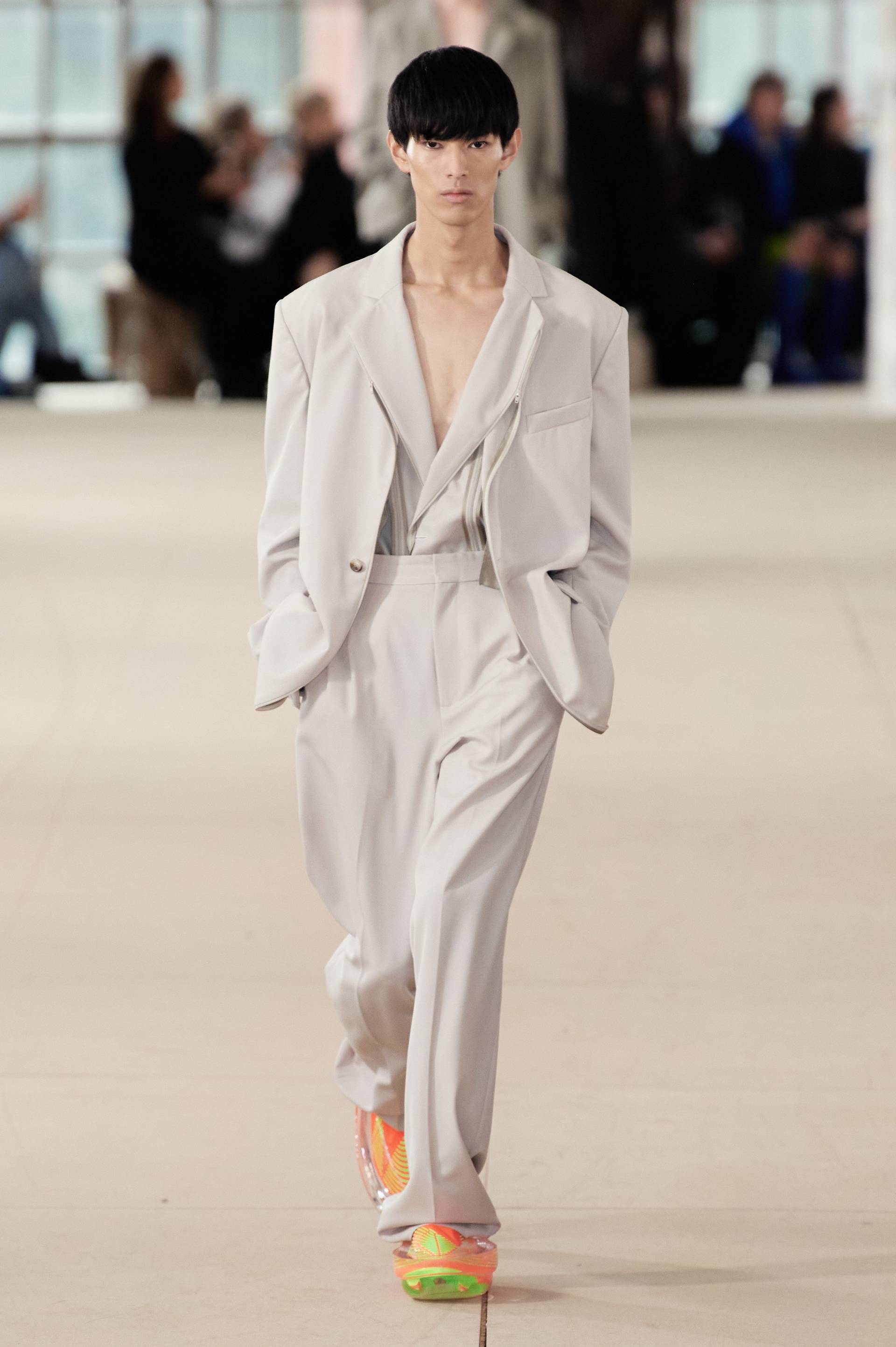 Botter showcased their signature Caribbean blue among a whirlwind array of highly tailored pieces – bringing together their singular, yet plural in expression, fascination with the ocean. Fabric research led Lisi Herrebrugh and Rushemy Botter to kelp-derived material – further manifest in an aquatic theme, with scuba style dresses. The "prophylactic aquariums" (brilliant) were the dye-water filled condoms wrapped around the models hands – a commentary on plastic waste, perhaps – but also, a truly fun anecdote in bringing literal water onto the runway. Botter continues to execute from strength to strength – with co-designers Herrebrugh and Botter firmly envisioning new material adventures ahead, perhaps mostly earth-led.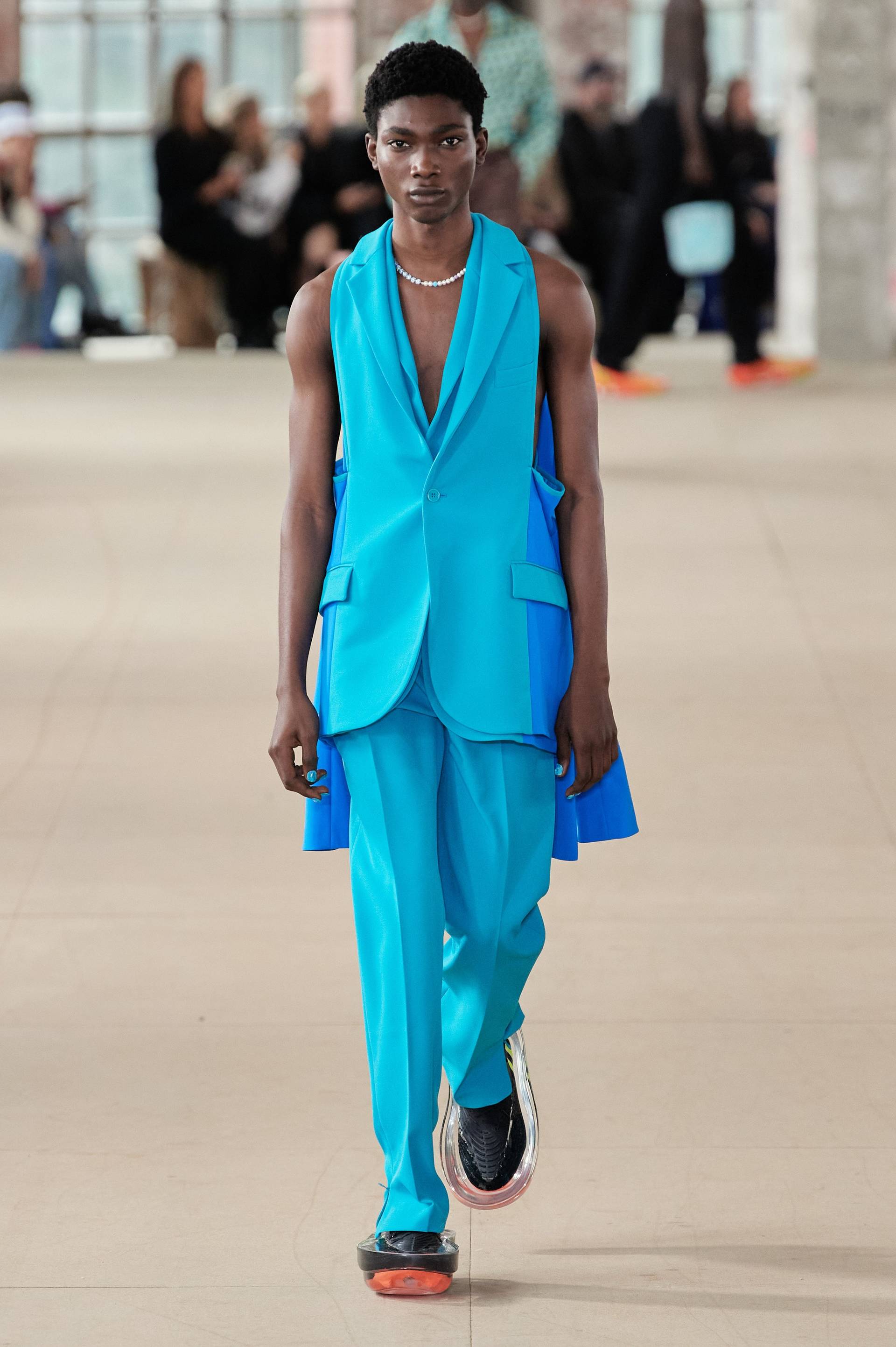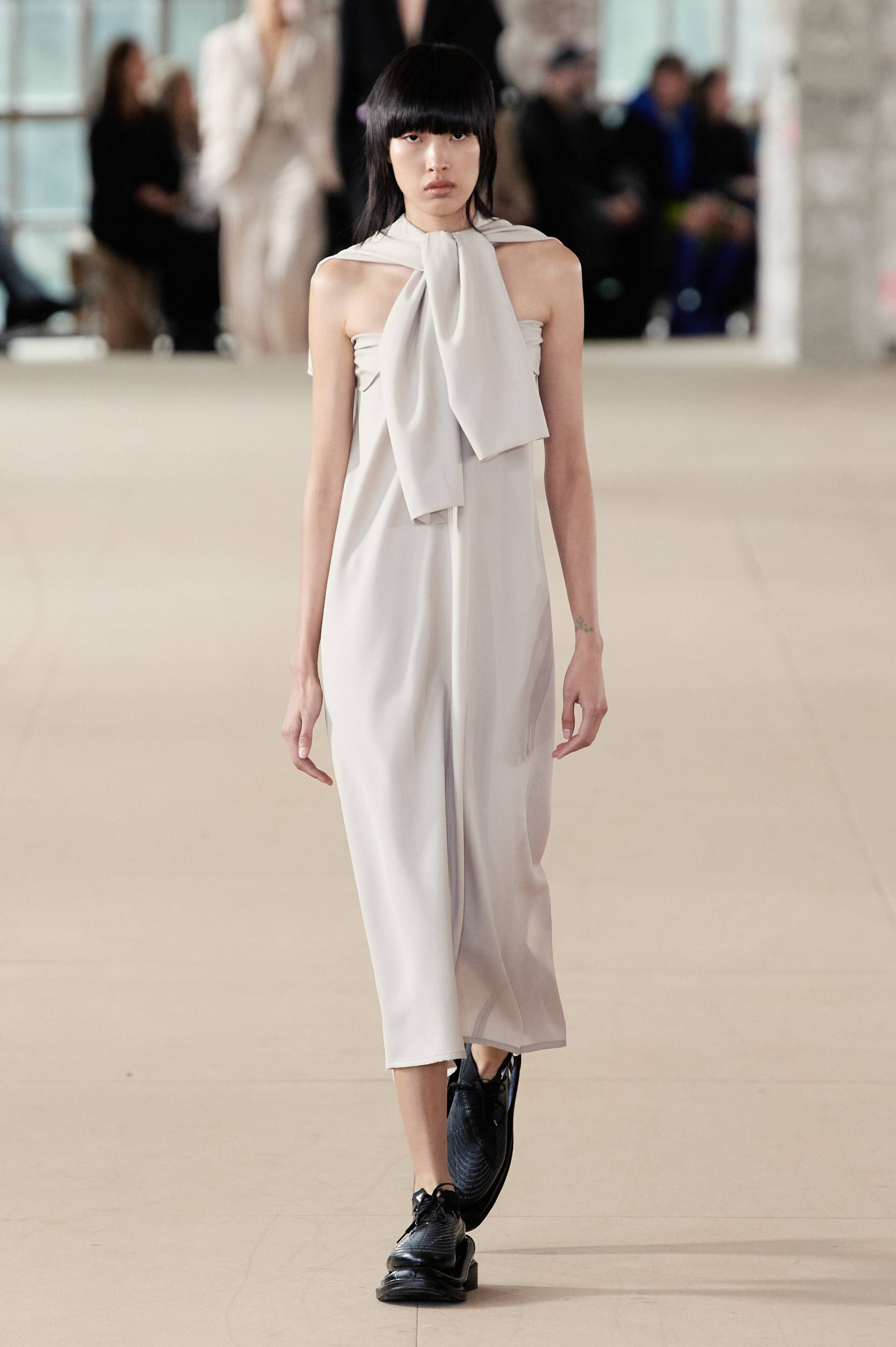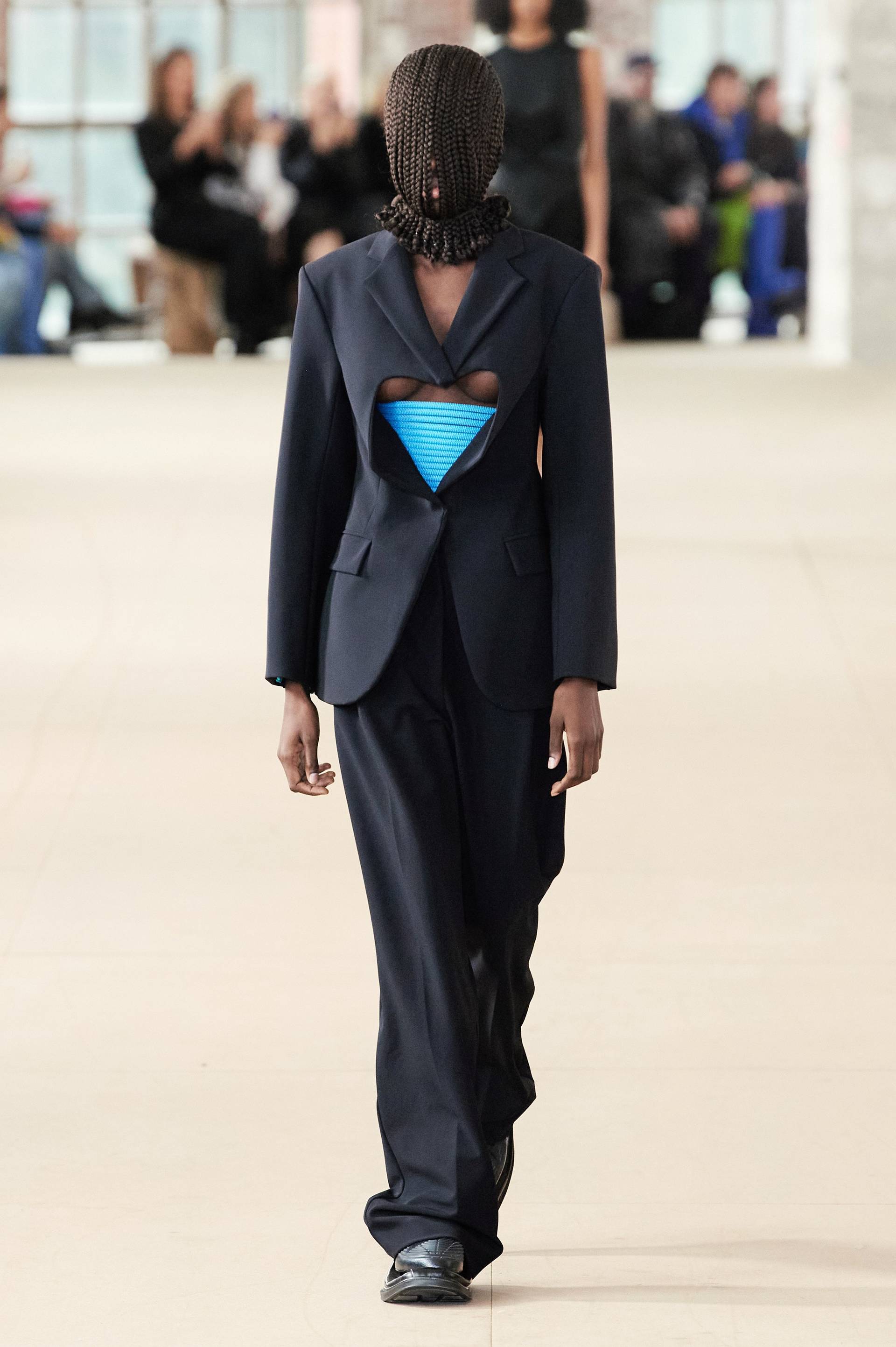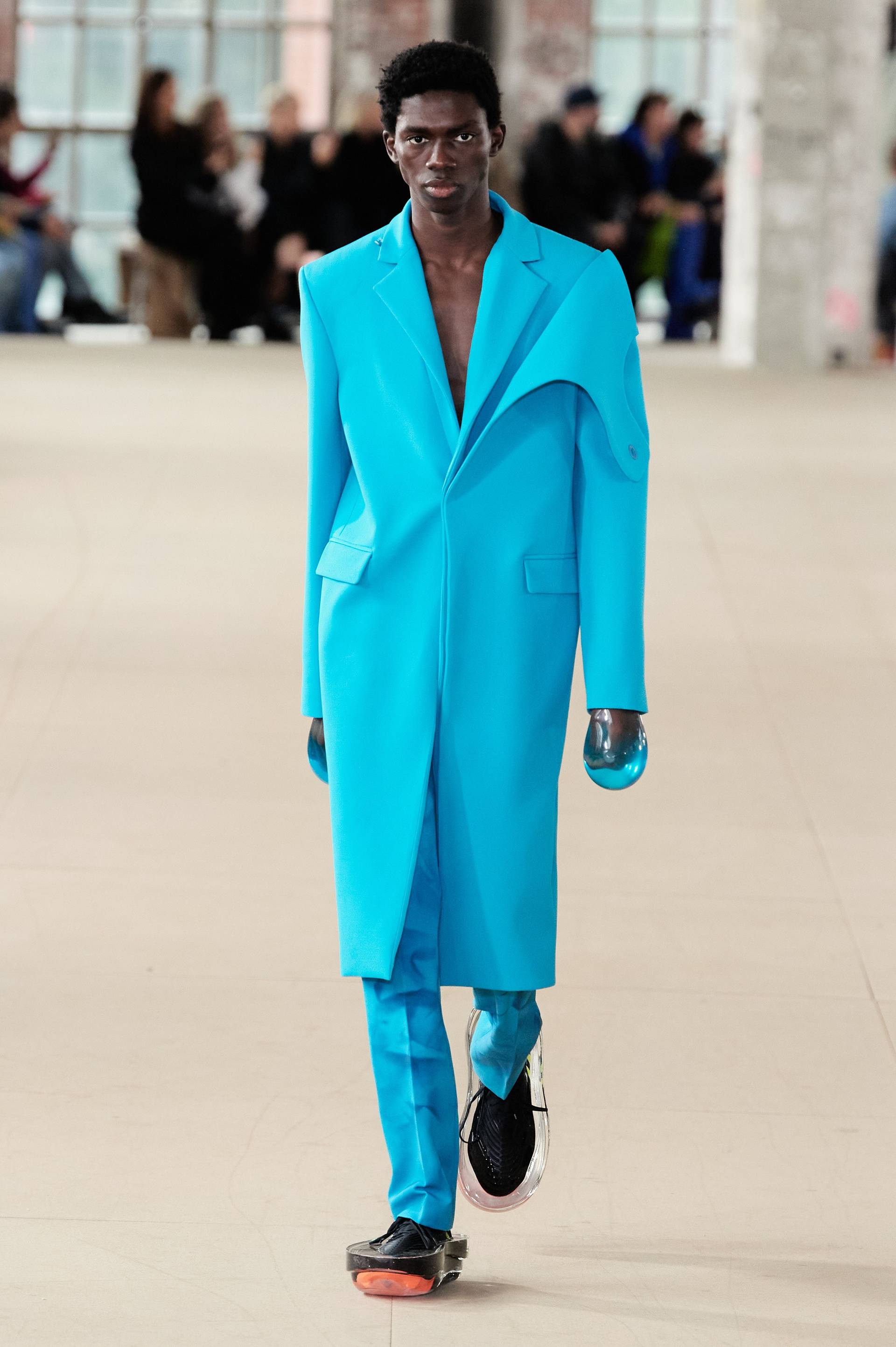 Photo: Salvatore Dragone / Gorunway.com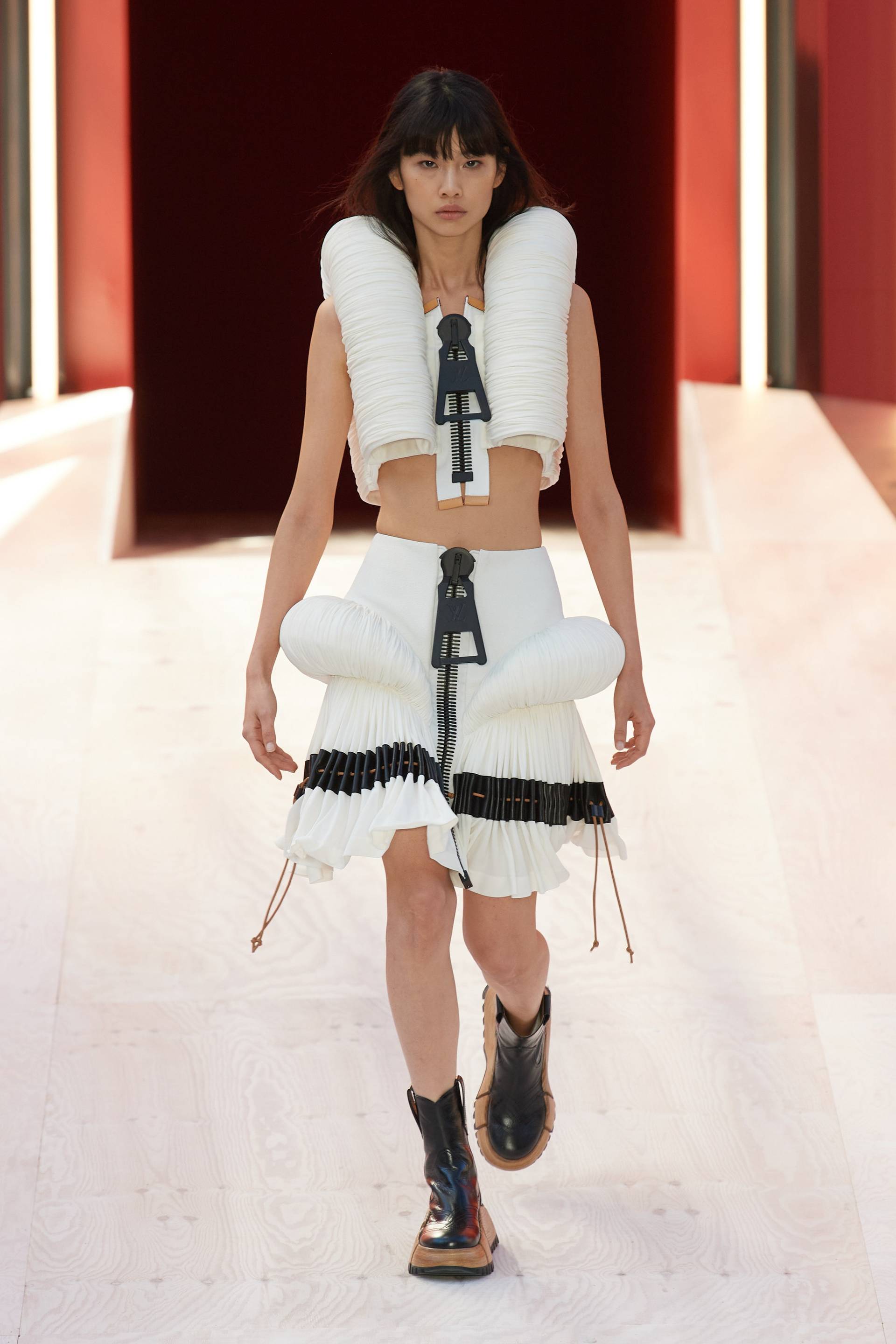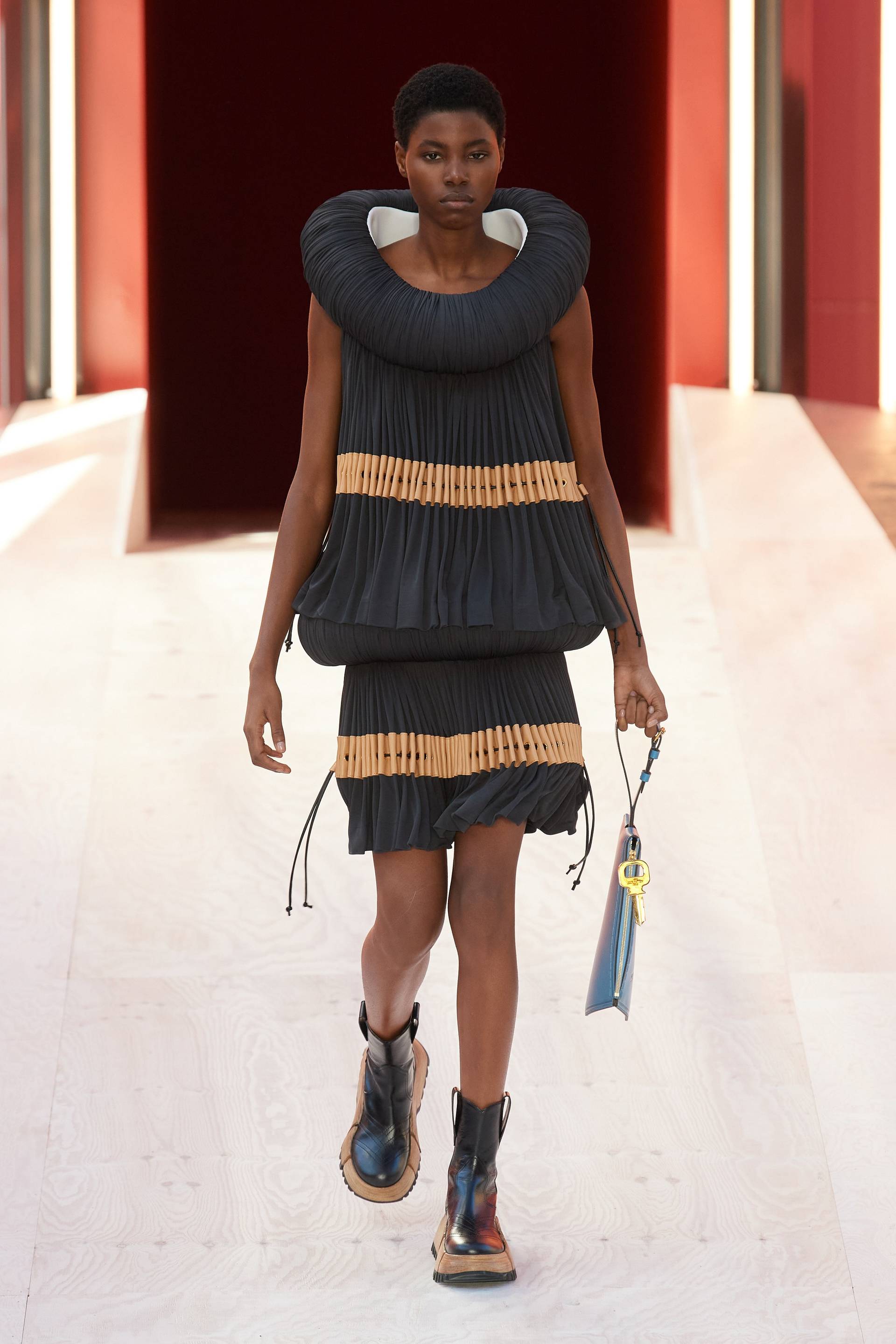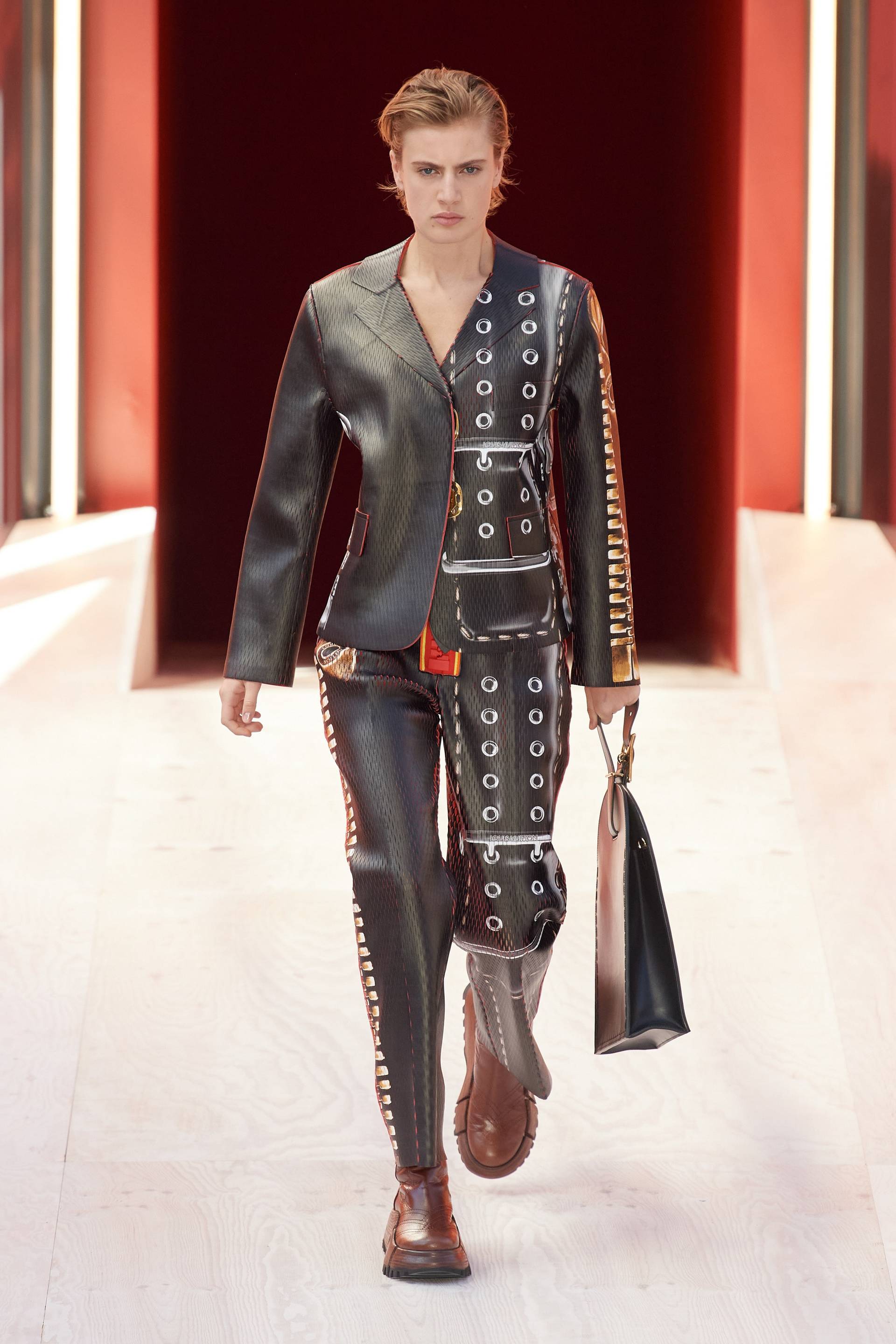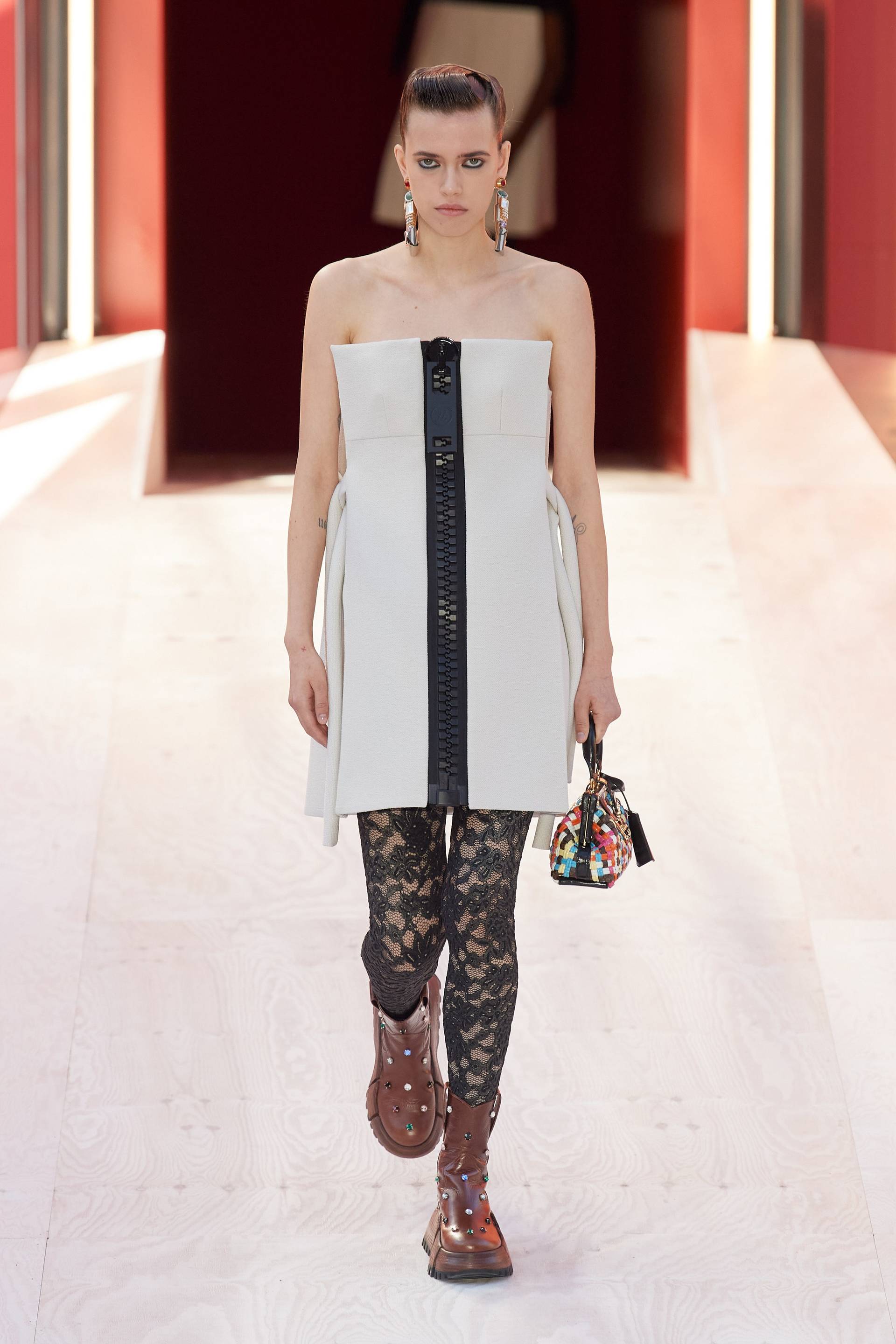 Louis Vuitton had our very own Candice Erasmus (CEC Editor in Chief) screaming with delight – a highly energised show, led by formidable womenswear creative director Nicolas Ghesquière's exceptional design codes. An homage to the houses' original luxury leather goods status, the house is firmly a fashion brand too; with technical details in abdunance from structured leather, quilted padding and THOSE exaggerated zips. When the show's film was released, the music and location astounded those who were not in attendance – Nicole Phelps reports, "Nicolas Ghesquière invited his longtime friend French artist Philippe Parreno to create an installation, and together with the Hollywood production designer James Chinlund (of The Batman fame) they created a set that felt a little as if a spaceship—a distant cousin of the Nope UFO, perhaps—had landed in the heart of Paris and the aliens had set up a fun fair for locals to see the special attraction." The petal-style structure was certainly unreal to view – alongside an insane soundtrack, LV was a clear study in the production-value and power of the runway format.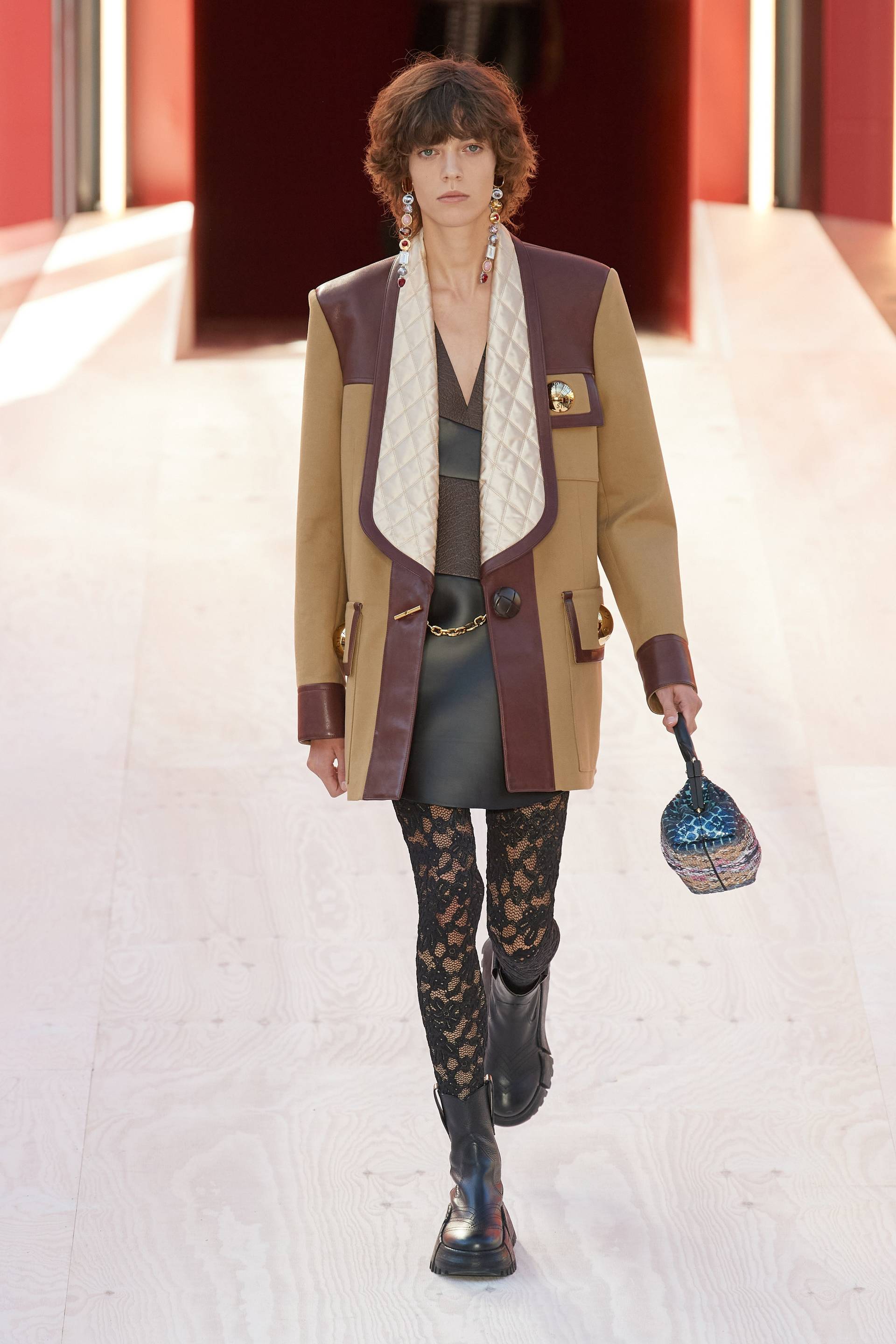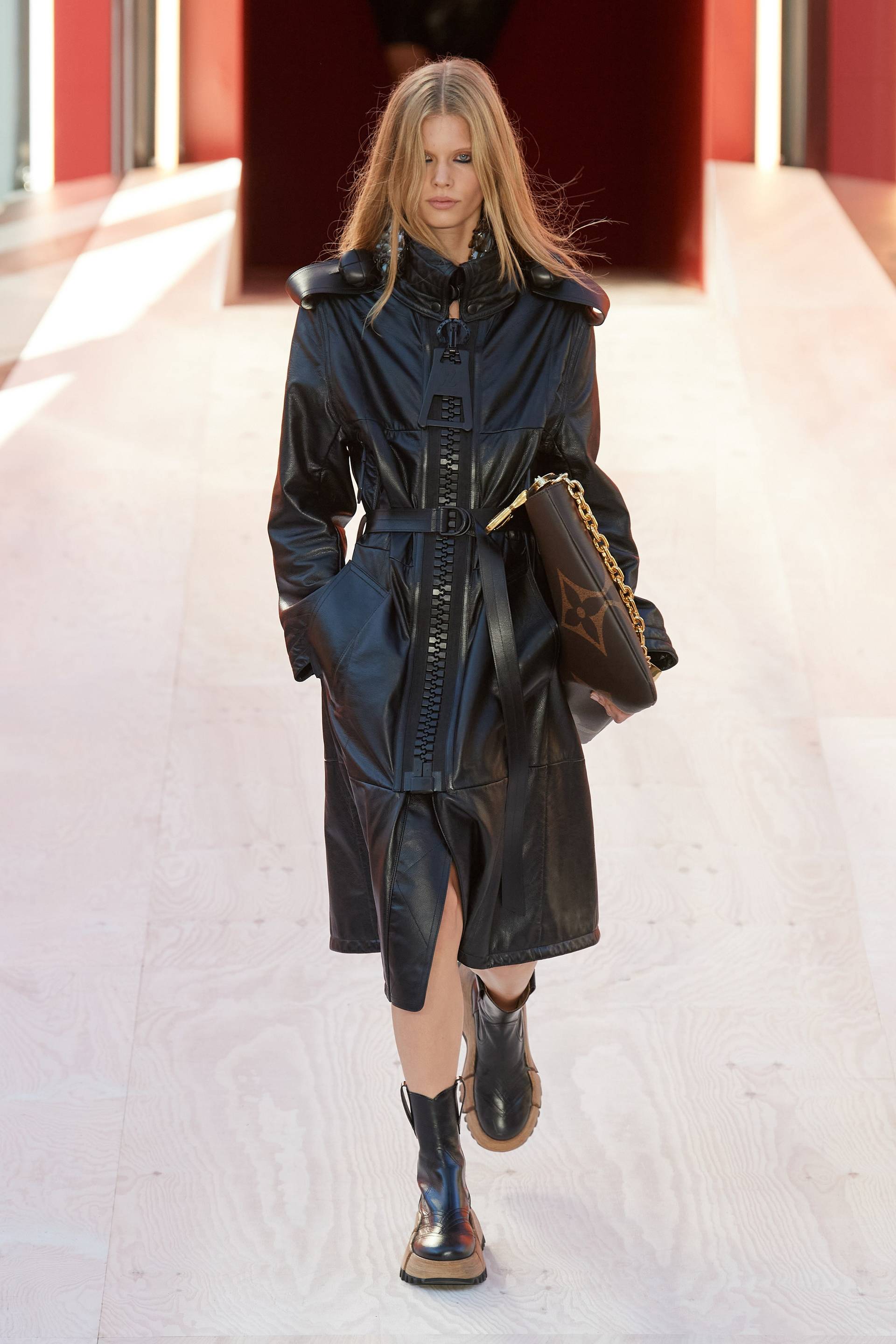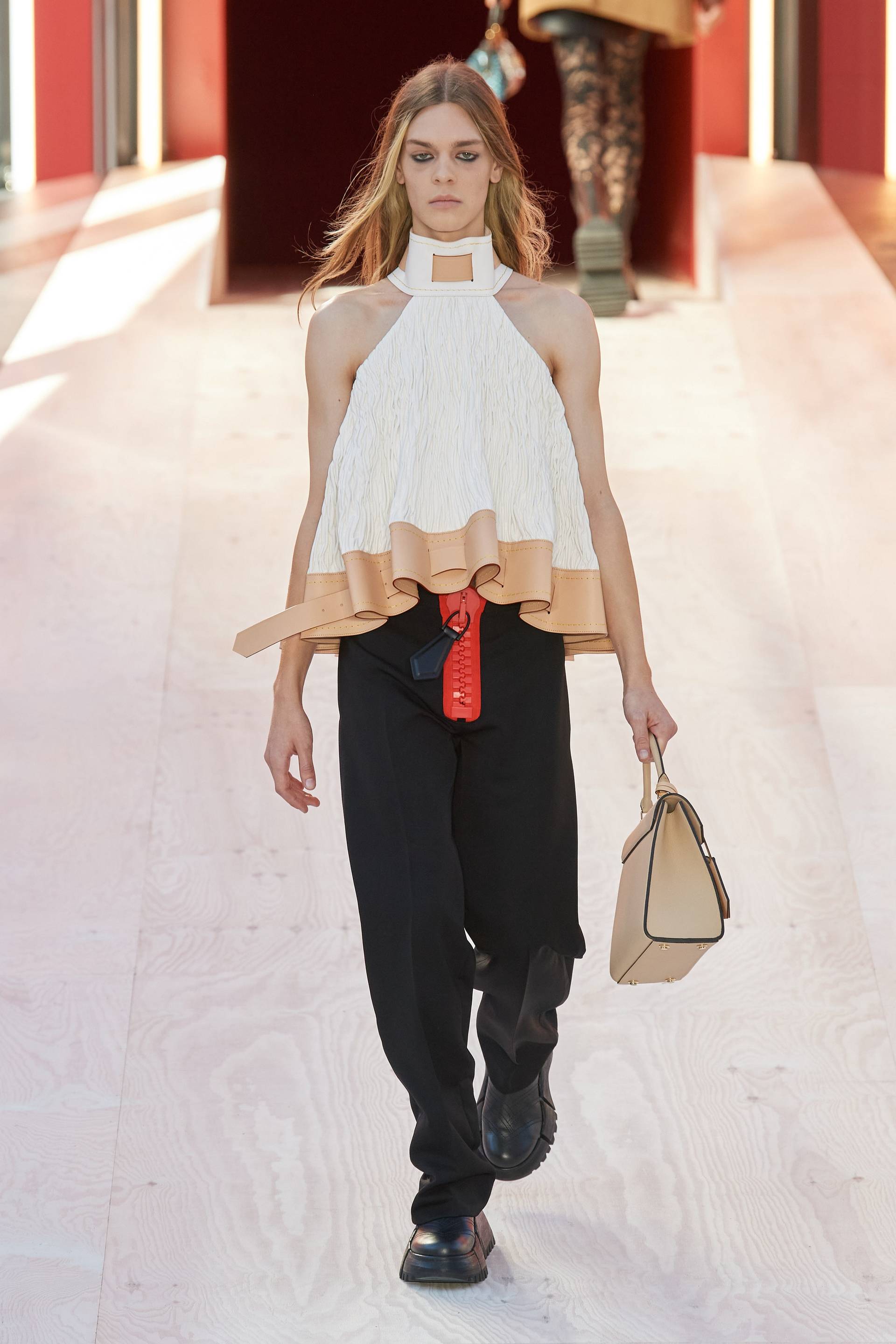 Photo: Isidore Montag / Gorunway.com
Written by: Holly Bell Beaton