Recorded between Ouidah and Cotonou, Benin; Kigali, Rwanda; Accra and Kokrobite, Ghana; Lagos, Nigeria; London; Los Angeles; and New York City, The Evil Genius Features some of Mr Eazi's most personal work, as he dives deeply into subjects like love, betrayal, loneliness, and family, expressed through three distinctive acts. 
Guest features on the project come from Angelique Kidjo (Benin), Tekno (Nigeria), Efya (Ghana), Whoisakin (Nigeria), Joeboy (Nigeria), and three-time Grammy winners Soweto Gospel Choir (South Africa). Contributing producers include Kel-P (Nigeria), Knucks(U.K.), Michael Brun (Haiti), Andre Vibez (Nigeria), Yung Willis (Nigeria), Nonso Amadi (Nigeria/Canada), KillBeatz (Ghana), M.O.G Beatz (Ghana), E Kelly(Nigeria), Type A (Nigeria), Stikmatik (U.K.), Phantom (Nigeria), Venna (U.K.), KDream (Nigeria) and Mr Eazi himself.
In a first-of-its-kind fusion of African music and art, Mr Eazi commissioned visual artists from across the continent to create a unique, physical art piece to represent each of the album's 16 tracks. Noting a lack of meaningful collaboration between Africa's exploding pop music scene and the continent's fine art creators, Mr Eazi personally handpicked 13 artists, representing eight African countries, adding art curator and patron to his already extensive resume of pursuits. 
As part of the rollout, Mr Eazi has been inviting the public to experience the music alongside the art at multi-sensory exhibition listening experiences, with the first two taking place in Accra, Ghana and London (where it was part of the 1-54 Contemporary African Art Fair) earlier this month. The exhibition will next head to MrEazi's home country of Nigeria, where it will appear as a special project within ART X Lagos, West Africa's premier international art fair, in November. Additional exhibition locations are soon to be announced.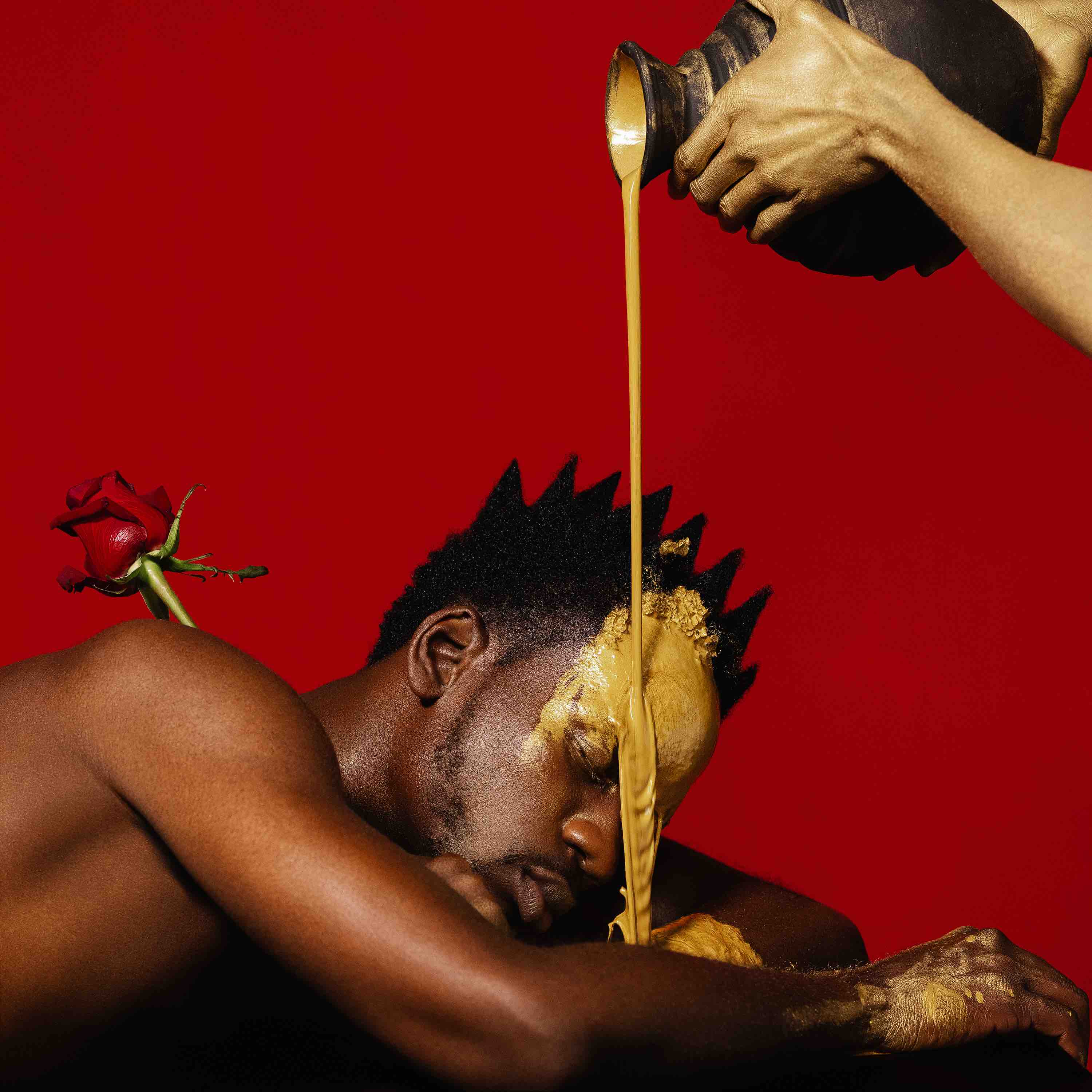 1EAS Photographed by Daniel Obasi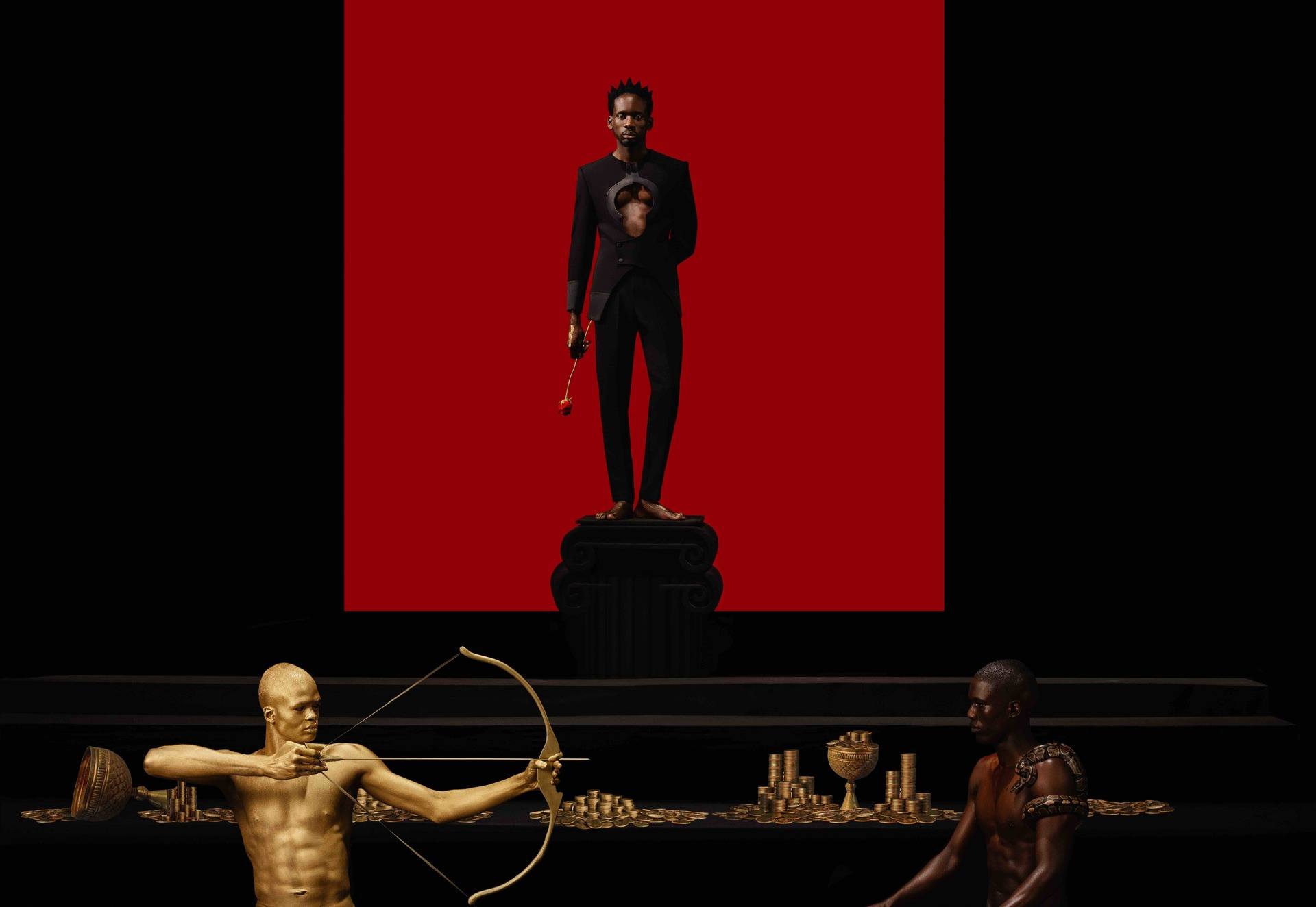 Visual artists who contributed to the project are: Alpha ODH (Nairobi, Kenya), Chinaza Nkemka (Lagos, Nigeria), Dominique Zinkpe (Cotonou, Benin), Edozie Anedu(Lagos, Nigeria), Elangwe Sesse (Cameroon), Ikechukwu Christian (Lagos, Nigeria), Kufa Makwavarara(Zimbabwe/South Africa), Patricorel (Cotonou, Benin), Samuel Tete-Katchan (Accra, Ghana), Sandra Seghir(Dakar, Senegal), Sinalo Ngcaba (Cape Town, South Africa), Tammy Sinclair (Abuja, Nigeria), Tesprit (Lomé, Togo)
For the album's cover art, Mr Eazi collaborated with celebrated Nigerian stylist, designer and photographer Daniel Obasi, known for his work with Beyoncé and Louis Vuitton. Obasi shot, styled and designed the album's cover image, letting lyrics from "Orokoro," "Chop Time, No Friend" and "Advice" guide its dense narrative. "In a metaphysical and surrealist portrayal, the cover art draws from the composition and ideals of the last supper and David's prayer of Psalm 23," Obasi says. "Spirituality, love, confidence, betrayal and thanksgiving are themes." 
On Sunday, Mr Eazi issued "Exit" featuring three-time Grammy winners and South African music legends Soweto Gospel Choir, alongside infectious production from Grammy-winning Nigerian beatmaker Kel-P (BurnaBoy, Wizkid). Set atop South Africa's famed Drakensberg, amidst the oldest mountain range in the world, the"Exit" video delivers heavenly visuals befitting of the song's spiritual theme.
MR EAZI is a musical innovator, business leader and philanthropist. As a recording artist, the Nigerian multihyphenate is the voice behind afropop hits "Pour Me Water," "Skin Tight" and "Leg Over," as well as groundbreaking collaborations with the likes of Beyoncé and J Balvin, and the creator of Banku Music, a fusion of Ghanaian and Nigerian sounds and culture. A serial entrepreneur, he founded emPawa Africa in 2018 as a talent incubator program designed to accelerate the careers of African artists.
Hailed by CNN, Rolling Stone,Billboard and Forbes for its innovative approach to expanding African music's global reach, emPawa Africa has since grown into one of Africa's largest independent music companies, with a track record of breaking global stars like Joeboy and Major League Djz. Mr Eazi has clocked over 4 billion streams of his songs across DSPs, making him one of the most streamed African artists worldwide. 
Listen to 'The Evil Genius' HERE
Connect with Mr Eazi
Facebook: @officialMrEazi
Twitter: @mreazi
Instagram: @mreazi
Press release courtesy of Sheila Afari PR