Paris & Milan Menswear FW23 has been and gone – somehow, it always feels like it's fashion week. In recent decades, menswear has been the complementary force for womenswear; masculine dressing relegated to an accompanying act – while womenswear is always shifting, updating and available in a myriad of styles, silhouettes, textures and hues. That is changing, though; hard and fast, and according to european analytics giant, Euromonitor, "menswear is expanding at a faster rate than womenswear in some key markets. Social media trends such as streetwear and sportswear are changing how both luxury and fast-fashion brands approach menswear, as social media lifts taboos, changes mentalities and allows for men to explore individuality outside of the constructs of traditional masculinity." We are witnessing a challenge to the normative expression of gender across the board; and the often stifling way in which relegating certain forms of clothing to 'men' or 'women' can impose limitations on design. Many of the shows in Paris and Milan cast both men and women for their 'menswear' shows; gender and its relationship to fashion is revealing of the nuanced, social shifts taking shape in collective culture.
I hesitate to make statements about 'Africa' – relegating a vastly complex and rich continent to any kind of homogenous framework. What the title of this month's Interlude intends to do, is situate the eight brands on the continent that are carrying forth the expression and expansion of masculine dressing. From a historical perspective – the crisp, white shirts and loafers introduced to men from South Africa to Nigeria, generally by colonisers, have gone on to become a source of reclaimed, sartorial pride. Tanatswa Amisi, Interlude's first collaborator from Chapter 11, said this of Wanda Lepotho's collab with Dakotas, "I remember Wanda posting an image a month or so before announcing this collab, and it was an image of a man in apartheid South Africa, dressed in this crisp, smart-casual way as a lot of Black men dressed in townships. This collaboration was paying homage to a very specific sartorial coding within South African culture and history. I struggle to find the words to describe it – but it's the way my grandfather dresses, the way our father's dressed back in the day. The loafer is the central symbol to this, and it's significant – I know my dad and grandfather polished and cleaned their loafers with great pride. Wanda and Dakotas coming together to really honour this, was so meaningful. I think it should have gotten a lot more attention than it did."  In this way, dressing is often inherently political; and designers today are inclined to collate a vast array of references that stretch across memory, ancestry and contemporary culture. I am of the school of thinking that puts Africa and indigenous cultures as the original reference and seat of creative power; across the diaspora and the globe, defined by craftsmanship and community roles (tailoring), from the market stalls on the street to the runways of Virgil's LV; and then some. Here in South Africa, we are home to the innate sensibility of Coloured, Malay & Muslim dressing, too; something designers like Imran Mohamed of ASA SADAN continues to archive, and Mario Oogle and Eden Myrrh now at the helm of TWOBOP. The power of story-telling and the importance of preserving and updating sartorial lineages make Africa, and this country of South Africa, vital to a future of fashion in the world. 
I will never cease saying what I know and what many of the incredible creators I interview regularly say; Africa's time is now, and the brands detailed in the next part of Chapter 12 are but a taste of the magnifying fashion realm being built on the continent today.
RICHMANSKYF /// South Africa
I continue to be totally intrigued by RICHMANSKYF – the brain-child brand of designers Sabelo Shabalala and Sithelo Mlhongo, both alumni of Durban University of Technology. Along with CPUT, I believe DUT produces some of the strongest Fashion & Textiles experts in the country; think REFUSE Clothing and Phuti Styles. Shabalala and Mhlongo's brand errs effortlessly between streetwear and the makings of luxury; with RICHMANSKYF a translation of cultural codes and contemporary sensibility of menswear in South Africa, today. Blending both Zulu and Xhosa references, the brand feels destined to be housed on racks alongside A-COLD-WALL* on a global level, and at Duck Duck Goose, locally.
Images 1 + 2 : @tatendachidora
Images 3 + 4 : @imraanchristian
Kente Gentlemen /// Côte d'Ivoire
Ethical care and consideration maketh the man – this is the life-force behind Abidjan based brand, Kente Gentlemen. Founded by Aristide Loua, the label defines itself as 'Sartorial Poetry' (perfection) and all pieces are handmade, with a vision for ethical consumption. Colour is exceptionally injected across Loua's collections; masculinity expressed as a liberated yet sharp energy to yield playfully and without inhibition. Aristide's note says it best, "The essence of the brand is to mould a sustainable balance of colour, poetry, and culture as we remain consistent in the continuing research, discovery, (re)design, and use of handwoven textiles. Among the myriad of wax print designs and fabrics, which have effectively been marketed and sold across the African continent for decades now, it's easy for anyone to get lost into what is perceived to be African fashion. There's surely a lot of misconceptions out there about what is meant by "African Fashion". What even qualifies a style, a trend, a fashion, to legitimately be called African? "African Fashion" is for all of us to discover; it is too expansive to narrowly be defined, and it doesn't need to be. Fashion in Africa encompasses a multitude of traditions, cultures, textures, forms, techniques and philosophies, all together, and so is far removed from the confines of a single story. Its plurality, interwoven by a seamless mystery makes it all truly poetic, colourful, and enchanting."
Image 1 : @angnm_
Image 2 : @anagandara 
Image 3 : @jorispaterson 
Image 4 : @marcposso 
Forge Studios /// South Africa
I was pointed to Chad-lee van Wyk's work by friend and fellow writer Luci Dordley, and to say I was moved would be an understatement. South African fashion (no, world fashion!) is sleeping on Forge Studios – a love-letter to fashion, queerness and up-cycling straight from the heart of Ocean View, in the deep south of the Cape Peninsula. In his latest collection, van Wyk's 'Kwa Amani' menswear takes masculine dressing and turns it entirely on its head. With tailoring, knitwear and dresses – the model, David, is an illuminated vision of the highest order – and Forge's IG alone is a stunning portrait of references, curated so that the essence of the brand is difficult to articulate. I think, rather, Forge's essence is meant to be felt. I won't say too much more – until I get to speak to Chad-lee directly about his work and story. Wow.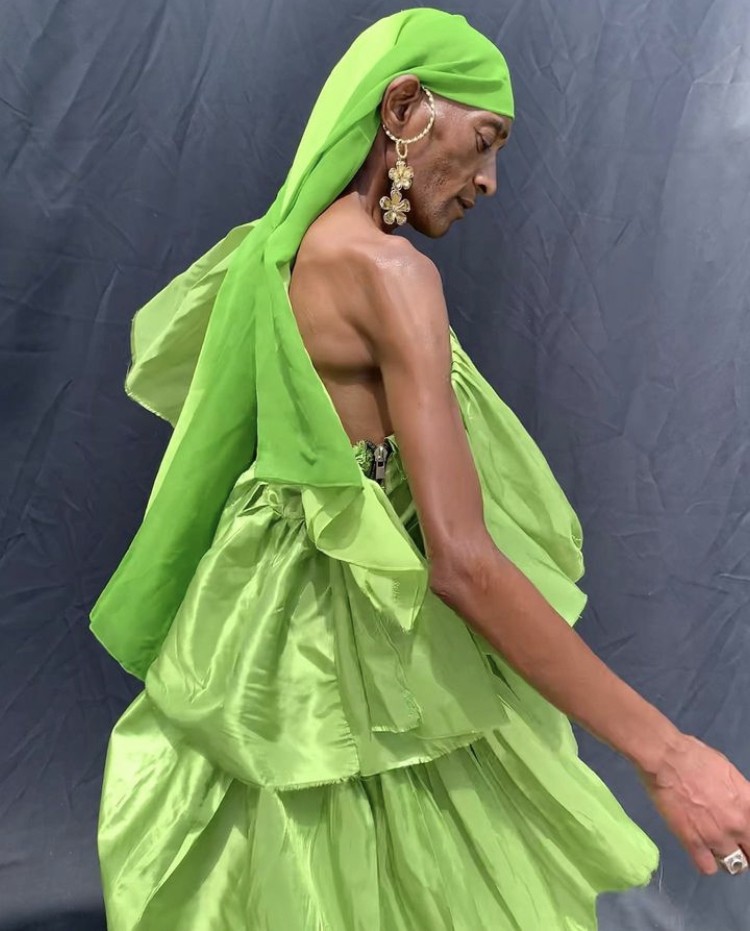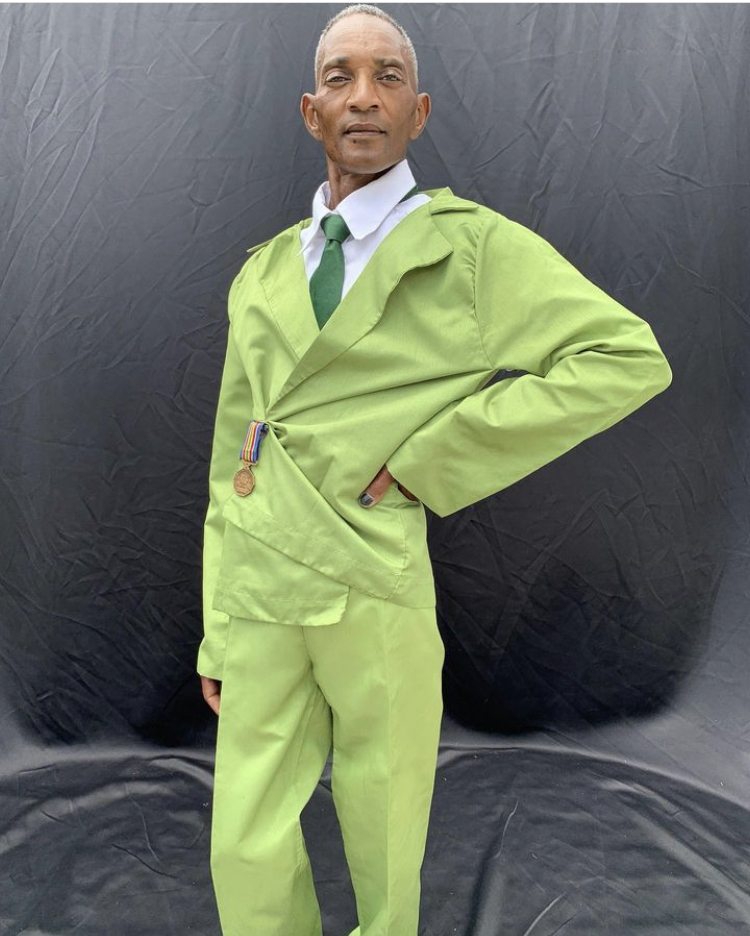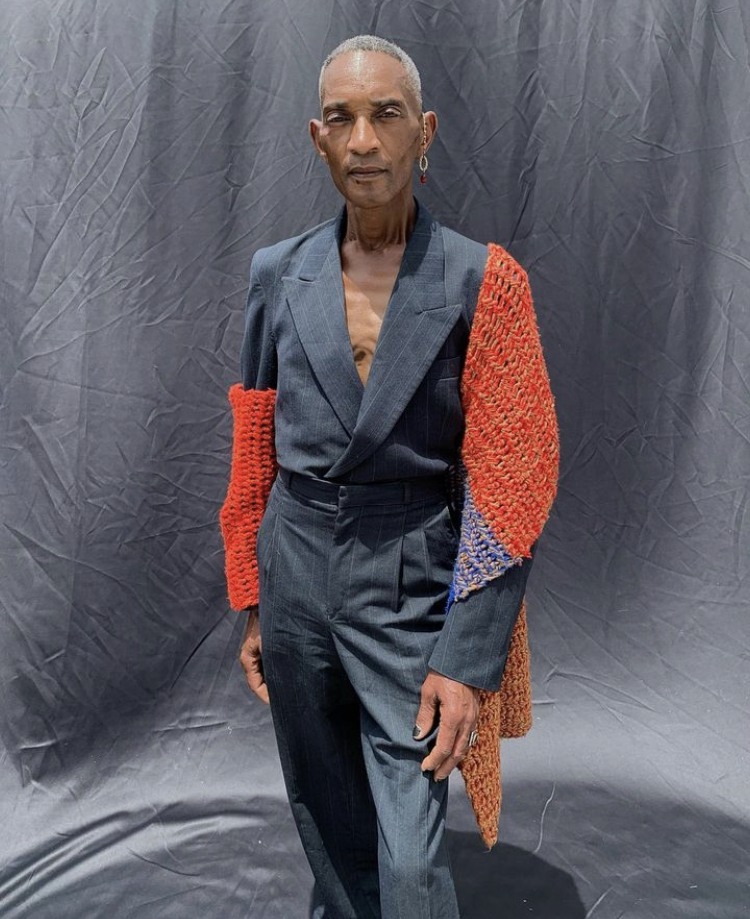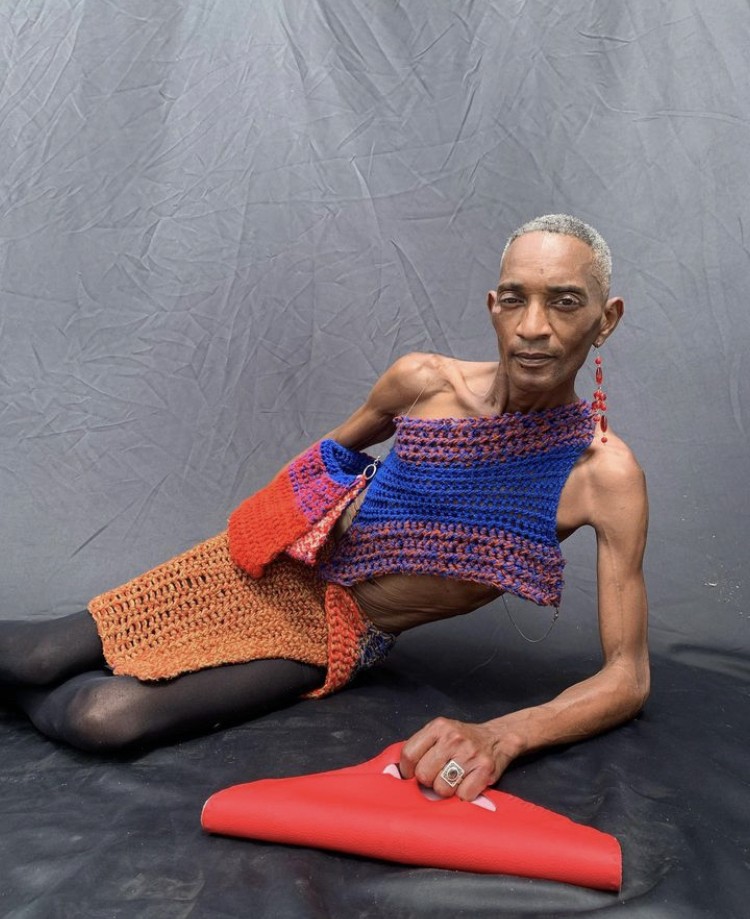 Tokyo James /// Britain & Nigeria
Iniye Tokyo James' brand, Tokyo James, is a masterful orchestration of glamour and sex, depth and meaning. While designers often tend to pursue either poignancy or playfulness; James does both, everytime. Steff Yotka's coverage for Tokyo James SS22 reads, "James's warmth and heart translate to his garments. This season he started thinking about the Osu caste system used by the Igbo people of eastern Nigeria. Osu—or outcasts—are shunned by society and looked down on; James saw them as representative of outcasts around the world. A collection that wafts through ideas of lightness and porousness was his solution; something gentler and kinder. He made use of beautiful white and pink/red lace for collar shirts, blazers, and trousers and created similarly perforated white jackets from cord. Underneath, there are James's first boxer shorts with a bold logo tag; there is also a cheeky graphic tee that reads "Tokyo Fucking James." It's delivered as a saucy message of self-preservation."
As an LVMH finalist for 2022; Tokyo James is a label on the rise – yet, with a cult-like following already, the kind of successful trajectory of Nigerian cultural command (Burna Boy, Skepta) in the world has only just begun.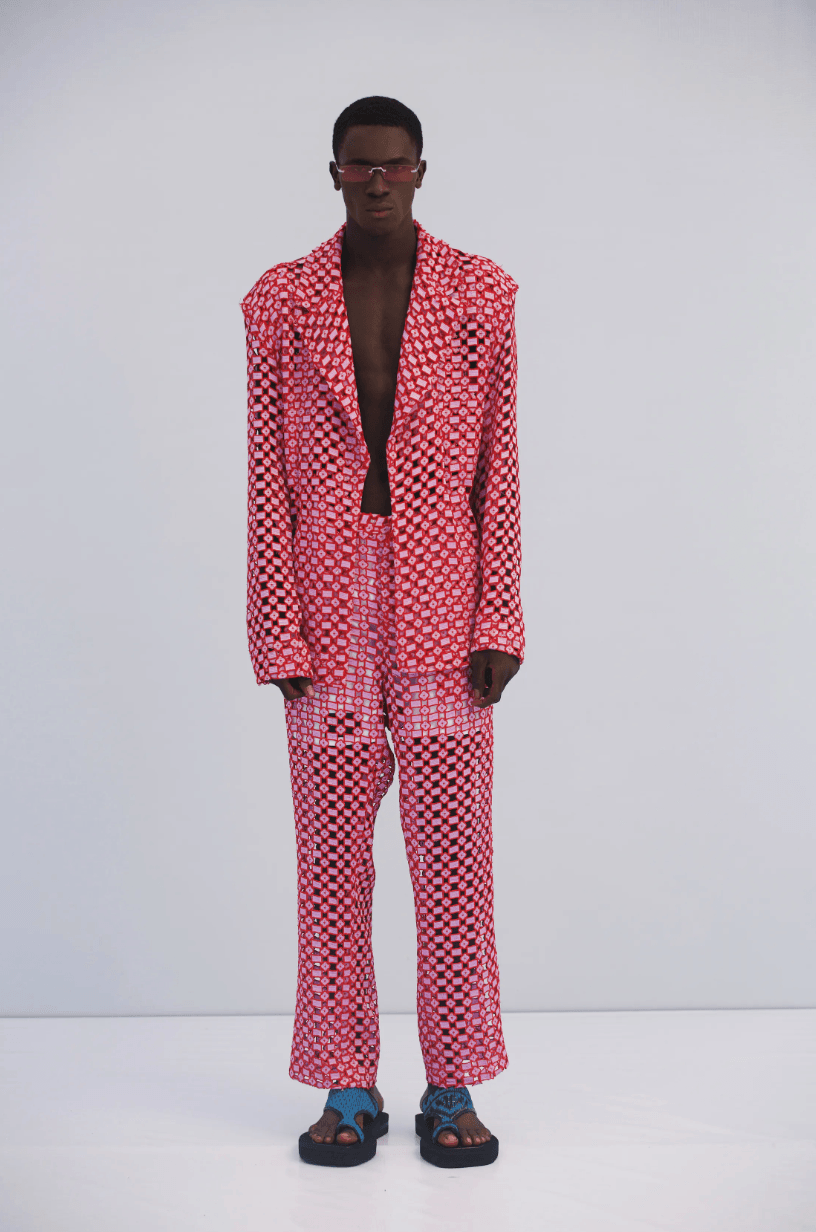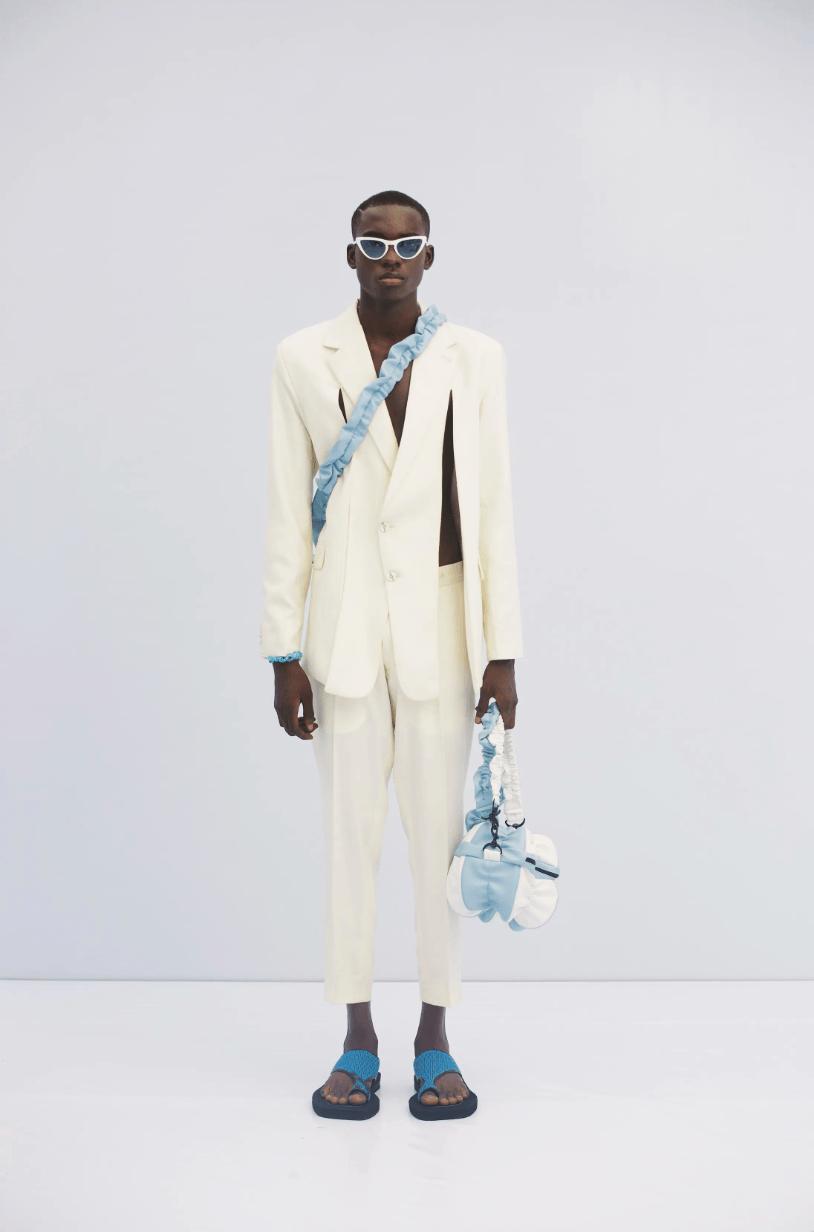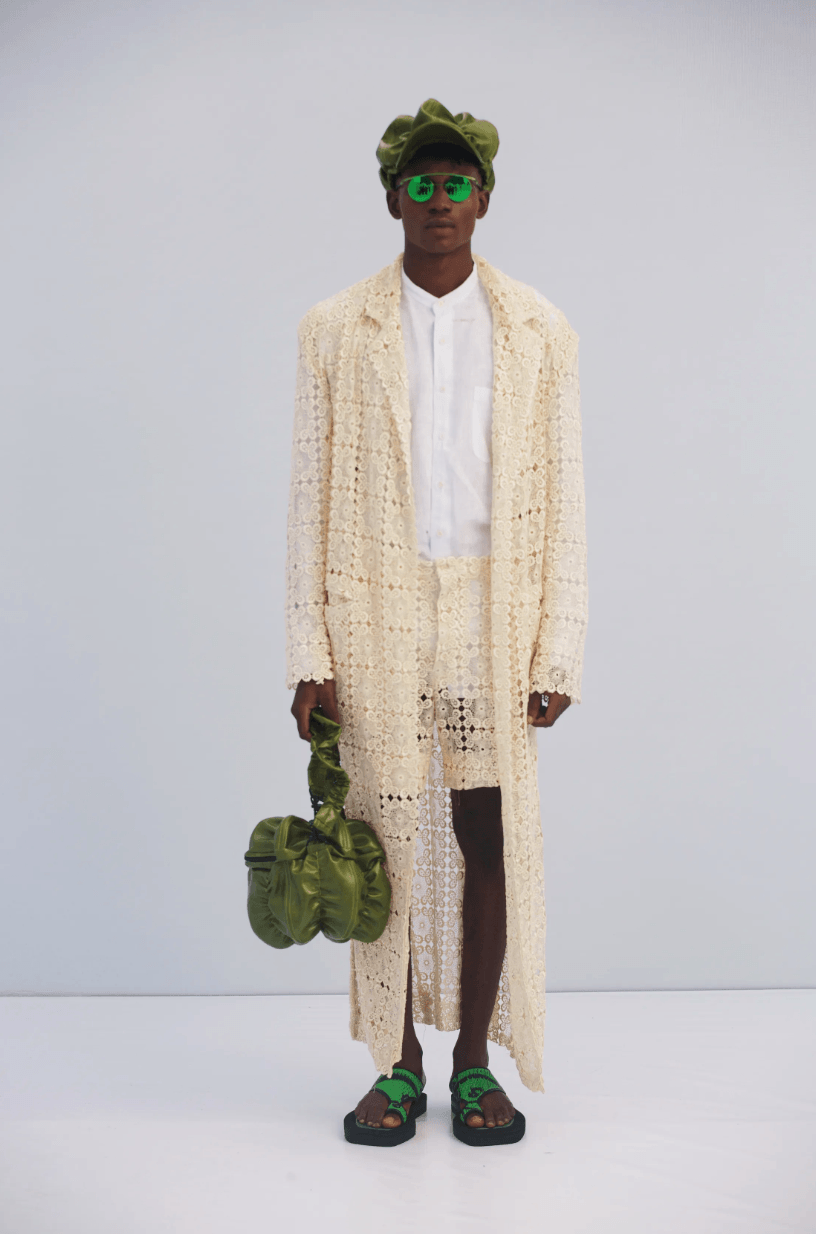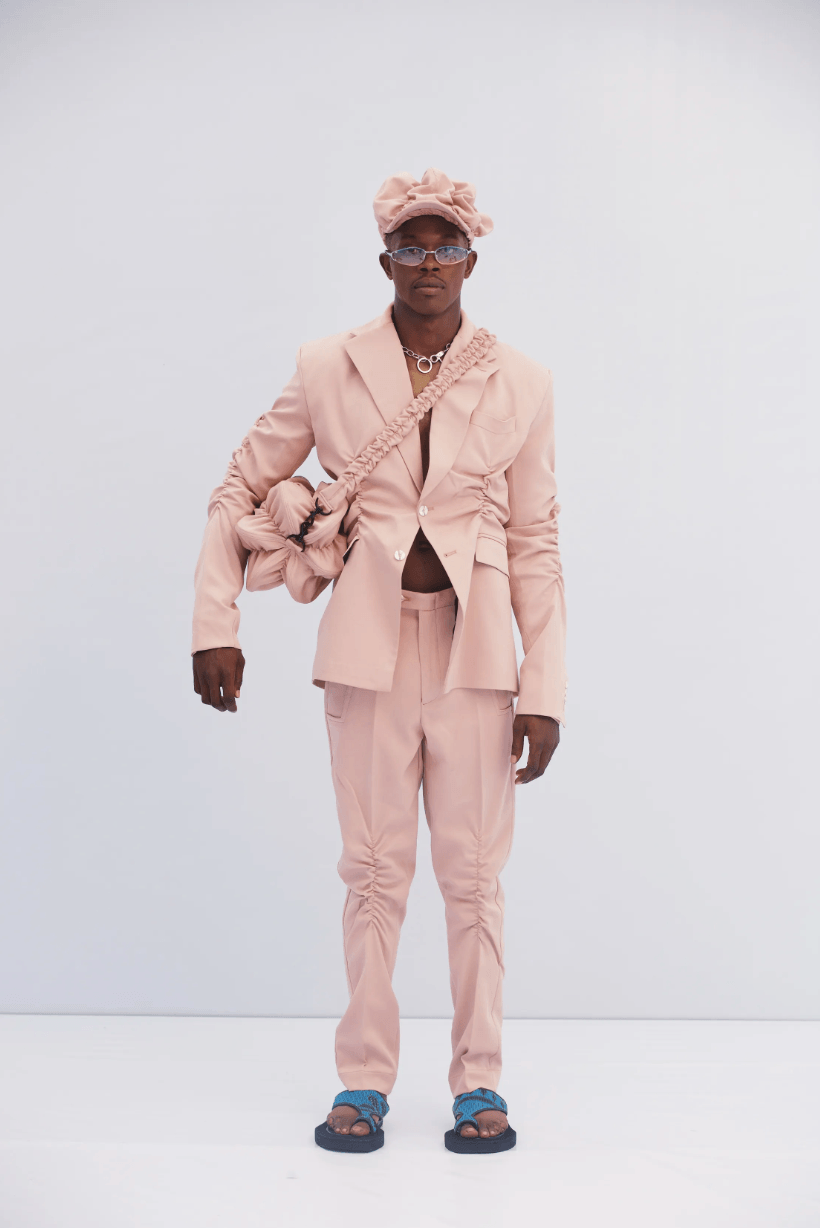 Images : courtesy of @tokyojames via Vogue.com 
Wanda Lephoto /// South Africa
To me, Wanda Lephoto forms part of a quartet of luxury designers that has led South Africa into a new era – the other three are Lukhanyo Mdingi, Thebe Magugu and Rich Mnisi. Showing in Milan last year, and with a recent showroom in Paris (literally, last week) – Lephoto's label is a case study on dapper African sensibility, cultural dialogue, and just so effortlessly cool : with each garment from the label expressed as achingly thoughtful and stirring. Wanda is a master at story-telling and campaigns that edify South Africa's sartorial, visual language. Past collection, 'Black Renaissance', may have been a single title; but this description is precisely where Lephoto's lands – in the heart of an era that is taking the world by storm.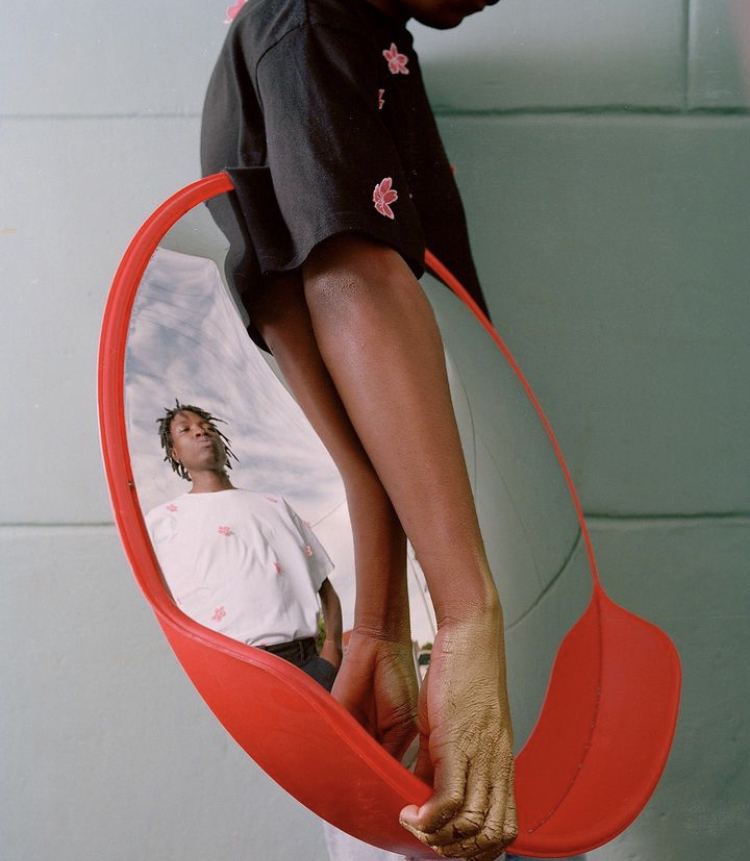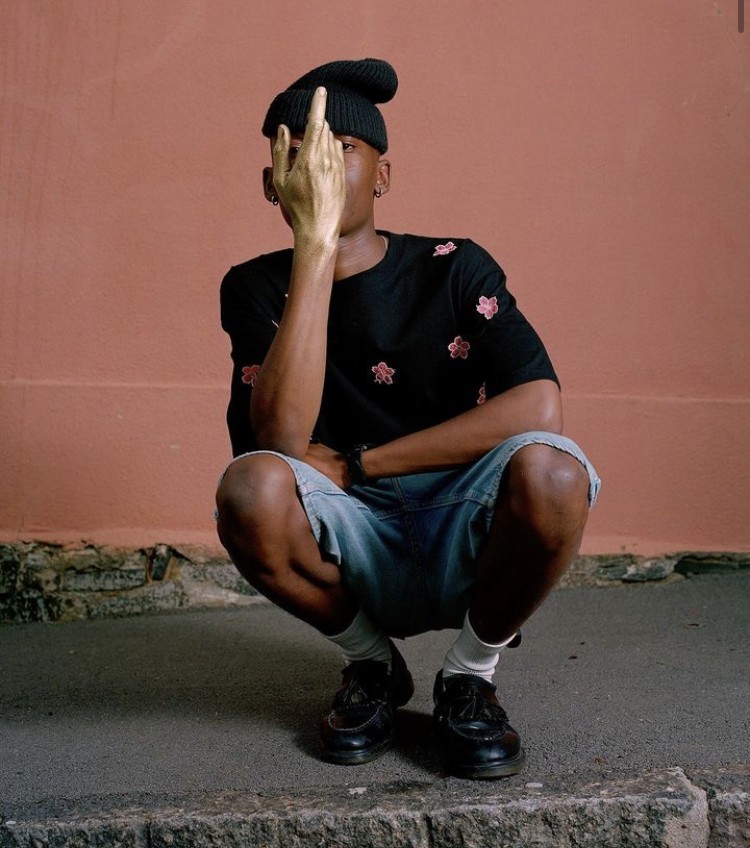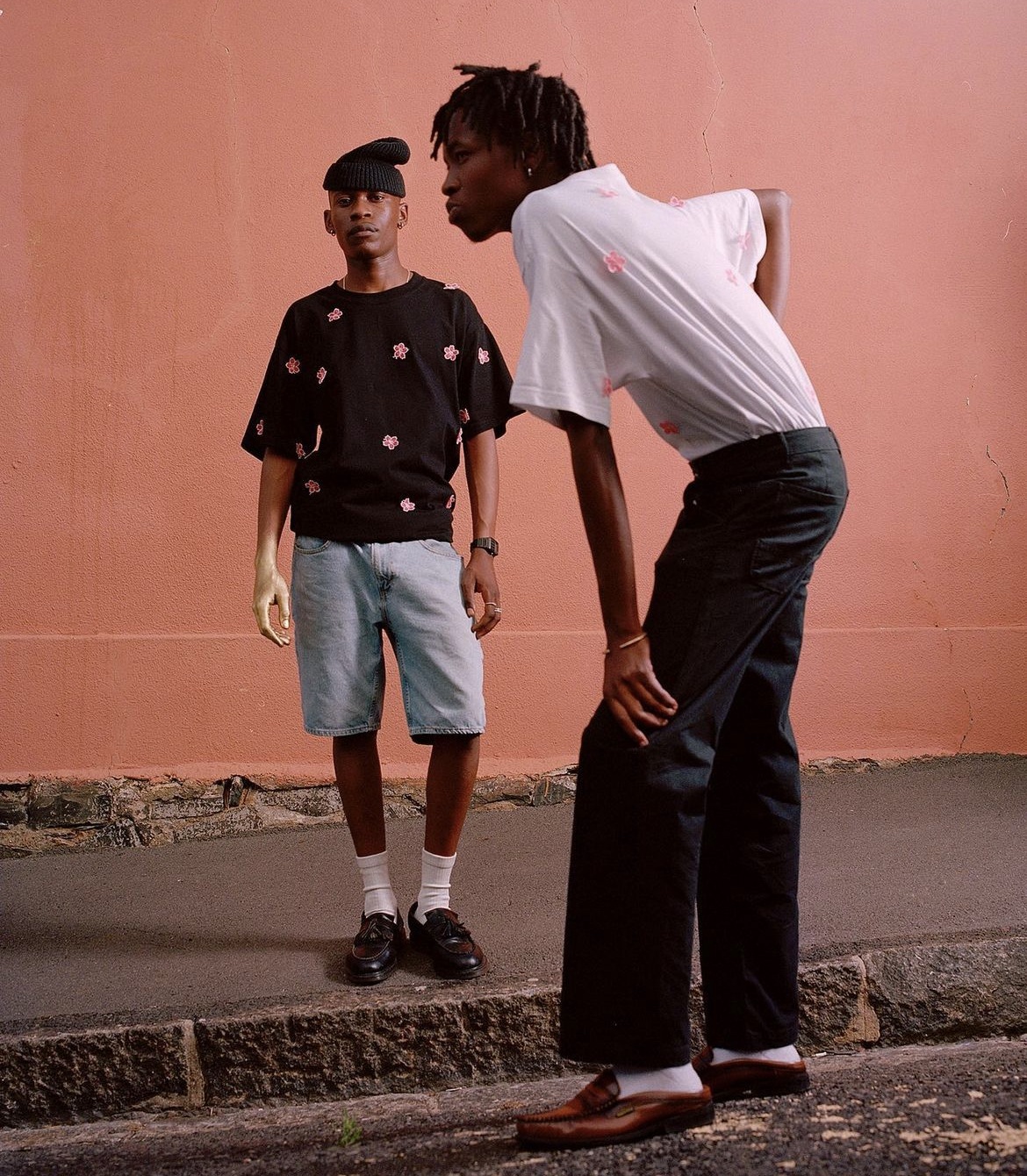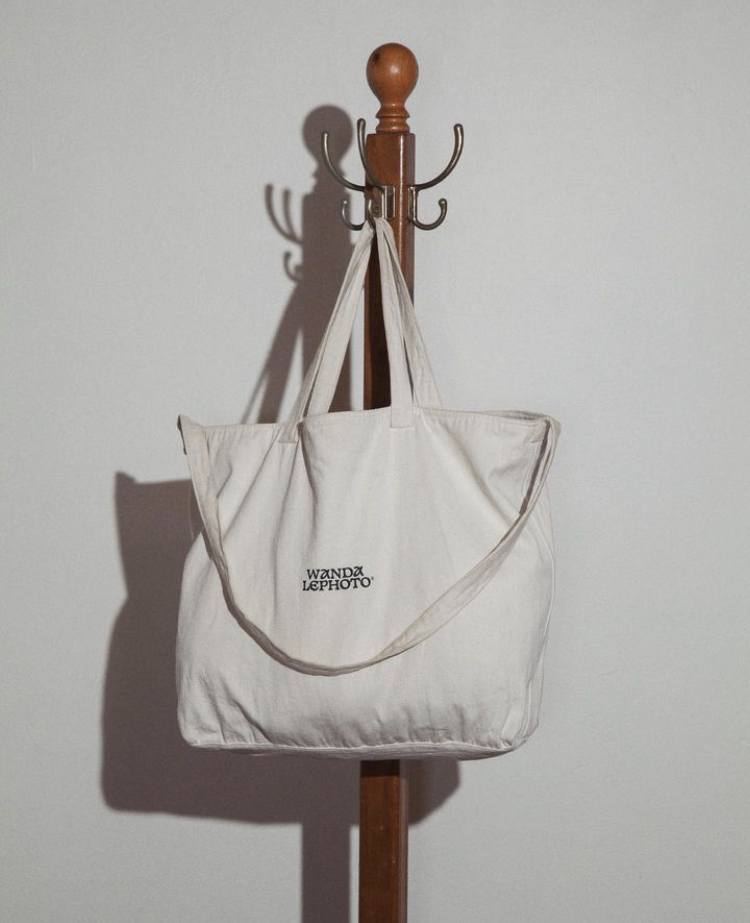 Images 1 - 3 : @kentandreasan 
Image 4 : @paulshiakallis 
Orange Culture /// Nigeria
Adebayo Oke-Lawal's label Orange Culture is somewhat of a veteran, if we are to think of the pace at which fashion moves. Since 2011, the label has done everything from the LVMH prize (2015 finalist) to London and Lagos Fashion Week, to being stocked globally from Hollywood to Kenya (and in between) – as said, "The label is more than a clothing line, Adebayo insists. It is a "movement" that covers universal silhouettes with an African touch to a creative class of men, translating into a heady mixture of Nigerian inspired print fabrics, colour and contemporary urban street wear. The garments answer to just about anyone who's interested in telling a story with the way they present themselves. All pieces are manufactured in Lagos, from ethically-sourced fabrics from local Nigerian fabric makers. Orange Culture takes their staff through rigorous training processes and offers them the opportunity to attend skill acquisition initiatives."
Image 1 + 2 : @percigothasauce 
Image 3 + 4 : courtesy of @orangecultureng 
UNI FORM /// South Africa
Luke Radloff's UNI FORM is the definition of clean and precise. Muted tones are the mainstay of the label's DNA; with silhouettes sharply tailored, or billowing, to form a literal uniform of luxury essentials for every occasion. Self-stated as 'Emotional Tailoring', UNI FORM is prose written out of Johannesburg; with Radloff a Margiela-esque figure in terms of discretion. In a fashion landscape in which we believe everything has to be wild and outrageous all the time: UNI FORM's trousers and symmetrical shirts outrage in their serene perfection. Radloff himself is part of a vanguard of fashion creatives aiming to establish Johannesburg as a fashion capital;  Essential, critical, mastery.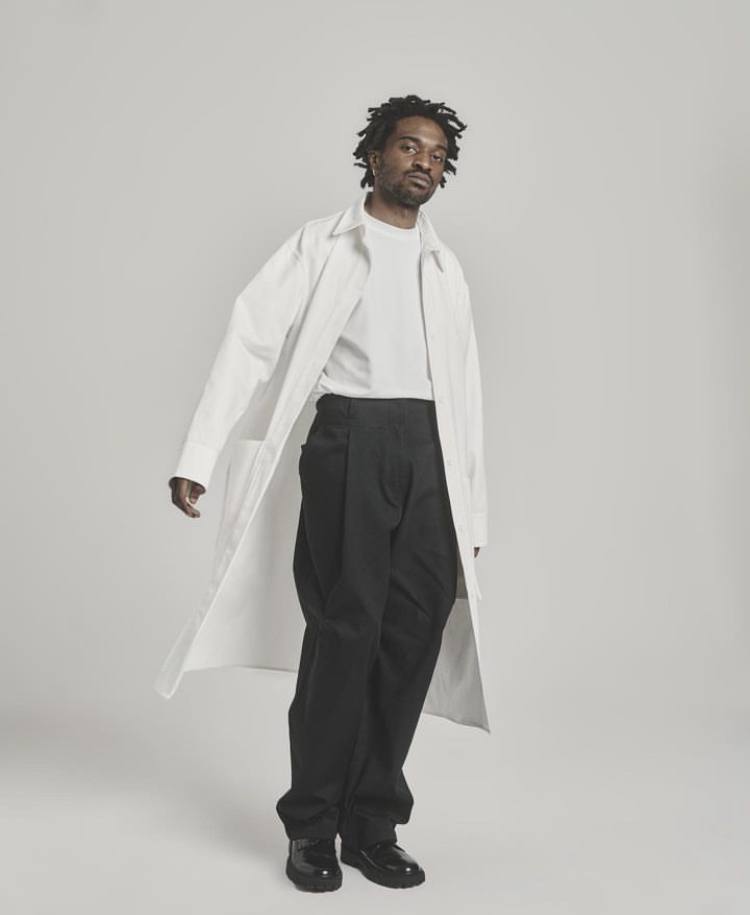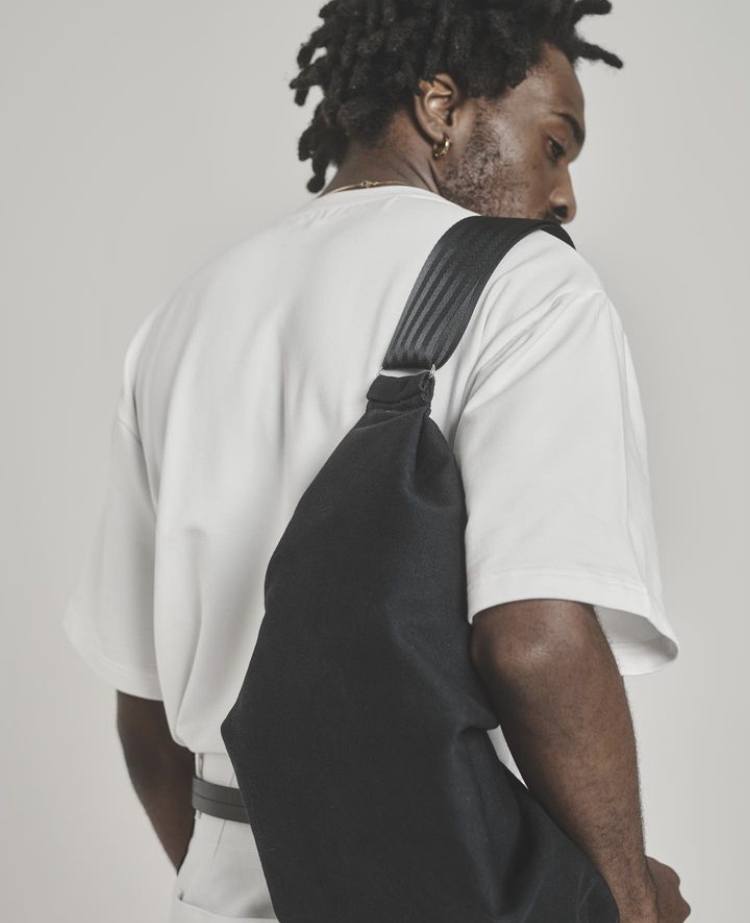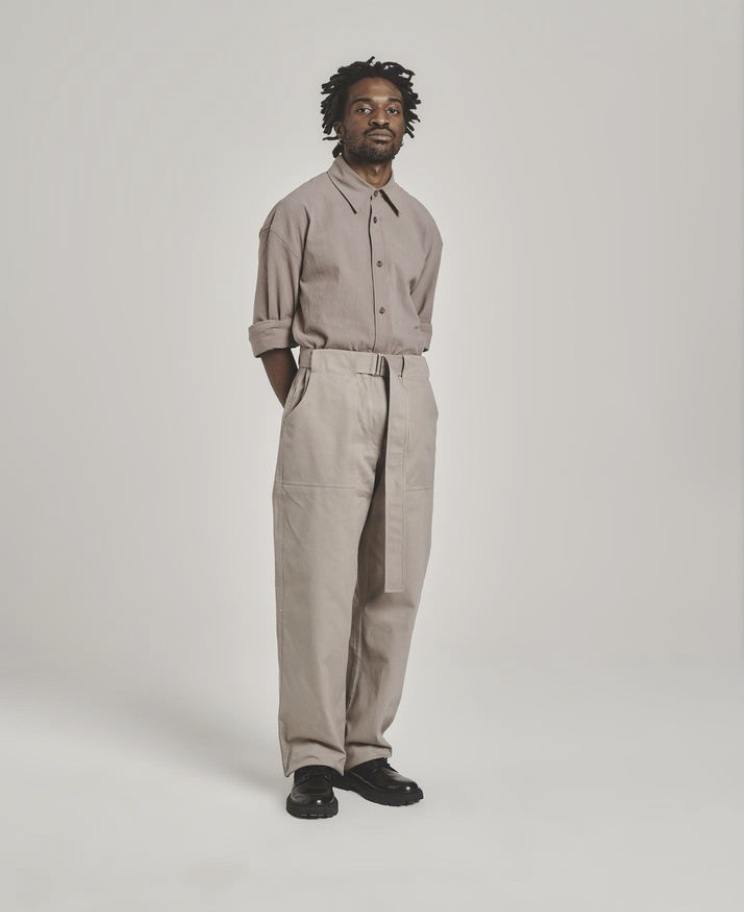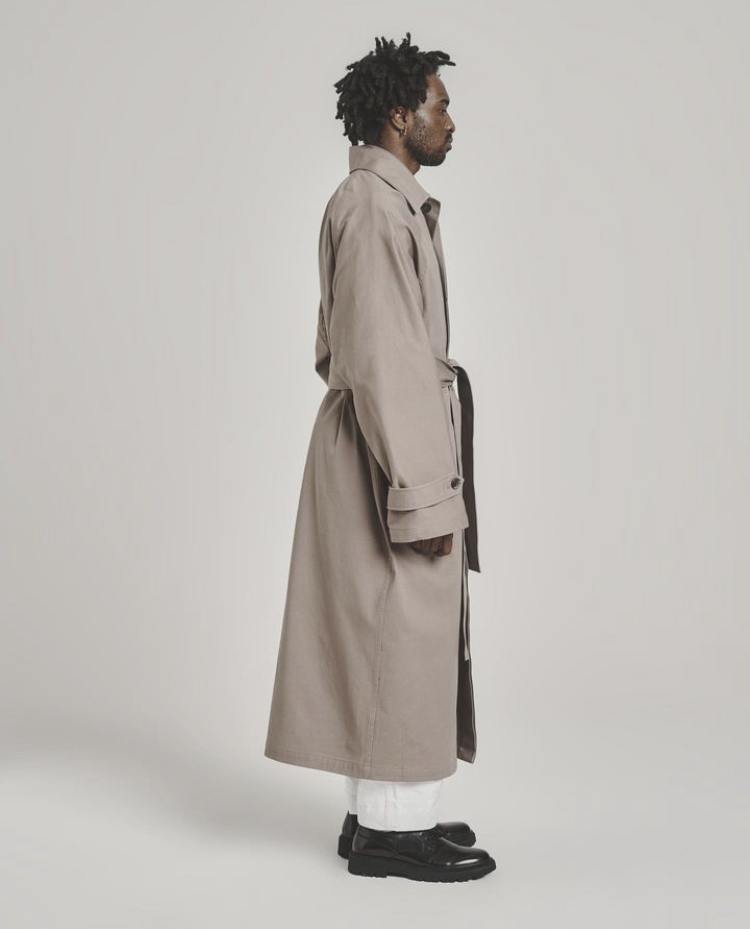 Kenneth Ize /// Nigeria
Kenneth Ize's eponymous label debuted in Paris in 2020 – and then the pandemic hit. Not one to concede to challenge, the lockdown period offered Ize time to create a capsule collection for Maison Karl Lagerfeld, closely with France's (much cooler) Anna Wintour, Carine Roitfeld. Since Kenneth has built a factory in Ilorin, Nigeria – where most of his fabrics are woven. News struck at the end of last year that Ize has parted with his investor; rumours abound as to the reason, but I imagine it has to do with the usual story – financiers stifling the creative vision and autonomy of designers with big dreams, and an even bigger purpose to do it differently than the harsh ways in which fashion labels have been taught to 'succeed'. We wait patiently for Kenneth Ize's full return – recently, his show in Lagos 'Forward Ever, Backward Never' marked the designer's new chapter. Free, and future-heading.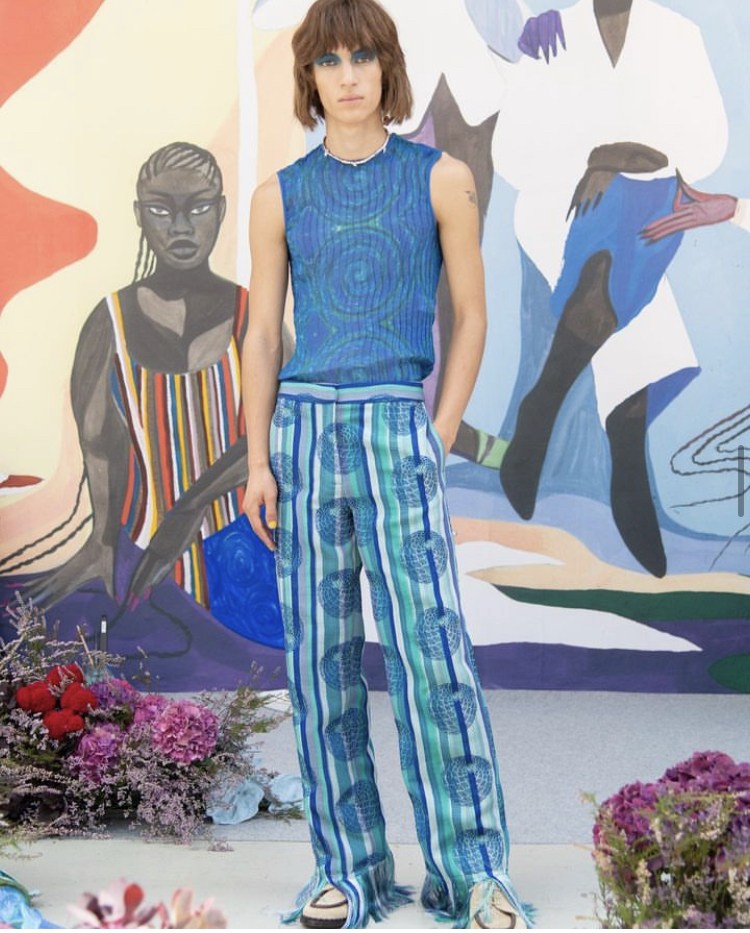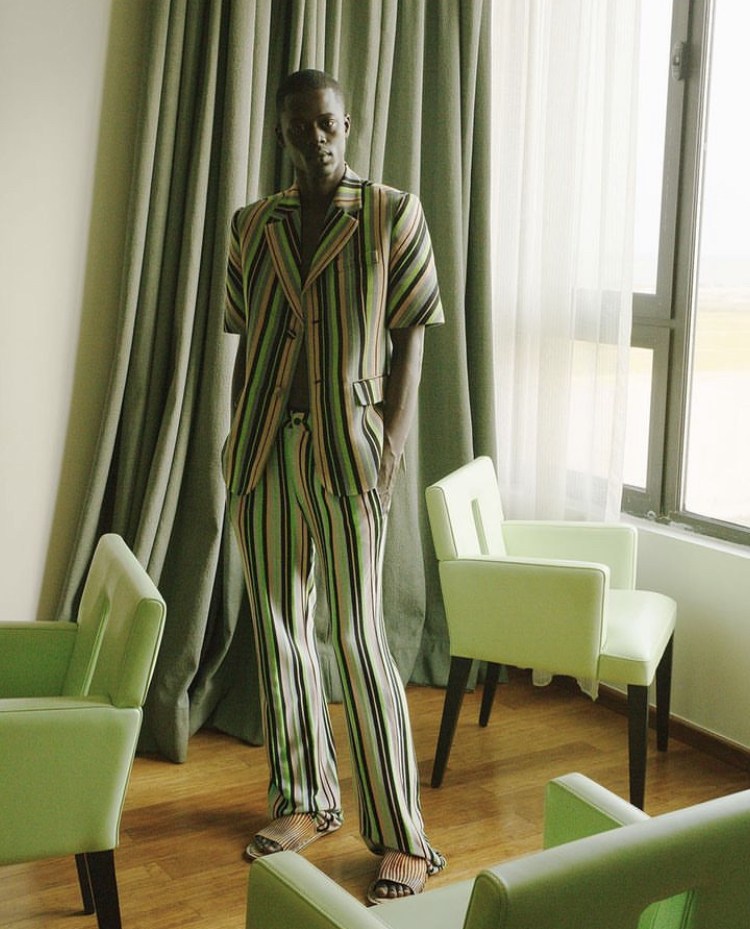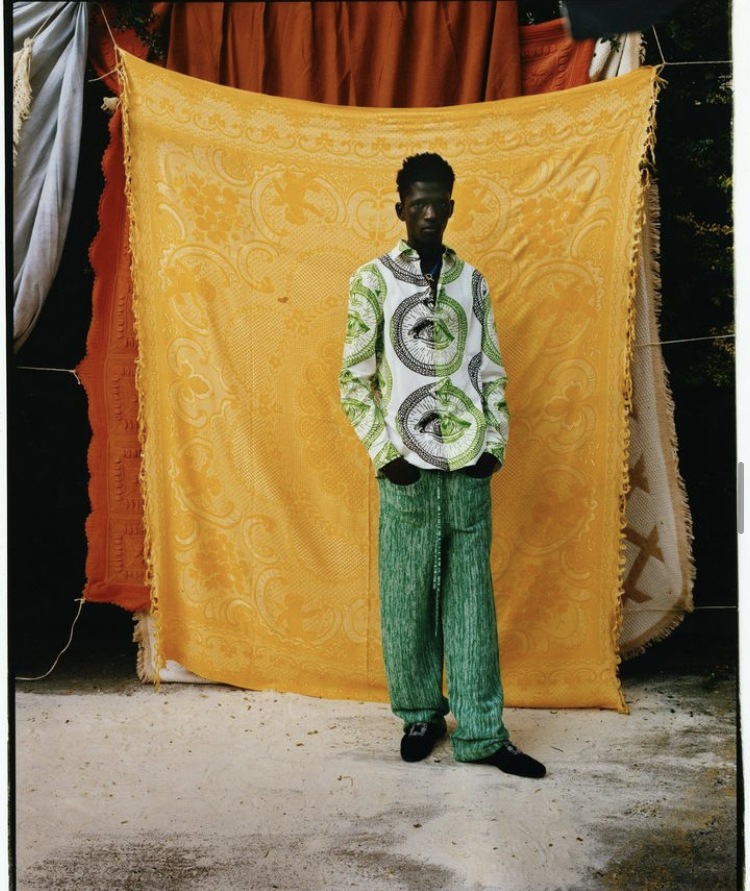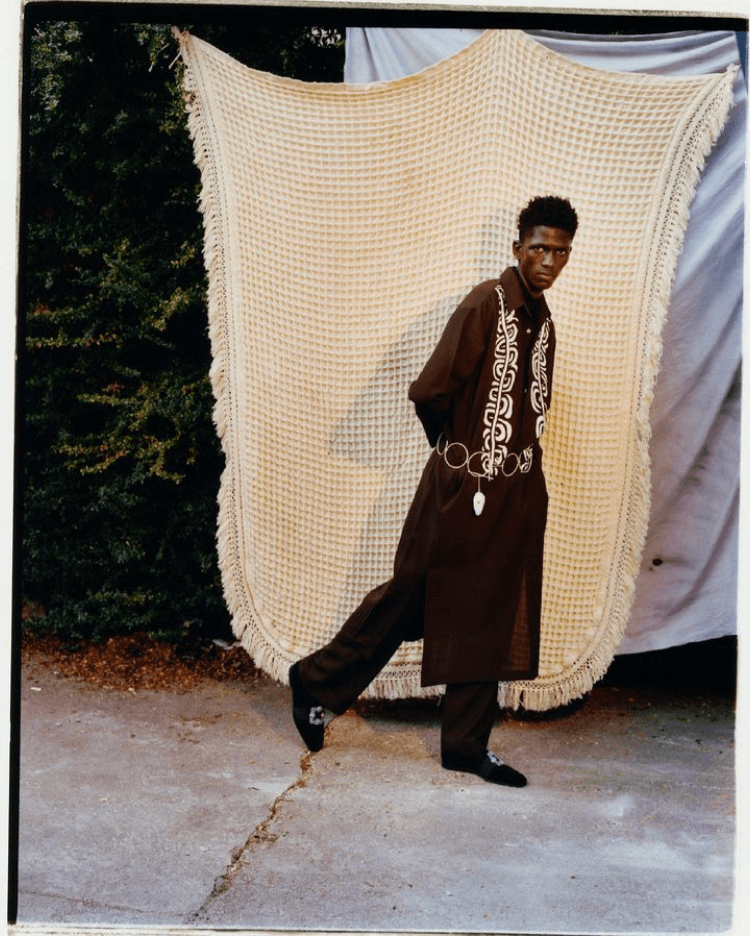 Image 1 + 2 : @joshuawoods 
Image 3 : @wurlidaps
Image 4 : @iamdanielobasi
Written by: Holly Bell Beaton
Published: 27 January 2023