I have been thinking about how these last few years in South African fashion history will be reflected in years to come. There are many designers doing many things, and spotlighting all of them is something Interlude intends to do, month by month; building an archive of memory and moments, brands and designers, who are quite literally carving out a roadmap for aspiring generations in the country and on the continent. This last month, six moments in particular crossed my path, and altogether they reflect an incredibly healthy, beating heart of South African luxury fashion. Whether taking flight in Paris or Milan, or in publications like Vogue and Business of Fashion, or creating campaigns that draw out the essence of what it means to design with intentionality; the year has barely begun, and great things are already afoot.
Lukhanyo Mdingi Featured in Vogue Poland ///
Lukhanyo Mdingi's eponymous label has emerged firmly on the international stage. This last month, the label was featured in a full-feature spread in Vogue Polska, selected by guest-editor and supermodel, Anja Rubik; who has heralded Lukhanyo Mdingi as one of fashion's new favourites. As a celebration of Vogue Poland's 5th anniversary, the feature highlights Lukhanyo, his team and the vision of contemporary, luxury fashion from Africa as a mainstay of the past, present and future. Although I coulnd't translate the entire piece, I did employ google translate for the following excerpt: "Mdingi's approach to fashion can be called pragmatic – he has a clear goal and meticulously implements it. Maybe he's doing so well because he knows what it's like to feel not be seen enough." (Podejście Mdingiego do mody można nazwać pragmatycznym – ovary sobie jasny cel i skrupulatnie go realizuje. Może idzie mu tak dobrze, bo wie, jak to jest czuć się niewystarczająco widzianym) A beautiful recognition from eastern europe, and a reminder of just how far South African is being noticed.
Images and Layout from Vogue Poland @vogue.polska
Viviers Studio presents 'KARROO – Land of Thirst' in person at Milan Fashion Week for FW23 ///
Last year, Viviers Studio made its digital debut at Milan Fashion Week, which we covered here. This year, the label presented 'KARROO – Land of Thirst' as a physical presentation in Milan, in partnership with Cape Wool South Africa and Mohair South Africa. Lezanner Viviers referenced the landscape of the Karoo, the semi-desert landscape in South Africa, transforming her own photographs into surrealist artworks, which were printed into the fabrics shown in the collection. In collaboration with Dina Christiaan, Nama San translations and interpretations brought the original ancestors of the Karoo into the collection's narrative. Lezanne stated, "What I find most fascinating about the arid scorched Karoo, is the irony; most of our warm, cosy and luxurious raw materials (Mohair, Wool, Ostrich Feathers and leather) come from the barrenness of this land of thirsts. Chiaroscuro, an effect of contrasted light and shadow, best describes the changing landscapes of South Africa; both physically and metaphorically. I "cry for my beloved country, (Cry, the Beloved Country by Alan Paton, 1948) as I protest against institutional and systemic structures within our government, that hurdles us as South Africans in our daily practice and living. Load shedding of our electricity supply, water-shortages and pollution are all challenges to be overcome." The presentation and collection demonstrated Viviers Studio as a space existing precisely at the intersection of fashion and art – with the label's epitaph remaining 'Art, Artists, and Artisans'.
Images by Eva Losada @eva.al.desnudo
Rich Mnisi debuts at Paris Fashion Week for FW23 /// 
Rich Mnisi's second debut in Europe took place for FW23 – this time, at Paris fashion week, with  TRANOÏ, a collective aimed at highlighting contemporary and luxury fashion through a community-driven network. With a serious flex of fabrication and silhouettes, TANK is a study in the complexity and workmanship of the brand's vision forward. The show notes for TANK read, 
"When we were kids, we didn't know much. 
But that's exactly how it should be, right? 
We were learning, observing and absorbing everything we saw, heard and touched.
Little tanks, filling bit by bit, holding more than we knew we could.
That's where the Tank collection comes from. The tank of muddy questions and bright ideas, of wonder and awe, of good things and bad things, that every young mind becomes. Filled to the brim with inspired curiosity, and fuelled by the psychedelic power of imagination. This collection is the tank's overflow, a spill over the edge, marked by early scribbles, collages and messy paint drops from when we first discovered the joy of colour. Mythical tartans peek out, both celebrating the Maasai and calling back to early awe of Vivienne Westwood. Fluid shapes clash with right angles, and contrasting patterns blend into each other organically because when we were kids, we knew nothing of the urge to make every idea fit in a neat little box.
We're not kids anymore, and in some ways, it's a monumental loss. In others, it's not. Because now, we can be who those kids needed. We have what we need to catch up and tell those early magical stories, to explore what we didn't have language for.
This collection is for the echoes of those children that we carry with us now, finally handing them a stage and a megaphone for all we left unsaid. Because when we were kids we didn't know much, but what we did know, what we filled our tanks with, was wonderful."
Images by Michael Oliver Love @michaeloliverlove
Wanda Lephoto's Strandfontein Pavilion Campaign ///
Early in March, Wanda Lephoto released what seems to be a sneak peek into a new collection. Three images by Anke Loots offered up a Wanda Lephoto soft 'RAMA' corduroy suit, set against a backdrop of the historical Strandfontein Pavilion in Cape Town. Known for his continued marriage between cultural, historical and sartorial archiving through his collections – I am deeply intrigued to see more of this story. Below is the official statement from the brand on this campaign: 
Memory: of place and feeling. Strandfontein Pavilion: Cared for by the community, meant to be protected for future generations. 
The Strandfontein Pavilion was built between 1974 – 1983 by Vaughan Burn and Graham Parker built on the False Bay Coastline in Cape Town with the purpose of realising the global competitiveness of South African heritage and cultural resources through product development, sustainable tourism and economic development of our natural, historic and indigenous heritage.
Of place: Although like many South African places The Pavilion lacks support in economic growth opportunities for residing communities, it is still a place for the people, a place for local fisherman, traditional healers and surfers to mention a few. 
Of feeling: Water has always been used spiritually for healing, cleansing and praying ceremonies, practices and experiences seen at The Strandfontein Pavilion, a safe space that nurtures the feeling of belonging and spiritual connection, with The Pavilion housing the biggest Tidal Pool in the Southern Hemisphere.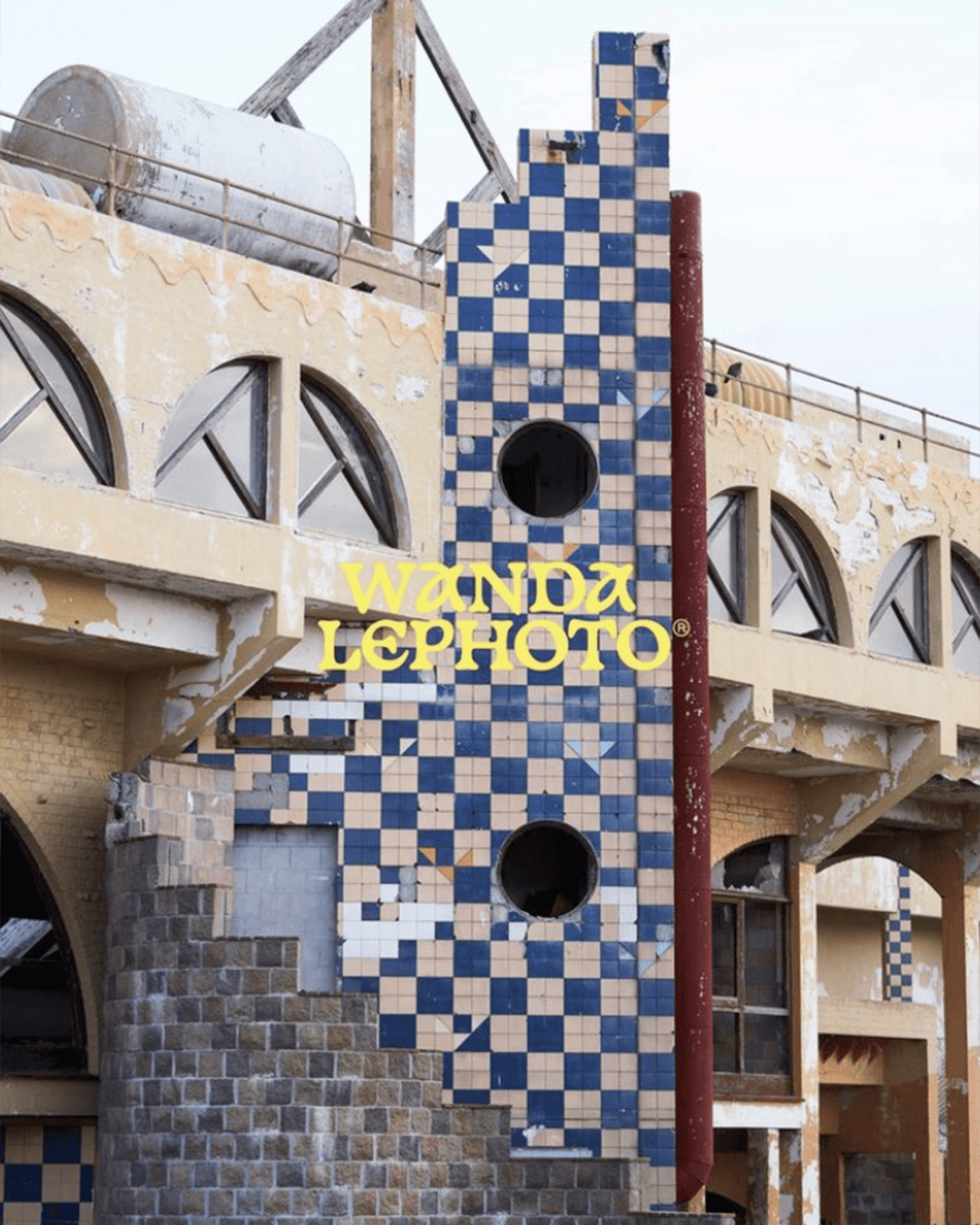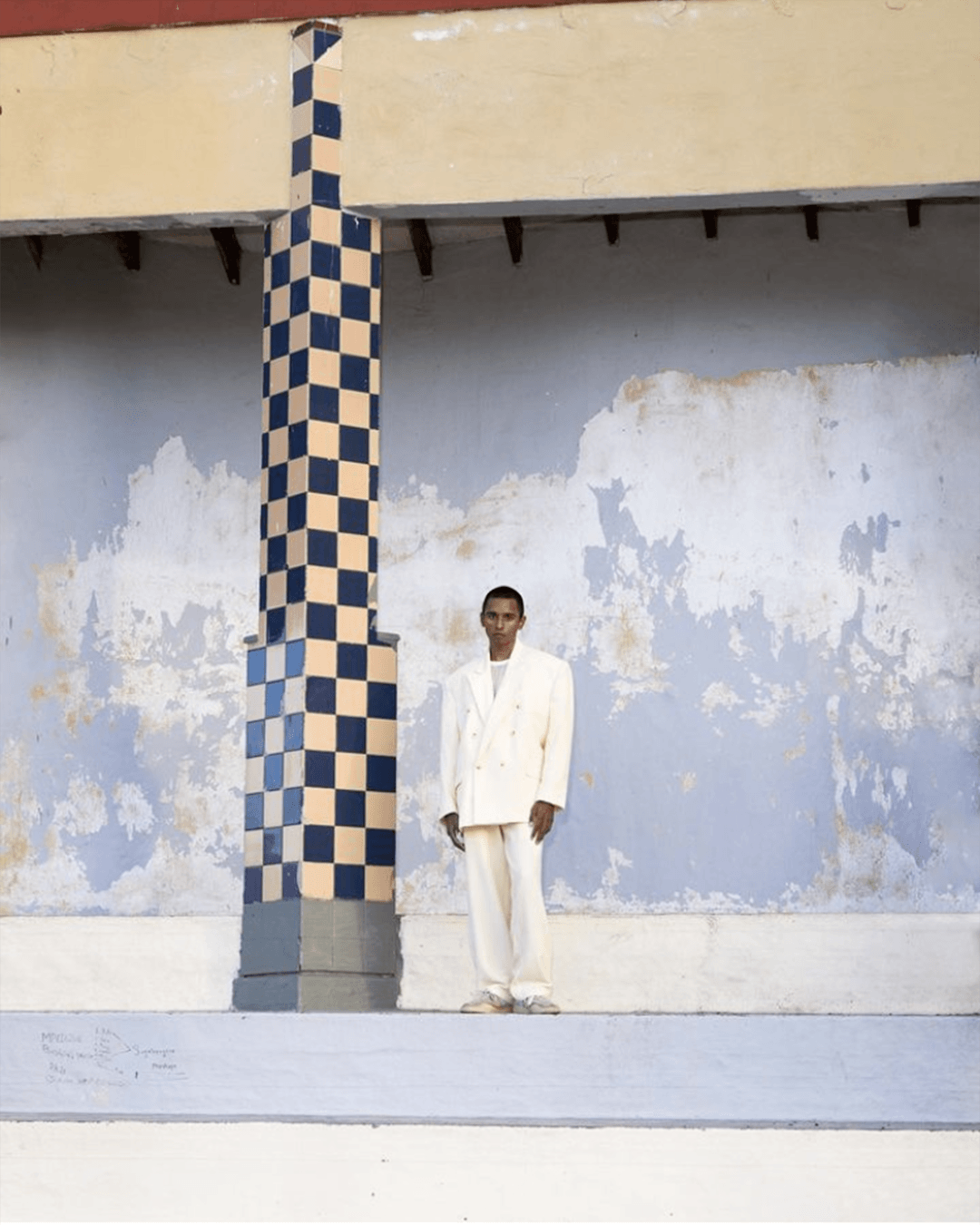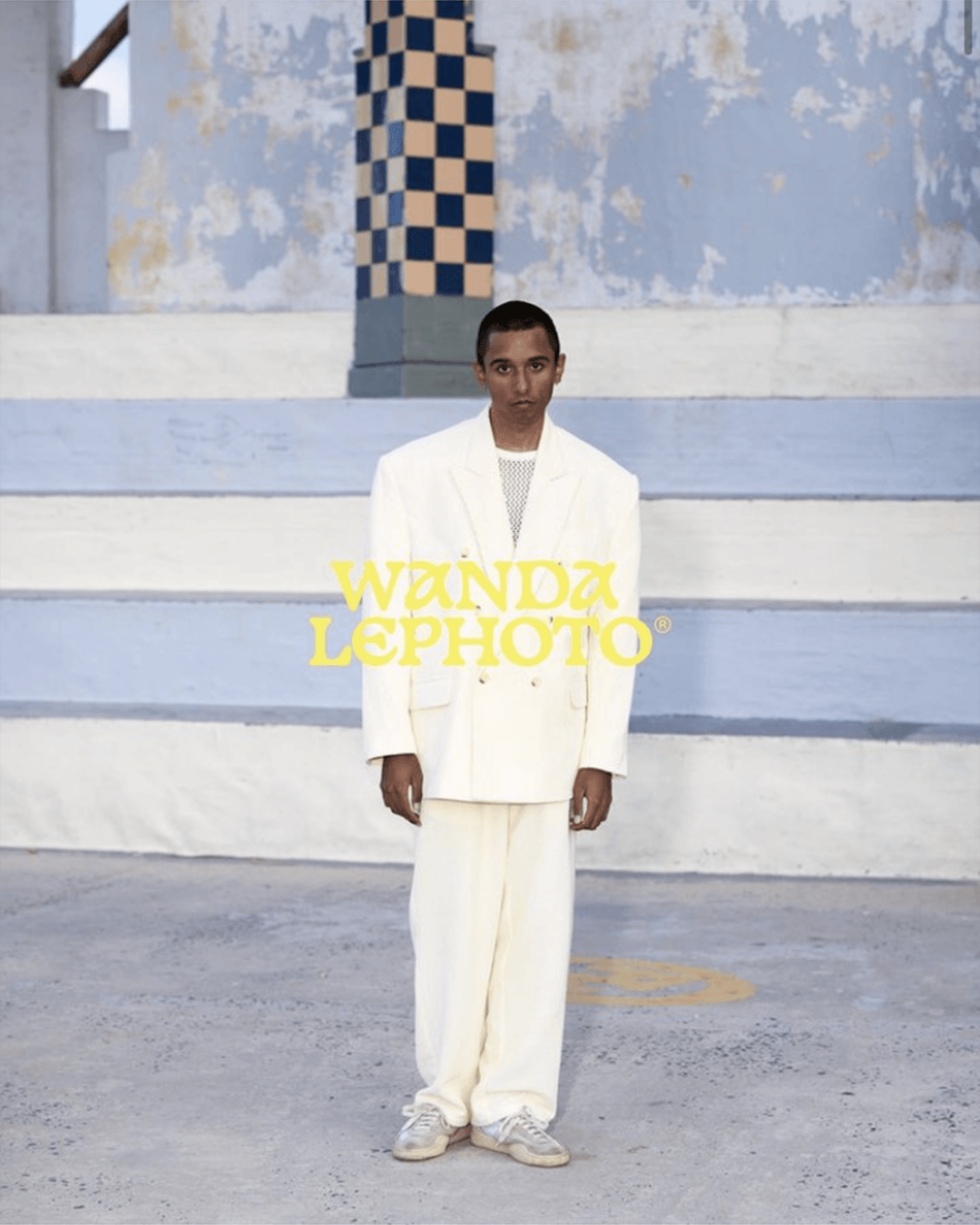 Images by Anke Loots @ankeloots
Thebe Magugu Gets Frank with Business of Fashion ///
Thebe is always up to something; in fact, many things, all at once. Rarely much time passes without a body of work or conceptual project arising from the label – in this way, Thebe Magugu is achieving what he set out to do, as described in this interview with fashion media behemoth, BoF. Written by Yola Mzizi, the piece is a poignant portrayal of Thebe's rise to accomplishments, and the current vision of the brand. He says in the piece, "I want to give back to my country and keep the brand local for as long as possible. I have had to make crucial decisions that may set us back financially, but advance the goals of the brand." While maintaining a direct relationship between the label and global fashion leaders, Thebe describes in the piece that he is staying with his own pace, with no plans to move the brand outside of South Africa. In fact, and what one feels deeply about Thebe's work, is that it's all for the continent. This is the precise strategy that many southern hemisphere originating creatives have to enact; international recognition, connection and doors add value, but these are to be brought back for the benefit of the region. Sign up to BoF and give the piece read – dreams become reality, as embodied by Thebe Magugu.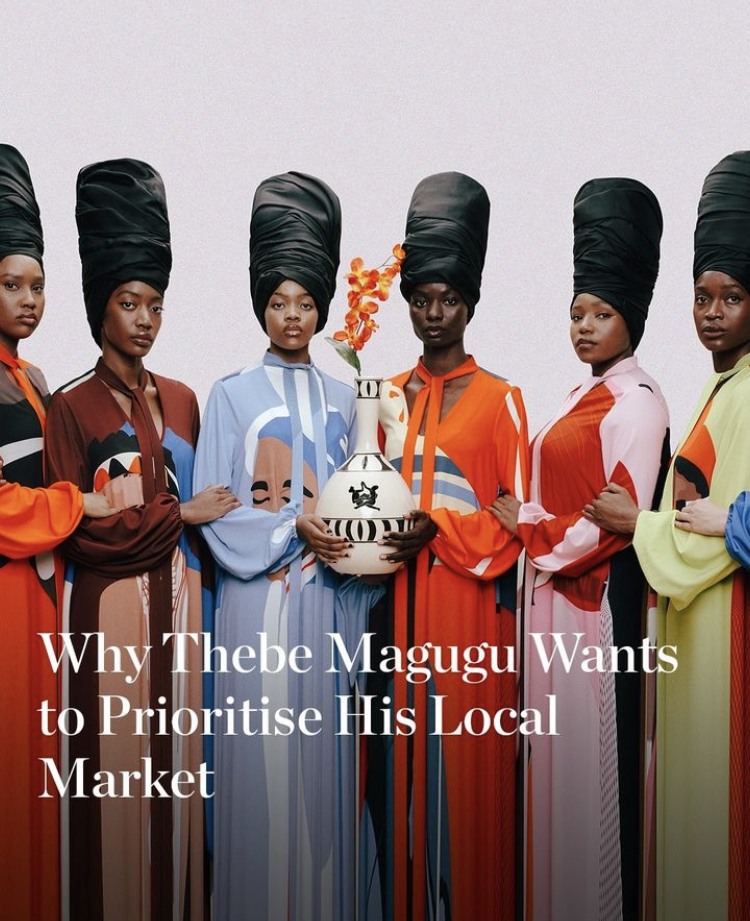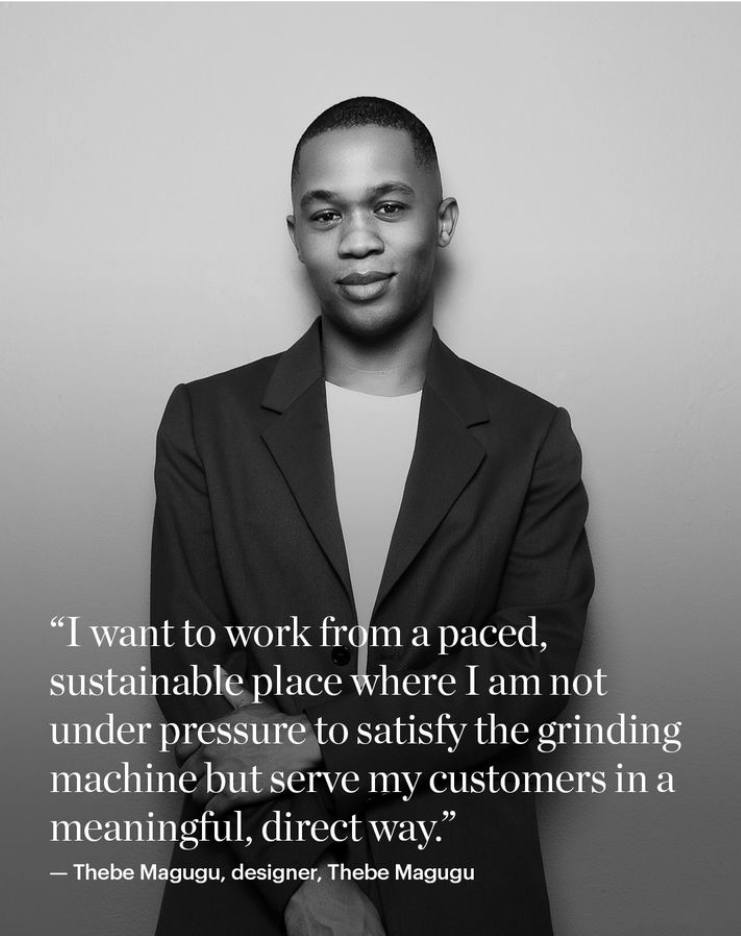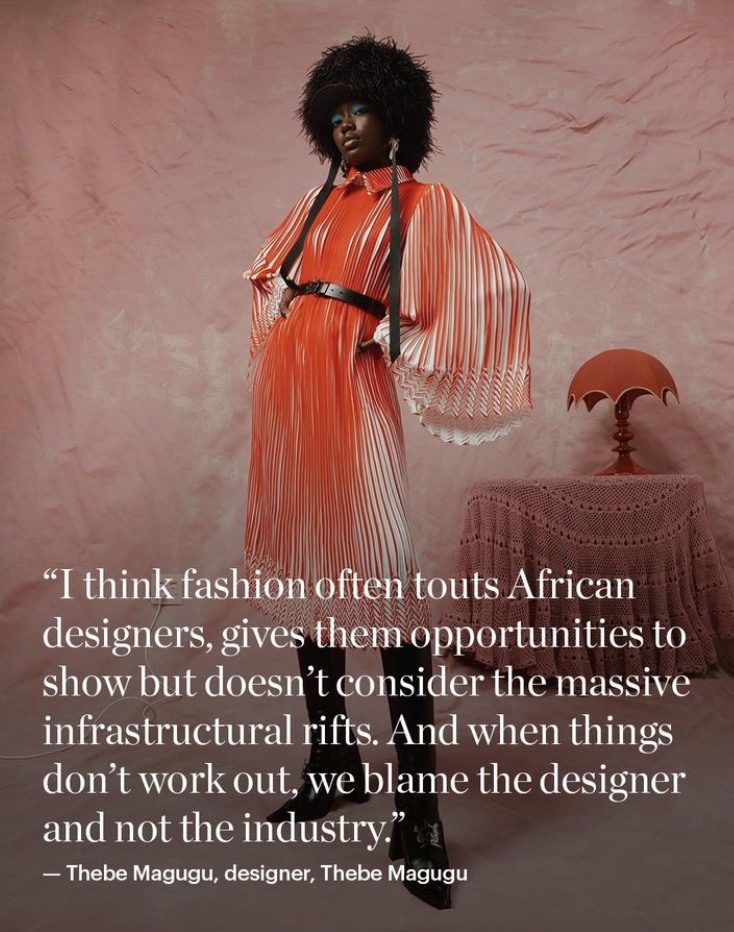 Images by Business of Fashion @bof
UNI FORM's 'Rebirth at Tarkwa' is another showcase of Luke Radloff & Bee Diamondhead's creative synergy /// 
UNI FORM by Luke Radloff is a label that I will never keep quiet about. The collections and pieces arising from the brand makes the word 'chic' feel cheap; it's more than that, energetically descriptive of a serenity and flow that is moving, majestic – all the while, simplistic and clean. The label's 'Project 4' featuring handwoven dresses made in collaboration with Barrydale Hand Weavers is burned into my memory forever – least not because it flexed the synergistic partnership between a creative director like Bee Diamondhead, and a designer like Luke Radloff. This last month, the release of 'Rebirth at Tarkwa' saw the duo head to Tarkwa Bay, an island near the Lagos harbour in Nigeria, alongside Ivorian artist and photographer, Nuits Balnéaires. With the models perched in trees, on rocks – in solitude and together – the images are hard to describe. I think they are intended to be felt.
Images by Nuits Balnéaires @nuit_balneaires
Written by: Holly Bell Beaton