I know I'm in the minority when I say that I firmly and irrevocably welcome winter; the cosy season of hibernation and slowed down pace of life all tempered by rain, fires and a certain stillness hanging in the air. For us Southern Africans, this mid-year reset is a critical threshold that we must cross. To top it off, winter IS the season for layering; a means of dress that I abide by as the chicest and most liberating way to dress. Truly, there are no rules and as with all our trend-focused conversations on CEC, my disclaimer is always to remind you that trends are merely guides and your personal style is both the compass and shining beacon. In the coldness of winter, opportunity lays in wait to play with texture, fabrication – layers and colour – in a way that only this season affords us. Summer is a time for scantily wearing as little as possible, babes. Winter is about playing in our closets for practicality and takes us back to the purpose of clothing – a way for human beings to respond and adapt to our environments. 
In the past, before the globalised accessibility of the internet, our region of the world lived by the trope of 'a season later' determined by the trends dictated by the northern hemisphere. I'm here to tell you that all the trends forecast for the northern hemisphere's A/W 23/24 season are already at our fingertips; and while they might not be wholly reflected on our shop floors, this is where thrifting and reusing what we may already have becomes a really interesting exercise. Also, our own trends are derived from our personal style, and while we shift away from being dictated to by the northern regions; I have steered away from generalised trends, and instead plucked the gems of useful 'pieces' to look for. The list is by no means exhaustive and is intended to get you thinking about the actual garments you may have, or want to add to your wardrobe. All of them are timeless, too.
When putting this together, I've elected to reference some well-known publications, things we have seen on the runway and I have made sure to include both women's and menswear trends. Feel free to mix and match across the gender spectrum or abandon it entirely; again, no rules. As the anarchist slogan goes, 'No Gods. No Masters'; be your own sartorial icon. 
WOMENSWEAR AUTUMN/WINTER TRENDS
Oversized Coats ///
The coat remains essential; but this season, it's all about drowning in your coat. In terms of layering, the oversized coats deludes our sense of proportion – making it a great counterbalance to sleek layers underneath. I also think a slightly oversized coat is perennially flattering; what secrets is she hiding underneath that billowing trench? Where is Trinity heading and what does she know? Some specifics for your 2023 coat is camel trench (this always seems to be the case), a padded or quilted coat, leather coats and plaid ones – harkening back to the nostalgia of the 90s and 2000s, respectively.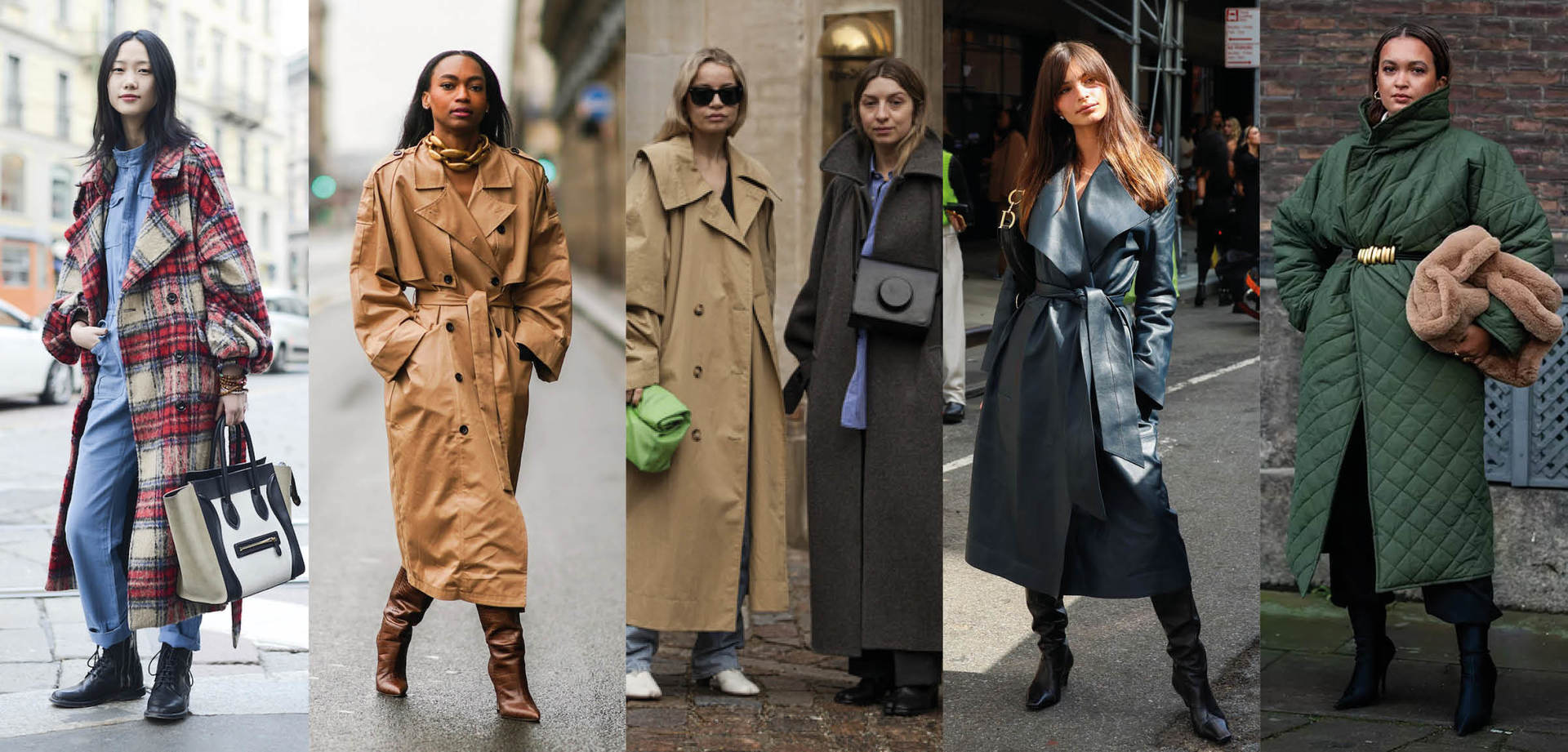 Images Courtesy of Getty Images, Edward Berthelot, CPHFW Image Bank, Pierre Suu, Christian Vierig.
Knitwear ///
The muse of my selected title is a spin on one of the greatest lines ever uttered, by Meryl's Anna Wintour-esque character Miranda Priestly. Knitwear stays winning, and of course we need our jerseys; but the balaclava is still a firm-favourite, and applying knitwear in different forms is a great way to incorporate this woven texture in a variety of ways. To contrat the grey skies, I'd suggest using knitwear as a space to introduce kaleidoscopic colours.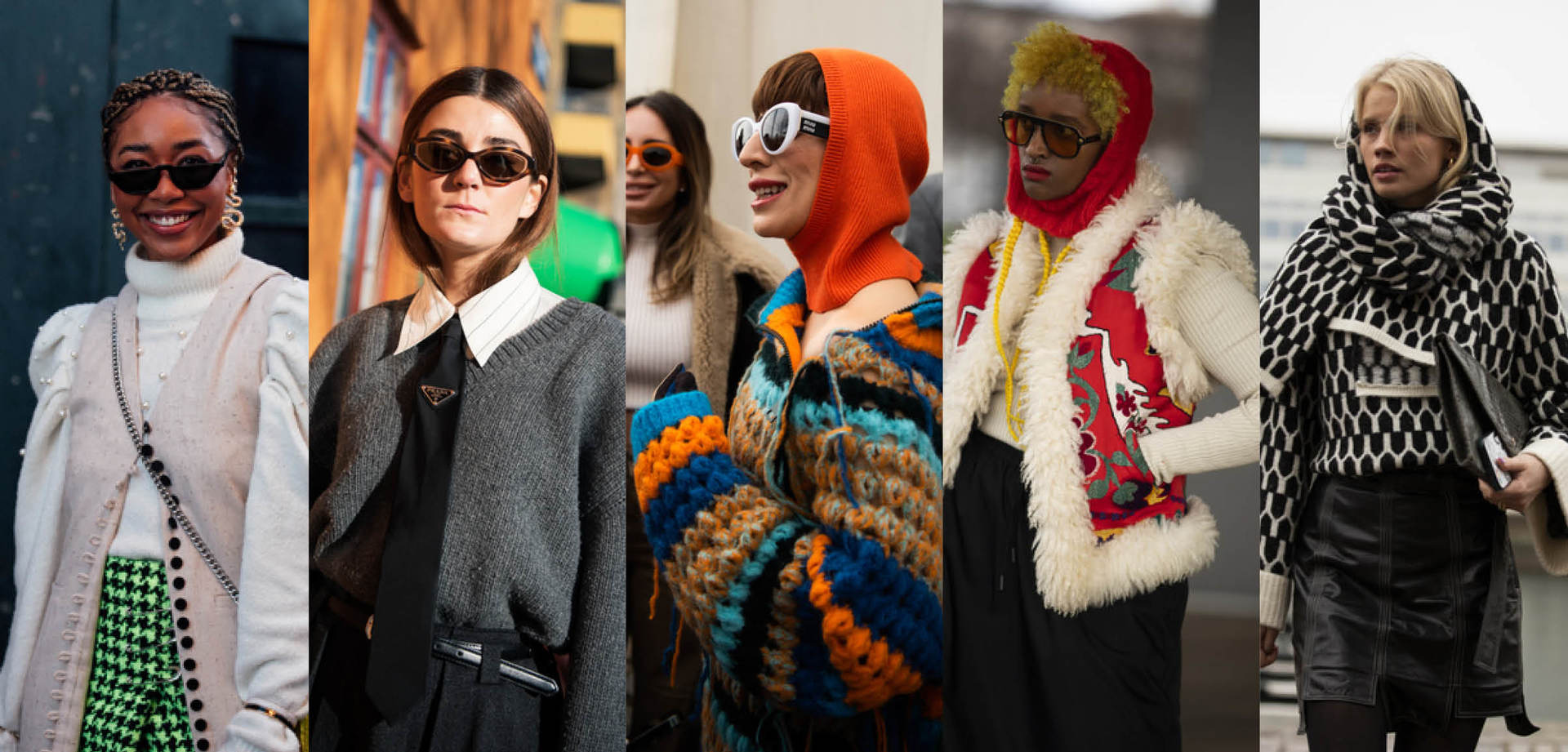 Images Courtesy of CPHFW Image Bank.
Long Skirts ///
I've been a long skirt girly since the cursed 'boho skirt' was burned into my brain by the Olsen twins in the Heat Magazine, circa 2005. Still, I love a long skirt and these days it's more of a straight and long-line (and without a hideous swash-buckling belt) long skirt, or mid-length, always with leggings or tights. Skirts are great because they act as the foundation of an outfit, and in winter you can layer it so much so that it fades into the background entirely.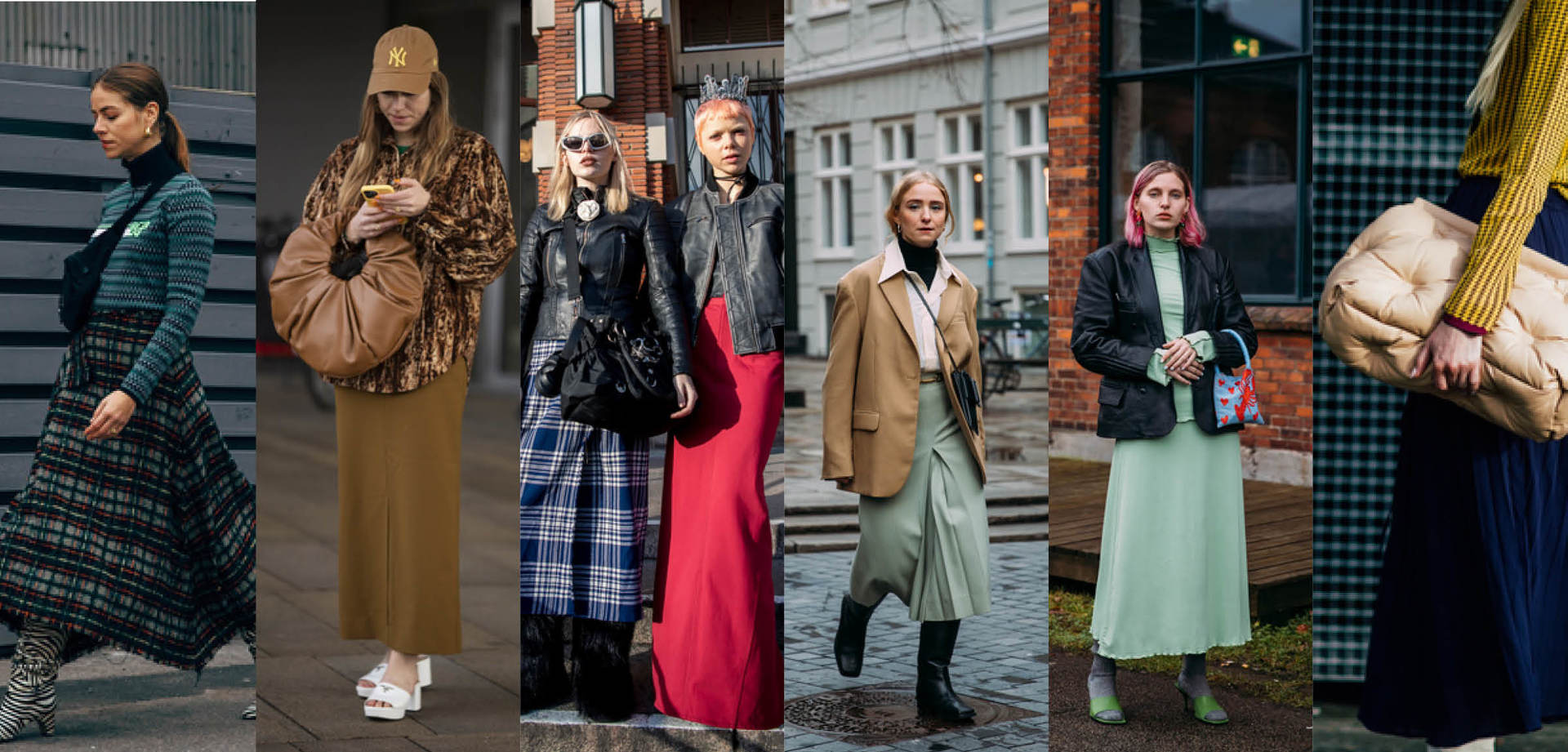 Images Courtesy of CPHFW Image Bank.
Cargos ///
Out of the entire 'technical-wear' trends in which functional garment construction has found its way into the mainstream, cargo pants seems to be the most successful for womenswear. I don't blame anyone to be honest. When gals can get something with their pocket; we'll do anything to keep it going. The gendering of garment construction is a topic for another day so for now, get those cargoes or parachute pants, and make sure to invest in a pair that actually have some water-resistant property in its fabrication.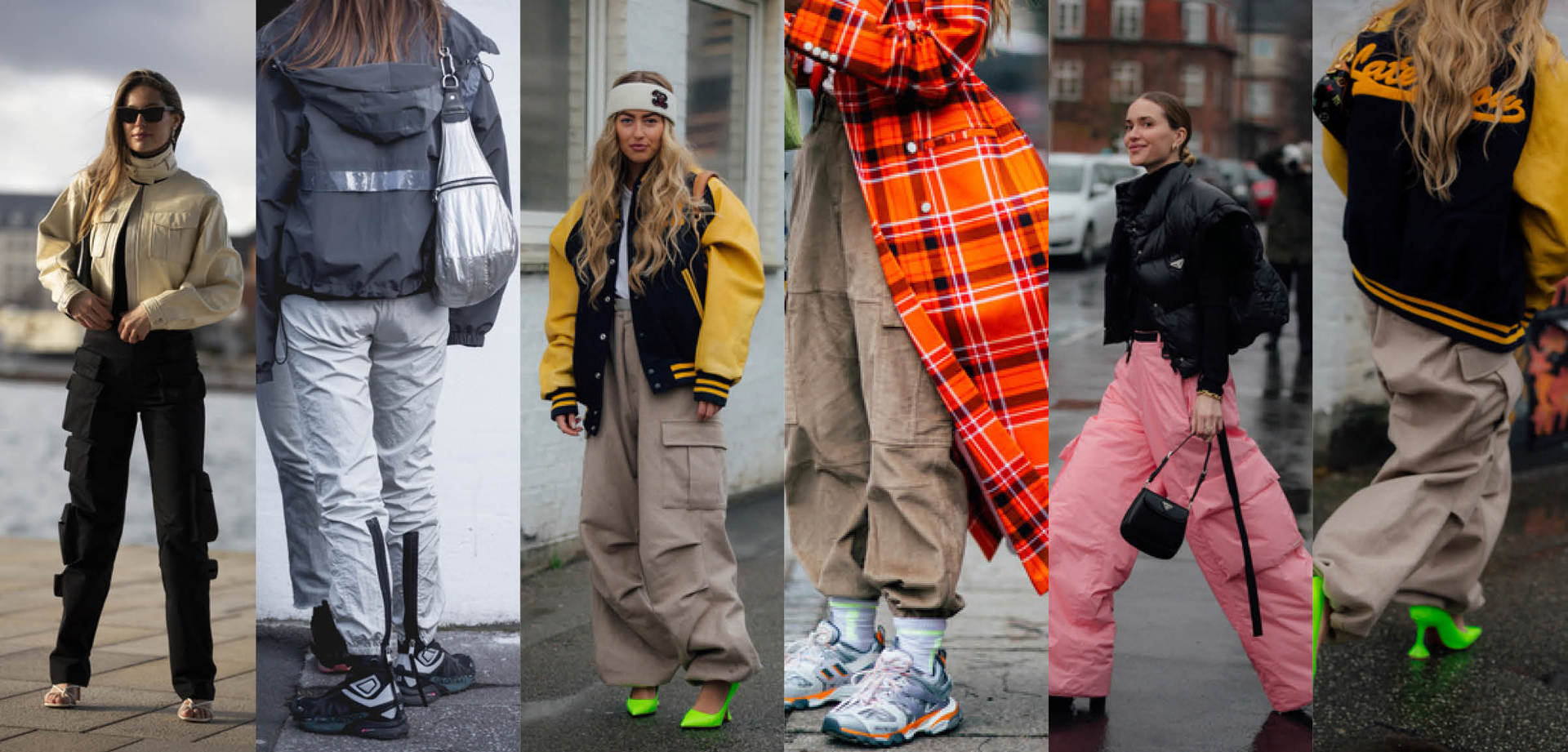 Images Courtesy of CPHFW Image Bank.
Cardigans ///
It's been a LONG time since I've been able to take a cardigan seriously. I think this is scarring from being a tween-to-teenager, a time in which h cardigans and fedora hats reigned. I found one in my wardrobe the other day and wore it as a layer when it was too cold to think straight about what I was doing – suffice to say, I wasn't mad about it – and lo and behold, it seems neither is the rest of fashion. Cardigans ranging from sleek mohair to chunk cable knits are definitely worth looking into; but please, I'm not ready for the long-cardigan trend to come back. Something about it still reads like a proportional nightmare.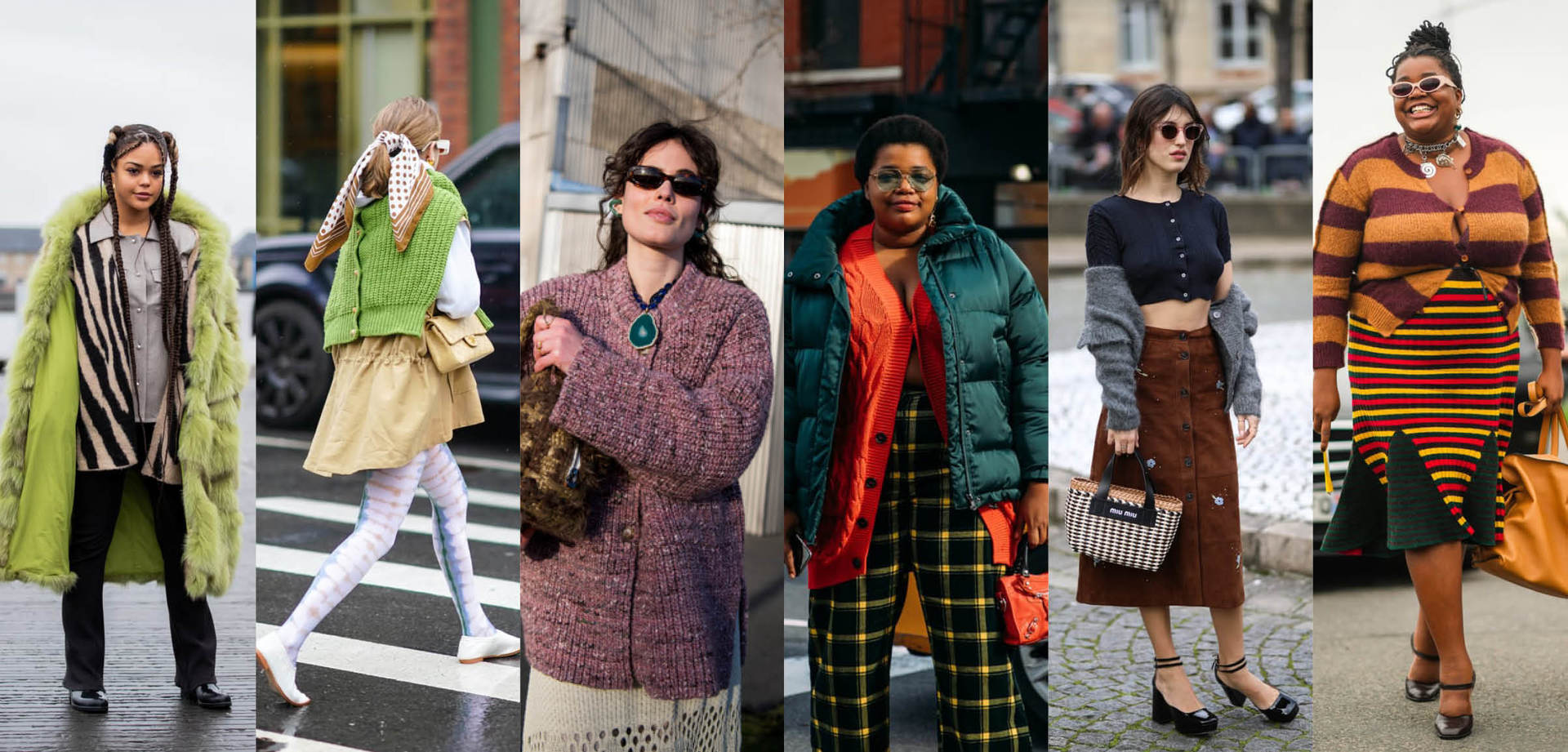 Images Courtesy of Christian Vierig, Edward Berthelot, CPHFW Image Bank, Style du Monde, Jeremy Moeller.
Long-Sleeve Dresses ///
In the same category as the long-skirt, the long-sleeve dress can either be a statement (with so much yummy layering underneath) or can blend firmly into the background. If dresses are your thing, these are best worn with long-johns, leggings and so on; and keeps that 'too wrapped up' feeling at bay.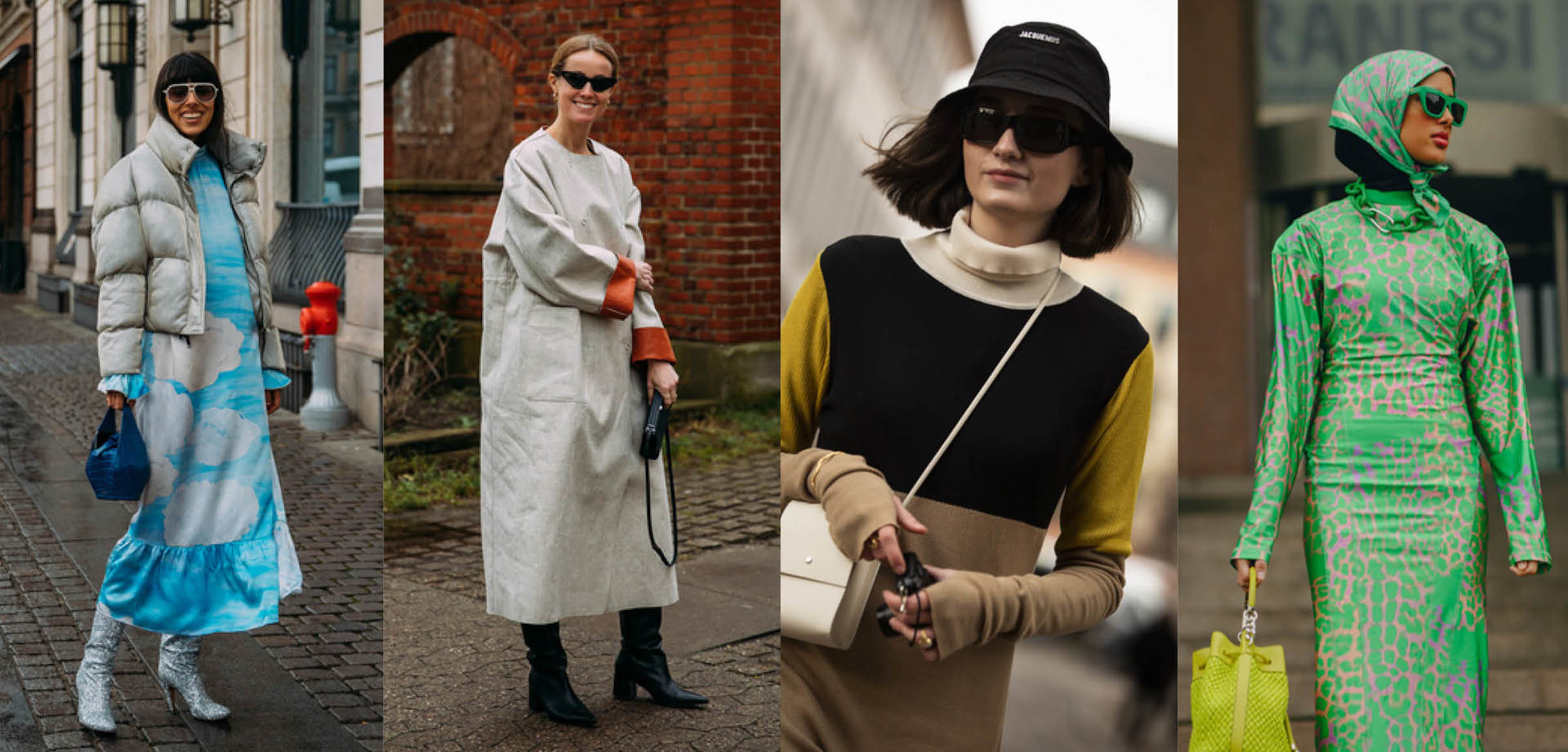 Images Courtesy of CPHFW Image Bank
MENSWEAR AUTUMN/WINTER TRENDS 
Long Coats /// 
There is something to be said for the dapper energy emanating from a man in a coat. I don't know if it's the hetero-cis trope that men don't dress thoughtfully; but that's not relevant for our fashion conscious CEC dudes. Coats are an investment piece for literally any human being – and I would elect to go wild with coats from plaid, to leather but also into the realm of print and colour.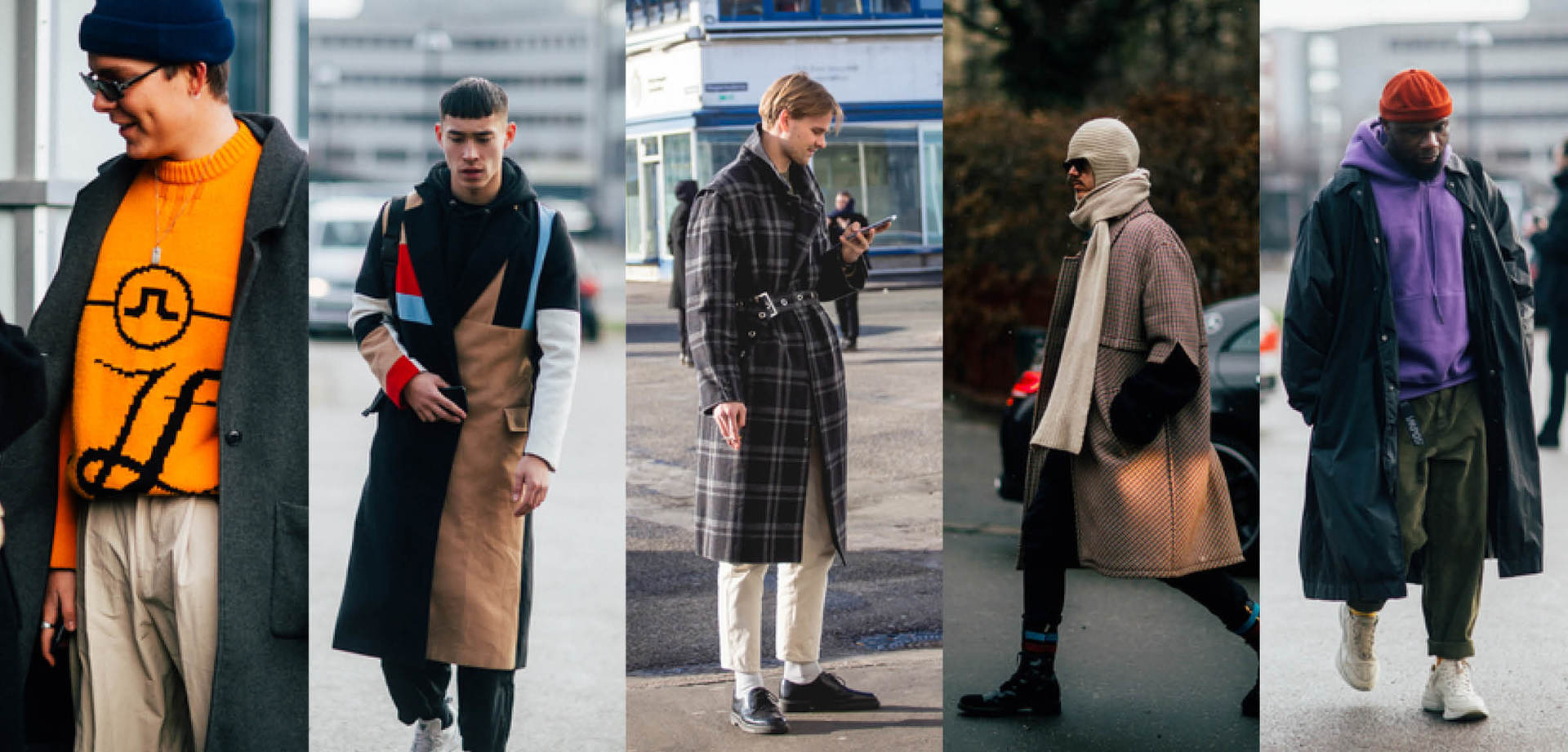 Images Courtesy of CPHFW Image Bank.
Skirts! ///
This trend is the one that excites me the most. I've been rooting for men in skirts for a long time, and I think its resurgence in our collective consciousness is a sign of better times to come. Abandon all tropes of masculinity and wear a skirt – over pants (the best), or showing a bit of leg. A man in a skirt might be almost too powerful, so ensure your skirt-wearing comes along with a commitment to intersectional feminist values and smattering of anarchy in your personal philosophy.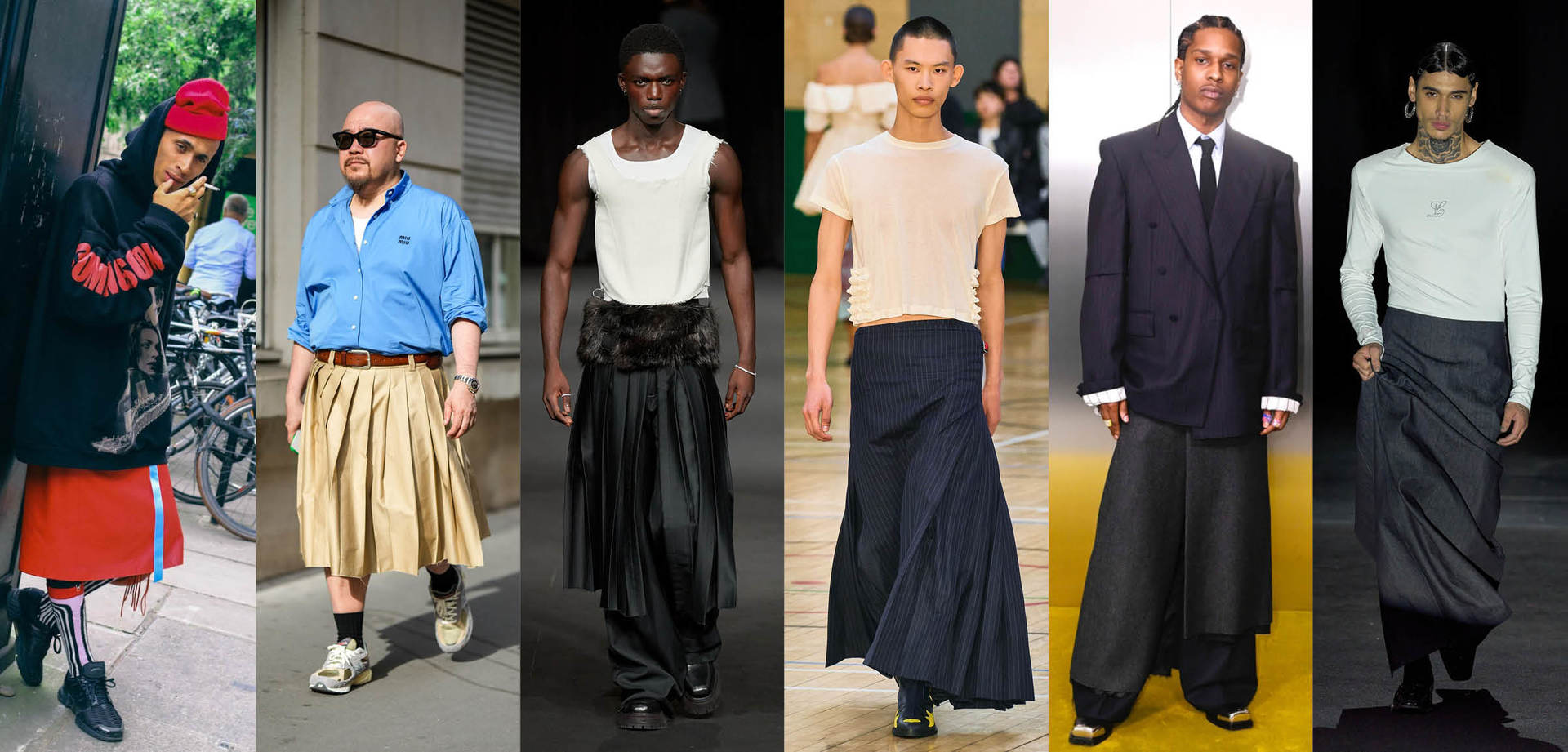 Images Courtesy of Phil Oh, Edward Berthelot (Getty Images), Carlo Scarpato (GoRunway), Daniele Oberrauch (GoRunway), Splash News, Filippo Fior (GoRunway).
Bomber Jackets ///
A bomber jacket is just perennially a VIBE for guys. Whether puffed or padded, printed or plain; there's a reason this stays the most comfortable space for men to keep warm. There is this idea that it doesn't get cold enough in South Africa for too much padding; I disagree especially if this autumn is anything to go by.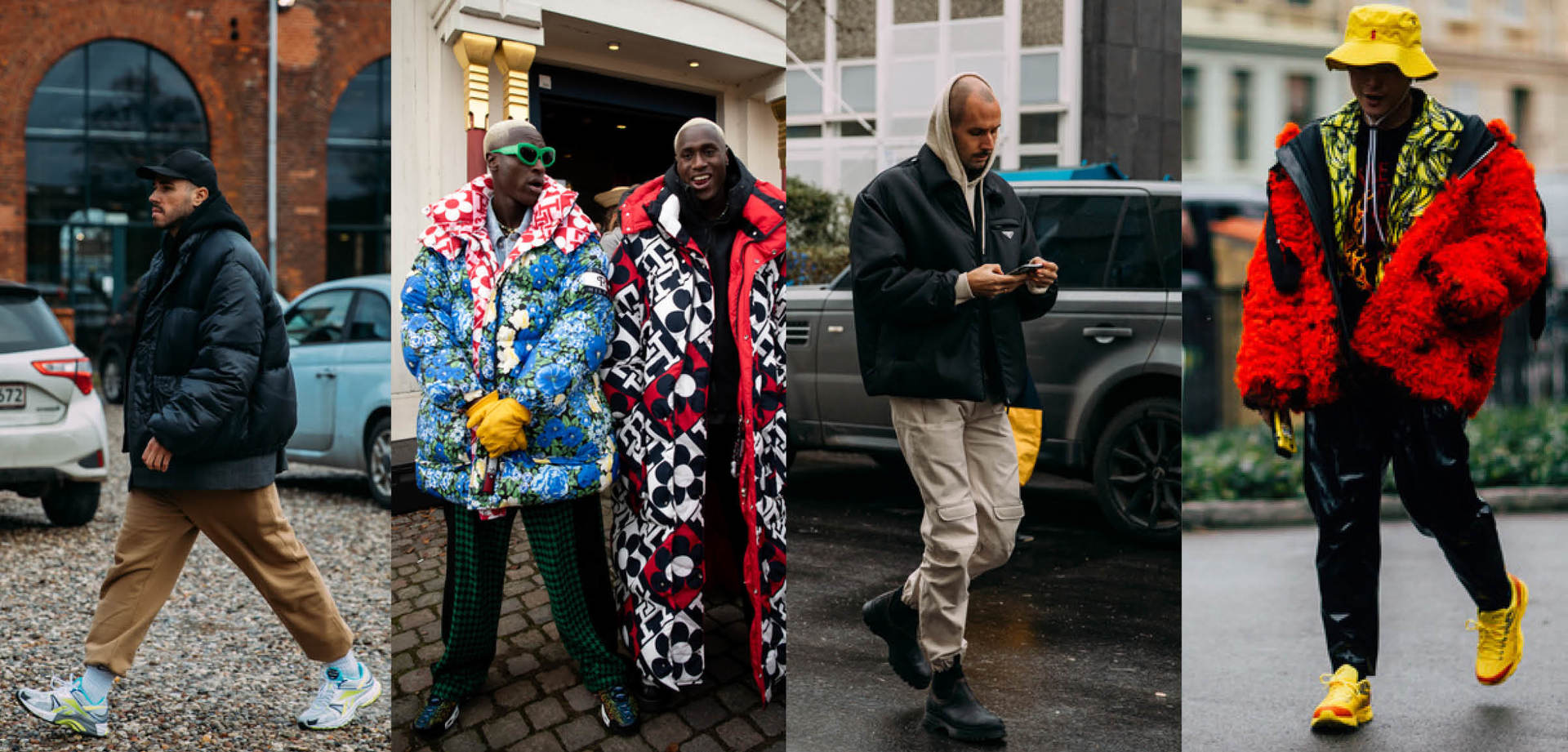 Images Courtesy of CPHFW Image Bank.
The Suit ///
Casual, daywear suits are in my opinion, a moment to play with the oversizing of silhouettes. A 'too-tailored' suit is cool if that's your thing, but I think menswear is as deep a 90s revival as the gals. A great thing about a suit is mixing and matching the jacket and pants; tailoring intermixed into everyday wear remains cool. Just look at improbable style icon Robin Williams circa '96, mixing oversized suit pants with a bomber jacket. If you didn't know, Robin was an OG and a big fan of Issey Miyake, Yohji Yamamoto and Jean-Paul Gaultier; read about it here.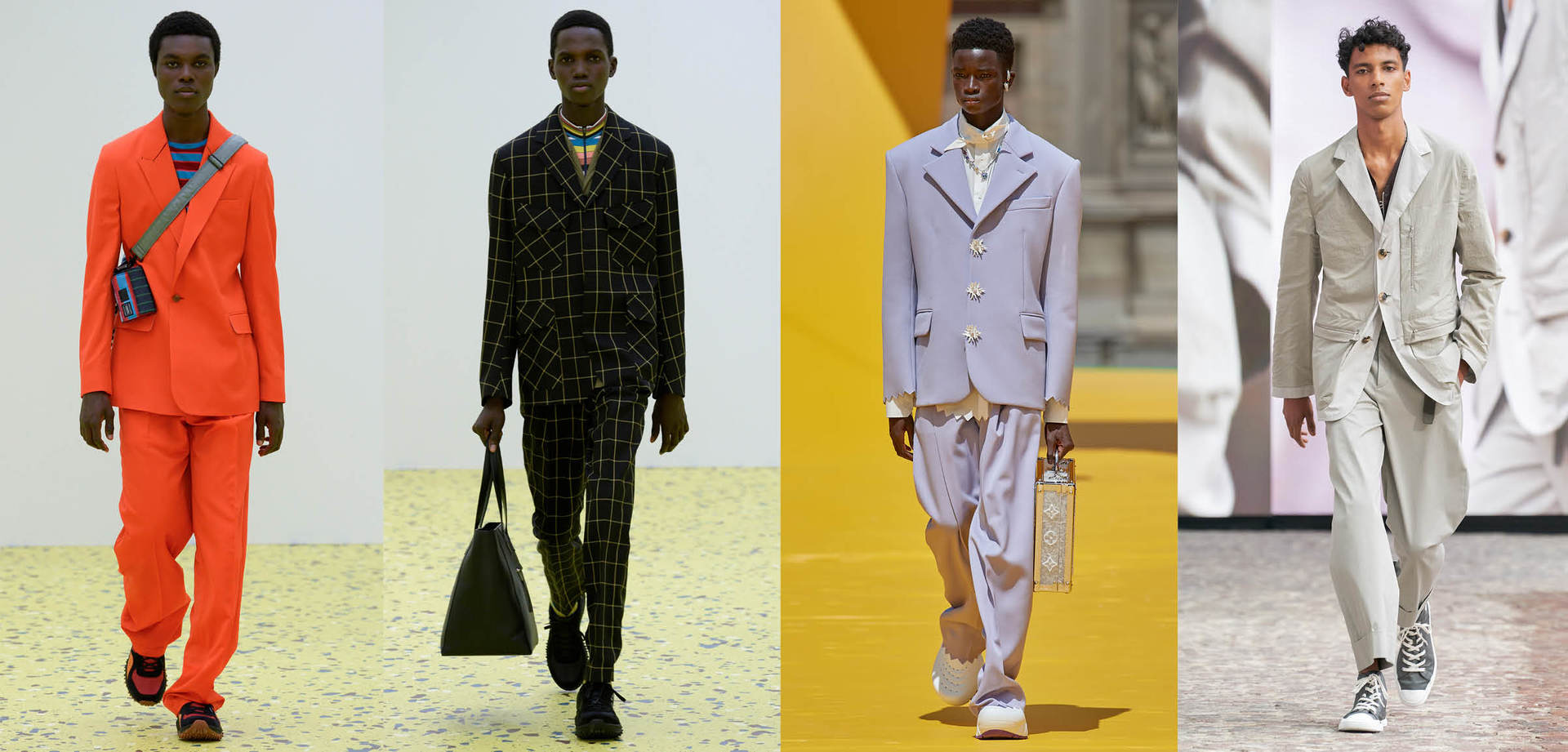 Images Courtesy of GoRunway, Isidore Montag, Alessandro Lucioni. 
Running Apparel ///
When I say 'running apparel' I refer solely to running gear – and not the swathes of 'gorpcore' hysteria featuring all of technical wear.  For a direct reference and one that is available here, Orphan Street Clothing Shop have been on this wave for a while as the exclusive stockist of running & cycling apparel brand, 'Pas Normal' – integrate their 'mechanism' jerseys as tight-fitting layers, and exude the sense that you're a master of physicality. My tone aside, I really think a well-executed application of running apparel is what tech-wear is really about.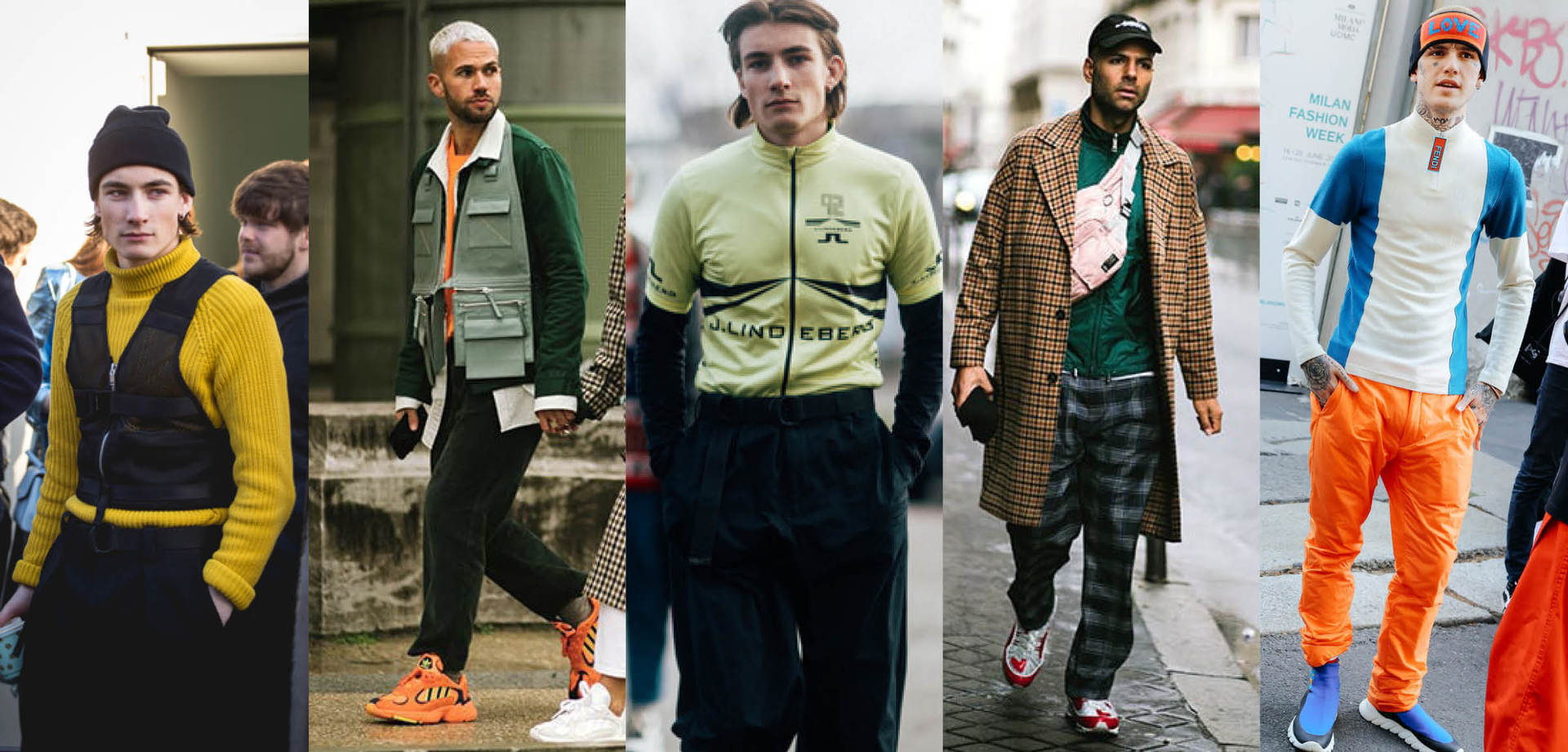 Images Courtesy of CPHFW Image Bank and Phil Oh.
Oversized Scarves ///
I know when you read 'oversized scarves', this image of Lenny Kravitz sprang to mind. While I'm not suggesting we veer fully into blanket territory, I do believe that a cosy scarf is a perfect layering piece; and I think wrapping up as snug as possible has a direct correlation to lessening toxic masculinity. I don't know, its just a theory.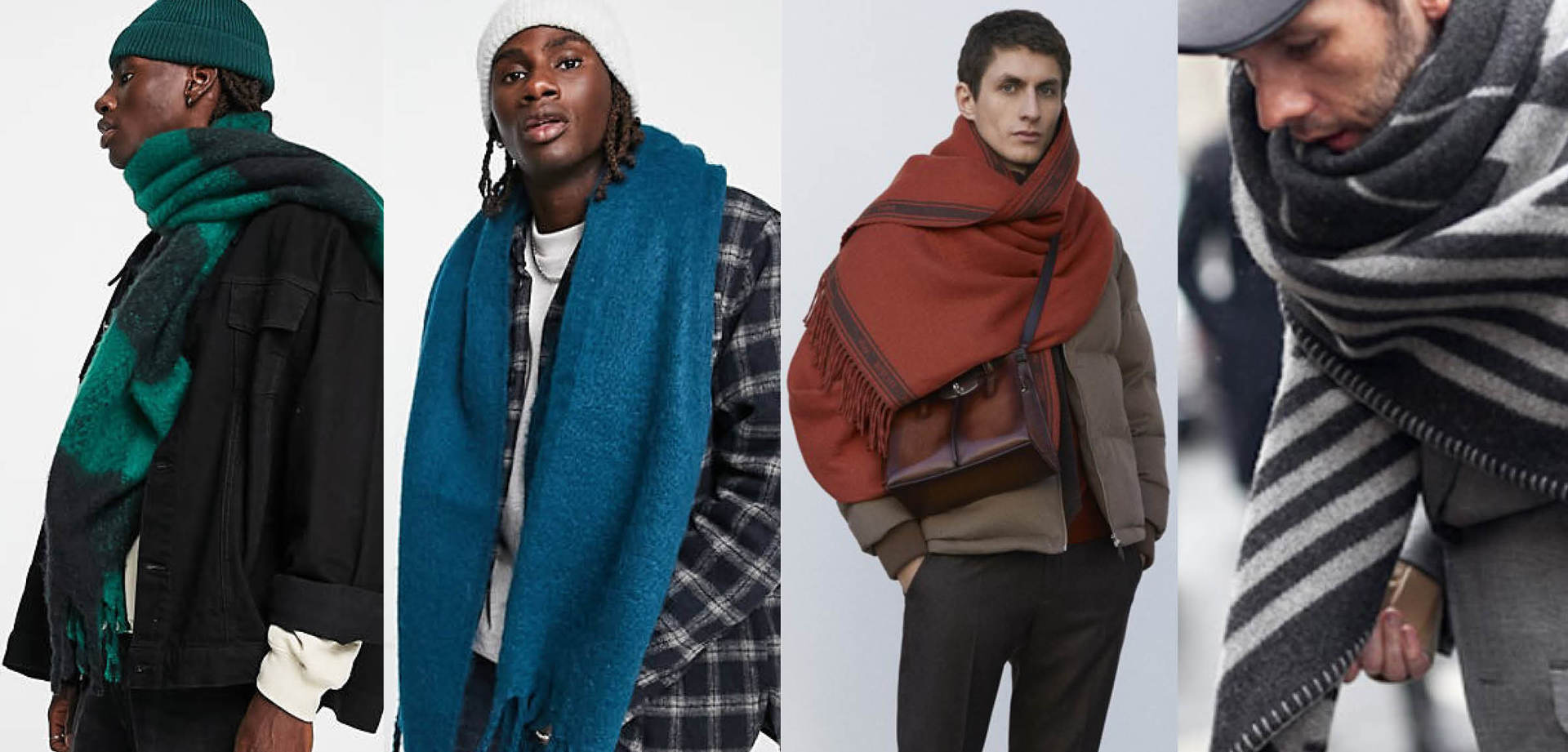 Images Courtesy of ASOS, Beluti and Getty Images
Featured Images Courtesy of Tyler Joe PFW Spring 22.