Time is just a construct. How are we here again, with fashion season upon us once again? It's summer in Europe, and Paris Fashion Week just hosted their menswear showcases. In a very socio-culturally reflective way, 'menswear' doesn't necessarily mean that brands are strictly showing masculine clothing or male models; in fact, most brands are offering a gender-fluid assortment down the runway. This makes all the business-prudency-sense considering that IF a brand is selected by the committee to showcase, the fees to produce a show and secure a slot range from anywhere between €180,000 to €1 million – although I suspect some of our smaller, favourite brands can pull it off for much less. Paris Fashion Week hosts some of the best infrastructure in the world, with both its historical significance as the 'birthplace of fashion' as we know it today, alongside some of the most incredible venues, systems and companies that focus all-year to transporting, planning, building and staging fashion week's biannual showcases. The calendar is set by Fédération de la Haute Couture et de la Mode for Spring/Summer and Autumn/Winter, in collaboration with their counterparts in Milan, London and now Copenhagen – in order to forgo as little overlap as possible.
It's terribly difficult to reduce the events of Paris Fashion Week into a small-host of shows – but, it must be done, lest we be burdened with visual and aesthetic fatigue. Unless of course it's anything by Cris Fragkou, who keeps us fully immersed during fashion weeks and has offered use of some of her images below for Dazed Digital, which are standout for Rick Owens, Dior and Junya Watanabe. You can read our most recent conversations with her here. For Chapter 17 (our seventeenth month!) of Interlude, I've selected but a *taste* of old favourites to pique your interest as concisely as possible!
Wales Bonner
At one point last year, it was touted that Grace Wales Bonner might be appointed at the helm of Louis Vuitton's menswear division. Although that was not so, her label Wales Bonner continues to be one of the most contemporarily articulate expressions of menswear in luxury fashion. As an alumni of Central Saint Martins, a recipient of the 2016 LVMH Prize For Young Designers, 2021 CFDA Award for International Men's Designer and more – Grace utilises her label as an ode to her Afro-Jamaican and British roots, delivering each time an incredible demonstration of the shared sartorial sensibilities of her formative cultures. Her showcase for Paris SS/24 was no exception, with the show titled 'Marathon' displaying Wales Bonner's continued collaboration with adidas Originals and her dedication to the quiet, clean expression of sport-as-inspiration. The show featured Ethiopian long-distance runners Yomif Kejelcha Atomsa and Tamirat Tola as models, and Luke Leitch reported the show notes reading as, "an ode to long journeys and life missions. A celebration of soulful pursuits and inspired movement." As ever, Wales Bonner showcases the tracksuit as a decidedly important garment; and the show served as a subtle mapping of the legacies between Jamaica and Ethiopia's diaspora as critical to Britain's heritage.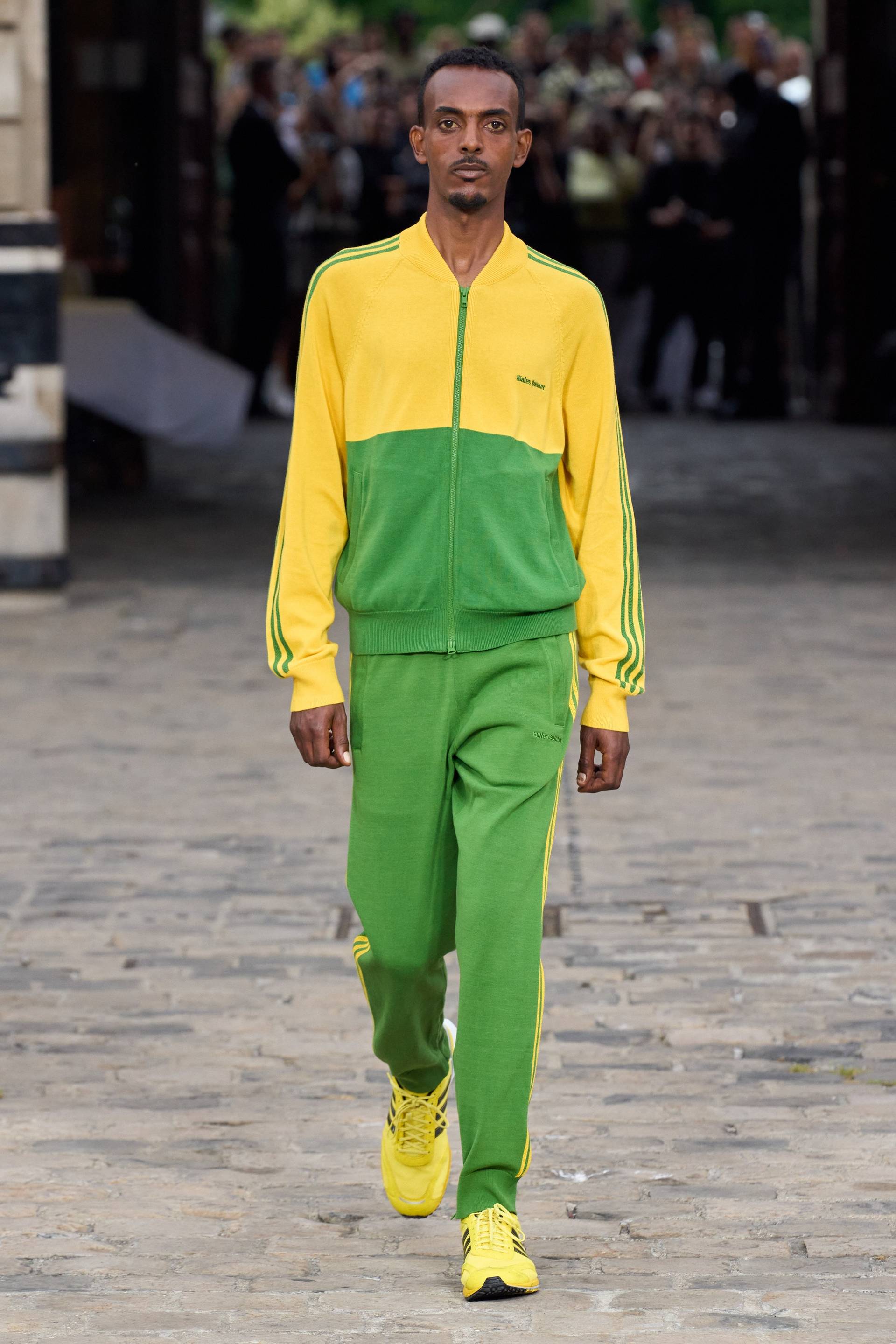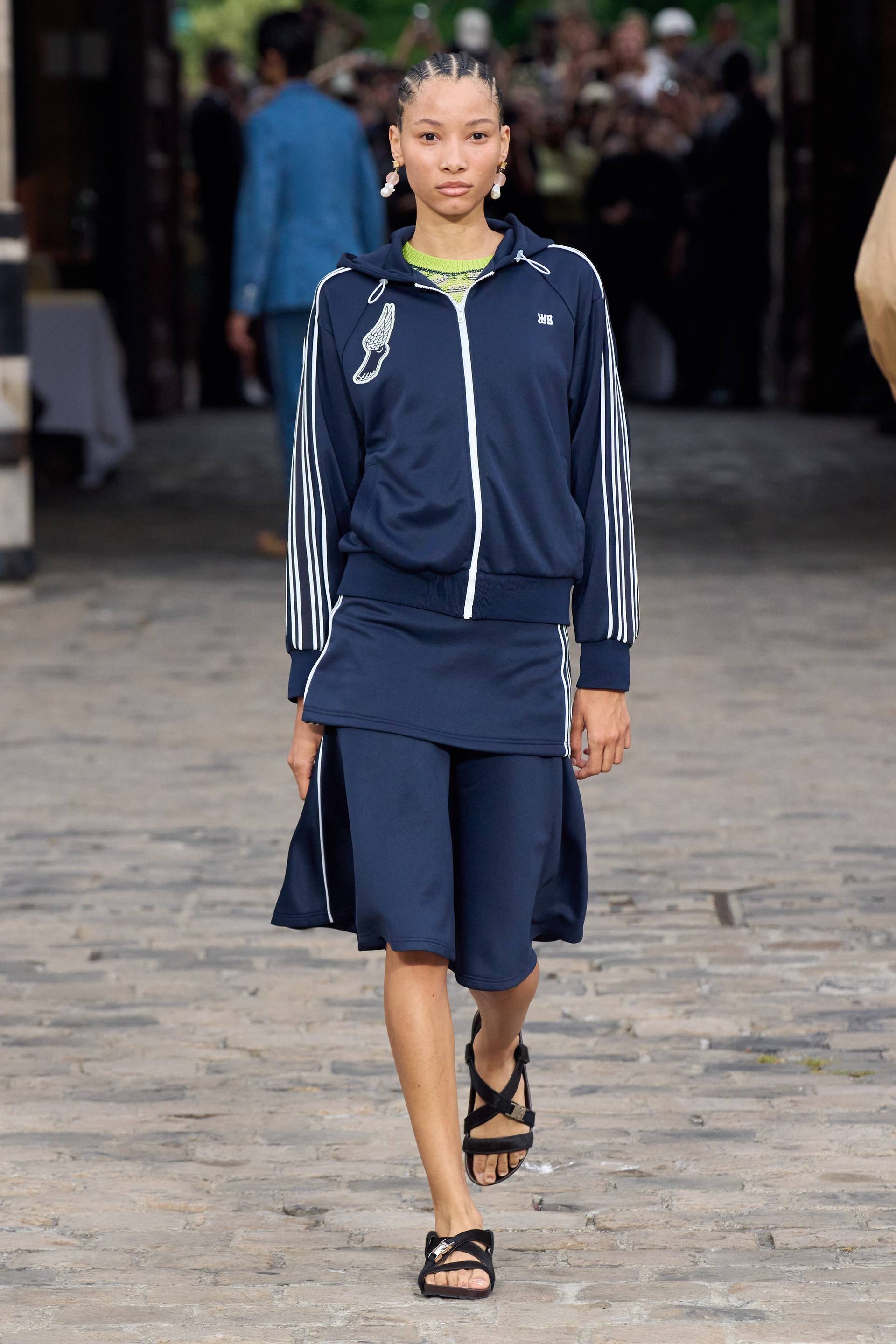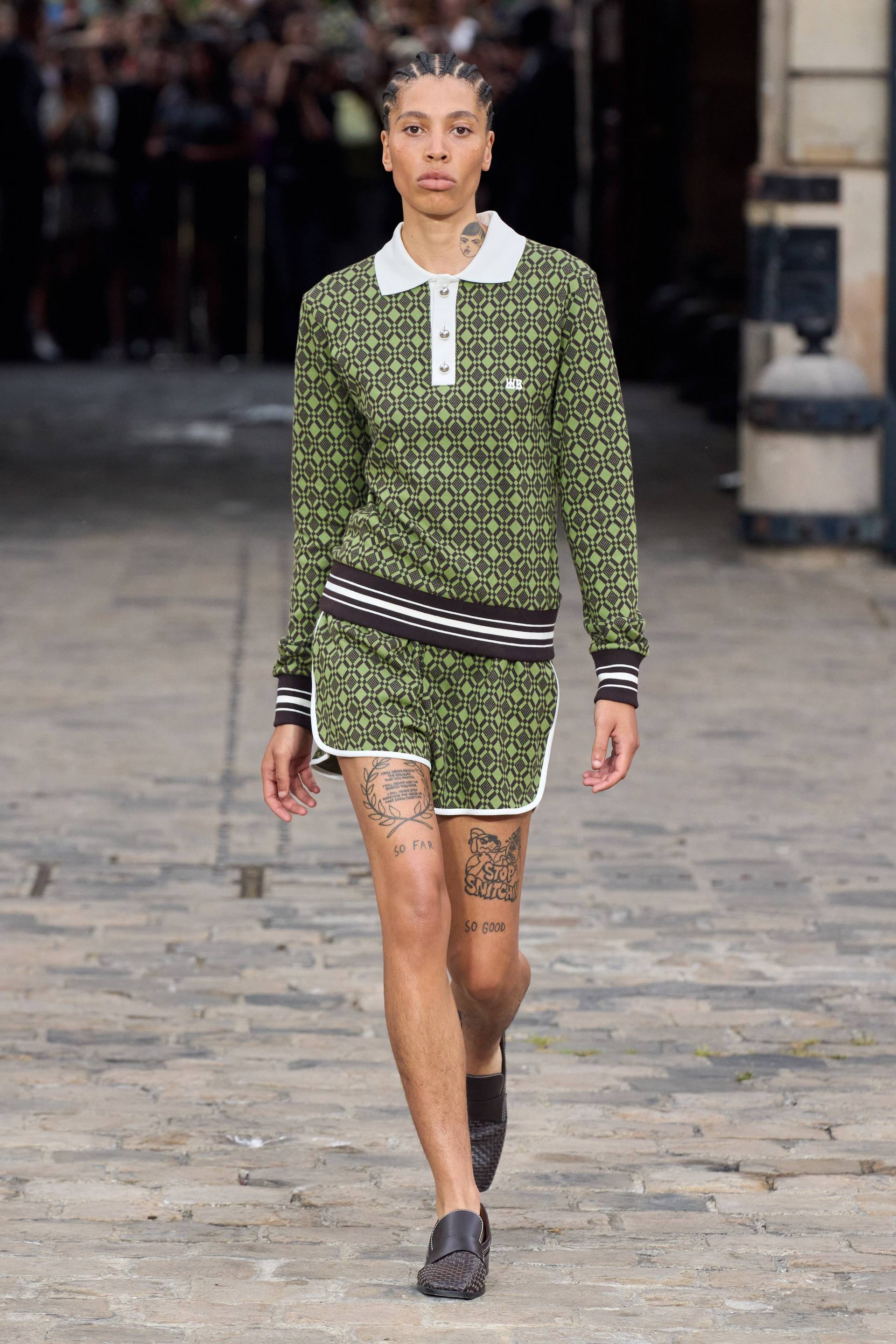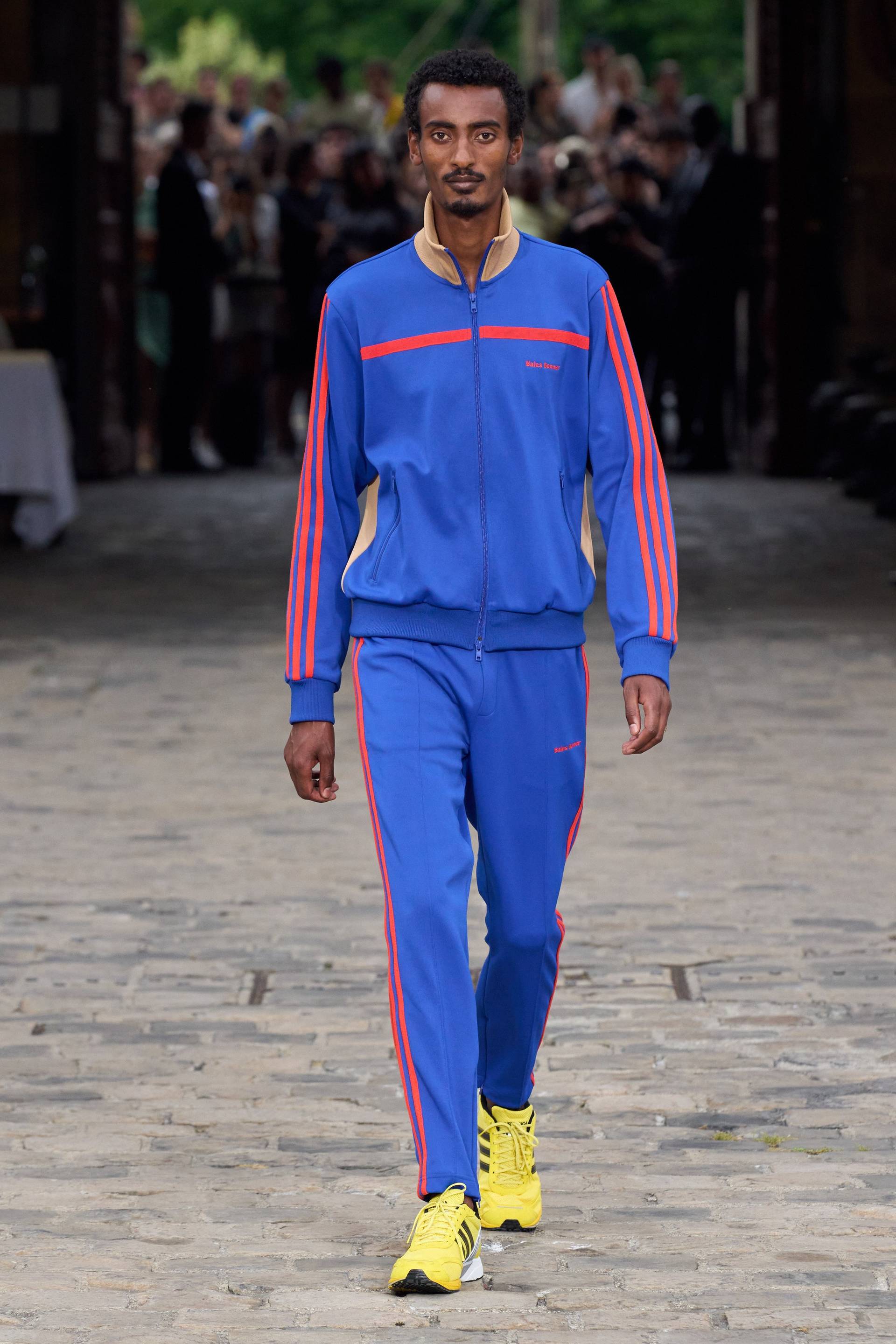 Images by Daniele Oberrauch for GoRunway.com
Rick Owens 
Rick Owens is unique among designers in that his followers – in a cult-like manner – refer to themselves as the 'Tribe' and are some of fashion's most loyal clients. A collective sigh might have been released, as Rick's latest show marked his return from the annals of using colour (shock, horror and wild if you know Rick's preferred colour is black) – their leader it seems is back from his acid trip, and landed safely in the dingy corner of a grimy techno club. Right where he belongs, where he thrives and where we love him best. Rick's brutalist, gothic inclinations as the Sith Lord of Fashion were on full display; premiering his latest footwear form, a medical-boot sandal. While it's not my favourite, it is a reminder of Rick's sense of humour and purity, even as he continues to merge some of the most morbid articulations of fashion with exquisite tailoring. His alleged boyfriend and definite muse (he and Michèle have an understanding) Tyrone Dylan Susman opened the show, as chiselled as ever and what followed was proportion and manipulation in the silhouettes and the word 'CUNT' emblazoned on key pieces. Rick is no enfant terrible (reportedly one of the kindest designers around) but his edge never seems to fade, either.
Images by Cris Fragkou for Dazed Digital
Junya Watanabe 
Unconventionality reigns in Junya Watanabe's world. As the prodigy of Rei Kawakubo, having risen the ranks through Commes de Garçon, Junya fervently and discreetly continues his independent pathway as a master of deconstruction and asymmetry. Ever inspired by punk-aesthetics and lore, this showcase was a master class in the strange surrealism of DIY culture. The show featured a record-breaking 18 moments of direct collaboration with other brands including New Balance, Brooks Brothers, C.P Company, Gregory, Lousy Livin, MXDVS, Bates, Alpha Industries, Baracuta, Oakley Factory, Patta, Reigning Champ, Maison Kitsune, and Mackintosh. Patches featuring streetwear cult-classics like PALACE adorned workwear jackets, STÜSSY appeared once – all the while construction feat after feat emerged, such as a belt-buckles used as scaffolding for a tunic, or hexagonal denim patchworks. Highly regarded as an expert in his technical abilities and craftsmanship, Junya remains one of the all-time stars of Japanese sartorial consciousness.
Images by Cris Fragkou for Dazed Digital
Dior 
Kim Jones marked his fifth-anniversary at Dior with a show stopping entrance. Models arose out of elevator-trap doors, giving the audience the entire collection in a matter of minutes. Once the models got moving, the sharpness of Kim's tailoring was apparent; with accessories by his long-time collaborator, milliner Stephen Jones' Chinese 'ronghua' hats and accessories by Yoon Ambush, jewellery designer for Dior Homme. Socks and sandals offset the tunic-style coats and tailored suits, with injections of neon amidst the demure palette. Embellishment is a key part of Kim Jones' signature at Dior, and this show was no exception. The collection was a nod to the Blitz Kids / New Wave club scene of the 80s, as Kim told Vogue, "There is an underlying sense of the New Wave in the collection. Stephen was one of those Blitz Kids that were seen as so much part of that. It was also an exciting time for Paris nightlife, where different social groups were hanging out together."
Images by Cris Fragkou for Dazed Digital
The Row
One thing about me? I will forever kneel at the altar of the Olsen Twins. Ever on their own buzz, The Row's unisex SS24 collection was launched as a lookbook on their website instead of a runway in Paris. We love efficiency. I don't have to tell you that The Row never falters on their tailoring (their namesake is taken from Savile Row, the historic tailoring street in London) or that their approach to fashion is 'quiet luxury' personified. This season, however, cut a far more relaxed approach than usual. Dare I say, casual? For the twin-sister duo, their pivot into fashion has been the best decision they ever made. The Row has consistently shown an innate and intuitive design reflex, and this season seemed to be a direct commitment to their audience that it really has never been about showmanship, but rather craftsmanship – and they don't need a runway to flex that.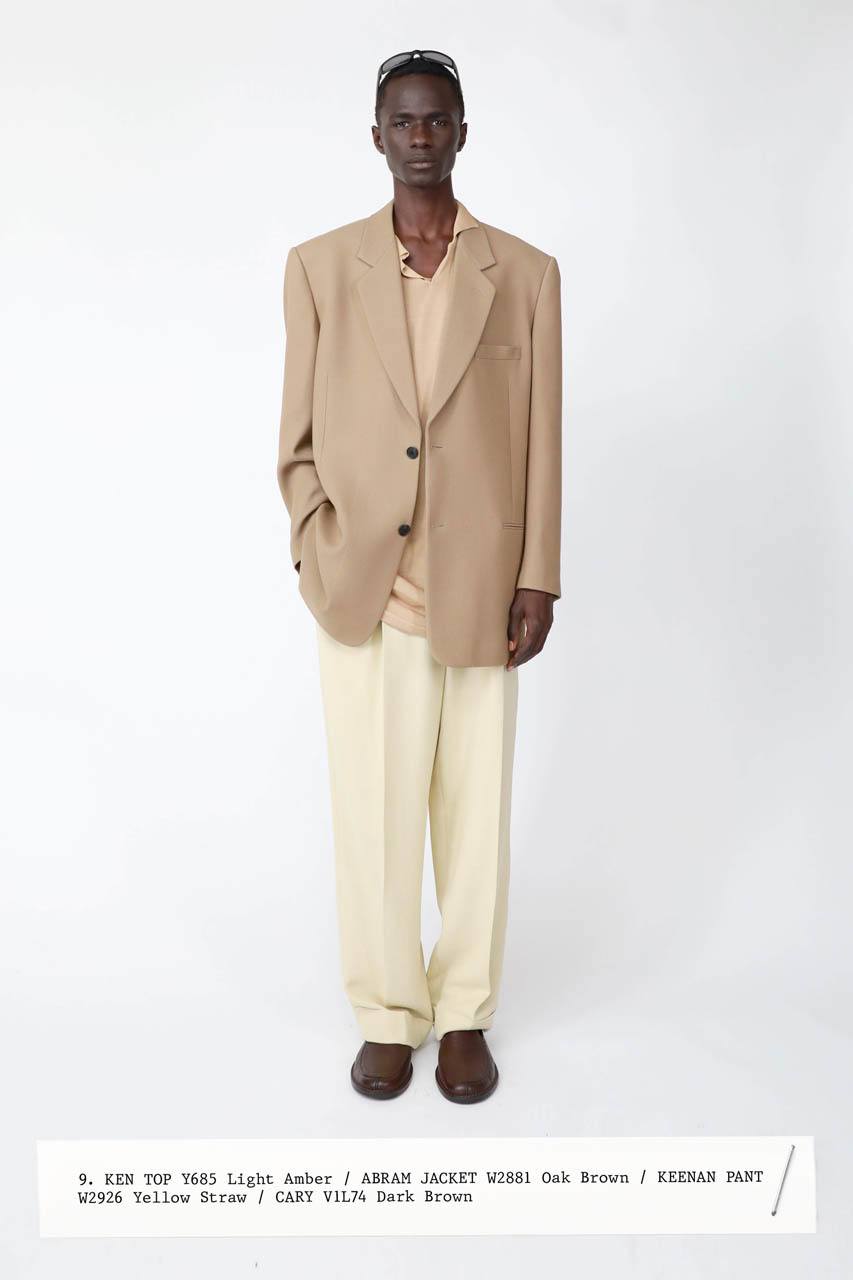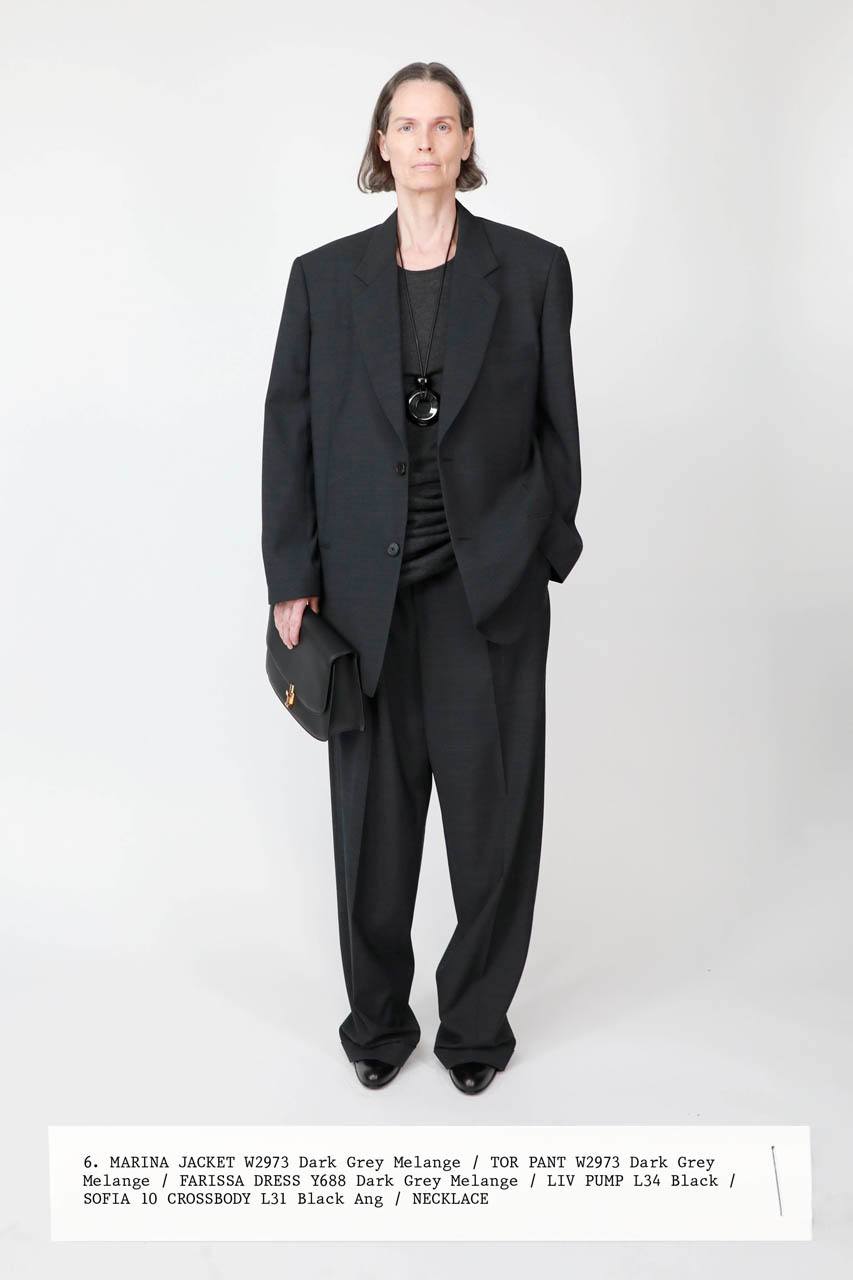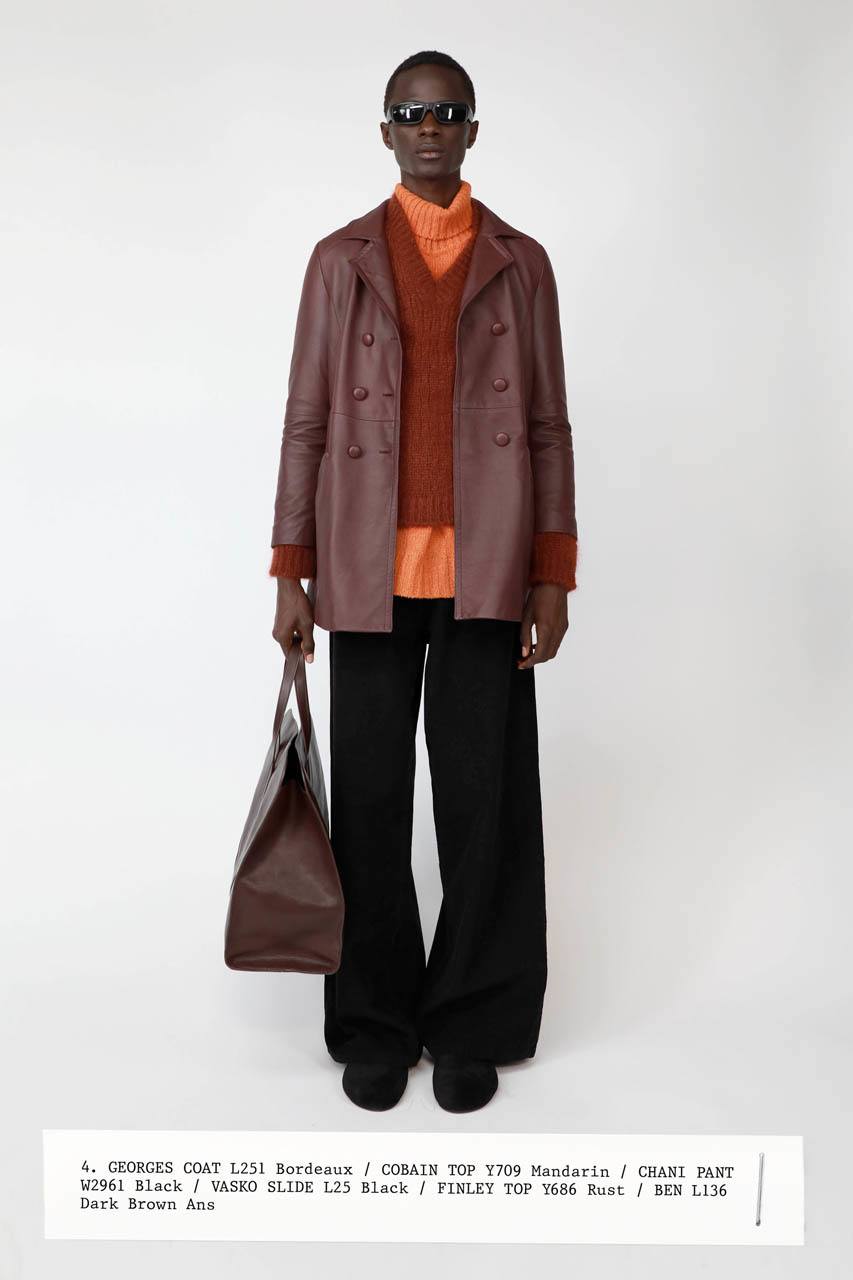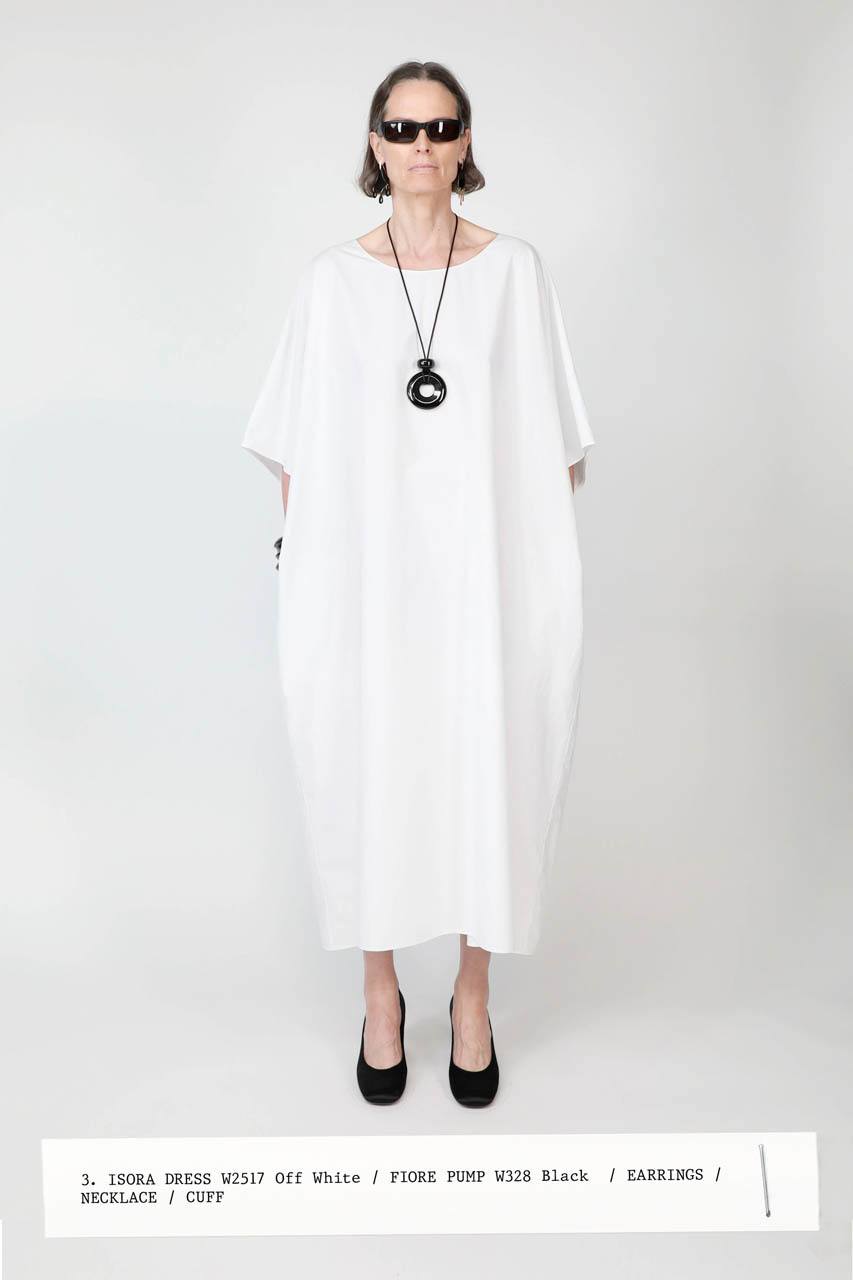 Images courtesy of The Row
Loewe 
Jonathan Anderson is a silly-goofy guy when he designs for his eponymous label (always intelligently so) but when it comes to Loewe, he reigns as much as possible. Still, the playfulness of glitter fabrics set against billowing tailoring was fun, but not as fun as the few moments when giant needs were pinned into key garments. This, it seems, is a personal message by Jonathan (as he usually leaves in his collections) on his understanding of construction as ongoing, developmental and curatorial. Loewe SS24 was a relaxed, romantic expression of the label and of Jonathan's place in fashion right now. Shy and ever-concerned, we love JW, always.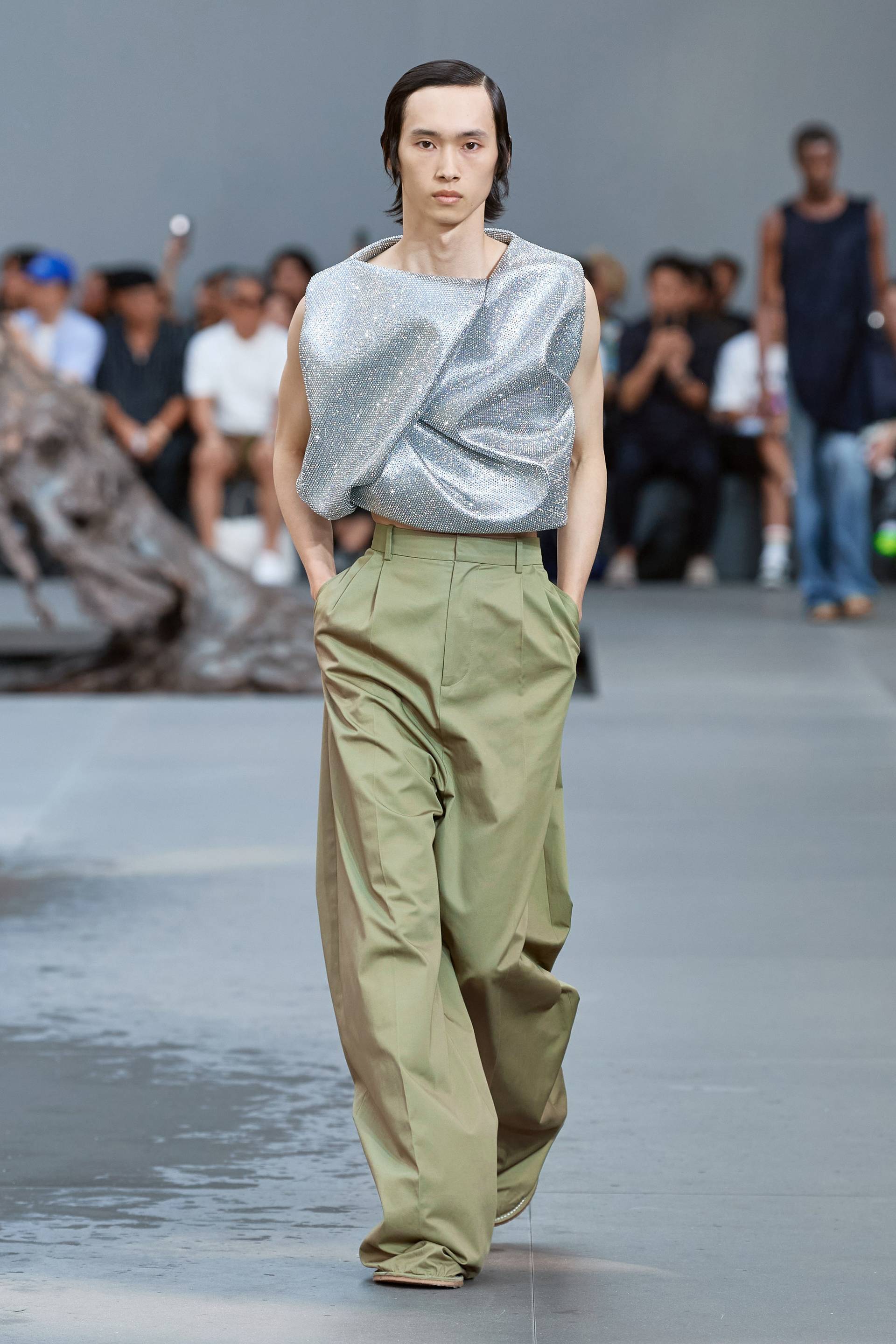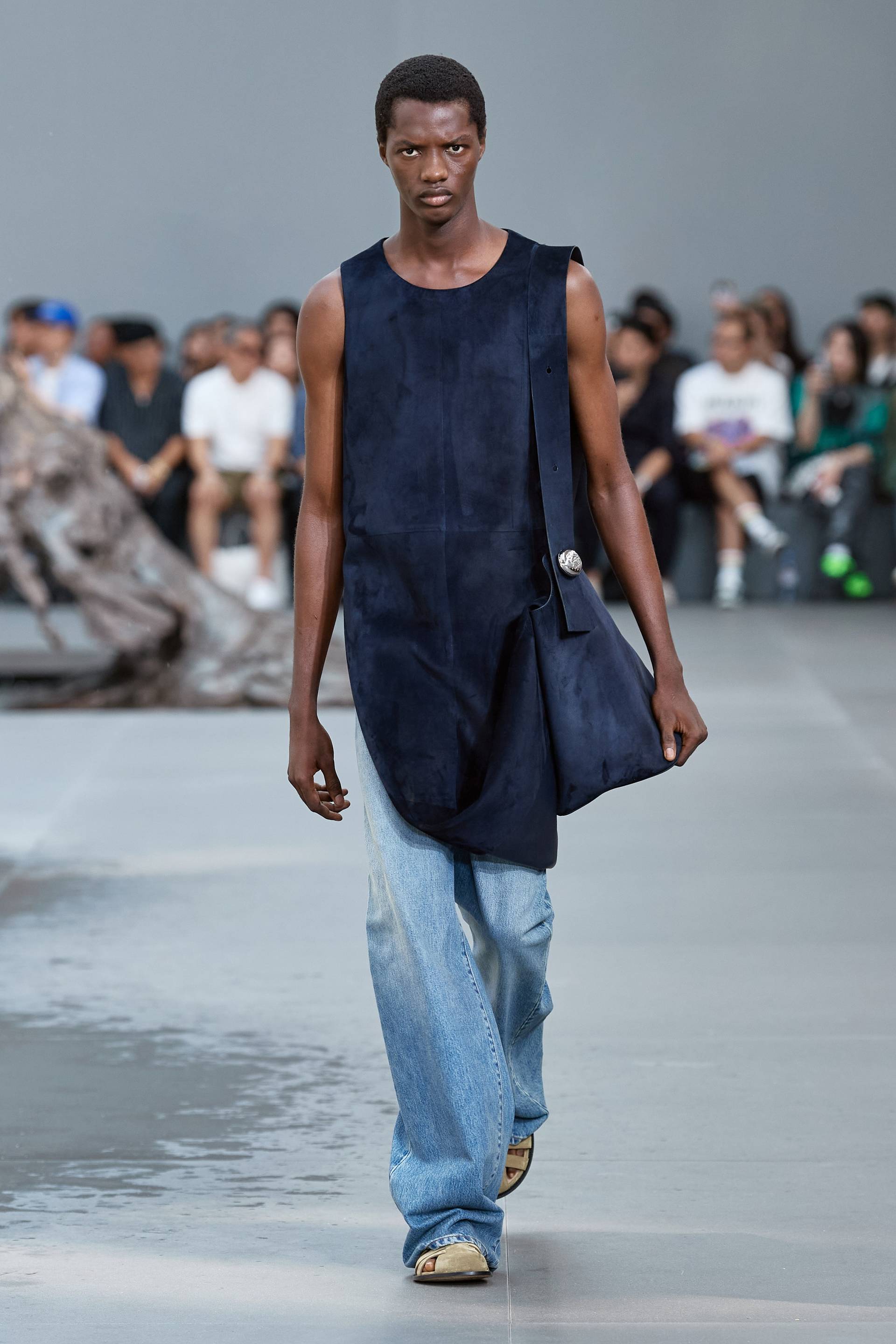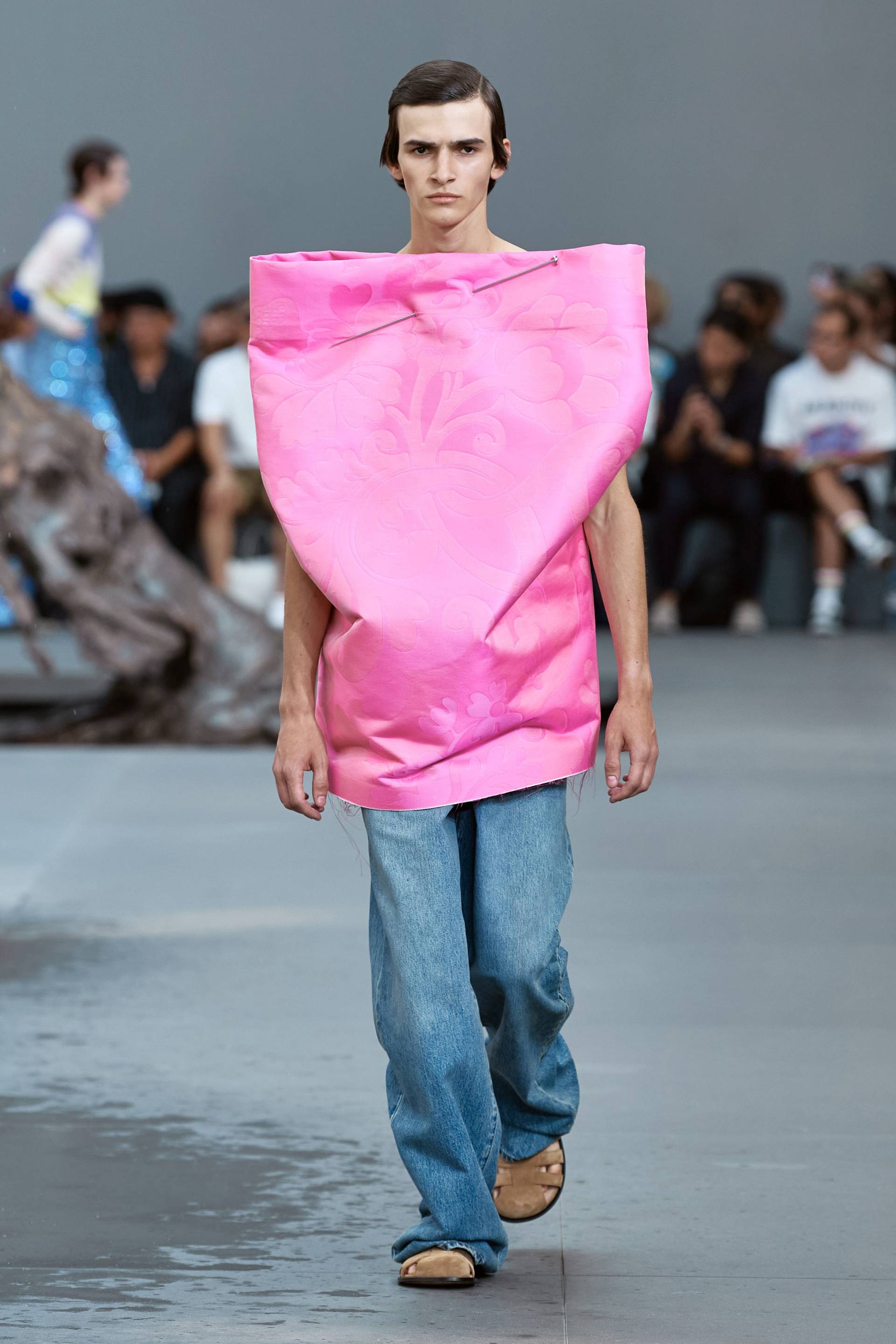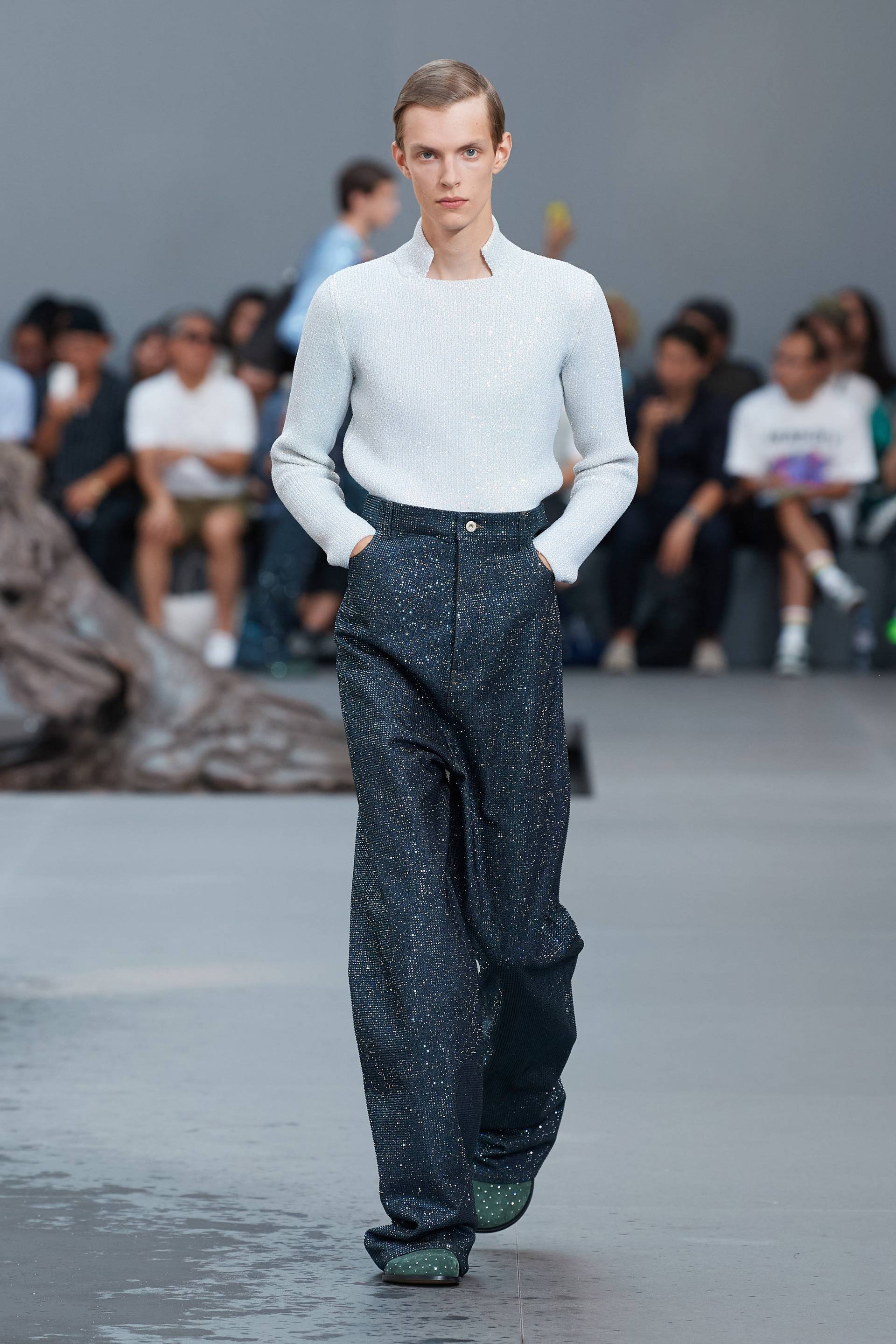 Images by Isidore Montag for GoRunway.com