I am astounded by the moves being made in South Africa's fashion scene. This is a subject I go on and on about – it's the entire reason that this fashion column exists, proudly in its eighteenth month of existence. Community is central to the human experience and in the context of South Africa, community is a necessity. Gathering together, with all hands on deck, has served as a survival tool within a socio-economic, historical landscape plagued by under-resourced and disenfranchised features. Yet, resilience is the name of the game. Connect Everything Collective's primary mission is to archive the creative expression of this country and we never, ever find a shortage of inspiration murmuring across the country. Us safrican's are an enterprising, hustling culture. 
Collectives and concept stores are different models that function for similar purposes: to unify people under one roof. With concept stores, the modus operandi goes a little more beyond the tangibility of brick and mortar. Concept stores convey a certain philosophy – whether for design or lifestyle – that seeks to change the thinking of their clientele. The dynamic spirit of a concept store is inherent in bringing varying brands, products and ideas into the same space, culling the concept of competitiveness to a healthy degree. With a burgeoning arena of small brands cropping up all over the country, the concept store reigns supreme in consolidating the mission for visibility, tangibility and versatility in South Africa's design lexicon. I've often said that the benefit of our 'emerging' fashion industry is the ability to do it in our own way. The concept stores detailed later in this article are incredible examples of what it means to create a unifying retail experience, dosed with the hope that we as a country feel in our bones – despite it all. 
Collectives are less defined instruments of our fashion scene. Often, collectives and concept stores are one in the same. Concept stores are driven by collectivised thinking, yet not all collectives have a physical space. Aristotle's idea that 'the whole is greater than the sum of its parts' is one of the most succinct descriptions of the human experience and even in our highly individualised society, nothing truly occurs in a silo. Seeing crews merge and take on the future speaks to the mood of South African fashion – namely, why would anyone want to go it alone? This notion is the most critical feature of fashion's rising cast of talent. For emerging designers to navigate the industry challenges, it is best to have many minds adhere to one vision; from this, innovation is bred. Look at Broke's car boot sale recently, which is now heading all over the country? I'll detail this more later, but the point is that a collective can be powerful enough to gather people on the street, in a frenzy, to shop out of the boot of a car. Marketing can be as simple as this, when the purpose is intuitively emanated from the brand or collective itself.  
The following list is by no means exhaustive, but it is comprehensive in its expression of South Africa's concept stores and collectivisation. The future is complete and utter VIBES with leaders in fashion like these:
99 Design
99 Design is a multi-label concept store in Braamfontein, Johannesburg. Founded by Tayla Foong as an extension of her agency 'Dear Friends', she sought to infuse local fashion into the design-focused development at 99 Juta. Housing around 28 local labels, 99 Design is focused on bringing their community together through the power of brick and mortar. On the efficacy of this approach, Tayla says "We really do value the in-person customer experience. Not only do we get to interact with our consumers, but we also get to tell stories of where the garment was made and why you should support and buy it. People love coming into the store for the personal experience where we can also style them and pick out unique pieces which suit their style, or the new street style they're trying to emulate. We also really like doing pop-ups which can introduce the brands to people outside of our community."
99 Design exemplifies the power of collective units for building a concept store. Tayla says that  "community builds connections and makes our brand that much stronger – people also feel a part of the store's story, and are always willing to lend a helping hand or even be part of the team on our shoots!" Having their own physical space has also opened up the possibilities for what 99 can offer beyond retail, such "hosting design focused workshops, and creating content in our store (my interviewing Braamfontein goers with what they're wearing), or just being in the middle of Braamfontein, we are met every day with creatives, entrepreneurs and freelancers who have something to add to our ever growing database of Joburg tastemakers."
99 Design currently stock: Afrogrunge, Amen Concepts, Artelier, Asa Sadan, Boyde, Broke, Dokter and Misses – Accessories, Everyday Green Co, Floodhouse, Long Season, Maison Originals, Moshwe Swim, Muted Raggs, Neimil, Peace By Khotso, Pedestrian, Refuse, RGD Studio, Richmanskyf, Sash South Africa, S.Eislin, Searching For Textures, SinChui, Thabo Kopele, Unknown Projcts, Vues, The Uniconz, Yarns and iPantsula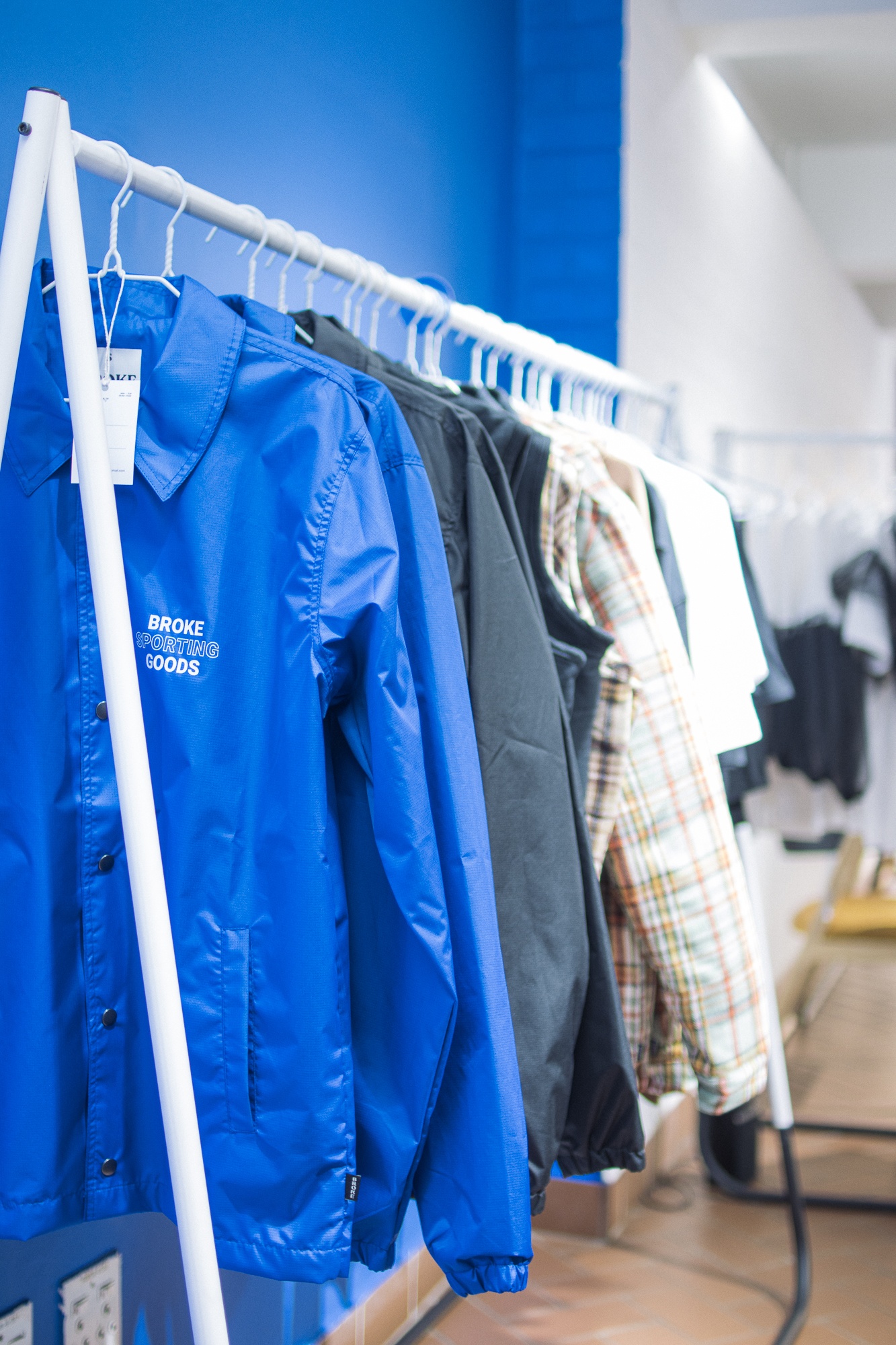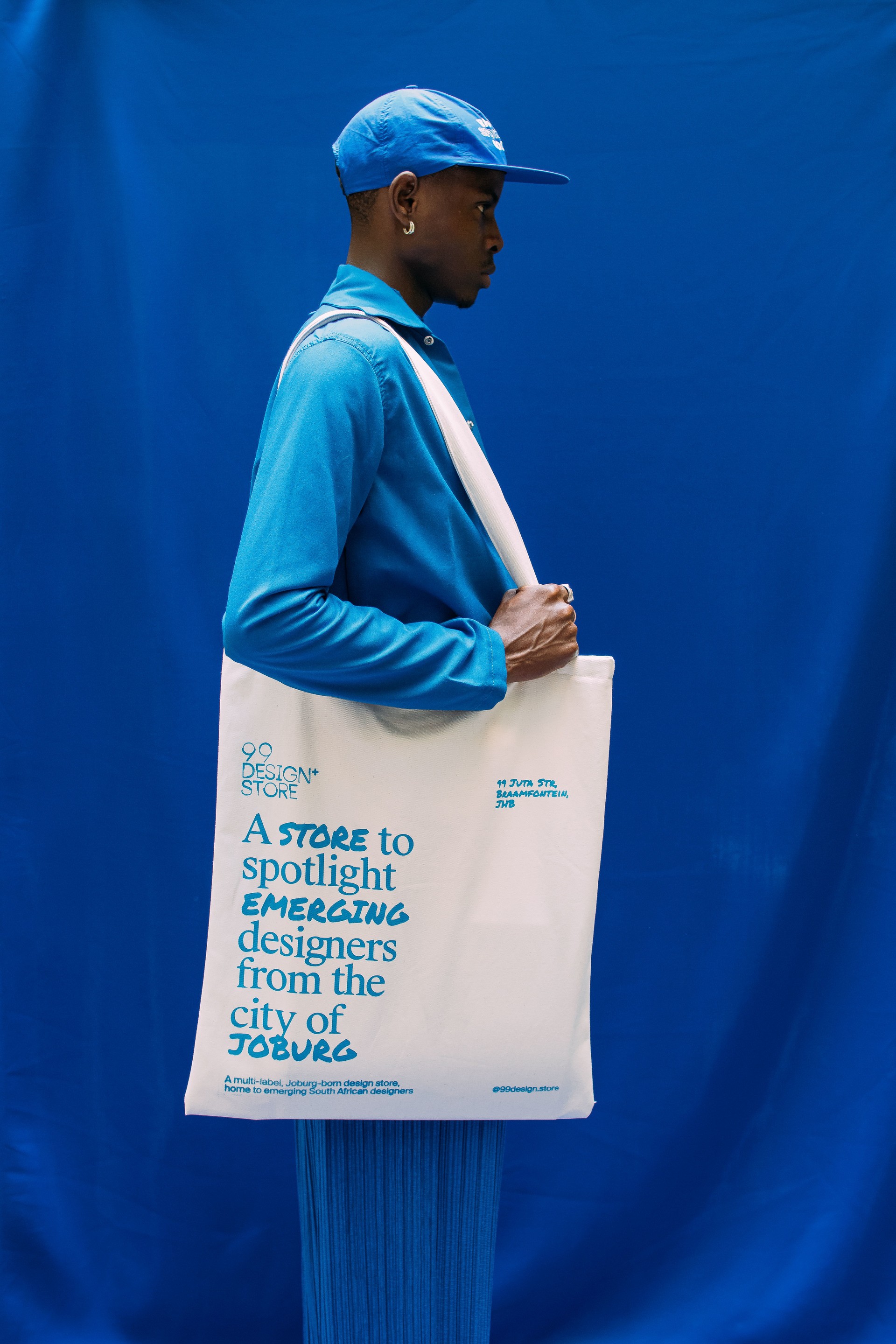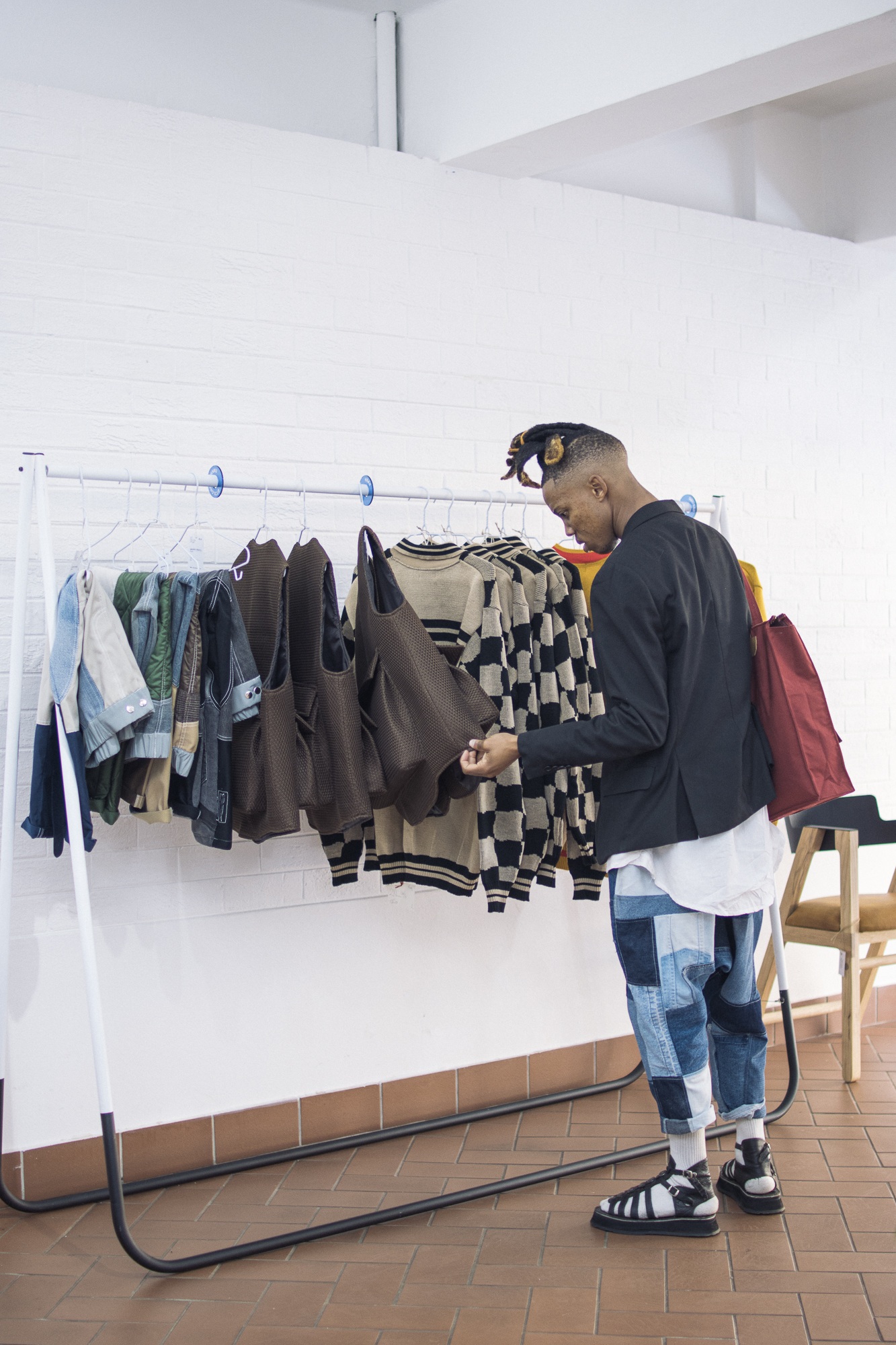 Images by Marc Hervé / @el.herve
Lemkus' Second Floor 
Jack Lemkus is an enduring and historic retail store in Cape Town with a deep sentimental value for many locals in the city. Established in the 1930s as a specialty sporting goods store, Lemkus is situated in the heart of the CBD in the iconic, art-deco 'Exchange Building'. Aside from the Lemkus retail store (online and in-store), the brand's vision is to align local design directly in relation to the international brands that they stock. The second floor is the crown on their multi-storey retail experience and has been a streetwear mainstay for the last few years, with its partitioned sections and freshly rotating array of brands. Known for some of the best activations and First Thursday parties, the newly renovated courtyard is home to Jack's Burger: Lemkus answer to the simplistic genius of the hamburger. Lemkus' vision merges the notions of community and creativity through the lens of retail, honing in on the synergistic, connective potential of hosting a physical space where people and ideas can proliferate.
Images by Calhoun Matthews / @calz6453
Garm
Garm is the brainchild of Ross Askew and Kamo Selane and was introduced to me by Tantaswa Amisi – Tiktok's fave African fashion voice. Ross and Kamo had both been on a journey to shop locally and curate their wardrobes in support of small-scale brands – but quickly found themselves realising the logistical and resource challenges that so many brands and designers face. Garm was conceived as their answer to this, and have set out to become Africa's top streetwear e-commerce platform with core services for start up brands. Rather than just stocking one's brand with Garm, to be part of Garm's network is to receive structural support from everything across the supply chain to in-house studio shoots. Founded on the premise of 'culture, convenience and creation', as Ross says, "we are incredibly optimistic for the future of South Africa and Garm is our way of communicating that. We provide a platform for startup brands to operate more professionally and equip them with the resources to better their customer expectations and their collections, overall. There is so much going on in the country and we want to showcase that." 
Garm is a dream come true for anyone setting out to contribute to South Africa's streetwear landscape. On the challenge of doing this, Kamo says "we had initial challenges in getting brands to understand what we were offering. We have made sure that Garm can assert itself as a force for good in the industry and that there is genuinely a space that wants to facilitate the success of local design." In chatting to Ross and Kamo, I am amazed by the grit and determination of South Africa's new wave of entrepreneurs. Both speak of their commitment to bringing back our notions of creativity and innovation to Africa; that South Africa, in particular, is truly where it's at. As they say, "We want African streetwear brands to be considered alongside the likes of Palm Angels, Off-White, Heron Preston, and Kith."
Find out how to join your brand with Garm here and shop their offerings here.
Images by Maverick Seizure / @maverick.seizure and Tyrick George / @rockstar.cr3
Broke  
Look, Broke has become the blueprint. The cult-followed brand and collective is more than just a brand – it's a vision, a prophecy and a mandate. The Broke Boys have almost singularly achieved streetwear, fashion and community ideals through a South African lens, as a playbook for everyone who comes after. 
Led by creative director and marketing genius, Andile Dlamini, Broke is set to open their highly anticipated 'Clubhouse' at 53 Wale St as their answer to a concept store and experimental site. If you know you know – Broke do it all – music, events, gatherings – you name it. The news of their own space has been welcomed with ecstatic response. Andile, alongside Broke's core members Sindiso Tshuma, Mzwandile Sithole, Akhona Beja and Simbongile Bino inaugurated 53 Wale St with a 'BROKE BOOT SALE', gathering their community in a frenzy on the street to get their hands on the emblematic 'B' cap that has come to define Broke's signature aesthetic. You know you're doing something powerful when all you need is the boot of a vintage BMW and a single product to get your collective moving. Now, the BOOT SALE is heading all over the country because Broke is a nation-wide phenomenon.
Images by Jonah Louw / @shotsby5ive_
AKJP 
Two of my financial goals are as such: that I can one day walk into AKJP and Giovanni's Deli and get everything I want without looking at the final bill. Situated on Kloof Street, the store is the home of local design as well as its eponymous in-house label. AKJP's manifesto reads, "AKJP Studio showcases a carefully curated, all-inclusive, contemporary selection of products, in order to create a unique exploration of modern designs. Handpicked products are pulled together from different brands and designers. These span from various lines, such as fashion, art, publications, homeware, ceramics, and beauty products. Concept stores are about discovery and experience. The products and design change regularly, to keep telling that story in new and interesting ways." 
AKJP's shop window is always home to a unique display often in collaboration with one of the designers or brands that they stock. Also, the visual merchandising is on a level of its own; I have never been to the store where something has not be changed, re-curated, reassembled – this is the highest articulation of a concept store and truly, in my opinion, one of the most important design spaces in South Africa.
Images by akjpstudio.com and capetowncityguide.co.za
Eku Collective
Abigail Merhar's Eku Collective and Studio is a thrifter's paradise. Central to Abi's own business as a curator and reseller of pre-loved clothing are Eku's iconic markets. As their manifesto reads, Eku is, "a community of fashion lovers who believe in the power of sustainable fashion. Our preloved clothing market events are just one way we bring together people who share our passion for unique fashion finds, great music, and delicious food and drinks. But more than just a shopping experience, Eku Collective is a movement towards a more conscious and ethical approach to fashion. We believe that fashion should be about expressing your individual style, without sacrificing the health of our planet or the well-being of the people who make our clothes. That's why we support preloved and reworked clothing, as well as local and independent designers who prioritise sustainability and transparency. Our community is made up of people who care about the impact of their fashion choices, and who want to connect with others who share those values." Thrifting is one of the beating hearts of South African fashion – and the perennially vintage tastes of Cape Town's coolest knows no bounds. Eku defines what it means to showcase thrifting as a community experience that facilitates a kinder, better way of living.