Blokecore is a term coined by Brandon Huntley on TikTok that uses the English slang bloke mixed with the perennially trendy 'core' suffix – a literary device that the internet is currently using to define – well, almost anything. The term explains the average British man's uniform that is heavily influenced by football as a subculture, generally composed of jeans, sneakers and football jerseys. Now, 'blokecore' or 'blockette' furthers this by including fashion girlies online donning jerseys with ballet flats or football shorts with Adidas Sambas. How this arose is hard to pinpoint, but I suspect it has something to do with designers like Wales Bonner being invited to design Jamaica's national kit and the nostalgia found in the intersection between fashion and football. Football is more popular than ever with competitions like the 2022 Men's FIFA Football World Cup being watched by around 1.5billion people and this year, our Banyana Banyana team making us proud at Women's FIFA world cup. In tandem with this, the seductive soccer trend 'Blokecore' is taking over the 'hashtag streets', seeing major influencers such as New York's Nick Ramos and Brandon Huntley leading the pack of this fashion movement. 
In our local context – we can start by looking into the stylish influence our own players had right here in Mzansi. From the iconic Jabu Pule serving Dennis Rodman realness with his unforgettable hairstyles or Shoes 'I make all the boys wanna loc it up' Moesheu or artist TKZee's SAMA award winning and iconic music video "Shibobo" – named after another iconic football move in which you pass the ball through your opponents legs; soccer steez is an ever-present expression.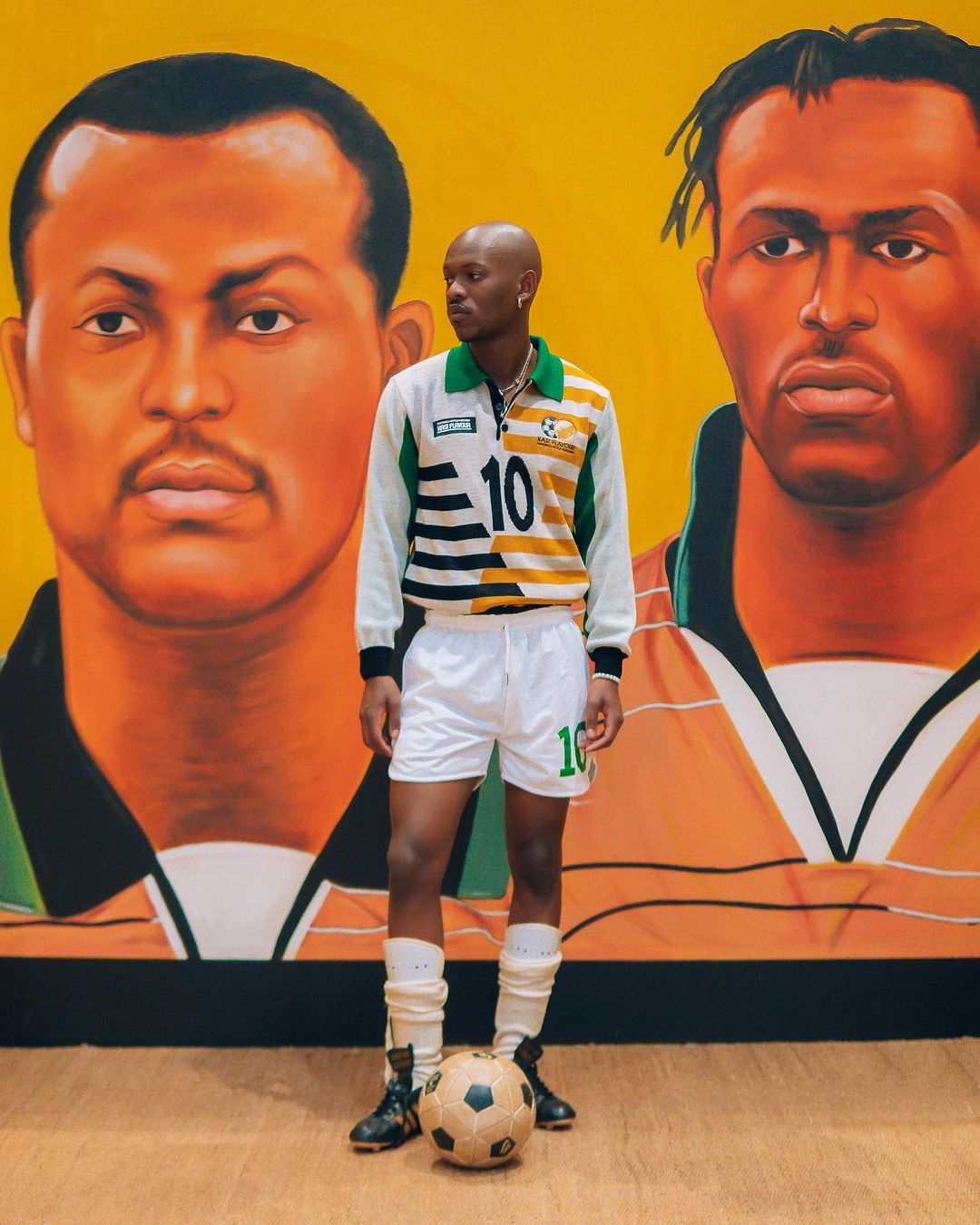 Images sourced from Instagram @KasiFlavour ft @1000xguluvakazi @rodeofeed_ & @1000xguluvakazi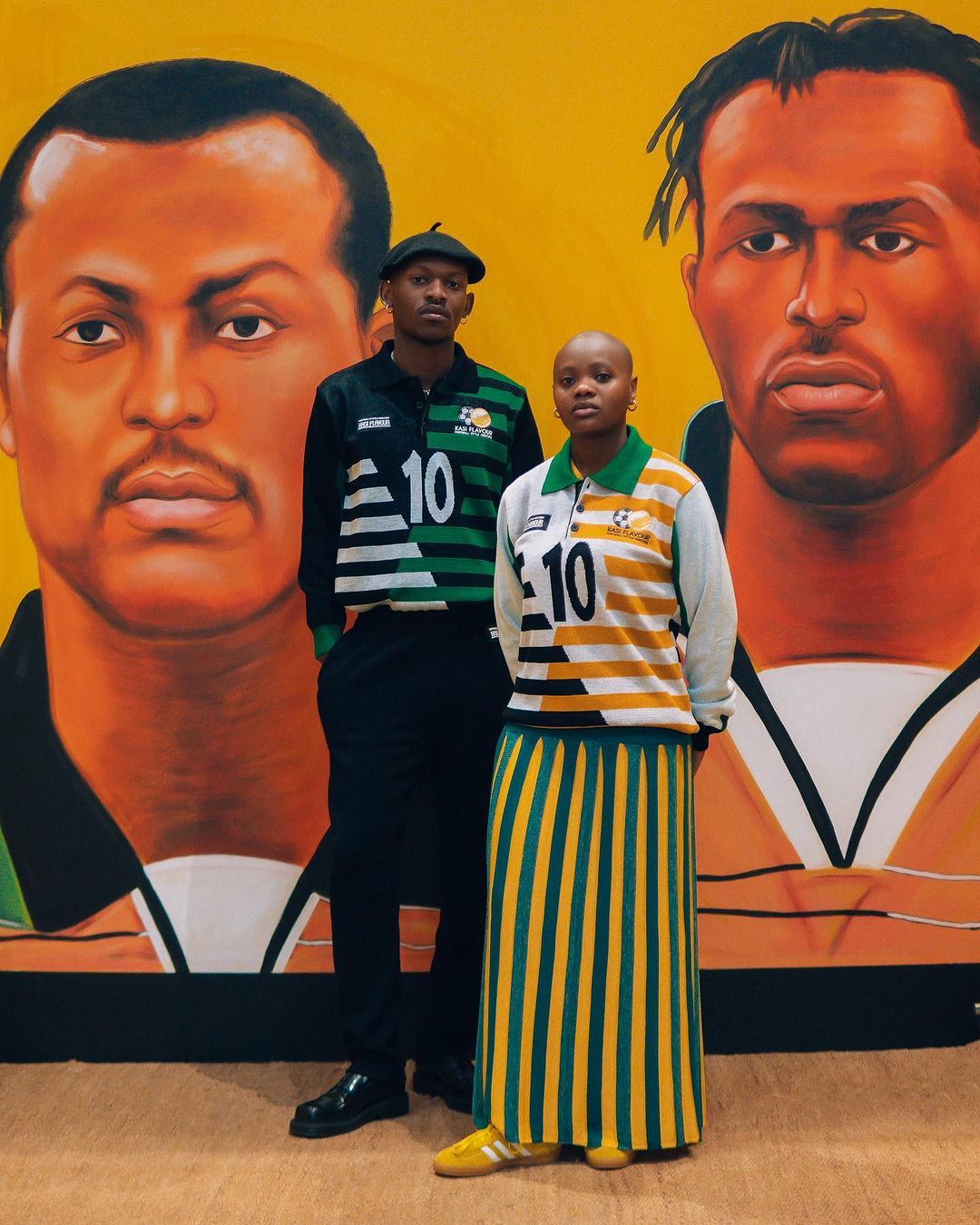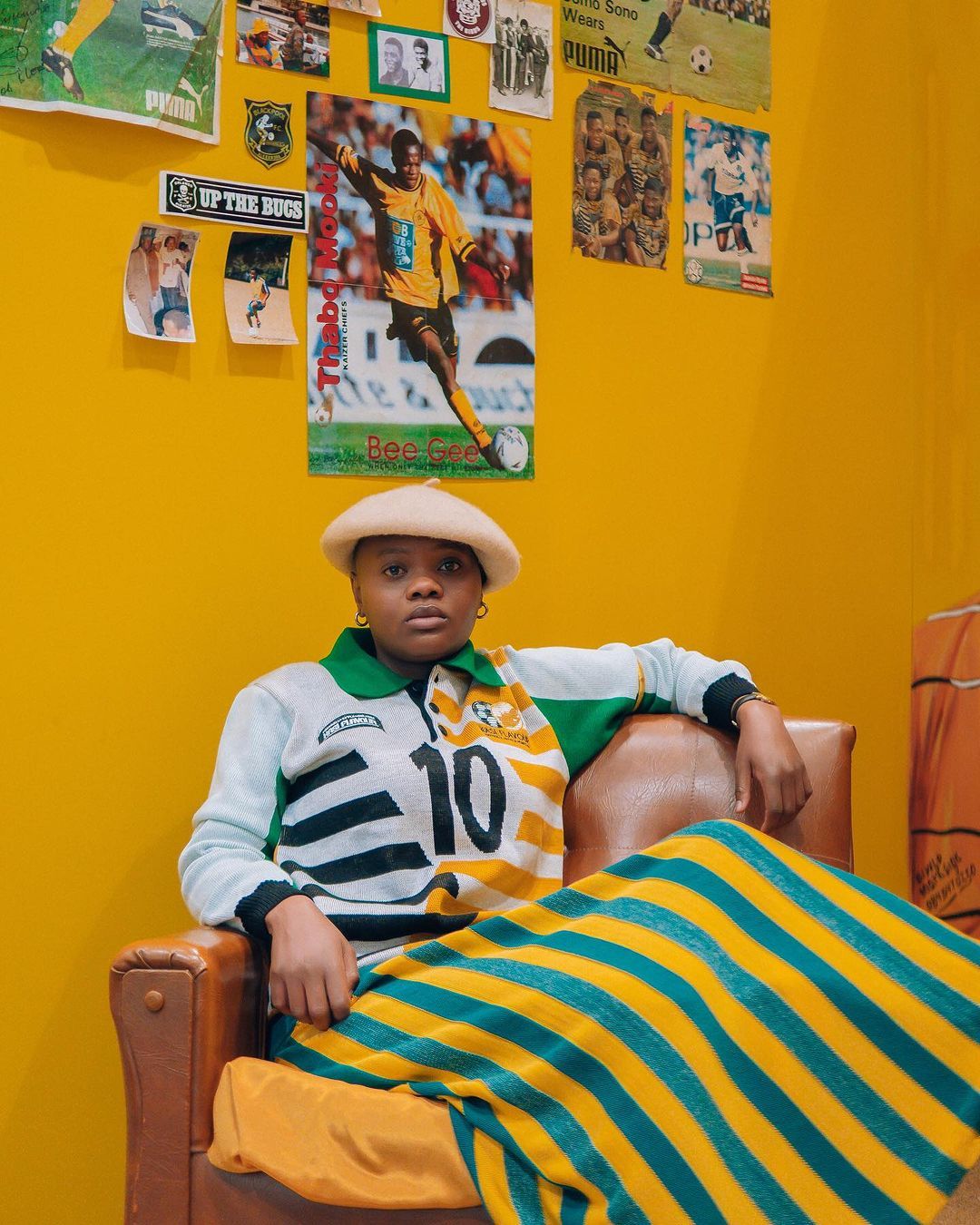 Then, the descendants of soccer legends like Shakes himself, with his son Kabelo Kungwane now serving us pure organic Kasi Flavour with nostalgic looks and feels, documenting the deeply rooted culture of us as a soccer nation. Kasi Flavour as an agency self-describes its mission, 'from the dusty fields and lively streets of South Africa's vibrant townships to the crisp, freshly cut, green grass of world-class stadiums, Kasi Flavour10 has transcended and reclaimed South Africa's football culture and heritage. Deeply rooted in South Africa's football history, Kasi Flavour10 bridges the gap between South Africa's past and present through archiving and preserving South Africa's football culture and legacies." The rich textures and design components of the prestigious Pelé era are undeniable and we see this both in Kabelo's archiving as well as with the latest mind blowing and effortlessly timeless Orlando Pirates and Thebe Magugu collection. Crafted from 100% recycled material, the internationally acclaimed designer – winner of the 2019 LVMH prize for young designers – made it a point to not only capture the history and essence of the team but more especially showcase innovation and sustainability within the world of fashion. 
From the pitch to Paris fashion week, how could it be surprising that the highest paying sport gets the highest fashion showcase? We saw this visibly manifested with Louis Vuitton's former creative director, the late and great Virgil Abloh. In 2018, he collaborated with NIKE to create a now fundamental line-up of OFF-WHITE soccer kits. 
Earlier this year, Pharell's Williams made his own Louis Vuitton Debut, dropping the first ever football kit by the luxury brand. Tech-wise the kit doesn't seem to be made for sport – I mean, who plays soccer in leather, right?  All that being said, one simply can't deny the influence that we see from football in street style fashion. 
Lest we forget that this 'new' trend was long foreshadowed years ago by some of the leading pioneers of metrosexuality (remember that term to describe men who just literally learned how to groom themselves?) David Beckham – who at the time was one of UK's highest performing football athletes – gracing every cover, campaign and billboard from the 1990s to the late 2010s. Beckham brought fashion and football together throughout his illustrious career on the field to the front row of Victoria's runway shows. We can follow this up with other fashion honey's like ex-Arsenal player Serge Gnabry and Brazil's 'bad-boy', Neymar, who have been fashion icons as much as sports heroes. We simply cannot forget Héctor Belleríne; the younger generation's inheritor of the fashionable footballers before him. The F.C. Barcelona and Arsenal fullback is a new iteration of a stylish football star, dubbed by Highsnobiety as 'The World's Best Dressed Football Star'. Héctor is so committed to his style that he made a pledge to only add secondhand and vintage pieces to his wardrobe as of 2021, as penned by i-D Magazine.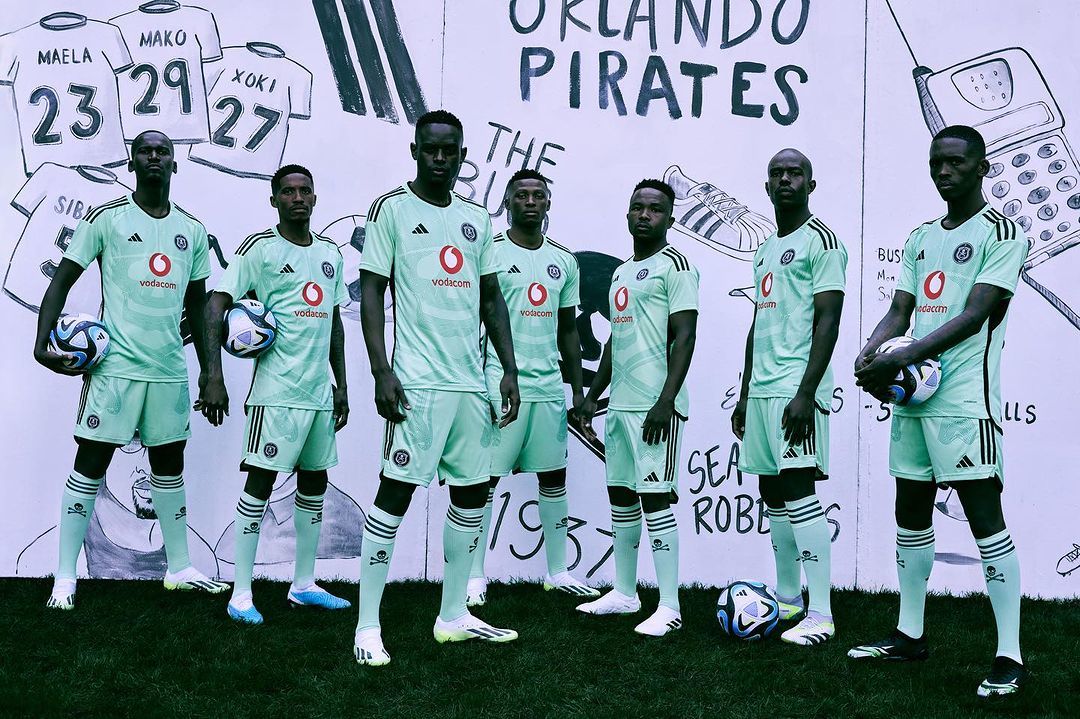 Thebe Magugu X Orland Pirates in partnership with adidas, campaign by Room Studio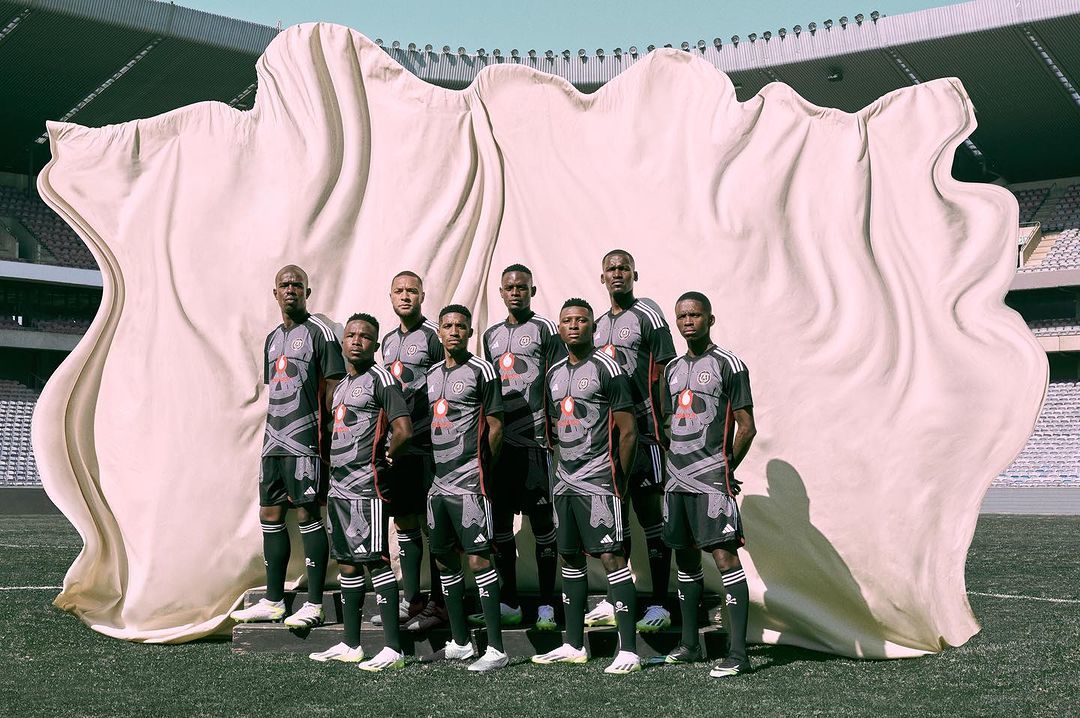 On this intersection between fashion and football, I called in an expert to help us take it all the way home. Thus enters, the oh so stylish Lethabo 'Boogy' Maboi – this is your favourite's fave fashion creative – a seasoned trendsetter for the stars with over a decade in the game. Boogy has worked with some of my personal favourite highlights such as  HHP, Riky Rick and Sampha the Great just to name a few. She eats, breathes and lives fashwan! Not only is she a dope stylist in South Africa, no no, but in all of Africa. Along with her many notable collabs with brands such as NIKE and Sportscene, who better to summon for a world class diski chat than this debonair diva? 
Boogy also inherited a home team. You know how they say you can't choose your family? Well depending on which part of the world you're from you can't necessarily choose your home team either. If your grandfather, nanny, ouma, and tannie are Brazil supporters then most likely one of your baby shower gifts was a miniature brazil soccer onesie. Similarly with Boog' she's a born and raised Kaizer Chiefs supporter and I – well honey…'UP THE BUCS FOR LIFE!' -and it's safe to say the kick off of our friendly chat was nothin less than your average Soweto derby – absolutely sensational. 
When asked about her thoughts on culture crossing collabs such as baseball, basketball and now football, Boogy simply says 'Fashion is like a circle, everything comes back and right now we're stepping back into that Pelé era. The classic, timeless pieces' Boogy also made a good point to remind us that 'it's really about where you're located, where you come from'. Honey, iDiski is obviously the sport and ever since one of it's most decorated players Lionel Messi former FC Barcelona player has moved to Inter Miami, well, it was only a matter of time before Hollywood caught the fifa fever. Making soccer moms out of the Kardashians and 'blokes' out of the valley girls and boys.
Q: After going all around the diski world I've finally decided to corner Boogy, asking her for her personal soccer selections?
I'd go with an Adi cole tracksuit, the Wanda x Thebe collab because I love representing local talent everywhere I go. I thoroughly believe in bringing not just myself when entering certain spaces and uhm Marti rose Nike shocks. 
Q: When asked to pick between the new FentyxPuma avanti versus classic Adidas wales bonner samba sneakers, Boogy quickly interjects, saying: 
No no no why would I even choose? I'm definitely the type of person to wear one of each. They're not even the same shoe,  yet they stem from the same influences but like why can't I have both? 
Q: Lionel Messi has recently started his own clothing brand specifically targeting teenagers and young adults. What are your thoughts on soccer stars using their stardom to infiltrate the fashion industry with next to zero or no qualification? 
Well I say go for it, I didn't study for what I do. I've done my 30 000 hours. I was a nobody for like ten years, working my butt off. So practically one could say I have a masters or an equivalent of that with the amount of experience I have. So I say go for it, school doesn't equate to ability. 
I for one am personally happy to revive the retro football feels of yesteryear. it's giving sports-day is any-day and as a professional spectator – I live! Safe to say fashion in football has always been a fixture, no denying, but now football is fast and undoubtedly making its mark in fashion. So stay game day ready my loves, chat soon. 
For further reading:
The Rise Of Blokecore: The football inspired style trend
JOIN THE CLUB – Embracing fashions current obsession with football 
The Beautiful Game – How football changed fashion forever 
A special thanks to Lethabo Boogy Maboi for taking the time out to geek out with us. You are wise beyond your years honey, may you continue to score big in all the shots you shoot!
You can follow Lethabo's work on instagram on @styledbyboogy. You can also follow her on Facebook under Styled by Boogy.
Written by: Thandiwe Magwaza