Did you know that most of the world's diet consists of just 18 products, between crops and animals? This is what Chris Langwaller of WhatIF Foods said in conversation with WGSN's Food and Beverage director, Jen Creevy, on WGSN's 'Create Tomorrow' podcast, saying that "the planet loses arable lands the size of 20 to 25 soccer fields every minute. Today, 12 crops and five livestocks (beef, chicken, pork etc)  are used to make more than 75% of all food that is being consumed, which is an insane consolidation." I had heard similar things in the past, but to hear the nuts and bolts of our globalised food system distilled down to two features – the lack of diversity in what our food system actually produces and that soil is degrading across the planet – was poignant in both its simplicity and horror. 
The glaring persistence of food insecurity in many regions underscores the need for a rapid and effective systemic overhaul. Food insecurity occurs when people lack consistent access to enough nutritious food to maintain an active and healthy life, manifesting as uncertainty about the availability of food, limited food choices, or inadequate food intake due to financial constraints. The global food supply chain faces multifaceted challenges and our food system requires transformation into a more equitable, sustainable, and conscientious entity with the aim of nourishing both people and the planet. How do we do this? Well, we begin at home. Seeking out perspectives within South Africa's local context (particularly my vantage point in Cape Town), I wanted this piece to serve as simultaneously hopeful as it is informative. 
The global food system, despite having the capacity to nourish the entire world population, confronts a stark paradox in the form of widespread food insecurity and hunger. The global food system's focus on profit-driven agricultural practices and unequal distribution often leads to overproduction of certain products, while neglecting the nutritional needs of communities – and this system also faces rapidly increasing issues like climate change, soil degradation and waning resources like water.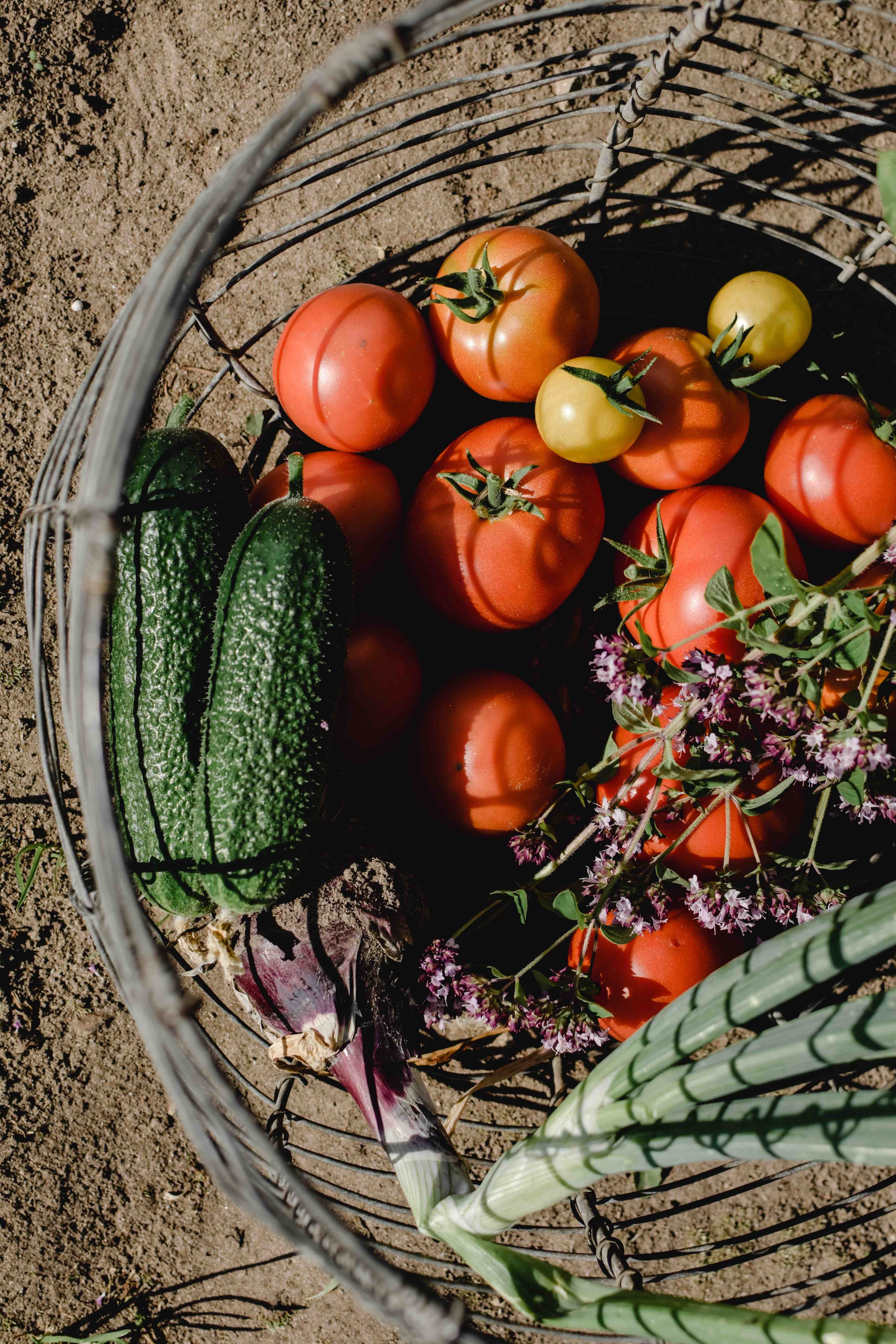 Image by Eva Bonzini courtesy of Pexels.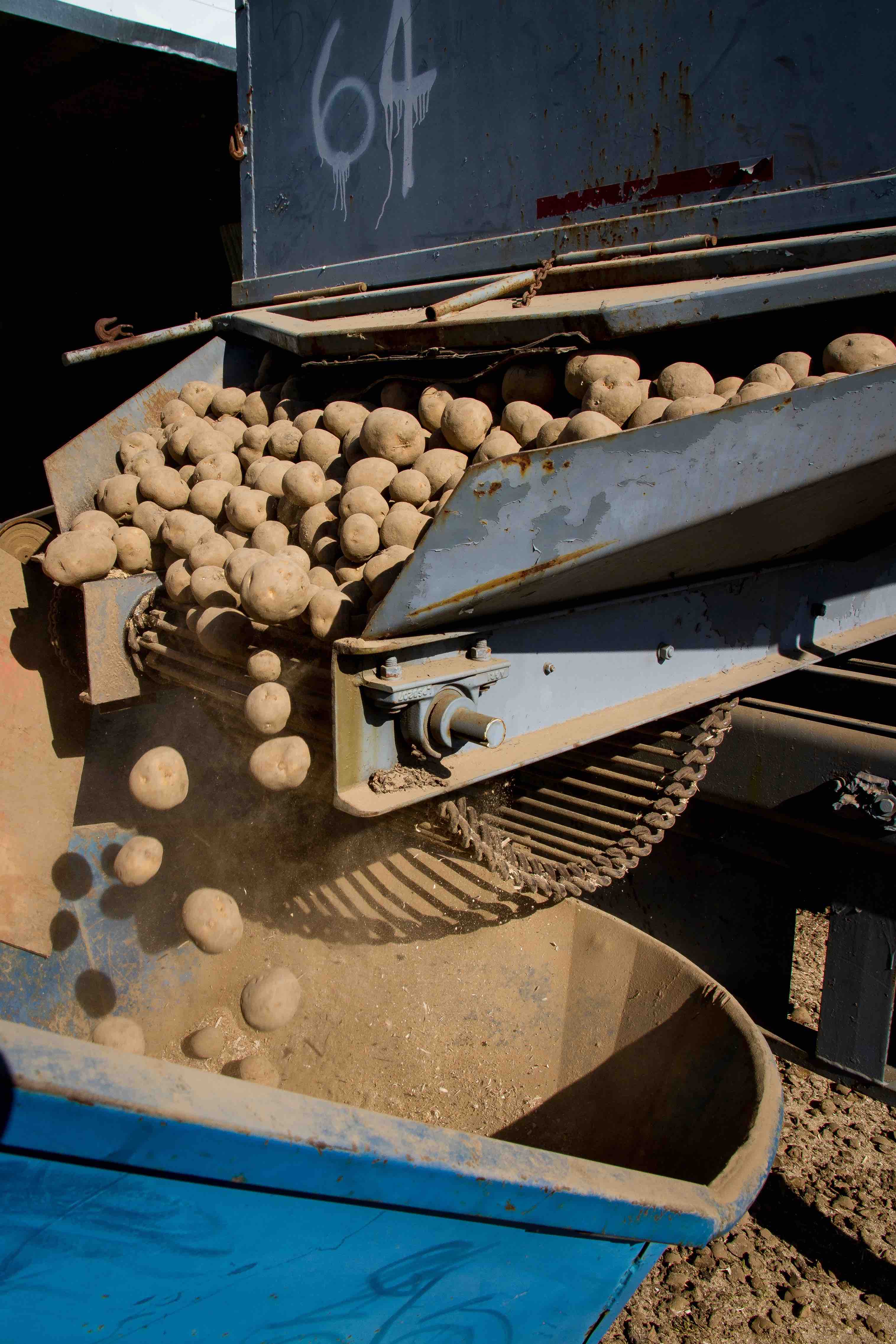 Image by Mark Stebnicki courtesy of Pexels.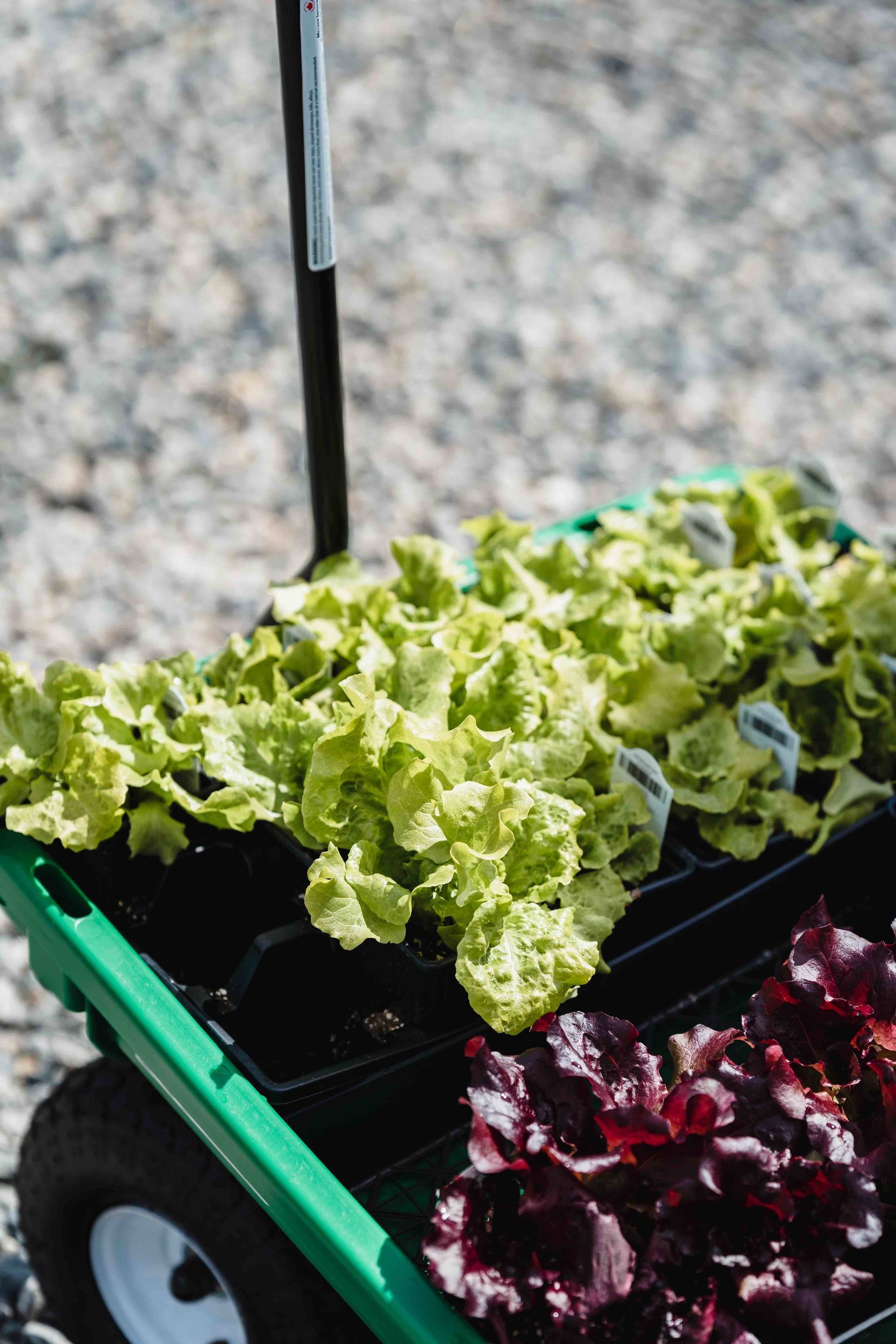 Image by Greta Hoffman courtesy of Pexels.
Going back to Chris Langwaller's statement, the idea that we consistently abide by a mere 18 foods to make up ¾ of our food system is exceedingly worrying as it simply does not reflect the local, indigenous means of nourishment that have existed in every region of the world, for as long as humans have been eating. This staggering fact also indicates an erasure of our global food cultural diversity, as 18 overarching products cannot account for the rich tapestry of food choices and traditional agricultural practices. The relentless rise of fast food and processing on an industrial scale marginalises and often obliterates culturally significant cuisines, posing a threat to the rich tapestry of culinary heritage and identity. This is perhaps why cultural heritage within cooking has become a matter of principle and mantle which many chefs have taken up; I think of Jes Doveton and Jemma Styer's Acid Food and Wine Bar in Joburg with its South East Asian influences drawn from Jes' Thai heritage, or Chef Mmbatho Molefe's Zulu-inspired fine-dining at Emazulwini Restaurant in Cape Town. Using the format of a restaurant to educate and enrich people's perceptions about the possibilities of diversified, incredible cuisine is critical. 
In tandem with these social concerns, the environmental toll of the unsustainable global food system looms ominously. Practices such as monocropping (think of  massive farmlands dedicated to the production of a single crop) require rampant pesticide use and this leads to deforestation and soil degradation that exact a steep price on the environment. The consequences are evident in soil erosion, dwindling biodiversity, water pollution and the exacerbation of global greenhouse gas emissions. These environmental issues also carry profound economic implications, including the prospect of long-term ecological damage (which we are already experiencing, given that in July 2023, we recorded the hottest day in over 100 years) and the mounting costs of mitigation and adaptation if we are unable to enact rapid and profound change.
Culinary-minded design studio, Studio H, are at the forefront of these issues within their practice. Weaving together forecasting, design, experiences, experimentation and collaboration, the team responded to The United Nations declaring 2023 the 'International Year of Millets' with their incredible Millet Report. This nutrient-dense, wholegrain, indigenous to South Africa, is worth considering in our all-too-westernised, wheat hysteria mindset. As the Studio H team said, "we embrace the role of food futurists and we consistently observe a global culinary landscape that evolves in response to social, cultural and environmental developments. For the Millets Report, we took the opportunity to delve deeper into this ancient grain that is indigenous to South Africa, and that has the potential to play a major role in addressing climate change and food security. The report dives deep into the fascinating world of millets and is a compilation of contributions by some of South Africa's leading culinary minds, including chef and food activist, Mokgadi Itsweng, dietician Mpho Tsukudu, food editor and recipe developer Khanya Mzongwana and food anthropologist Dr Anna Trapido, amongst others."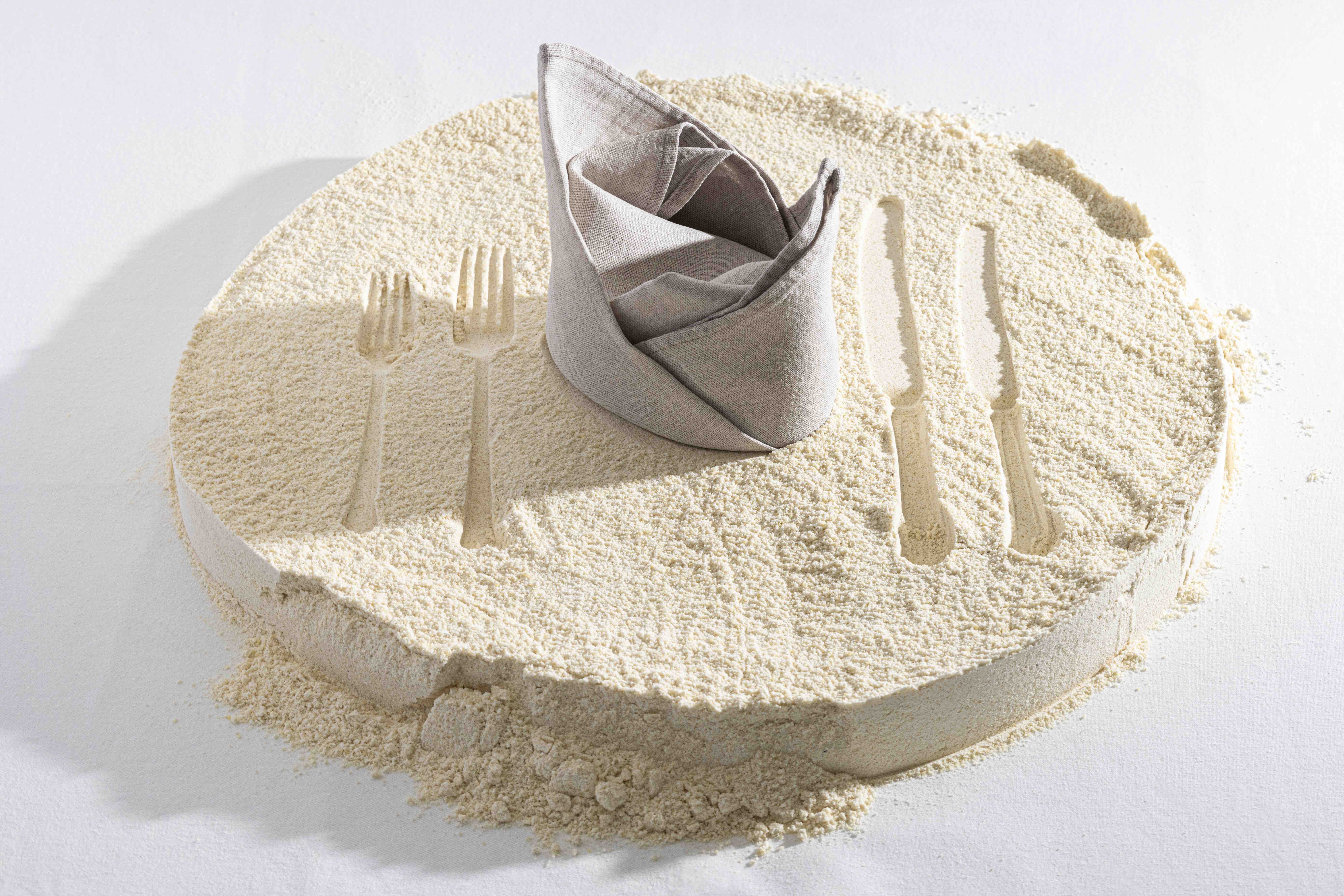 Table Scapes in Millet Flour by Hendrik Coetzee, Photographed by Daniela Zondagh for Studio H Millet Report.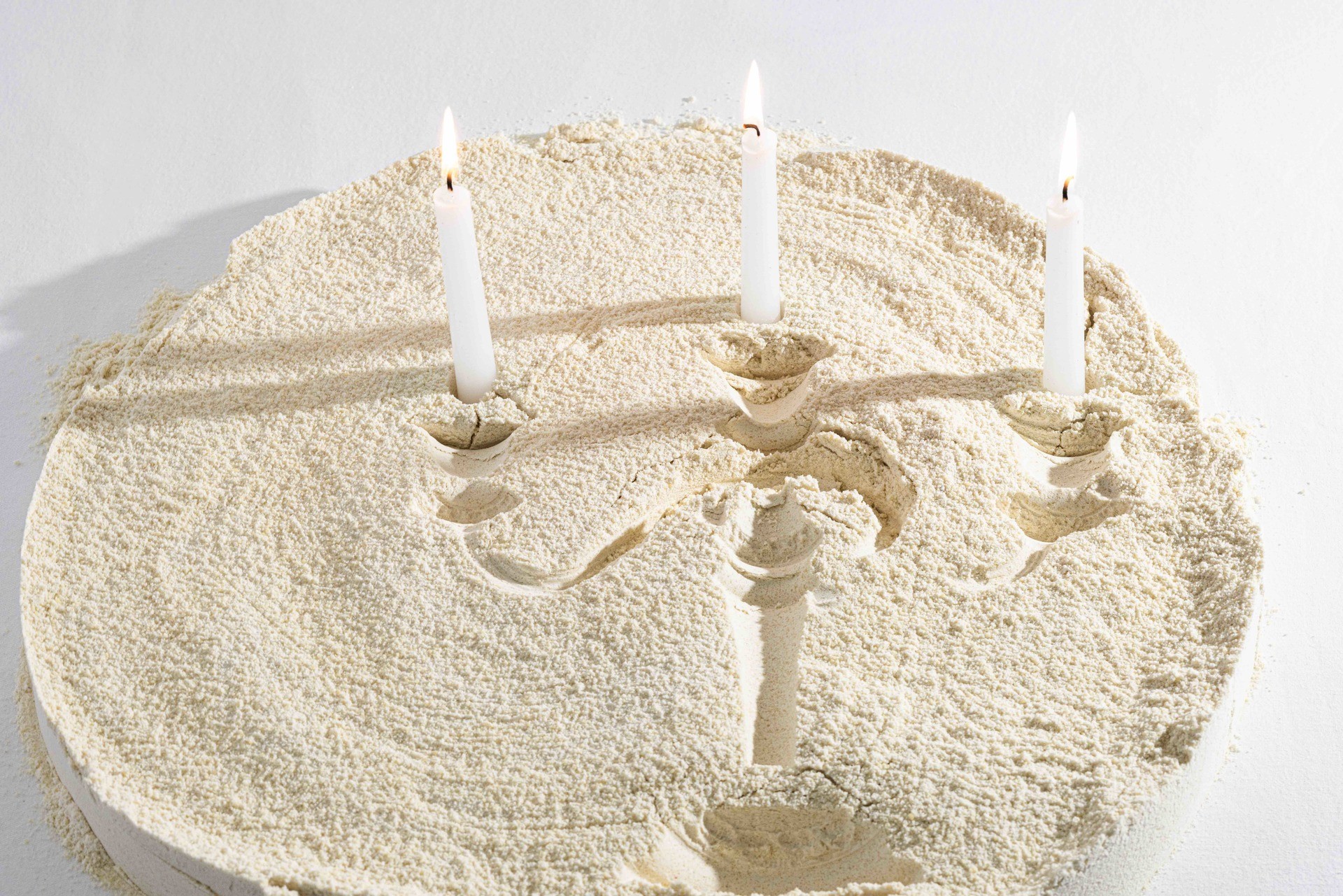 I was lucky enough to experience the profundity of this grain through the hands of Chef Mbatho of Emazulwini Restaurant and Studio H, at a lunch celebrating all things millet. Chef Mbatho created a dauphinoise out of millet among so much more; this kind of innovation, through Chef Mbatho's isiZulu context makes manifest the future we could be aiming for. I asked the team at Studio H what putting together the report has shown them about the potential futures of food, to which they said, "we understand that we can only affect change through collaboration with fellow experts who share our passion,and by sharing personal stories that resonate with people's memories that also captivate those who may never have used this ingredient before. South Africans are incredibly passionate about our shared culinary heritage and are excited about the remarkable potential of millets. In this pivotal Year of Millets, we are excited to contribute to the growing appreciation of indigenous foods and look forward to a future where these culinary treasures are widely celebrated and accessible to all."
Within the domain of agriculture, another critical issue arises – economic and social inequality. Dominated by powerful agribusinesses and multinational corporations, the global food system perpetuates a stark power imbalance. Local, small-scale farmers and food producers often grapple with an uneven playing field, fostering economic disparities within the agricultural sector. On this matter, I sought out Zayaan Khan – seed, soil and land activist, multi-disciplinary practitioner and daughter of the Western Cape. Attending one of Zayaan's workshops is one of the most precious gifts you can give to yourself and your loved ones, with Zayaan's incisive and deep advocacy for the future of food and the earth standing as a titanic contribution to South Africa's past, presence and futures. On whether she feels any issues are salient to note in South Africa's food system, Zayaan says, "forefronting social equity is still something that most enterprises and collectives struggle with, and we continue to build business and model success on antiquated colonial paradigms which do not foster generative care or ensure affordable, culturally appropriate food for all."
We are poised for a sustainable revolution. Technology features heavily in every aspect of our lives and innovations currently driving a sustainable food system include precision agriculture, a system which deploys technology like sensors and drones to enhance resource management and reduce waste. Beautiful innovations like vertical farming alongside buildings utilises controlled environments to save space, water, and pesticides while enabling year-round urban crop cultivation. Last year, Kenilworth Centre launched their hydroponic rooftop garden. In partnership with Mr Price Foundation, Redefine Properties, and Fresh Life Produce, the garden grows spinach, coriander, tomatoes, spring onions and more, which are sold at farmer's market hosted on the roof during harvesting. The shweshwe fabric-adorned hydroponic space remedies an exciting future for shopping centres and urban spaces in South Africa.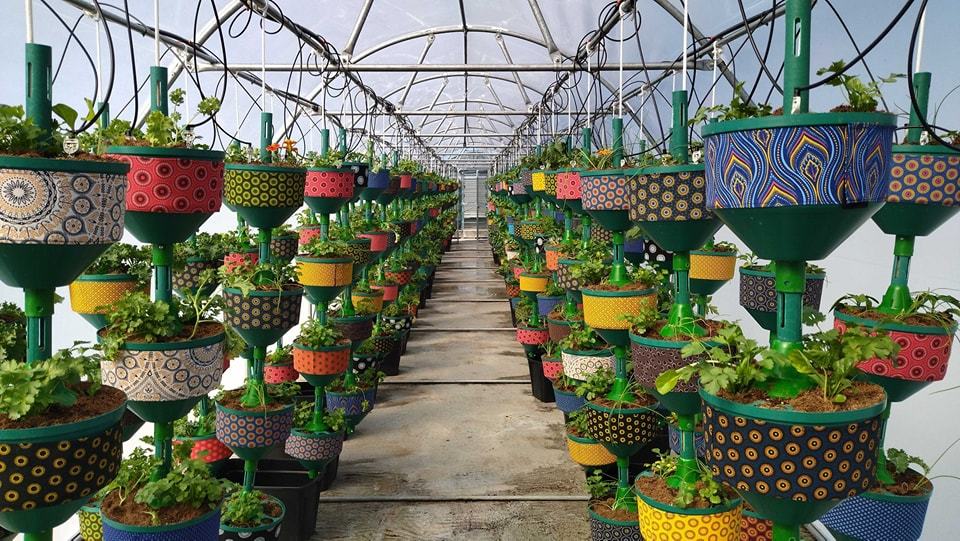 Kenilworth Centre hydroponic rooftop farm.
Then, global companies like TraceX are using blockchain technology to ensure supply chain transparency, fostering trust and ethical food production – in which there are real time and place stamps for the lifecycle of foods in the supply chain. Other innovations like biotechnology are advancing alternative proteins like plant-based and cultured 'lab-grown' meats, addressing resource inefficiencies and animal welfare. Smart food packaging with sensors enhances food safety and minimises waste by alerting consumers to consume items before spoilage. As the Studio H team says "technology stands as a pivotal ally in our pursuit of sustainability, with precision agriculture and traceability systems minimising resource usage and enhancing food production efficiency. Knowledge sharing and education on indigenous crops and practices are now paramount, catering not only to adults but also to our future generations of farmers, chefs, and food advocates. And in this critical moment, heightened awareness of the imperative to curtail food waste across the entire supply chain is transforming innovative ingredient repurposing from a culinary art into an everyday way of life."
One of the best examples I have seen of food sustainability intersecting with technology is the work of ABALOBI. Their mobile app and program is designed to support small-scale, artisanal fishing communities in the country. The program aims to empower these fishing communities by providing them with a suite of tools and resources to improve their livelihoods by connecting fisherman, their daily catch directly with customers such as restaurants. Encouraging subsistence-scale fishing, intrinsic to communities on South Africa's coastline, ABABLOBI describe their vision "to develop thriving, equitable, climate change resilient and sustainable small-scale fishing communities globally,  through inclusion, social entrepreneurship and a data-driven approach to fisheries rebuilding. We are a fisher-led enabler, intermediary and accelerator. Our technologies and programmes poise small-scale fishers for social, economic and ecological sustainability. We believe in participatory fisheries rebuilding and future-proofing strategies that consider ocean life and livelihoods."
Non-regenerative practices in farming are composed heavily of waste and overconsumption. This is not even to mention the significant quantities of food are lost at various stages of the supply chain, from production and distribution to consumption. I ask Zayaan whether within her practice, that centres around land and food sovereignty, can she see technology informing the preservation or amplification of both, if at all? Zayaan replies, "In some cases technology can be very supportive and create accessible systems yet we have yet to see this enough. The majority of technology based solutions often create more expenses and more exclusivity while purporting to be fostering care for people or the environment and it does not in fact do this. A lot of this technology is basing itself as a solution to ecological crises while being outside of ecological systems almost entirely, and not engaging in the very real, constantly changing environments."
On the question of how food trends are emerging with sustainability in mind, the Studio H team observed that "we are witnessing a profound shift towards Anthropocene cooking, where visionary projects are emerging to navigate our constant climate crisis. Researchers and designers are challenging traditional eating habits and Western food taboos, drawing inspiration from centuries-old African diets, rituals, and habits, encompassing everything from insect consumption to plant-forward cuisines. Africa is poised to lead us into an edible future, offering a blueprint for sustainable sustenance." The Anthropocene refers to our current geological epoch, in which 'Anthros' (human beings) yield unprecedented and unparalleled effects on the environment.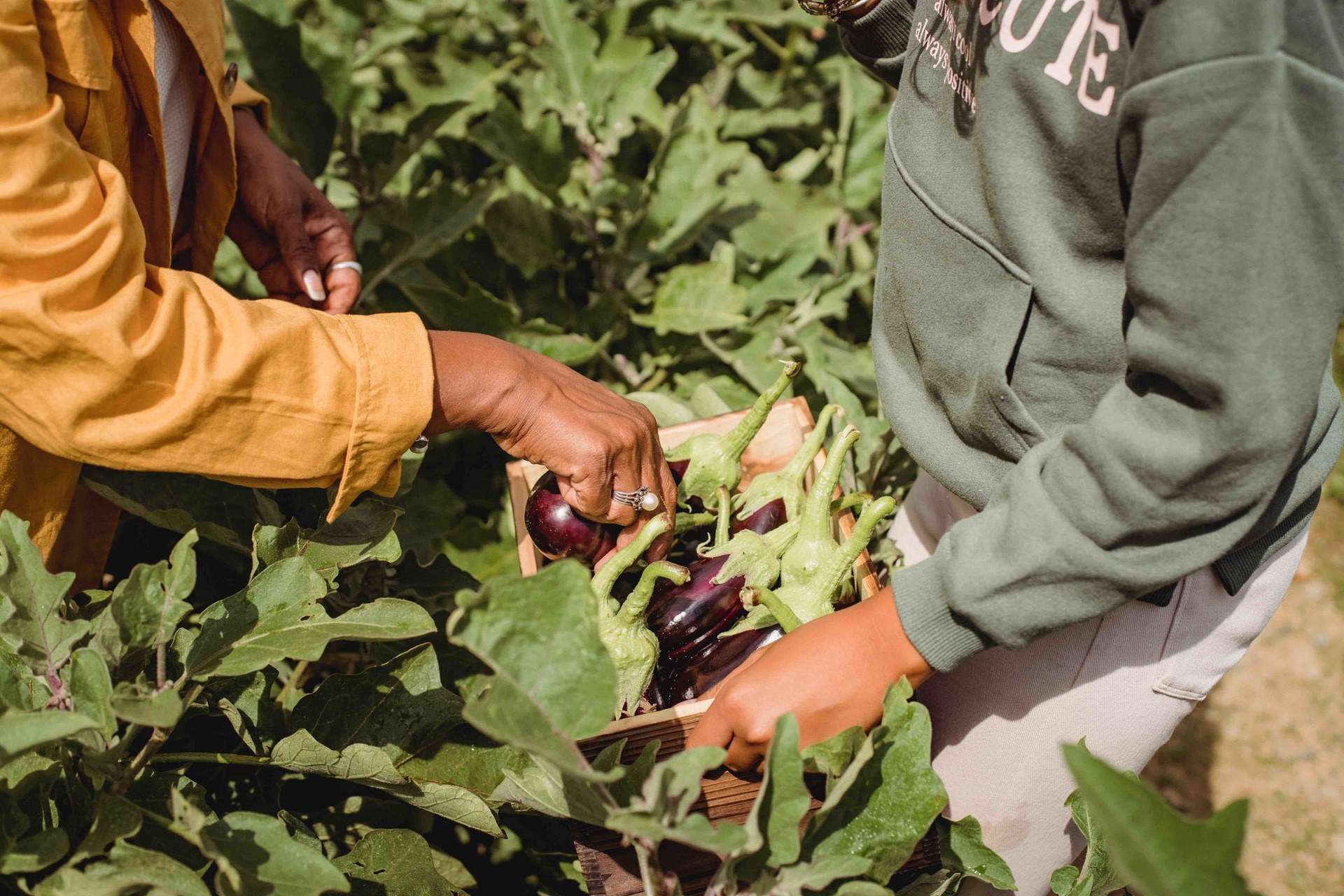 Image by Zen Chung courtesy of Pexels.
Anthropocenic cooking was explored profoundly by Zane Cerpina and Stahl Stenslie in their book 'Anthropocene Cookbook', in which they investigate how art, design and science can be transformed as culinary-responses to future catastrophes, citing that "these more than sixty projects propose new ways to think and make food, offering tools for creative action rather than traditional recipes. They imagine modifying the human body to digest cellulose, turning plastic into food, tasting smog, extracting spices and medicines from sewage, and growing meat in the lab. They investigate provocative possibilities: What if we made cheese using human bacteria, enabled human photosynthesis through symbiosis with algae, and brought back extinct species in order to eat them? The projects are diverse in their creative approaches and their agendas—multilayered, multifaceted, hybrid, and cross-pollinated. The Anthropocene Cookbook offers a survival guide for a future gone rogue, a road map to our edible futures."
Many years ago, I did some volunteering for Abalimi Bezekhaya meaning 'Farmers of the Home' in isiXhosa, a non-profit organisation based in Cape Town, South Africa. Their primary mission is to promote urban agriculture and food security in under-served communities. By establishing and supporting community gardens the organisation assists in enabling residents to grow fresh produce for improved food security. Abalimi offers training in sustainable farming, facilitates market access for gardeners and emphasises sustainable practices – which are already typically inherent to subsistence farming. I shadowed Ma Bokolo, who has since moved back to the Eastern Cape after 16 years as an urban farmer in Philippi. I will never forget Ma's ritual after about 3 hours of working in her garden; we would eat our lunch and then have a thirty-minute nap in the old bakkie parked adjacent to her plot. This, beyond all technological pursuits, is the essence of being alive and tending to our nourishment. With so much going on in the world and the continued hybridization of our lives with technology, I think of pulling out carrots from the soil, filling a basket with beautiful food and the importance of rest. I hope we find the regeneration that our planet so desperately needs. 
Further Research:
Abalimi Bezekhaya's Resources for Starting a Garden
ABABLOBI's App + Shop 
Zayaan Khan's Writings and Work  
Studio H's Millet Report
Living Roots Social Enterprise Nursery and Services
Meuse Farm in Hout Bay
Harvest Club: Purchasing With Your Neighbourhood Directly From Suppliers