VIVIERS, the South African fashion house, unveils their concept-driven fashion experience at South African Fashion Week (SAFW). With the debut of their SS24 fashion film 'Re-Trace, Re-Memory, Re-Set, Re-Culture,' VIVIERS highlights their unwavering commitment to the South African fashion landscape and their larger vision of fostering a homegrown African fashion community and clothing industry.
Having emerged on the SAFW scene through the Fashion Bridges Program in April 2023, VIVIERS returns to SAFW, reinforcing their dedication to the local fashion industry and their aspiration to create a thriving African fashion community. This is not merely a showcase of garments; it's a statement of purpose.
"Through a collective and creative hybrid space called 'Hub-of-The-Hand," VIVIERS collaborate with numerous South African Artisans, using South African raw material like Cape Wools, South African Mohair, Ostrich products, Gold and Diamonds and South African Leather, with the idea to further promote the South African clothing, textile and luxury Industry, as well as preserve South Africa's heritage of craftsmanship. 
"Through visualisation and co-emergence, we aim to contribute and to establish South Africa as an Eco-Hub or destination for Supreme Craftsmanship in Luxury manufacturing; a country that leads with its slow and Conscious approach. Showcasing our collection not only on a global platform such as Milan but also within SAFW in Johannesburg is a pivotal element of our commitment to this initiative" said Lezanne Viviers, the creative director and founder of VIVIERS. "This also give me a unique opportunity to edit and change the styling of my collections to respond to future of these two different platforms, as every iteration opens up the collection to a different audience."
Indeed, VIVIERS recently presented their artisanal capsule collection SS24 'Re-Trace, Re-Memory, Re-Set, Re-Culture' as part of the official Milan Fashion Week, marking their second live event in a year, following their digital debut in September 2022.
The SS24 fashion film, 'Re-Trace, Re-Memory, Re-Set, Re-Culture,' serves as a unique canvas, offering a glimpse into the soul of VIVIERS' SS24 collection. It's not just a film; it's a conceptual statement.
'Re-Trace, Re-Memory, Re-Set, Re-Culture '– VIVIERS 'SS24 Fashion Film: was conceptualised by Lezanne Viviers and brought to life by her long-time friend and photographer, Eva Losada, 'Re-Trace, Re-Memory, Re-Set, Re-Culture' is more than a fashion film; it's an investigation into our collective history and shared Origin Stories. Exploring universal myths, legends, archaeological discoveries, astrology, visionary philosophy, and spiritual truths, the film is a patchwork of human experiences. From the Crystal Skulls to the Phoenix, from Plato's 'Allegory of the Cave' to Baba Credo Mutwa's thoughts on ancient Gold astronauts, VIVIERS contemplates the potential for transformation and cultural redefinition. The stories in the film transcend borders, cultures, and religions, acting as bridges between our quest for truth and the interplay between the physical and metaphysical realms. The film embodies a vision of art and clothing as conduits for unity, connecting our shared history with our vision of a harmonious future.
Lezanne Viviers sums it up beautifully, saying, "All-is-One. The idea of co-existence, co-emergence, symbiosis, and our shared Earthly Re-Birth: Unity in Individuality, rather than separation." Indeed, VIVIERS chose to hold the release and premiere their fashion film at SAFW, as the audience has a very clear insight and understanding of the sacred African sites chosen as the location. It felt right to premiere it to a local audience and the local team that created it, before it gets broadcasted internationally, because of its cultural significance. The stage design of SAFW and technical screens also lends itself to screen the film, with a full captivating audience.
The film, directed by Eva Losada, offers a poetic, atmospheric, and surreal journey through fragmented narratives. It creates a visual and emotional experience, and Eva's unique style is also evident in campaigns she has shot for VIVIERS.
The film was shot at two sacred sites – The Cradle of Humankind and Waterval Boven in South Africa. These sites were chosen for their cultural and spiritual significance in our shared origin stories. The Origin Center in Maropeng, The Cradle of Humankind, is one of South Africa's nine World Heritage sites, housing archaeological treasures like Mrs. Ples, Little Foot, and Homo Naledi. Waterval Boven is the epicentre of South African Stone Circles and home to remarkable sites like Adam's Calendar, aligning with the stars and Sacred Geometrical patterns. Alessandro Gigli, with his cinematic soundscape, draws inspiration from the resonance of rocks and ancient instruments. This soundscape transforms time into crystalline sounds and ancient memories into present-day experiences, creating an auditory journey into our past, present, and future.
'Re-Trace, Re-Memory, Re-Set, Re-Culture '- VIVIERS 'SS24 Fashion Collection: The Unity of Past and Future. The collection conveys the 'idea of unity in individuality,' through VIVIERS's inclusion of a very diverse cast, but also by the continues collaboration with many South African artisans and the continues use and inclusion of South African raw materials in the making of 100% South African made garments. This theme of unity in creation and collaboration is the core message of the film and the collection. VIVIERS' SS24 Runway show at SAFW is a fusion of their artisanal collection showcased in Milan and their first ever ready-to-wear line. This collection is about more than fashion; it's about accessibility and sustainability. Collaborations with Crystal Birch, Europa Art, and Cape Cobra reflect a commitment to responsible South African fibres and materials like Ostrich leather, Merino Wool, and Mohair. These materials create clothing that transcends time and blends beautifully, promoting responsible luxury raw materials from South Africa worldwide.
Crystal Birch's hats are created in the same collaborative spirit and approach to working with local craftsmen championing local production for global locations. Preserving the art of millinery; while simultaneously re-introducing us to the inherent power that only the hat can hold for completing a look, Birch's power lies in her rare ability to elevate hat-making as effortlessly contemporary. Cape Cobra Leather goods are a third-generation, South African-family run business, with a long legacy of manufacturing bags for luxury fashion houses around the world, using exceptional local artisans, gives Cape Cobra Leathercraft's pieces their elegance and depth as heirloom investment pieces, investing in the heritage of the past, combined with meticulous moments spent in the present.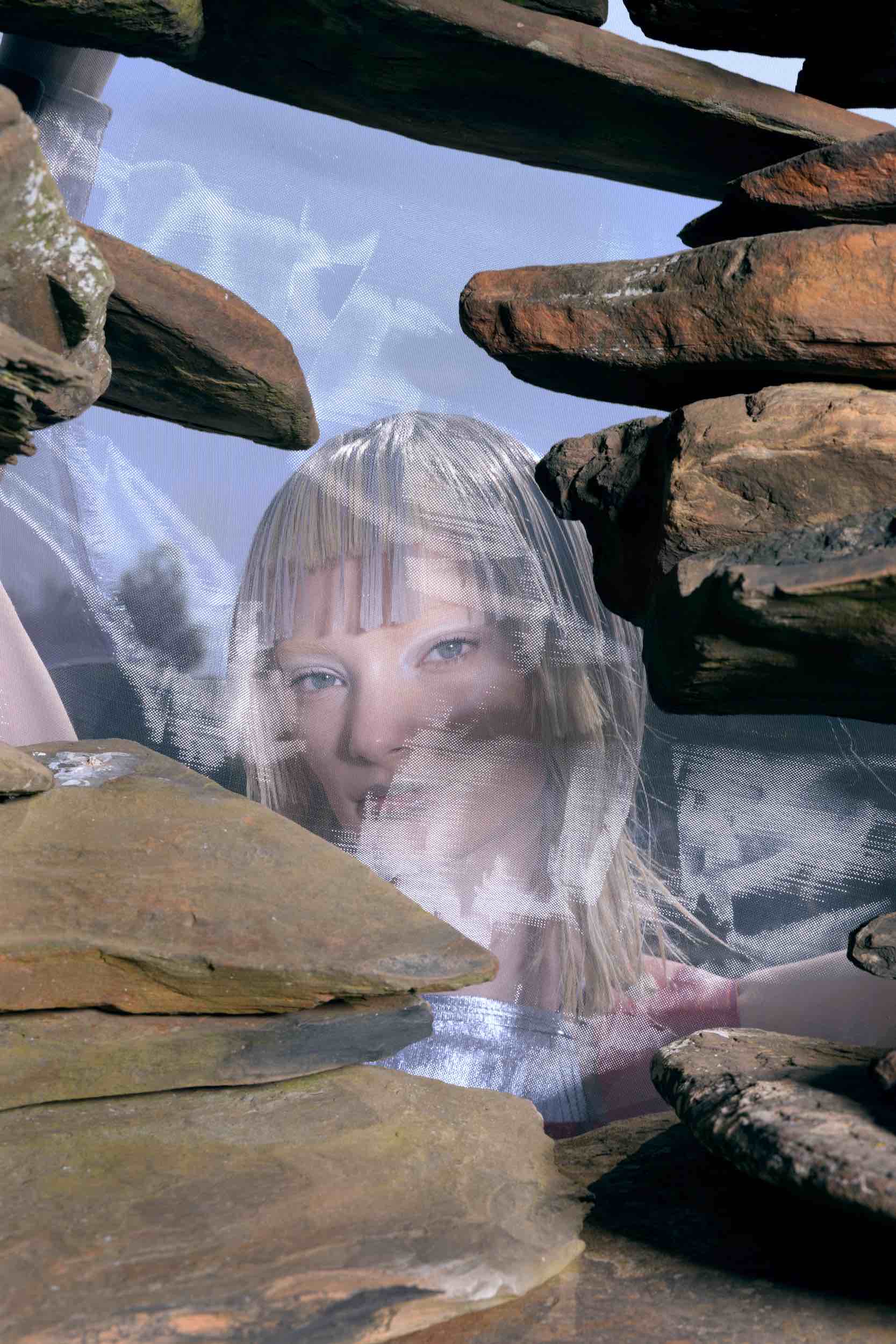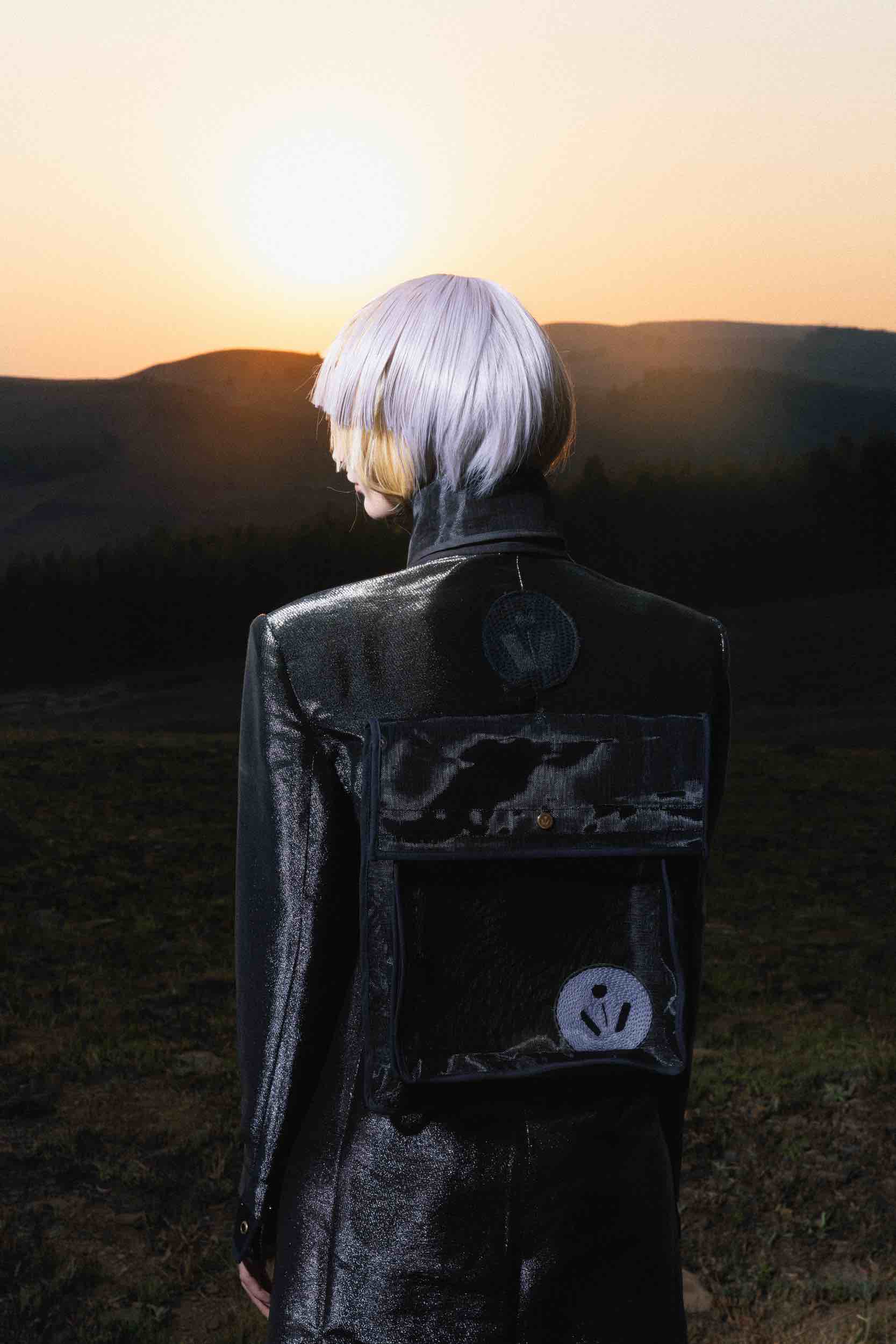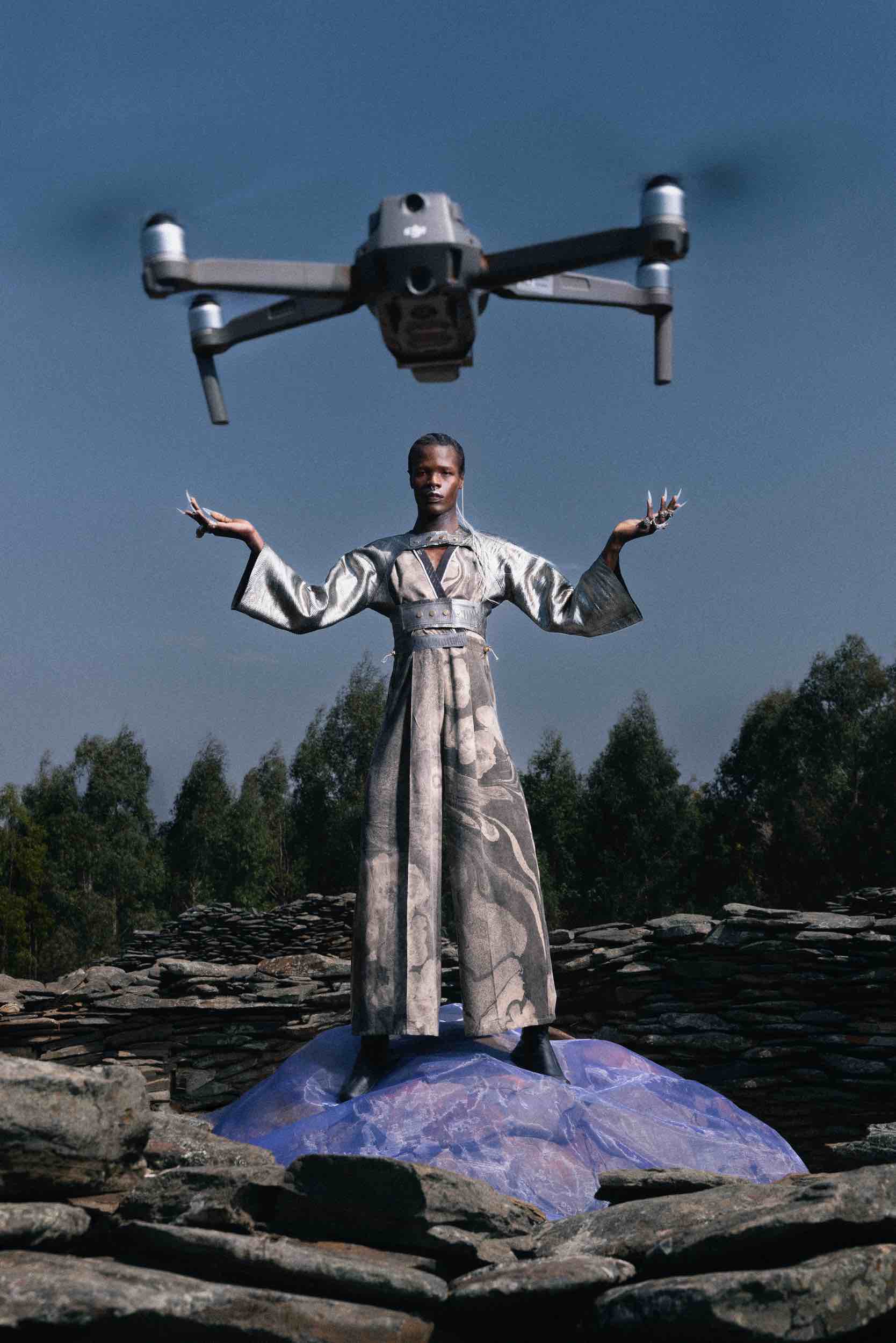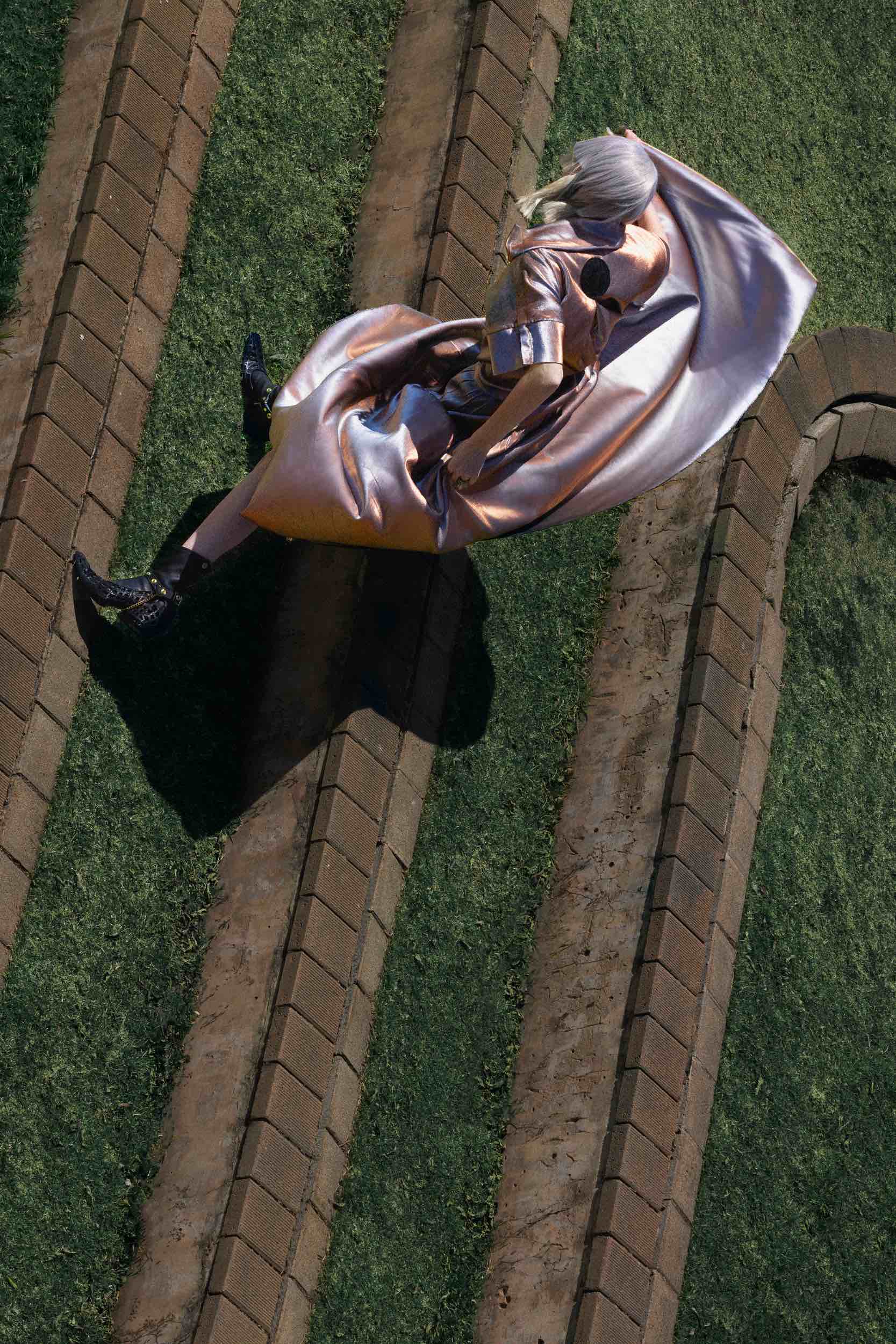 The overall runway aesthetic was slightly reimagined through the styling with more traditional styling, by including these heritage items that convey a message of an old-world heirloom house. The versatility in styling from Milan to South African, reiterates the message that VIVIERS items are long-term investment pieces, made with an approach of uncompromised quality. The collection's palette and textures draw inspiration from the James Webb telescope's images of galaxies, planets, and stars, contrasting with earthly elements like rocks, fossils, and crystals. The result is a collection that feels otherworldly, capturing the essence of our shared history and the
limitless potential for change.
'Re-Trace, Re-Memory, Re-Set, Re-Culture' is more than a fashion collection; it's a journey through space-time and an exploration of unity. VIVIERS' SS24 collection seeks to transcend traditional boundaries and celebrate the duality within each of us, reflecting a vision of harmony and inclusion. The film and collection are an ode to the power of clothing as art, a bridge connecting our past to the positive change VIVIER's aspire to in the future. The vision of the brand is to bridge between communities that see themselves as mutually exclusive, by creating a manifesto where narratives meet in the raw form of the arts. VIVIERS facilitates an umbrella-like platform, where through the arts, for artisanal collaboration and architecture, creatives can challenge institutional norms through clothing.
VIVIERS CAMPAIGN CREDITS
Spring/Summer 2024
Photography: @eva.al.desnudo
Styling, Creative- and Art Direction: @lezanneviviers and @eva.al.desnudo
Styling Assistant: @chiara__galvani
Clothing: VIVIERS STUDIO
Jewellery: Signature VIVIERS jewellery, mixed with Lezanne Viviers xx James Barry
Slabbert sculpted pieces. @jamesbarryslabbert
Model Agencies: @myfriendned @boss
Models: @okmordecai, @Bethany.dewaal @macs_kmcd
Hair: @saadique
Make-Up: @alexandra_julliet_mua
Production: @Kirstyswiss
Production assistants: @anelka_poultney_ @thando.nyweba
Videography: @thulanisejo @kaykayribane
Lighting Assistant: @Odd_ic
Drone ops: @Dzagzin_productions
Location: Maropeng Sterkfontein Caves and Watervalboven Stone Circles
@maropengsa
Artisans: @Wraptknitwear @stephanie.bentum.textiles @nutcase_acts @bunnycorp
Sponsors and Support: @capewools @mohairsouthafrica
Samil, African Expressions yarn: @samil_natural_fibres
KRONE:@kronecapclassique
Maropeng, Sterkfontein @maropengsa