There is an age-old idiom that exists within the confines of street knowledge which defines the cultural syntax of Hip-Hop as a whole: the phrase is "we came from the mud" The grimy, gritty, forsaken, dusty streets, projects, hoods and, in the case of South Africa, townships, a.k.a iKasi; where the collective consciousness of the majority is left for dead. This is a place where many have to become highly resourceful with the little we have, where we have to problem solve and turn our stories of agony into some kind of gold.
The Mother City has one such Kasi, Gugulethu, that has produced a profound leader of the new Nu-Skool. From early 2019, with her breakout single "Similies", Mihlali Koyana, professionally known as K.KEED has made strides in becoming a force to be recognised. With milestones like being invited to perform at The Boiler Room:  Contemporary Scenes x Wear Broke, being selected as one of the artists for Redbat's 'Young & Dope' campaign, freestyling on coveted independent Freestyle Platform "No Paperwork" being a Spotify Mzansi Raps Cover Star in addition to being an Apple Music Rap Life Cover star alongside eclectic producer J-Smash for their pivotal EP "IZANDLA." These are just a few of K.KEED's recognition and accolades, spanning a short blip of time relative to the decades long career it takes most musicians to get – well, anywhere. 
Throughout these short, sweet and impactful run of projects, including the "Tx3" series, "R E L I G I O N", "ALTER-EGO", & "IZANDLA", we are on the cusp of receiving a full-length project from K.Keed, just as she is selected to perform at this year's instalment of Rockin' The Daisies. As a stan of the "Stru" hitmaker you can imagine the excitement of my Hip-Hop inner scholar when presented with the opportunity to pick the eccentric brain of this maestro of flow, cadence, collaboration, curation and production prowess.
From the decision to incorporate vernac into her style of lyricism and raw delivery, the discourse of freestyling, her approach to performances, why she loves the great outdoors for visuals, a deep dive into her songwriting process, her future ventures and more, I spoke to Keed and I'm more enriched and inspired for it.
Q: One thing your music reflects is the street savvy, resourcefulness and liveliness of where you are from. That wasn't always present in your music. Why did you decide to embed the intricacies of Gugulethu and Vernac into your music?
K.KEED: That's actually an interesting question, one I haven't been asked before. I remember a time when I was in the studio with my friends, and my cousin was making music across the street. You might not know this place, but it's called Crossroad. My cousin then introduced me to another studio, China Studios, where an established artist suggested, "why don't you try rapping in your vernac?" At the time, I didn't fully grasp the idea. I was focused on proving myself in the music industry as a newcomer. I had this universal approach in mind instead of targeting my local scene first before conquering the world. My outlook was all about proving myself to everyone and having my music heard everywhere.
So, the idea was planted, but I didn't see the vision back then. I saw big stars like Dee Koala making waves, which was inspiring. I thought, "If they can do it, so can I, and I'll  stay true to myself." This realisation made me look at things differently, especially considering the scarcity of female artists in this space. I decided to embrace my native language and give it a crossover twist, particularly for my Alter Ego project, where I was keen on experimenting.
The people I worked with always encouraged me to push the boundaries. The streets where I grew up and the influence of my friends from the hood played a significant role because I'm always there. I realised that incorporating this element and giving people insight into my background through my music was fun and made my tracks more relatable. It's like a musical journey through my life. That's how I got into this, by trying a fresh and unique approach to my music.
Q: Has being able to represent yourself and where you're from on a global scale made you stand out more in the global market than having to prove yourself amongst other English rappers across the globe? 
K.KEED: Yeah, I'd say so. Focusing on refining your sound and taking a different approach while making a big impact in your country and city naturally draws the rest of the world in. When your whole country and hometown backs you, it says much about your music. Then the world starts asking, "Who's this artist from South Africa?" They come to you rather than you chasing after them aggressively. It's like you're attracting attention rather than pursuing it.
So, it's the way to go. It's more genuine and when it does happen, it feels pretty unbelievable. You didn't think it was possible, but when it does, it's the most natural thing. Everyone has their own journey and this just feels right for me.
Q: Between standout collaborations with Dee Koala and Blxckie and frequent collaborations with LOOKATUPS & SimulationRxps, you have established yourself as a master curator with a knack for feature chemistry. How did you develop this 6th sense that enables you to choose the right feature and the ideal production for them to flex their skillset?
K.KEED: When I'm deep into the creative zone, I'm all about making the song the best it can be. I don't get hung up on my own ego or trying to outshine anyone. It's all about what serves the song, you know? I'm lucky that most of the folks I work with are friends, people I kick back with even when we're not making music.
For me, it's all about keeping it real and doing right by the song. I don't have a big ego and I'm not intimidated by others who are killing it. If they do well, it inspires me, and if I bring my A-game, I hope it fires them up, too. It's a two-way street and I love that vibe.
If I struggle to finish a song alone, I'm not afraid to hit up a friend and say, "Yo, I need your skills on this verse because I'm stuck." It's all about finding that missing piece.
I like to keep things comfortable and open with my collaborators. When you have a solid relationship, it shines through in the music, and people can feel it. It's all about having fun, building connections beyond the music, and creating killer tracks together.
Even when someone asks me for a feature, I'll give their song a good listen. I want to figure out how to make it even better and fit into its vibe. It's always about the music for me, not about ego or competition. I genuinely believe that if you take care of the music, the music will take care of you.
Watch "Skeem Sam" Video Here:
Q: From the "Goblin Freestyle" to the "Tx3" series, "R E L I G I O N", "ALTER-EGO", & "IZANDLA", there has been a well-curated evolution of sound where you experiment but don't compromise on your core sound, what went into selecting your signature sound over the years?
K.KEED: It all started in high school when I chatted with a buddy who hyped me up to create music. But deep down, I knew it wasn't the exact sound I wanted to make. I knew there was more to my musical identity waiting to be uncovered.
Then came this dude named ZB, an absolute legend in the music game. He's a producer, engineer, artist, and a crazy talented songwriter. He lived just a short walk from me and I'd always hang out with him. He'd record my stuff for free, send me beats, and offer advice that wasn't just a "yes man" move. He'd be straight with me, saying, "nah, man, maybe try it this way". I love working with people who push me in the right direction.
And then there's this other guy, Orange, a real game-changer. He revolutionised my sound. I owe him a solid 50% credit for how my music sounds today. My mixing and mastering have been on another level since I met him. It's like he turned my tracks into crispy, clean gems. He's the kind of guy who sits down with you and says, "this is the note you want to hit, or this is the direction you should go." He's had a massive impact on my sound and the technical side.
I'm my most genuine self in the studio with Orange. It's a safe space to create, experiment, and be 100% me. He's been one of the most influential people in shaping my sound. From my first project,  "R E L I G I O N,"  to my latest one, "IZANDLA", with J-Smash, he's been the magic behind the mixing. We sit together, tweak things, and he's there to guide me. It's been a mind-blowing journey, and I'm still on my way to reaching my full potential.
But honestly, it's not just about ZB and Orange. My sound has evolved through collaborations with many producers, engineers, and mentors. They've shared their wisdom, given advice and helped me grow. It's been one crazy, ongoing journey of learning and teaching. 
Q: Going back to the J-Smash Collaboration EP "IZANDLA," a standout song is "Lonke", with guest production from Yolophonik. It made me think of your previous Boiler Room and made me curious: with such a drastic change in creative direction, would we expect more of this distinct sound in your future sets?
K.KEED: That's seriously one of my all-time favourite tracks. I could easily have it on repeat for days. Many of my musical influences stem from it and I've been itching to work on something like it for a couple of years. The thing is, I've been recording loads of different tunes, but I've been holding back on releasing this one. Are people ready for it yet? I'm a perfectionist and am particular about how things should sound. It stays locked away in my musical vault if it doesn't meet my standards. But who knows, in the future, I might become more open to sharing it and incorporating it into my evolving sound.
Can you expect more of this sound in my future sets? Definitely, bro! I've been keeping this under wraps, but I'm taking my performances to a whole new level. Next month, I'm planning to introduce something special at Daisies. I'm all set to make waves and leave everyone in awe. With the new music I'm about to drop, you'll see a more mature and authentic side of me. It will be beautiful, and I believe it'll surprise everyone and make them proud. I can't wait to share it with all of you!
Q: So, about being at this year's instalment of Rocking The Daisies: when it comes to performances, how do you prepare for a club performance, a street fest and a Global Festival such as RTD? What goes into the set selection?
K.KEED: That's a really good question because they're such different experiences. I've got a great team and we're all about coordinating everything for each show, from the setlist to the outfits, the stage setup, and the vibe I want to create that day.
Clubs can be tricky because people mainly want to groove to the DJ's music. In such a setting, I focus on dropping some absolute bangers, the kind of tunes that get everyone moving and feeling the energy of the place.
On the other hand, if it's more of a street festival vibe with a younger crowd, we adapt to what they're into. We hold rehearsals with my team to fine-tune things and add some intros, outros, and extra instruments to set the right mood for the performance. It's all about those small details that make a big difference.
When it comes to festivals, that's when we go all out. We put on a show that people will remember. But honestly, I love giving my all in every performance, whether it's for a crowd of 5,000 or just 10 people. You never know who's watching and might be a fan in the making.
I take it very seriously, and I'm always excited to do more festival shows. It's where I can really showcase my best. But honestly, performing is one of my absolute favourite things to do. I also like to research before each gig, checking out previous performances and studying the lineup to ensure I bring my A-game and meet the standards.
Q: Another performance that recently took the internet by storm was your 'No Paperwork Freestyle'! Owing to the ongoing debate between a 'freeverse' and an 'off-the-dome freestyle', what is your stance on the importance of still being able to go off the dome? Is that craft still relevant? 
K.KEED: I hear you and I understand that defining a freestyle can be quite the puzzle in hip-hop. Initially, freestyling meant going off the dome, where you just let your thoughts flow, no script, no plan, rolling with the vibe of the moment. So, a freestyle comes with something other than a set theme or structure. It's called a "freestyle" for a reason, right? You can go wild, switch topics, introduce rhyme schemes, and just let loose.
But here's the twist: some folks interpret freestyling as crafting a prepared verse or a set number of bars. It's like having a premeditated performance. So, there's this divide in perspectives, and I find myself caught in the middle.
When you're on the radio, and they throw you a beat, there's no way to prepare for it, right? That's when you go truly off-the-dome. But then there's the competitive freestyle scene, where some artists meticulously prepare, which gets perplexing.
I enjoy freestyling because I don't take it too seriously. People tend to overthink it, and that's when the fun goes out the window. There is no need for standards; just go all out and let your creativity flow. Freestyles are sometimes overanalyzed. They should be spontaneous, a raw expression of art.
When it comes to being the best freestyler, I don't quite see myself in the League of Legends like Eminem or Lil' Wayne. I'm more of a songwriter at heart, and that's how I got into the game. Writing is my jam, shaping my understanding of different freestyle perspectives as I dove deeper into the hip-hop scene.
Q: Would the off-the-dome approach to songwriting also filter into your studio sessions when composing songs, or is there a penmanship that goes into studio sessions?
K.KEED: I actually have different songwriting processes. Sometimes, it's all about freestyling; I never put a pen to paper; I just go with the flow. But then there are songs like "Goblin," which I wrote from start to finish. It depends on the day's vibe and how I'm feeling. I avoid sticking to a single routine because I often collaborate with various people in different studios. Each producer has their own pace; some work lightning-fast, while others take it slow. 
So, I adapt to make the most of my time in the studio. Some artists can spend hours on a single song, but I prefer recording my initial ideas at the moment and then circling back to them or moving on to new ideas. I may dedicate an entire session to one concept. I enjoy having these diverse songwriting processes because they reflect my mood and what resonates with me that day. If I'm feeling a certain way or a particular beat grabs my attention, that's what guides my creative process. It's all about going with the flow and having fun in the moment.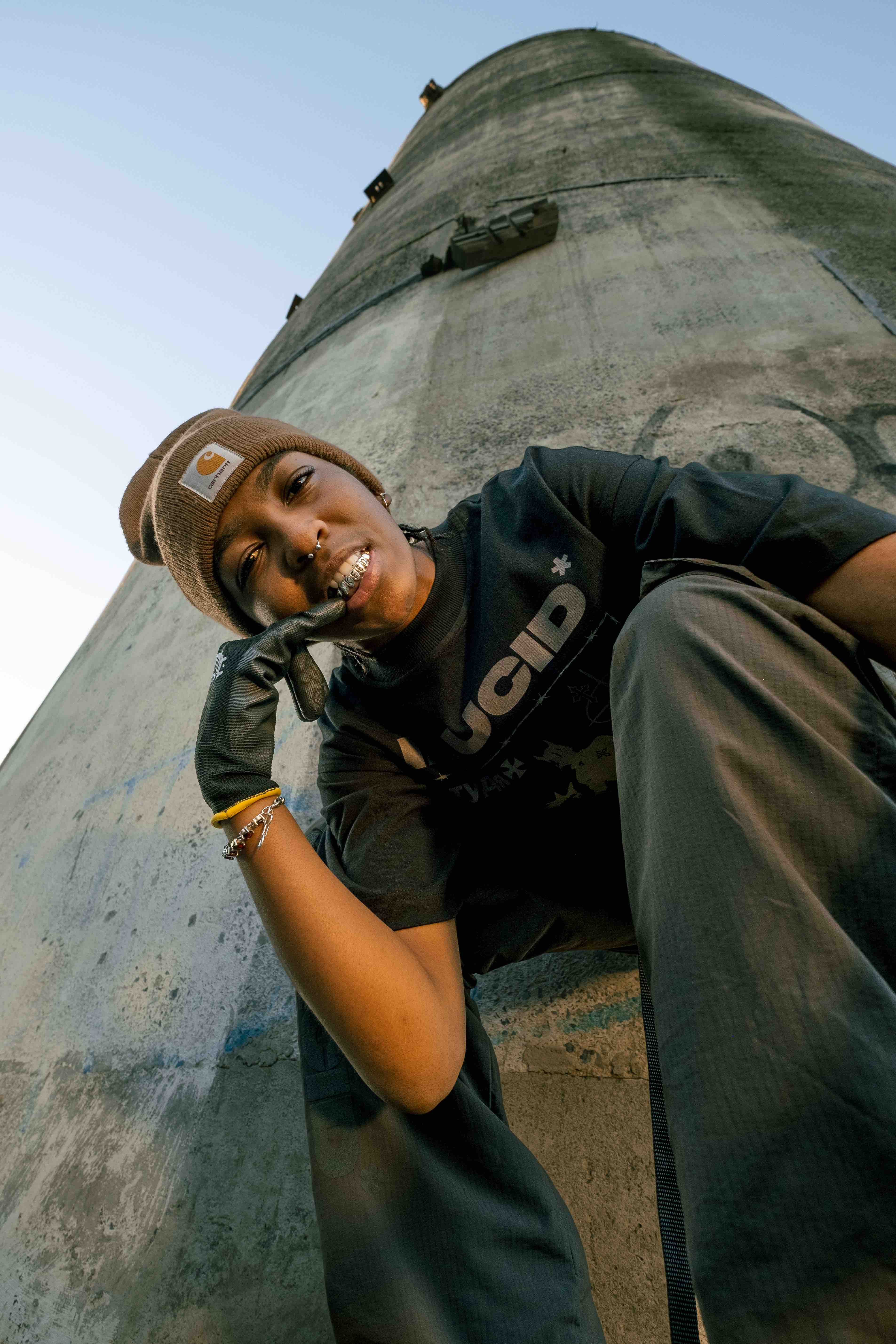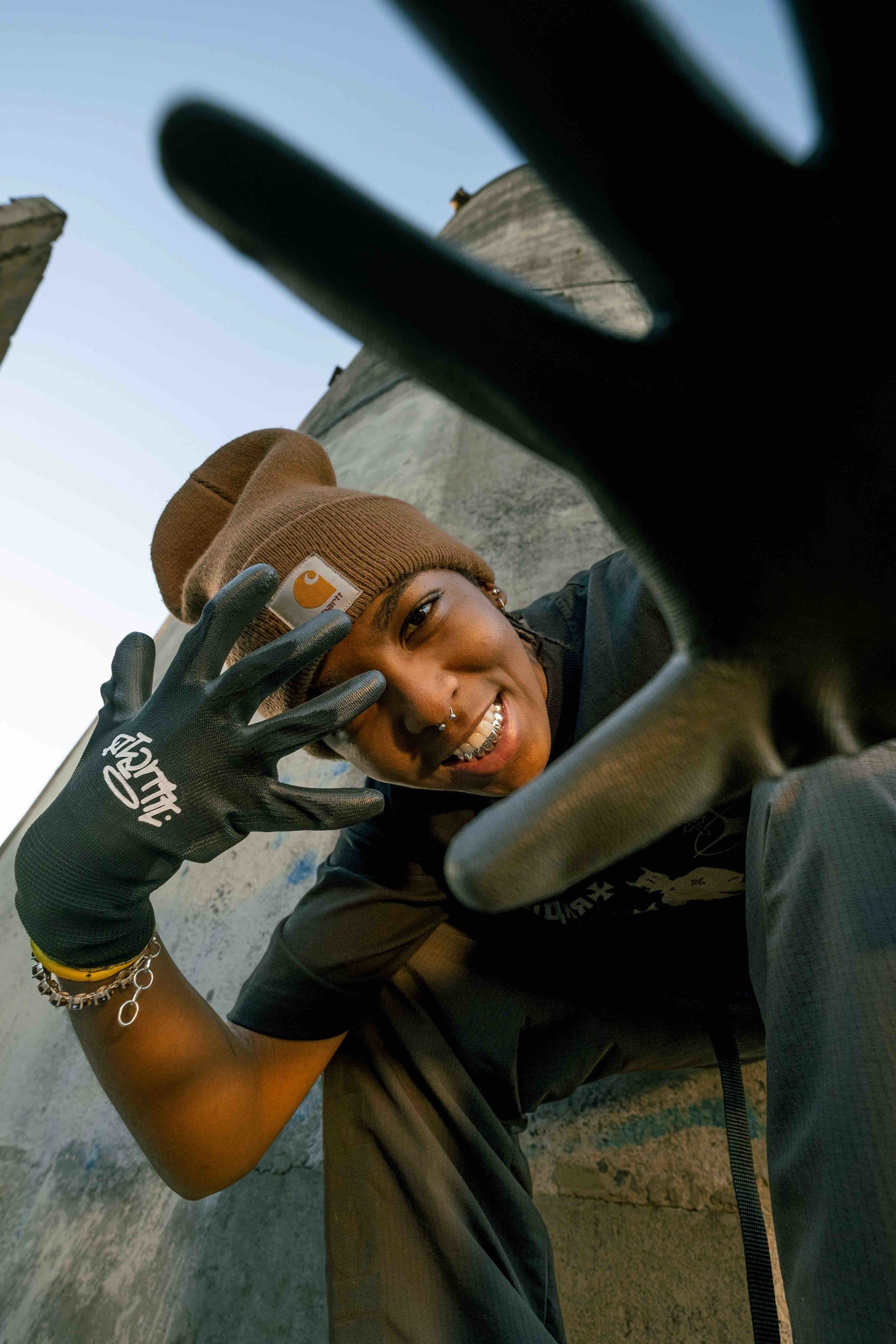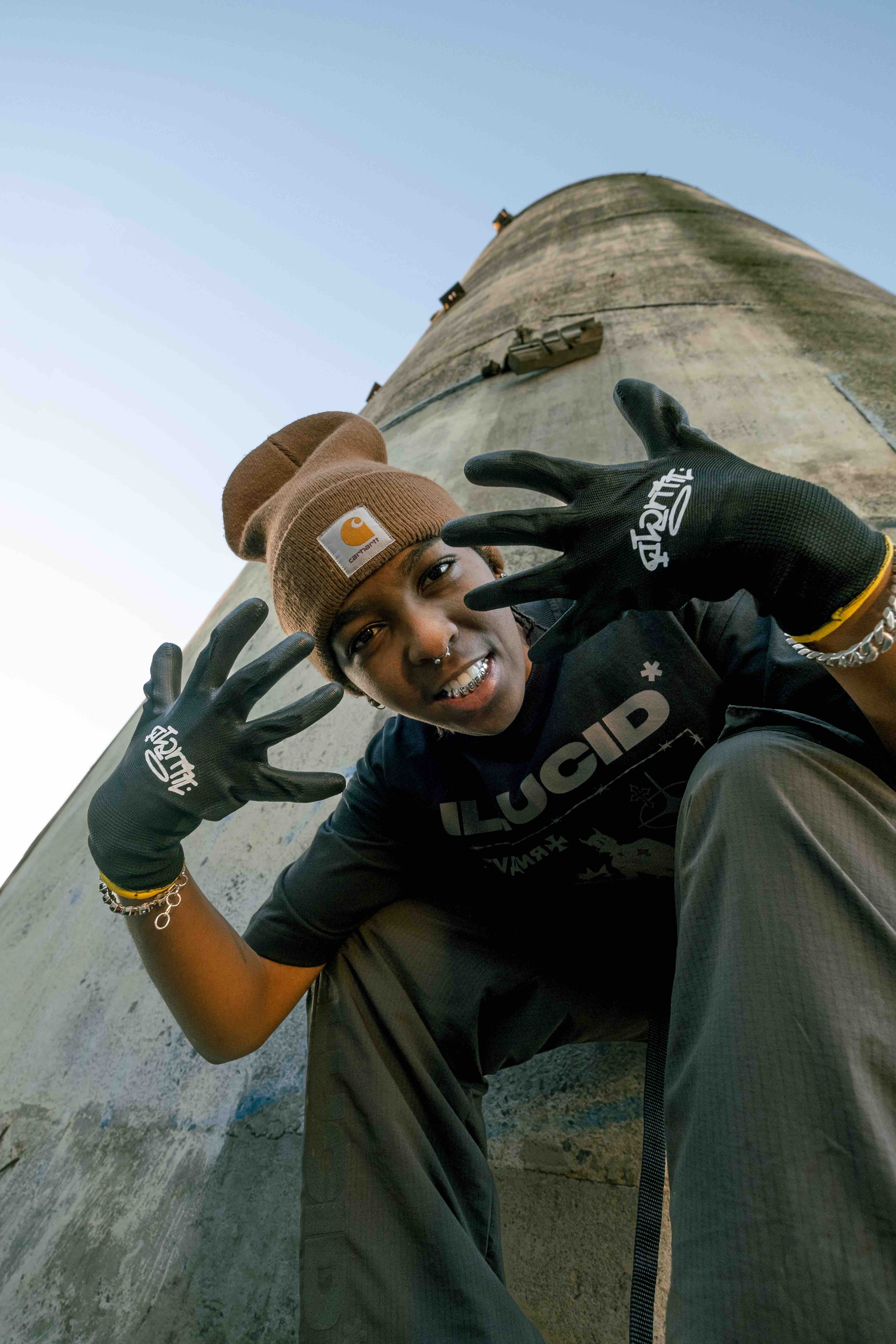 Q: Another form of writing I appreciate is script writing, primarily concerning mood boards and treatments. Your latest single, "Struu", has a setting similar to your street classic "PUTA" What about the woods that speaks to you as a perfect fit for visuals?
K.KEED: Absolutely, I do. You can achieve so much when you're out and about. The scenery is a game-changer for me. It just adds that extra layer of depth to everything. Even if the video is already expertly graded and edited, it takes the whole experience up a notch when surrounded by captivating scenery. I mean, instead of shooting against a plain background in a studio, having the freedom to create your ideal setting with a real-life backdrop – that's where the magic happens. 
So, having a killer song is one thing, but when you pair it with stunning visuals, it becomes an unstoppable force. I've got a real appreciation for the great outdoors, even though it can get wild sometimes. I love the thrill of shooting on location, travelling, and experimenting. I'm that person who, while taking a random stroll, can spot a forest or some amazing place and instantly think, "this is the perfect backdrop for a photo shoot."
I'm a visual learner. When I cannot be outdoors, I'll transform my living room into a set because I thrive on the visual aspect of things. It's all about seizing opportunities and making the most of them, whether I'm in the great outdoors or bringing the outside in. 
Q: Thank you for joining us. Before you go, is there anything you have lined up in the near future that you'd like to share with us? What does the next year or two look like for K. Keed?
K.KEED: Oh, definitely! I'm pumped, bro. I'm currently working on my debut album, and let me tell you, it's a whole new level of excitement. I'm putting my heart and soul into this album and am determined to give people something unexpected.
You know what's got me so hyped? It's the fact that I have no idea what to expect either. This is my first time dishing out a substantial body of work, and we're going all out with the team, getting creative with the concepts. I just can't wait for people to dive into the music. I'm not yet pinning down specifics as for the album release date. It's coming next year, so keep your eyes peeled, but again, no need to set too many expectations.
There are many other things in the pipeline, too, but I won't spill all the beans yet. You might even catch me branching into the art industry; I'm passionate about that. Exciting projects, killer collaborations, and some top-notch features with big players in the game – it's all happening.
Innovating, daring, and transcendent are some of the best ways I would describe K.Keed. To be born into a generation that gets to experience her legacy in real time is nothing short of an honour; even if it it will be difficult to honour her request of having no expectations for what her future holds for us as eager listeners. Just this once, I'd like to enjoy the pleasant element of surprise! What a time to celebrate 50 Years of Hip-Hop tapestry.